Discover more from The Split
Stay on top of the latest tech and startup stories.
Over 23,000 subscribers
WeeCare, Carebnb's, and the US Child Care Epidemic
The LA-based startup fixing America's child care deserts
My partner and I welcomed our second daughter into the world seven weeks ago. Raising a child is possibly the most rewarding experience in the world, but 2020 feels like a strange time to do it. Every family is adapting to the changes brought by the COVID-19 pandemic, which has emphasized the many problems facing the US child care industry.
I first caught on to how LA-based WeeCare was addressing these structural issues head-on when I connected with co-founder and CEO Jessica Chang in 2018. Their team built a system to instantly spin-up a new daycare anywhere in the country. They recently launched a corporate benefits offering, allowing any business in the country to offer every employee a local child care solution overnight.
Child Care: A Massive Broken Market Hiding in Plain Sight
US child care is a $57 billion market (60% in-home, 40% in-center). An additional $22 billion is spent via government subsidies, and the amount of time spent and forgone wages by parents and family members providing unpaid care is orders of magnitude larger than the actual dollars spent. The largest historical and future driver of the market size is the participation rate of women in the workforce. If you read through investor presentations from industry leader Bright Horizons, a publicly traded operator of large child care centers valued at ~$10 billion, most of the industry's profitability is driven by price increases, cost cuts through consolidation, and adding non-child care product offerings inside its centers.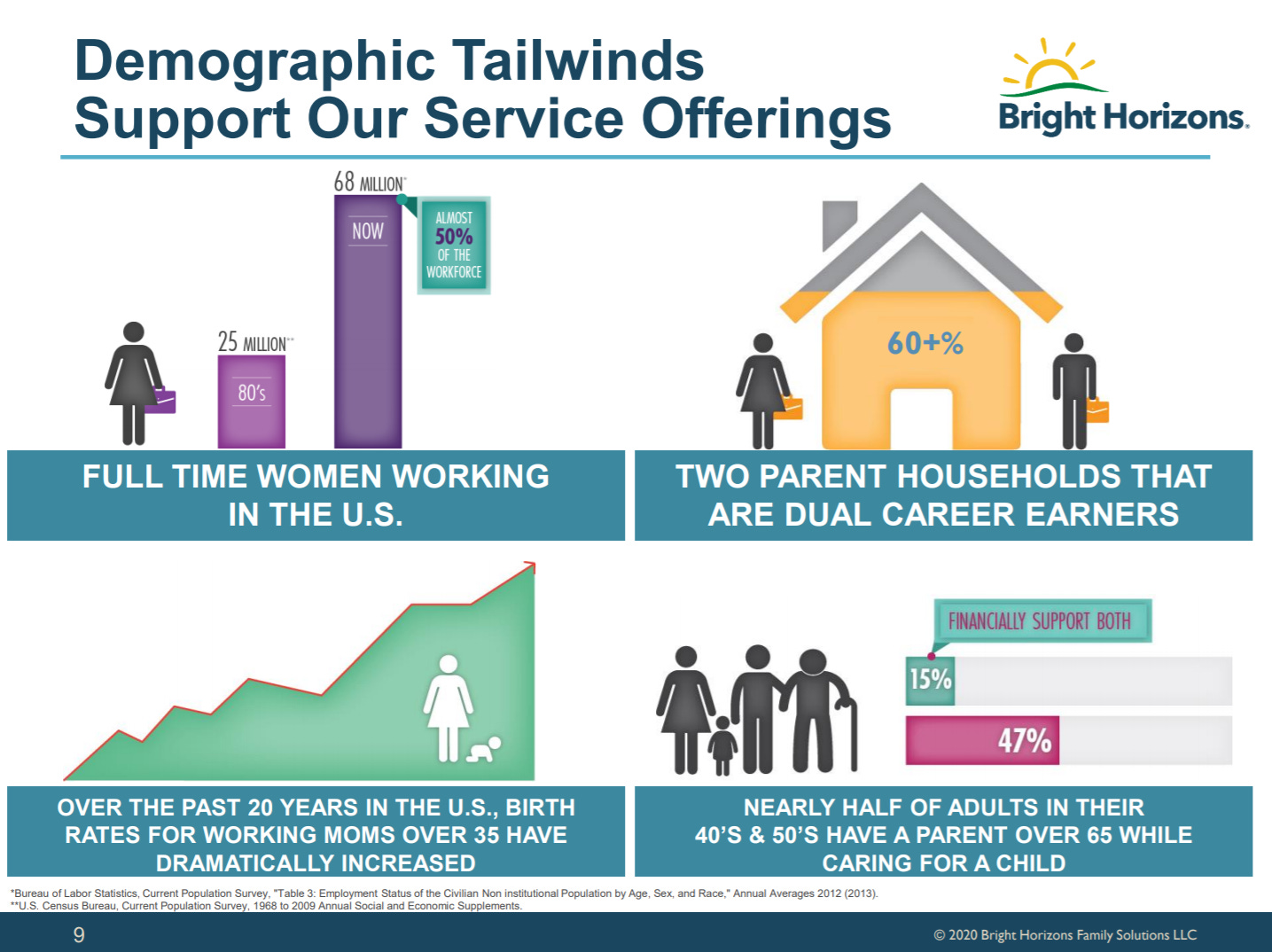 It's not a particularly large market, but it's often the largest expense for any household with children. These households spend more annually on child care than on housing or college tuition, and more than transportation, food, and healthcare combined.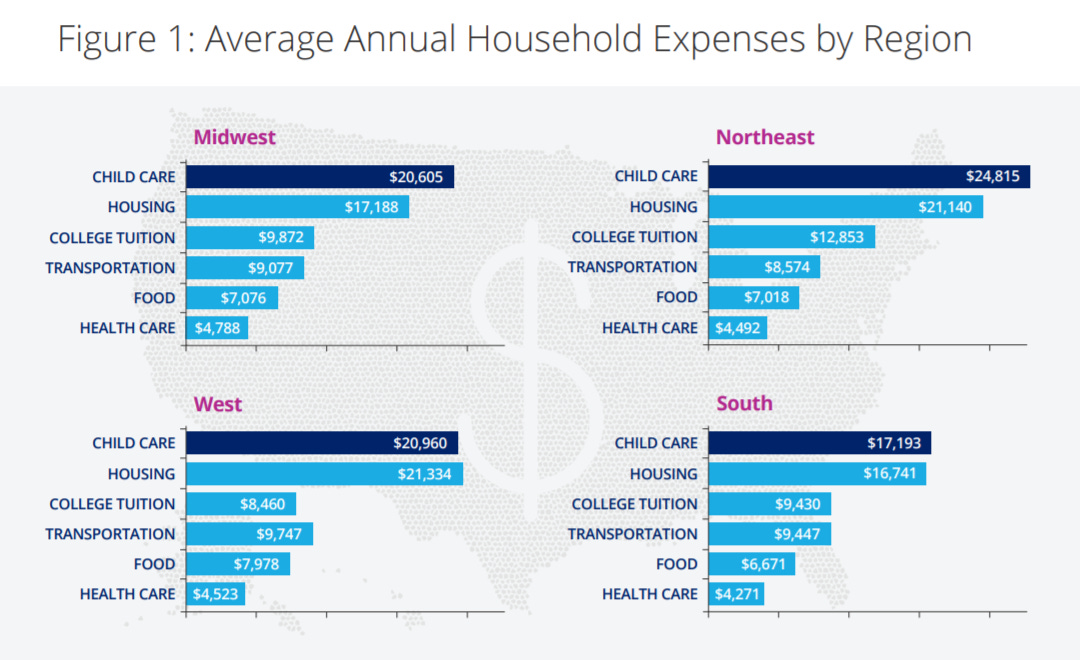 60% of children under age six have parents who are both in the workforce, which (putting aside the often difficult decision to have someone else raise your kid) can make child care more affordable for working families. The unaffordability problem is more pronounced for single-parent households who spend an average 37% of their income on child care - up to 70% in some states like Massachusetts. It's a difficult reality that many single parents work all day only to pay most of what they earn to someone else to watch their young child(ren) for 10 hours.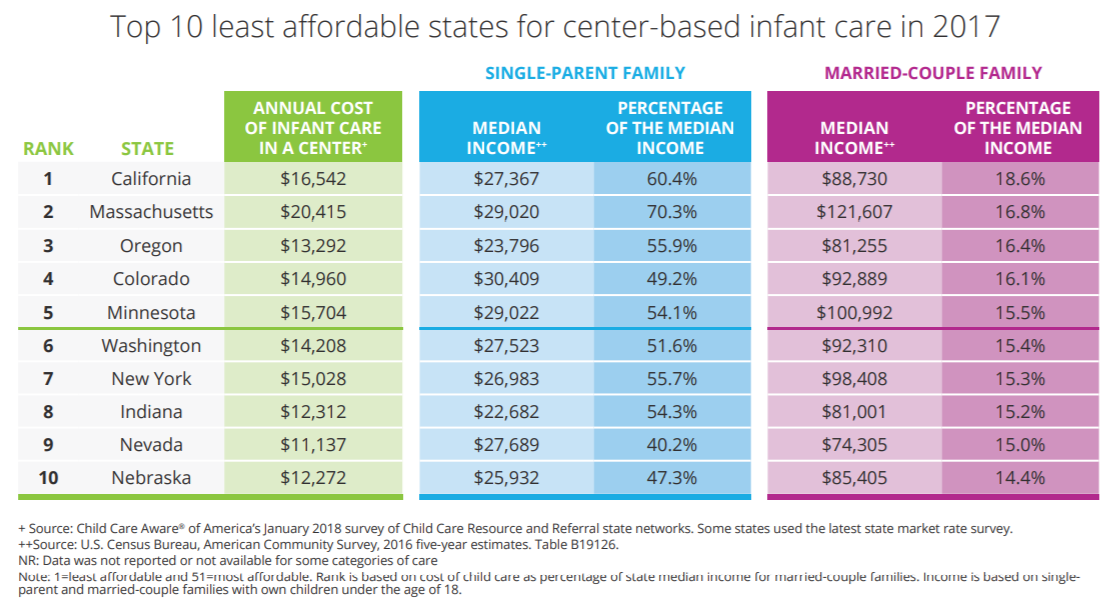 Government subsidies have historically helped offset some of these costs. Unfortunately, the number of US facilities receiving subsidies decreased 59% between 2005 and 2017, with the number of small in-home centers legally operating without all proper licensing (and most prevalent in low income and communities of color) receiving subsidies down 75%.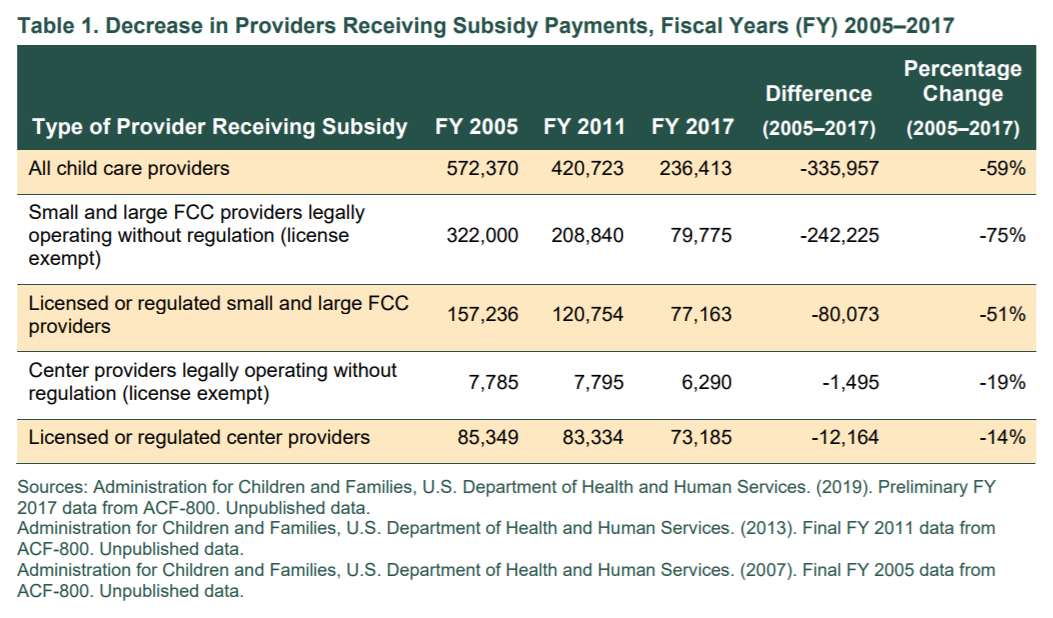 There are also hidden costs of child care that are not captured by any of these metrics. 43% of professional women leave the workforce within two years of having children. 74% of women eventually return at least part-time, but only 40% ever return to full-time. 75% of women who leave the workforce say the top reason is child care related.
It's estimated families without access to affordable care forgo $29 billion in wages annually. US businesses lose $4.4 billion annually due to employee absenteeism as a result of child care. In Louisiana alone, a lack of child care leads to $1.1 billion in economic losses. A survey also found 40% of parents regularly missed work due to child care issues in 2017, 16% of respondents quit their jobs because of child care issues, and 14% actually turned down a promotion in order to keep the same schedule or to ensure they did not lose access to a child care subsidy due to a pay raise.

Shrinking Supply and the Rise of Child Care Deserts
The state of the US child care market can be traced back to a massive supply / demand imbalance. There are roughly 690,000 licensed (60,000 unlicensed) daycares in the US, with 1.3 million Americans working in the child care profession. 8.3 million kids are enrolled in care: 900,000 with a nanny and 5.8 million with family, friends, or a neighbor. Approximately 7 million children under 5 are watched in a home: 4 million by a relative or friend, 3 million in a paid daycare.
Experts estimate there's a 3:1 ratio of kids needing care to kids in care. The highest quality options often have waitlists of a year or more. This lack of supply primarily impacts women, and specifically those with low incomes, single parents, and people of color.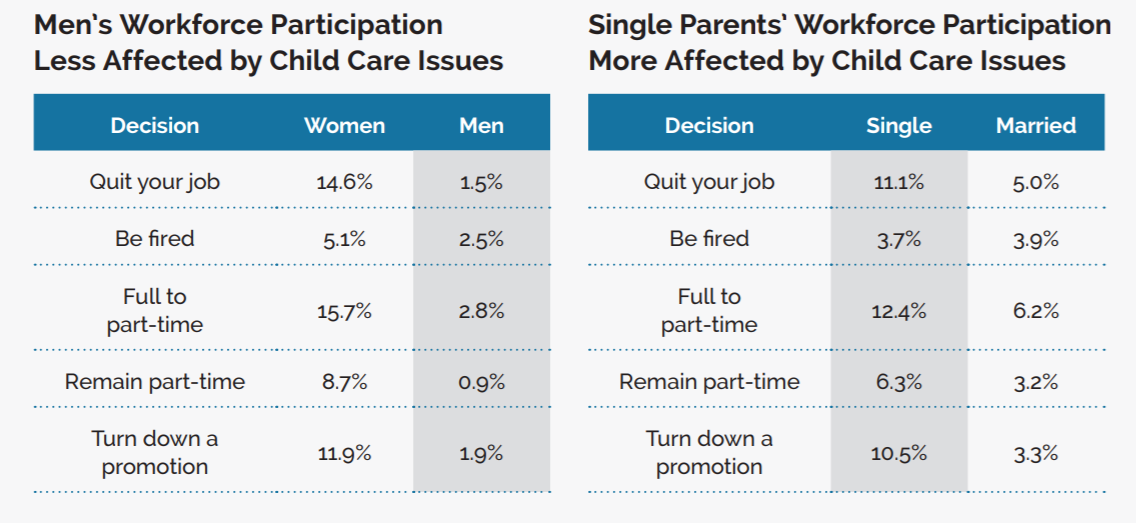 In Minnesota, the number of family child care providers dropped 25% between 2006 and 2015. The total slots available in Minnesota and Wisconsin dropped 5% between 2015 and 2020, and California's total available slots dropped 9% between 2014 and 2017. Looking at data on US child care facilities, its apparent most of these closures are in-home daycares. No one knows why for sure, but one explanation is that older in-home providers are retiring without new educators replacing them. It's a hard job, and stressful enough watching children all day, let alone running a business that typically isn't very profitable.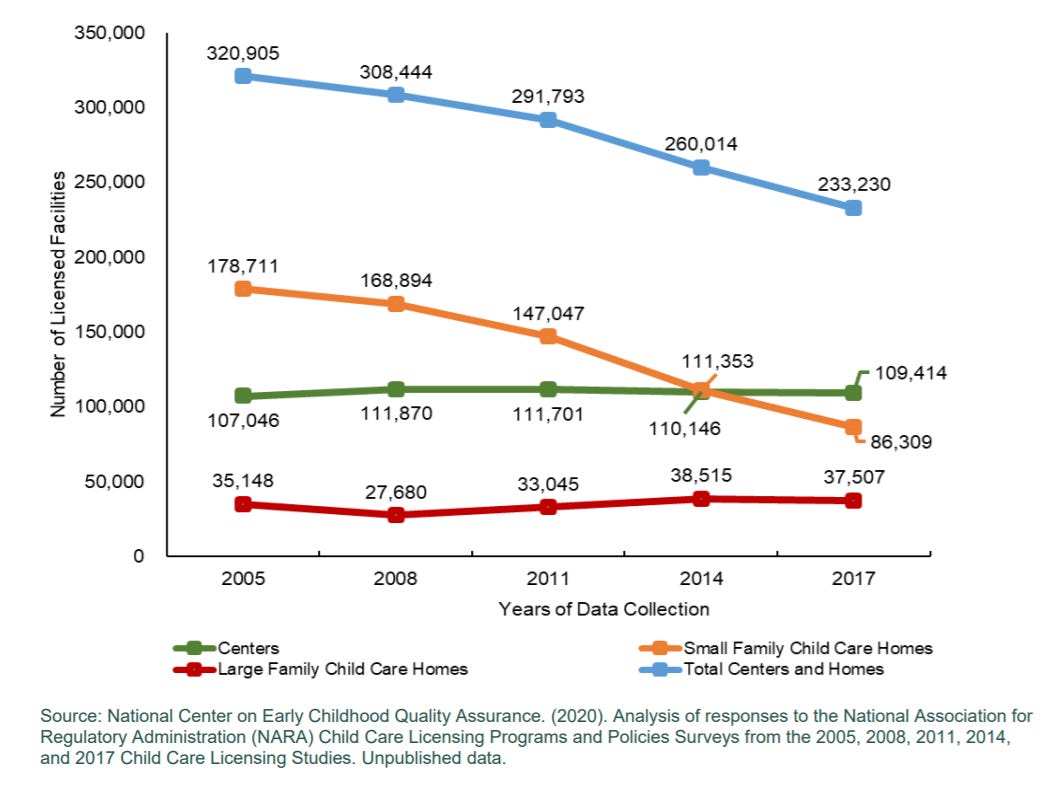 This lack of supply has led to child care deserts: neighborhoods with little or no access to affordable child care. While this tends to skew towards low income and communities of color, a 2017 study found child care deserts are prevalent across the socio-economic spectrum. As few as 41% of top quintile, suburban US census tracts and as many as 60% of bottom quintile, urban neighborhoods are classified as child care deserts. This lack of supply means parents pay more, classes are fuller, and higher child to provider ratios generally lead to a lower quality of care.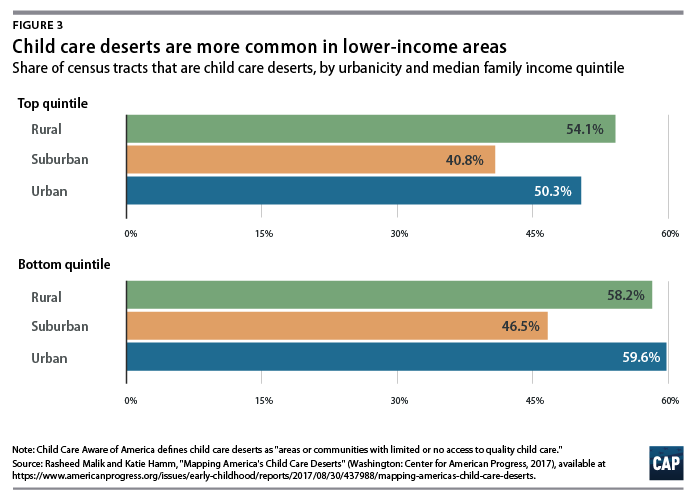 Further explaining a lack of new educators entering the profession, child care isn't generally a financially lucrative career. According to the BLS, as of May, 2019 the average wage for US child care workers was $11.65 per hour, or $24,230 per year. A Center for the Study of Child Care Employment (CSCCE) study found that 86% of providers who work with infants and toddlers are paid less than $15 per hour. The child care workforce is composed mainly of women, 40% of whom are of color. Nearly 15% of child care workers live in households with an annual income below the federal poverty line, and 36% below 200 percent of the poverty level. Half of all child care workers receive food stamps, welfare, or Medicaid.
Working as a child care professional has also historically been poor for someone's health. A 2017 study of North Carolina family care providers found 29% did not have health insurance. Less than 50% met guidelines for physical activity, fruit/vegetable consumption, and sleep. Over 50% reported "high" stress, largely due to low wages that impose high financial constraints, 12-hour shifts, and no access to adequate space to take safe breaks.
WeeCare and the Carebnb
WeeCare created software built from the ground-up, entirely customized to simplify the process of running an in-home daycare. Founded in 2017, it launched its first daycare in January of 2018 and helps early childhood professionals manage:
licensing and regulations

curriculum creation and planning

launching, leads / marketing, virtual tours, and parent communication

billing, insurance, and taxes

government subsidies, and

all other back-of-house functions and paperwork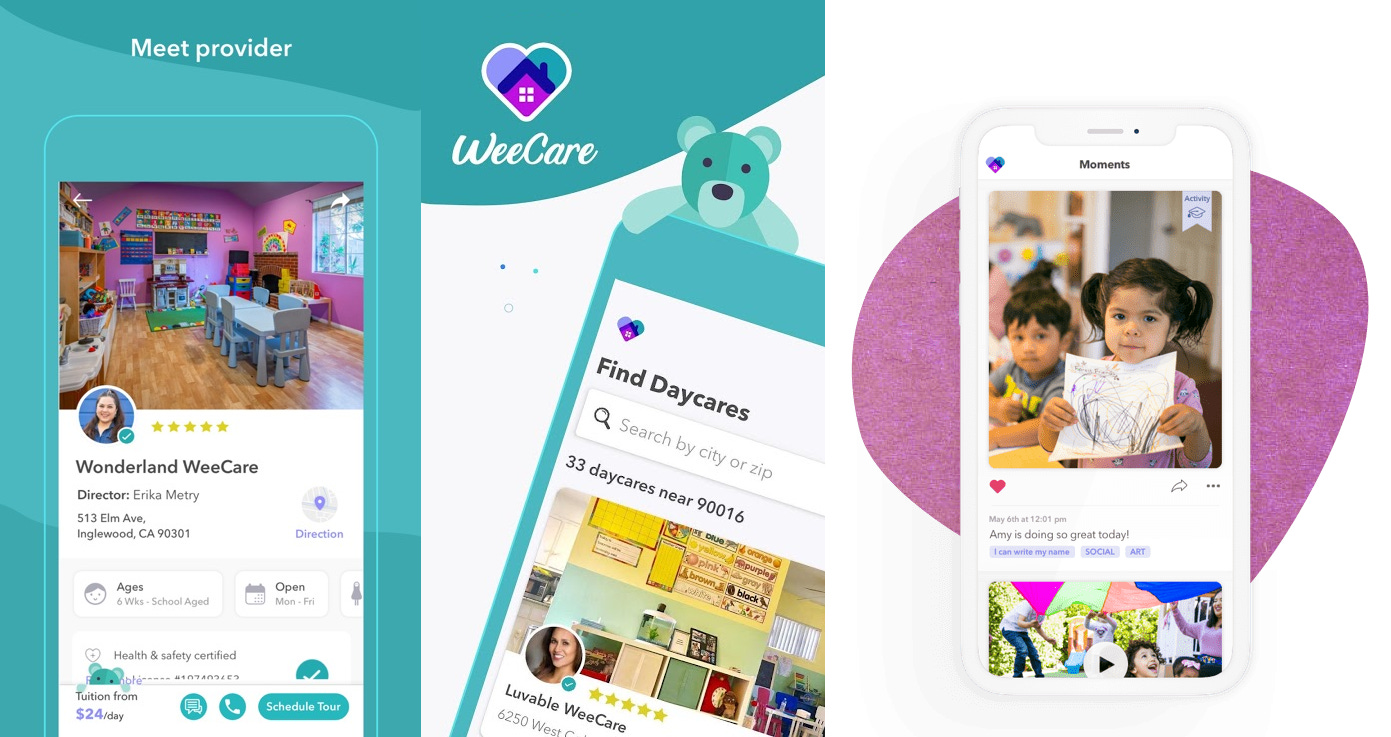 It's essentially an in-home daycare "business in a box". Customized software saves time for a child care professional spending an average of 56.5 hours per week watching children and reduces churn for WeeCare as they acquire clients for their customers. There's often a significant disconnect between millennial parents and members of older generations providing care. Most don't have reviews online, or even a website. WeeCare helps bridge that gap. And like any vertical SaaS business, there are lots of ancillary features (payments, insurance, etc) WeeCare can layer on over time to increase monetization and provider and parent stickiness.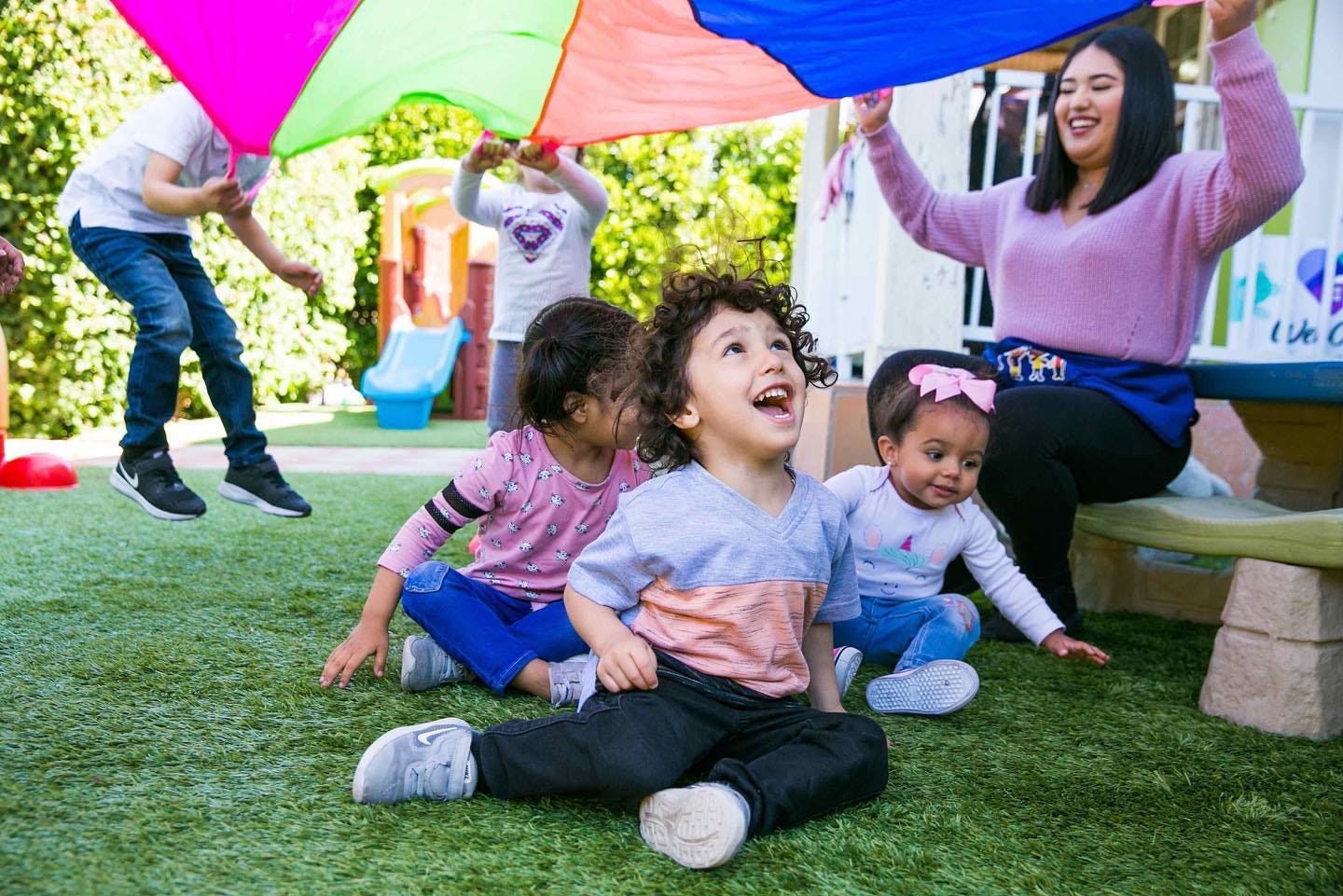 WeeCare educators earn an income 2-3x higher than if they were working in a senior role at a large child care center - up to $100,000 per year, or 4x the national average. They can leverage their personal mortgage / rent payments for business use, and those with young families can spend the day around their own children while earning income teaching others.
WeeCare's in-home model often results in tuition prices 30-40% below market. The company is quickly scaling its subsidy program too. Over 80% of WeeCare locations have opted-into accepting families paying with subsidies, and over 40% have subsidized families currently enrolled.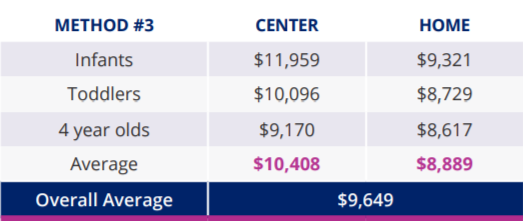 In-home child care arguably provides better care for students. In home day cares average a 6:1 student to teacher ratio, compared to 12:1 in traditional centers, and safety and background checks are more strictly enforced. Homes also tend to be the primary option for families of color. It's more affordable, convenient, and parents tend to be more comfortable with members of the community watching their children.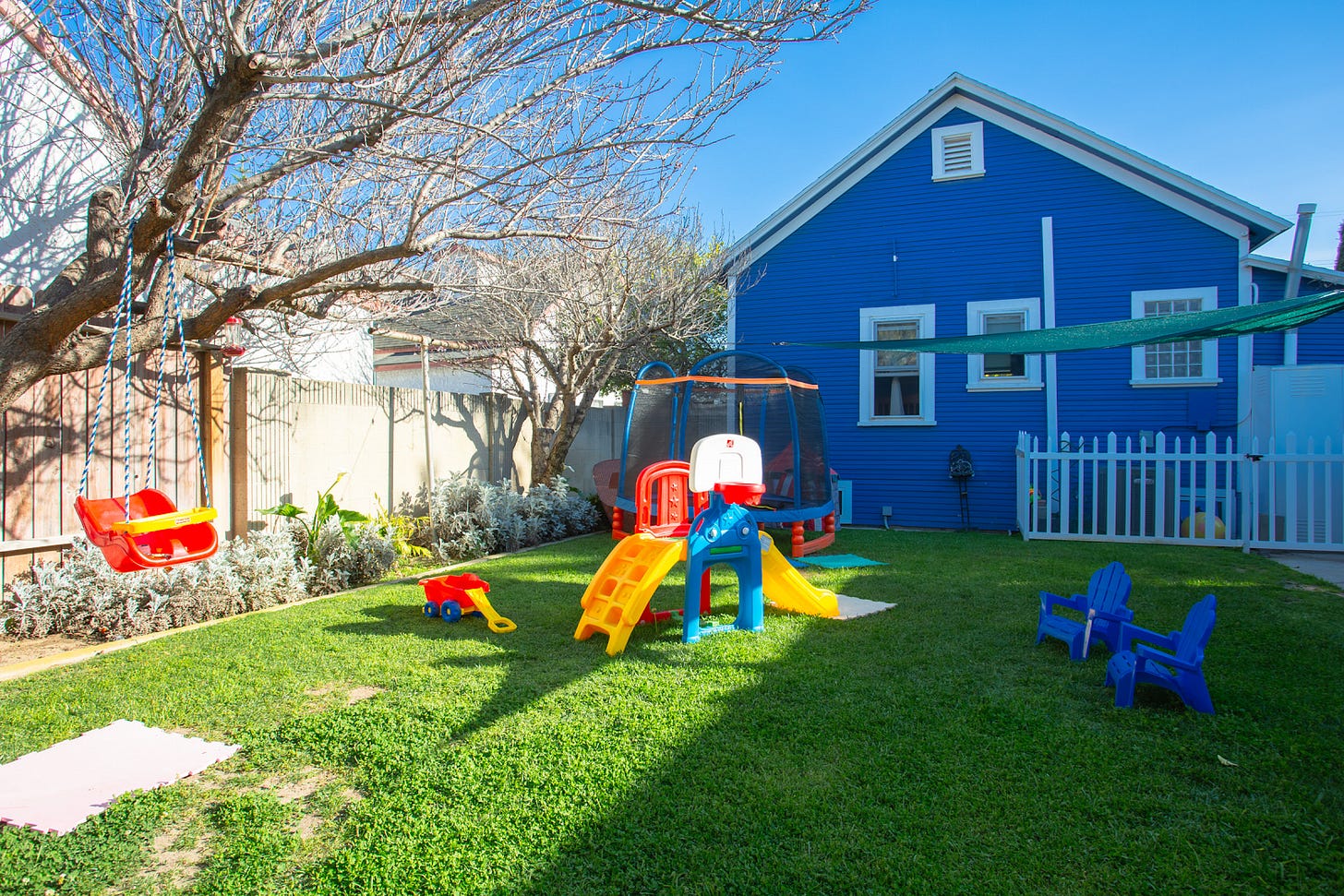 During the course of building and scaling the software product, the WeeCare team realized their customers needed help acquiring their own customers and turned it into a full marketplace that (after a lot of hard work) had acquisition flywheels sucking up both supply and demand sides of the marketplace, anywhere in the US, with the flick of a switch.
A Team Dedicated to the Problem
All of this comes back to the strength of the team. Co-Founder and CEO Jessica Chang was originally born in China. She landed a marketing internship at Cisco's China division the summer before moving to San Francisco in 2002 to study Economics at Cal Berkeley. Three summers later, she was covering semiconductor equities at Citi while taking a full-time course load. She worked in M&A at Deutsche Bank after graduating and made the jump into a private equity operations role at Macquarie in 2007. Over the course of the next decade she started a family, bought and managed three preschools, and eventually landed at RadPad in 2016.

It was at RadPad where Jessica first met Matt Reilly. After a six month overlap, Matt was recruited to join Honey as Head of Growth. After a decade in growth and SEO roles, Matt kickstarted Honey's initial growth flywheels. He left Honey, ultimately acquired by PayPal for $4 billion, to join WeeCare a year later. The duo then recruited friend Jesse Forrest, who was working as Director of Engineering at Tradesy, to join as CTO. The team's growth, technical, and hands-on operational experience from previously scaled and exited startups sets the stage for today.
On-Demand, Scaleable Child Care
Fast forward to October of 2020, WeeCare built a product that can instantly bring supply anywhere in the US onto its network. Child care centers typically have a 20%-30% vacancy rate, and WeeCare can also flip on demand acquisition to fill any existing, non-WeeCare center's unused capacity at scale. It takes less than a week to onboard a qualified provider onto the platform. This is (often more than) 10x faster than the national average of 2 months.
WeeCare's home market of Los Angeles is a perfect case study of its model. It currently has over 900 schools in the Greater LA area, or approximately 18% of all in-home daycares in Los Angeles County. Digging into individual sub-markets on the map, it's clear they have a deliberate supply acquisition strategy that hits specific sub-neighborhoods as needed.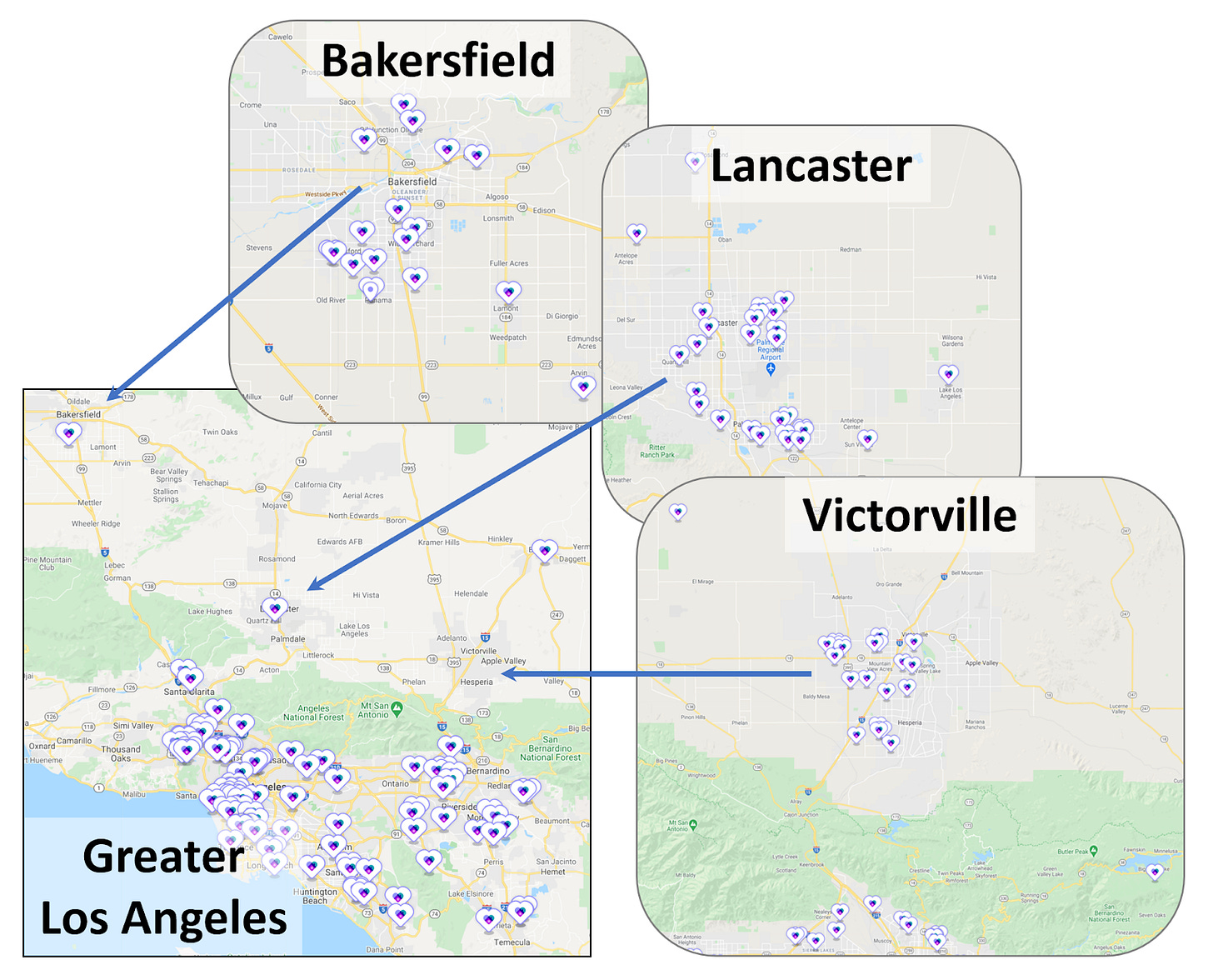 Detroit and New York highlight two different phases of WeeCare's growth within a market. Detroit is a newer city with WeeCare locations predominately in lower income areas, and New York reflects how its model, first launched in low income communities in LA, has began scaling into higher income neighborhoods like Manhattan.

WeeCare's deliberate, productized approach has created a very capital efficient model. Using public data compiled in mid-March and a very basic estimate of supply compared to total capital raised, WeeCare was adding capacity roughly 10x more efficiently than its closest startup competitor, Wonderschool. Other startup competitors like MyVillage and NeighborSchools appear to have just started scaling outside their home markets. Compared to Bright Horizons, which operates 705 large child care centers, WeeCare adds new capacity 86x more efficiently.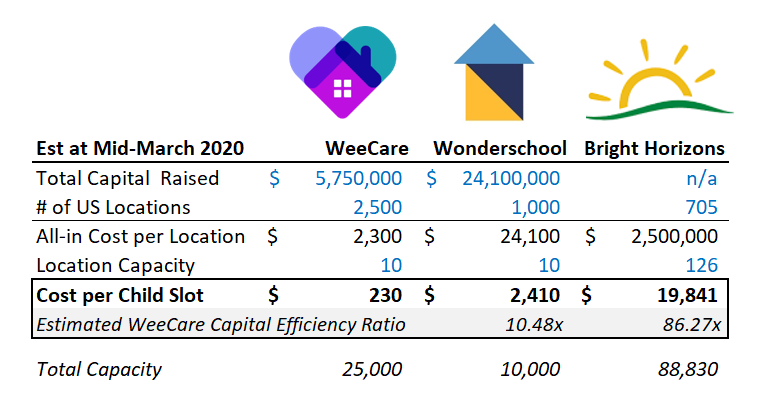 Another way to frame WeeCare's growth: Before WeeCare's 2018 launch, Bright Horizons had a total of 695 US centers (page 21). By October of 2020, WeeCare had 2,700 US schools compared to a net of 13 additional centers brought online by Bright Horizons.
COVID-19: Closures, Panic, and Chaos
COVID unquestionably accelerated many of the aforementioned issues in the child care market. Attendance dropped as much as 90% nationally, and 80% of daycares in the SF Bay area closed during the peak of the crisis. In a March, 2020 survey of 6,000 providers, over 70% of home-based daycares had only one week of financial runway, and 63% didn't think they could survive closing for more than 30 days. Experts predict loss of profitability and no federal funding could close 4.3 to 4.5 million slots in 2020, or roughly half the total supply of child care in the US.
Preschool capacity has disappeared as well due to licensing limitations and closures, while many K-12 schools (which allow most parents to work) have become virtual or staggered in the fall. And for many child care workers earning near minimum wage, going back to work actually means a pay cut from unemployment benefits in addition to risking their lives on the frontlines.
The anxiety for new parents sitting on waitlists exceeding a year have been exacerbated during this year's global pandemic. They're now avoiding large centers with large class sizes. Since home daycares aren't grouped by age, each house consists of only a few families and leads to less cross-contamination. Parents no longer commuting to work, mostly millennials raised in the sharing economy, are also finding convenience in local in-home options.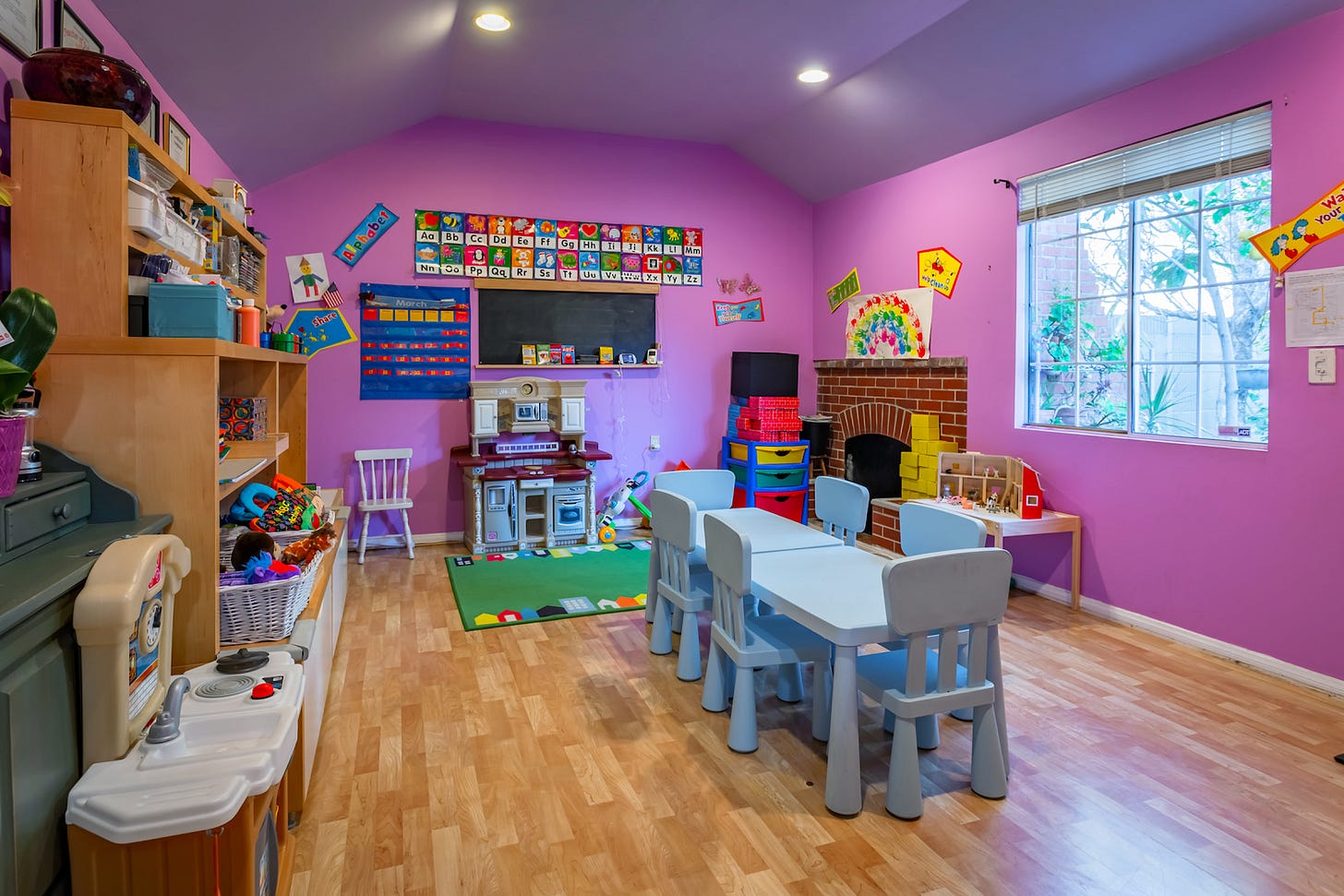 Worst of all, COVID has accelerated the number of parents (specifically women) leaving the workforce. Some due to job loss, many due to zero child care options. This accelerated when 865,000 women dropped out of the workforce when school resumed in September. According to a McKinsey study published in September, an additional one in four of all women are considering reducing hours, moving to part-time, switching to less demanding jobs, taking leaves of absence, or stepping away from the workforce altogether according.
During the onset of the pandemic in March, 12% of child care chains remained in operation. Home daycares fared slightly better at 25%. Over 250k child care professionals were laid off. In a corporate update, 21% (150) of Bright Horizons US centers remained open in March, with each classroom operating as self-contained classes (not the most efficient use of their massive centers). This number increased to 30% (210) by the end of June (page 26) and 55% (390) to end July.
90% of WeeCare's centers remained open through the height of the Pandemic, and per Time, it continued adding capacity to reach to 2,700 in October. It also launched two new product lines: Fever Free and a corporate child care benefits offering.
Unlocking the Next Level of Growth with Corporate Benefits
COVID ultimately accelerated WeeCare's end-game: the ability to quickly launch a daycare anywhere. It's new corporate child care benefit allows any employer to provide child care for any (or every) employee as fast as one day. This includes support for a distributed team, an employee relocating across the country, or Instacart's 200k essential on-demand workers in thousands of US cities.
Child care is an essential infrastructure for the US economy. In today's work-from-home environment, most working parents (and moms, if we're being honest) have not only continued working, but also became full-time teachers, caretakers, and often therapists for loved ones who have plunged into depression. Nearly 33% of the US workforce has children at home, and 10% of economic activity can't happen if schools and daycares are closed. According to a 10-year study published in 2016, 54% of employers reported workplace child care benefits had a positive impact on absenteeism, reducing missed workdays by 30%. It also reduced employee turnover by 60%, and women who received assistance for child care costs were 40% more likely to remain at the same job two years after giving birth.

Employers paying for child care could expand the size of the market significantly as more unpaid, family, and friend-based care shifts to a professional setting. And WeeCare offers a solution to quickly spin-up the exact supply needed to support others in the child care benefits like Kinside, Winnie, and Care.com.
WeeCare's ability to quickly spin up supply also benefits Bright Horizons. 66% of it's 705 US centers are built on-site, and often funded by, its base of over 1,000 B2B customers.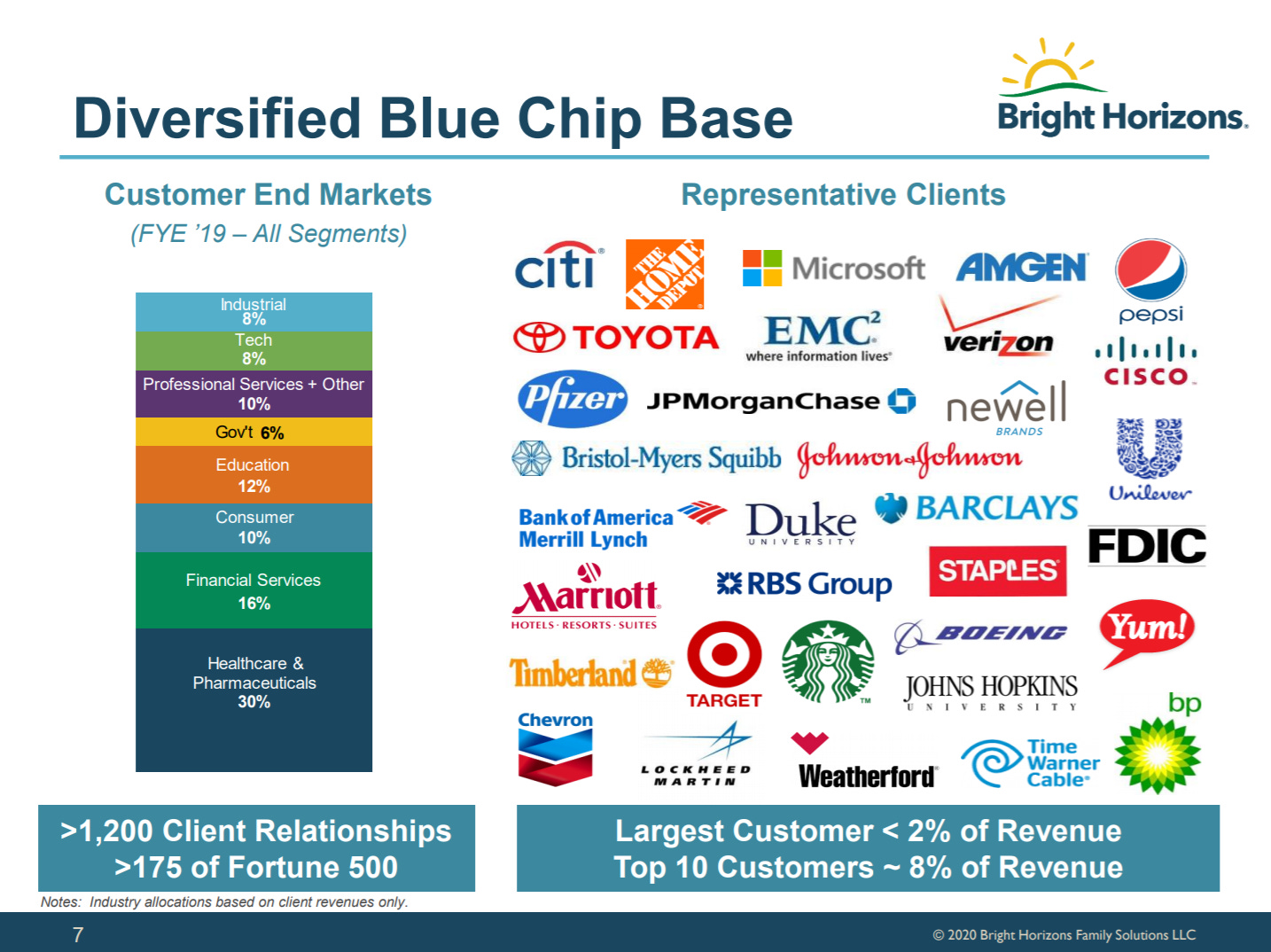 Bright Horizons discloses these centers cost an average of $2.5m to build-out, and are unfortunately not often convenient for employees working from home, nor useful for distributed workforces. WeeCare is perfectly positioned to partner with large center operators like Bright Horizons to spin-up supply and fulfill contracts with their clients.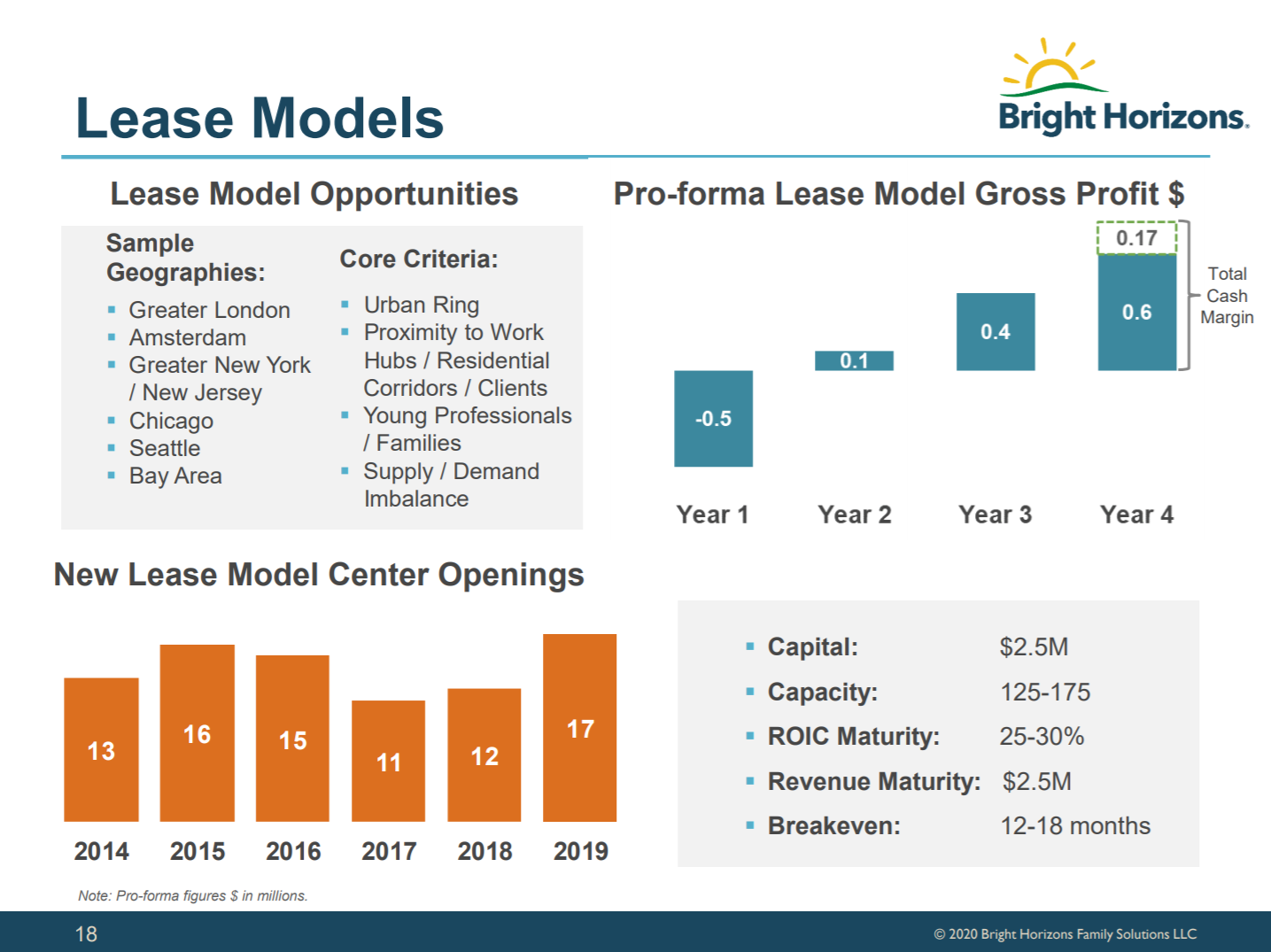 WeeCare's Fever Free product launched in July represents another addition to its product stack. It's the internal tool it used to detect family fevers from their homes pre-drop off, leading to zero COVID spread in any of its 2,700 locations.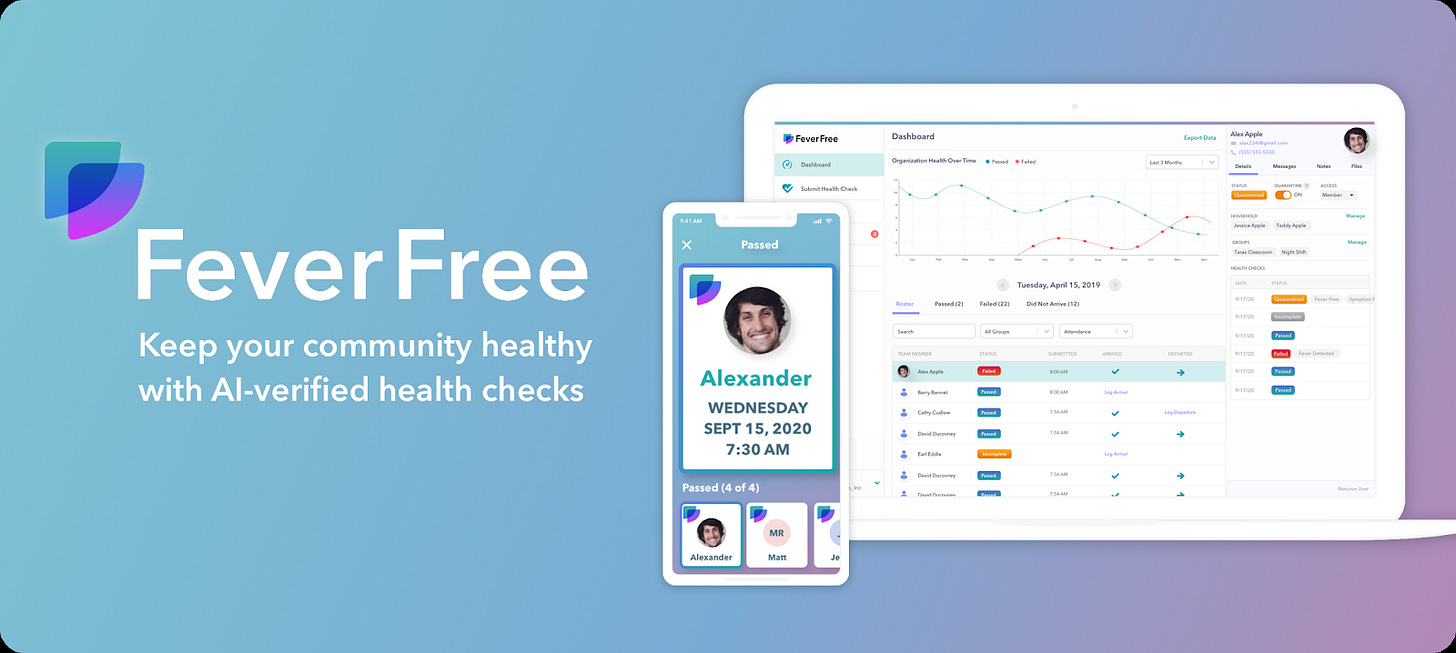 Parents take a brief video of themselves and their kids using a digital thermometer. AI verifies the temperature reading and that it's a real thermometer, and parents tap symptoms family members are feeling. I was surprised that competing apps are all self-reported, and WeeCare's was the first product in the market to do this automatically.
WeeCare rolled this out to all their daycares in March, and opened it to other customers in Q3. Before launching, they were fielding inbound requests from daycares, then preschools, entire public and private school districts, and even universities. Inbound interest has also opened up channels to government entities, healthcare systems, and private sector businesses like film production and manufacturing plants.
Fever Free allows WeeCare to continue acquiring customers and building distribution if either schools remain closed and parents need in-home care, or if the world reopens and businesses are in-need of temperature monitoring. As WeeCare scales its instant child care + Fever Free solution, it becomes a very compelling partner in the child care benefits space.
Closing Thoughts
While the global COVID-19 pandemic of 2020 put the child care industry into turmoil and closed the majority of supply, WeeCare kept 90% of its centers (now near 100%) in operation. As you can imagine, more product lines and increased urgency in the problem it's solving have positioned it to grow even faster to end Q3 and into 2021. As WeeCare expands beyond in-home daycare, it's on a path to positively impact every family in the US.
If you, your business, or someone you know is looking for a new child care experience, check out WeeCare. It's likely better and more affordable than their current experience, and its model should become even more affordable over time. The team is working towards an incredible mission and I couldn't imagine a more exciting company to be involved with.