Discover more from The Split
Stay on top of the latest tech and startup stories.
Over 23,000 subscribers
WhatsApp Launches Shopping
NFT trade volume drops 99%, ByteDance gets back into search
Hi everyone, Turner founder of Banana Capital, back again with The Split (a little late as I lost power last night). Exciting news: I bought www.thespl.it over the weekend. We're now official. Hopefully this new domain still hits everyone's inbox... 
Today I'm writing about the new commerce features WhatsApp announced on Monday. I believe these will have first and second-order effects on how commerce continues evolving around the world, and it's something I'll be following closely. We also just had Banana Talent Collective Drop #1, and early candidate applications for Drop #2 are looking just as strong.
WhatsApp Introduces End-to-End Shoping Experience with JioMart
Yesterday, WhatsApp announced a new feature allowing consumers to transact with businesses directly in app. Its initial launch partner is JioMart, the ecommerce platform owned by Jio and Reliance (the largest company in India). Consumers can browse in-app product catalogs, add items to their cart, and pay - all within a WhatsApp conversation.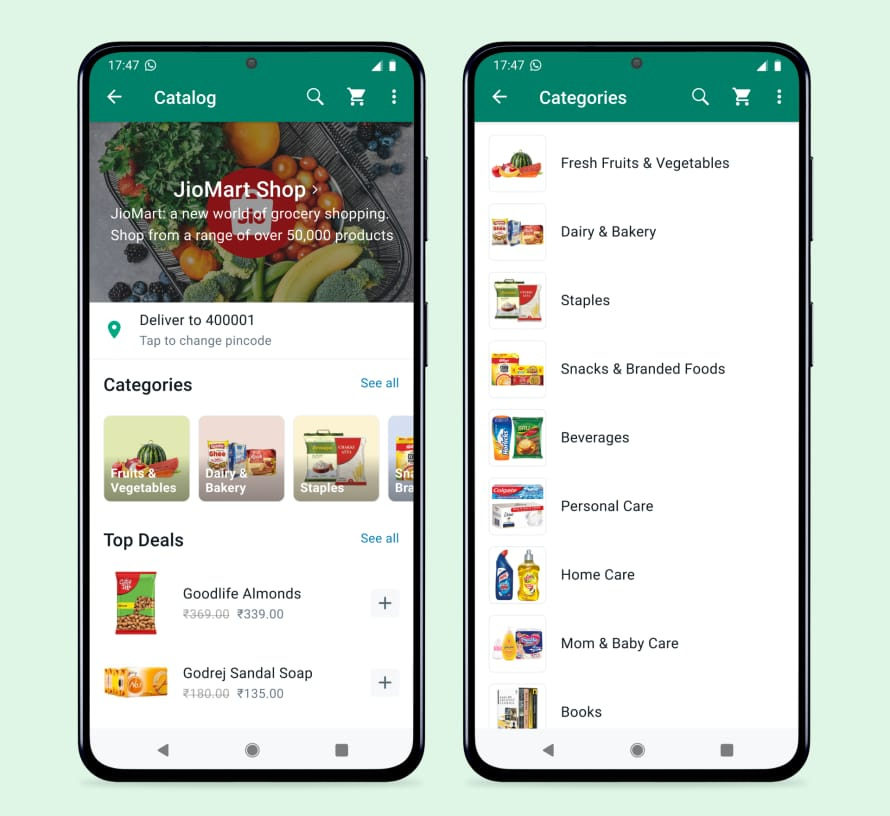 This may seem trivial. Or, possibly you thought this was already happening on WhatsApp. And that's because it was. On its Q2 '22 earnings call, Meta (Facebook) disclosed an estimated one billion users message with a business each week (across WhatsApp, Messenger, and Instagram). We've seen WhatsApp enable commerce across the Banana Cap portfolio in companies like Mio (in Vietnam), Facily (Brazil), and Kitabeli (Indonesia), and in other non-portfolio companies like Meesho (India) and Elenas (Colombia). This has all happened with a limited feature set that generally involves numerous steps between product discovery and final payment.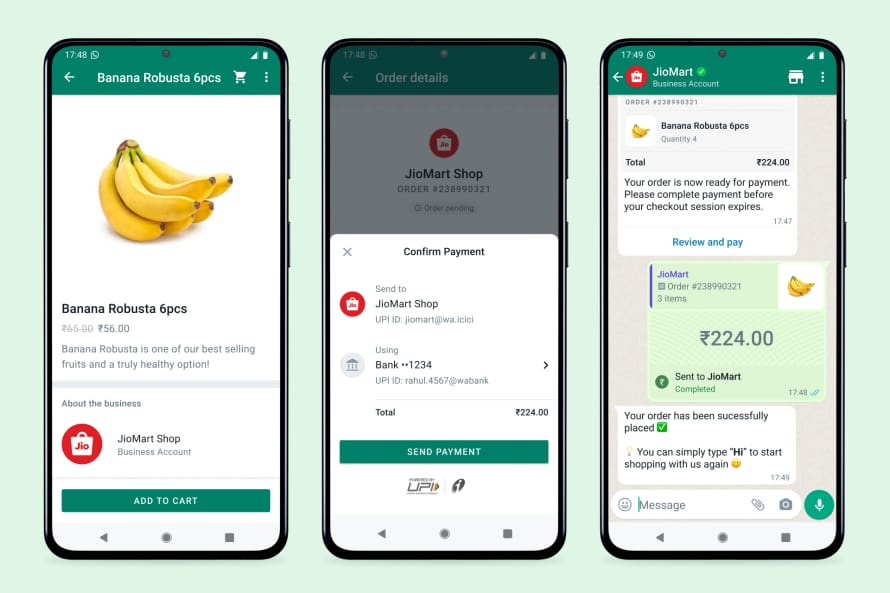 WhatsApp has over 2 billion users, the majority of them in emerging markets with low but quickly growing ecommerce penetration. WhatsApp has roughly 400 million Monthly Active Users (MAUs) in India, ~110 million in Brazil (91% of internet users aged 16-64), 75 million in the US, and 69, 65, and 62 million in Indonesia (87% of internet users), Russia, and Mexico, respectively. Chat-based experiences have already changed the way businesses connect with their customers, and it feels like we're just now starting to see WhatsApp build features for these experiences.  One way to frame it if you're unfamiliar: in many countries, WhatsApp used as much as (or even instead of) email.
While each market will look different, WeChat's evolution in China hints at what's possible. Pinduoduo was founded in 2015, went public in 2018, and briefly reached a market cap above $200 billion in 2020. To my knowledge, it is now the largest ecommerce platform in the world reaching 751 million MAUs by Q1 of '22 - and the first hundred million or so were acquired and serviced through WeChat WITHOUT ever actually downloading Pinduoduo's app. Its not a perfect parallel, but WhatsApp (and message-based commerce more broadly) could drastically reduce the friction of conducting commerce online and increase ecommerce adoption globally.
To start, it looks like Meta will monetize this through WhatsApp Business, its subscription offering primarily targeted towards SMBs. Pricing varies by region, from one cent (India, Colombia, North America) to nine cents (France, Netherlands) for user-initiated messages and one to fourteen cents for business-initiated messages.
It also looks like parts of WhatsApp Business is tied into Meta's advertising platform. SMB merchants in countries like India, Brazil, and Mexico have been slower to adopt FB's broader ad products, and chat-based commerce could help onboard emerging market SMBs onto Meta's broader ad platform.
As this evolves, it may encourage certain merchants to use WhatsApp (or Messenger, IG, etc) to solve certain problems instead of using Shopify or a comparable local product. Shopify merchants generally rely on Meta's products for customer acquisition, and FB is in a position to manage an SMB's inventory, acquire their customers, and provide customer service all in one platform. I do think Shopify specifically has built a network of partners that makes it hard to completely switch from, especially as it builds out its logistics and fulfillment capabilities (something I doubt is on Meta's near-term roadmap).
One of WeChat's hit products has been its mini-app platform. This works exactly as it sounds: app experiences that live inside of WeChat. Watching the WhatsApp Commerce launch video posted by Meta PM Rutaja, it almost feels like this JioMart experience is its own app. WhatsApp's early success could hint at what sorts of experiences are possible on Messenger, Snapchat, iMessage or even products like TikTok and Google Maps.
Want to stay on top of how commerce is evolving globally?
Subscribe to The Split for more every Tuesday and Thursday.
Product Launches
ByteDance launches search app in China: Its second attempt at a search product, the ad-free app "Wukong" launches days after Tencent shuts down its own search app, Sogou. It appears ByteDance will initially monetize by favoring its own products in results. Over time, it may borrow Douyin's commerce features and embed transactions directly into results. More from the SCMP.
Snapchat launches Dual Camera: The feature appears similar to BeReal's dual camera. It also mimics video formats that have become popular on TikTok over the past two years, and hints at Snap looking for ways to increase content supply on its TikTok-like Spotlight feature.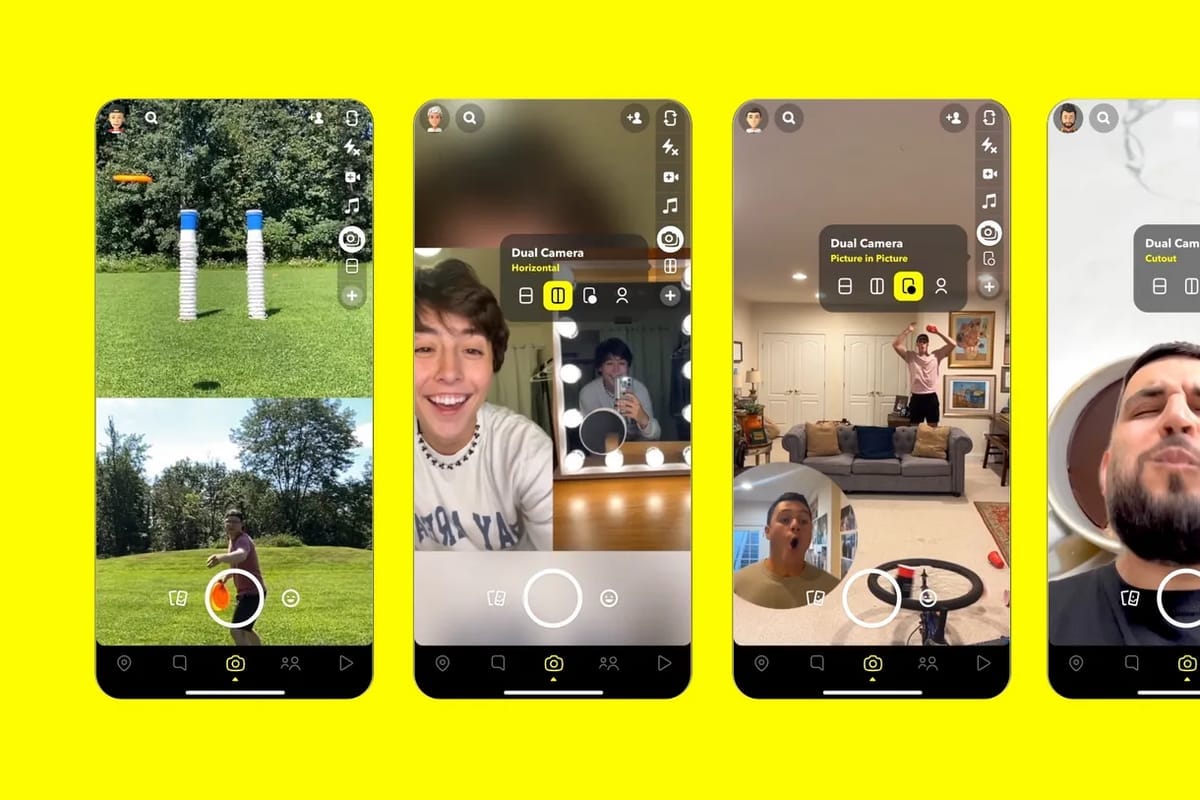 FedNow estimates Q2 2023 launch: The Fed's instant payment settlement platform will provide a foundation to build payment features for existing and new products. It's not built on blockchain nor is it a central currency, but should (in theory) reduce settlement risk and the cost to transact. Similar products in India (UPI) and Brazil (Pix) have seen early success. More from Axios.
Can't Miss Reads
NFT trading volume on OpenSea down 99% since May: $9.34 million worth of NFTs was traded on Sunday by 24k users, about 33% less than the number of users that transacted in May. A July '22 Pew study found that only 16% of US adults had invested in crypto, the same number who said they had invested last September. More from DappRadar.
Yale now has more administrators than undergrad students: After a 1,400 decrease in enrollment in 2021, Yale has ~5k administrators supporting 4,600 undergraduate students. Operating Income in 2021 was up 200% from 2003, increasing from $1.5 to $4.6 billion ($1.5 billion of which was distributions from its endowment), which at least outpaces the 45% increase in admin headcount. Rough math of $2.7 billion in operating expenses averages $549,000 per admin employee. Hopefully the 3x faster growth in administrators over students the past two decades is supporting other revenue-generating business units like the medical facilities, online courses (?), and sports teams (???). The financials below highlight just how complicated the business of higher education institution can be. More from the Yale Daily.
International stocks now trade at a 50% discount to US: A lot of nuance, but the discount in valuation multiples between US and international stocks has slowly increased from 15% to 50% over the past decade. More from Dan at Verdad.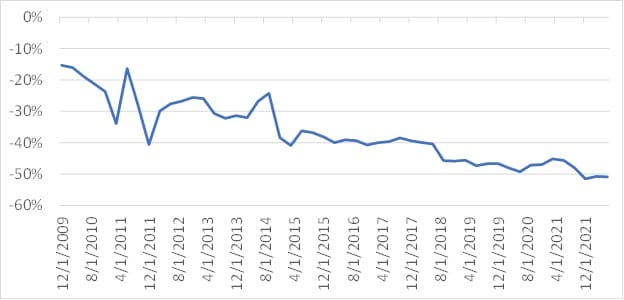 One-in-ten American workers is employed by an immigrant entrepreneur: I wonder what this number looks like if expanded to include second-generation immigrants? More from the IZA Institute, and h/t Jeremy Neufeld for sharing.
Nearly 1/3 of US home sales in 2021 went to non-occupants: 25% of all US single-family-home sales in 2021 went to landlords. The number of flips in Q1 '22 were reportedly 10% of total, up from 5% in 2021. Looks like it may be time to build... More from the Atlantic.
Financial obligations as % of disposable income at 40-year lows: It's not all bad: despite the chaos in rents, mortgage rates, auto prices, etc that I've covered in the past, the average consumer still has ample debt service coverage. Important to note, this is an average, and I'd be interested in what this number looks like for lower income consumers only. h/t JabroniCoin.USD (😂) for the chart.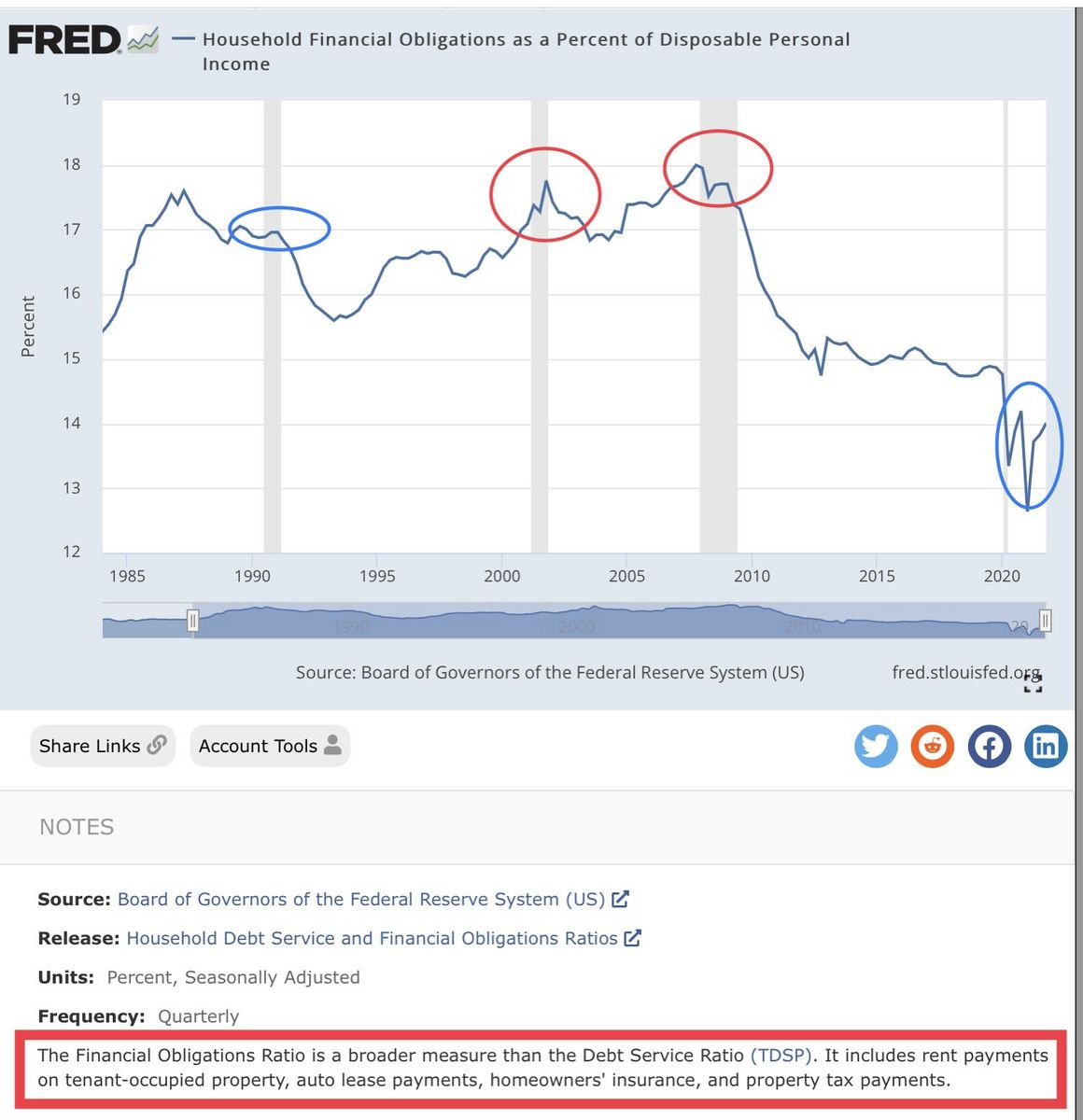 Tencent's transformational ideas come from low-ranking teams: Hidden in this piece on WeChat's role in China's latest wave of COVID lockdowns, "almost all of Tencent's transformational ideas, including WeChat, came from second-tier teams competing against each other, not from the top brass". More from the Economist.
Canadian scientists warn of high chemical levels in fast-fashion retailers: A child's jacket and purse purchased from Shein contained 20x and 5x the amount of lead safe for children. More from CBC.
How TrialPay escaped the "can't raise cash without growth, can't growth without cash" doom loop:
Sold some IP

Spun-out an attractive internal business and dividended to existing shareholders

Promoted aggressively from within
Full Twitter thread from TrialPay co-founder and a16z partner Alex Rampell here. 
Survey Says
On Thursday, I asked "How much revenue do you think FTX will do in 2022". The answers surprised me: 92% of respondents thought revenue would be flat or increase.
Personally, my vote last week would have been for much less than $1.1 billion. I've been very bearish on crypto "use cases" that have emerged so far, and volumes are down bad from last year. One thing I've come around to over the weekend is that MANY crypto exchanges will fail. If FTX is the best, it would in theory steal market share across various institutional and retail use cases + (eventually) increase its take rate, leading to more revenue. I don't know exactly what its margins are, but I believe Coinbase had a quarter with ~70% EBITDA margins last year. Its also possible that FTX cleaned up in Q1 and already booked north of $1.1 billion...
Career Services
If you missed it on Twitter, yesterday we did Banana Talent Collective drop #1. It featured 38 candidates that included engineers (entry-level to CTO's), growth marketers, PMs, and consultants from Meta, Google, Affirm, DoorDash, BCG, Marqueta, Home Depot (🔨), and 10+ interesting mid/late-stage startups that I won't disclose. If you're hiring and want Drop #2 in your inbox, sign-up here (Banana portfolio companies please reach out for free access).
18 candidates have already applied to Drop #2 - which includes engineers, CMO's, PMs, Strategy & Ops from places like DoorDash, Microsoft, Dropbox, Meta, Github, and a few Seed/Series A startups that I won't name. If you want to passively and anonymously get in front of hiring managers at companies across the broader Banana Cap portfolio and network (includes Chainguard, Secureframe, Snackpass, NexHealth, Forage, and many more) join the next drop as a candidate here.
Two job board openings to highlight:
Browse 55+ more openings or add your own here.
Monkey Business
Current state of the NYC rental market: