Discover more from The Split
Stay on top of the latest tech and startup stories.
Over 23,000 subscribers
Walmart+ Turns Two
Plus: YouTube announces revenue sharing for Shorts, TikTok clones BeReal
Happy Tuesday! Turner back again with The Split.
Today I'm joined by Wendy, who insisted she didn't want to do another VC internship the second year of her MBA, but I convinced her it would be fun to help me out. Her first assignment was to help look into Walmart+.
We're also launching our first ever contest: Refer three readers, get three months access as a hiring manager to the Banana Talent Collective. Full details below!
Walmart+ Turns Two. How's it Doing?
In September 2020, Walmart launched an Amazon Prime-like subscription bundle, Walmart+. Two years later America's largest retailer's US ecommerce sales are closing in on $50 billion, or 12% of its total US revenue. What role has Walmart+ played? And what should we expect going forward? My guess: increased mobile app adoption and further leverage of Walmart's existing retail footprint.
What is Walmart+?
Walmart+ is an annual subscription with benefits worth ~$1,300 per year:
Free shipping on Walmart.com (no order minimum, excludes marketplace purchases)

Free grocery delivery ($35 order minimum)

Scan & go (scan in-app as you shop + pay from your phone)

Fuel discounts at partner gas stations

Rewards and further in-store discounts

Paramount+ streaming subscription

Spotify Premium for 6 months
After a free 30-day trial, customers pay $13/month or $98/year (38% discount) for Walmart+. This compares to $15/month and $139/year (23% discount) for Amazon Prime. If you take the $134 value of Paramount+ and gas savings at face value, Walmart+ pays for itself, a common selling point of similar subscription bundles.
Walmart+ was created to increase customer loyalty, enhance convenience, and gain greater share of wallet among its US customers. In its latest annual report, Walmart specifically calls out Walmart+ as a key component of its strategy to "meet competitive pressures." Competition between the two largest ecommerce platforms in the US has heated up over the last several years, with Walmart trying to catch Amazon in ecommerce and online advertising before Amazon can figure out grocery and in-store shopping.
While Walmart has not publicly reported its numbers, analysts estimate Walmart+ has somewhere between 11 million and 32 million members. While only a fraction of Amazon's 166 million US Prime members and 200 million globally, it did take Amazon 10 years to hit 38 million. Walmart could reach that in one third of the time. There's likely overlap between Walmart+ and Prime subscribers, indicating customers may not necessarily be loyal to one service. And depending on the consumer, it might make sense to have both.
Why Does Walmart+ Matter?
Walmart has made several announcements this month related to its ecommerce platform. These announcements are timely as 56% of Walmart customers are expected to begin researching holiday shopping items in October.
This is not the first time Walmart has attempted a free two-day shipping subscription service. Walmart's first foray into ecommerce was back in 2000 with walmart.com and samsclub.com. Today, ecommerce represents 13% of its revenue, still a relatively small number and much higher internationally than in the US. Its unclear exactly why it took Walmart so long to figure out ecommerce, but decades of headlines around Amazon being unprofitable certainly made it easy to ignore. Walmart also supposedly used to compensate managers based on individual store-level sales and profitability, which surprisingly would not have incentivized the company to move business online.
Walmart seemed to start taking ecommerce seriously in 2016 after its acquisition (and subsequent 2020 wind down) of Jet.com, which allowed the retail giant to acquire fulfillment centers and ecom talent. Since then, the company has experimented with various efforts to take share from Amazon.
Although only 13% of revenue globally, ecommerce is Walmart's fastest growing segment. This, of course, does not come without risks: potentially cannibalizing store traffic, high capital expenditures from technology and infrastructure investments, and competing directly with nearly every other retailer and a list of on-demand players that includes Uber, DoorDash, Instacart, Gopuff, and many others.
Walmart employs a fleet of on-demand drivers through Spark Delivery, the company's crowdsourced delivery-driver network, and ships ecommerce merchandise from 31 dedicated fulfillment centers and directly from more than 4,000 stores. I'm not sure exactly how Walmart's on-demand tech and operations will ever stack up against the likes of Uber. What we'll most likely see, is Walmart continue leveraging its store footprint as it moves more business online. Hopefully with the right incentives right this time around.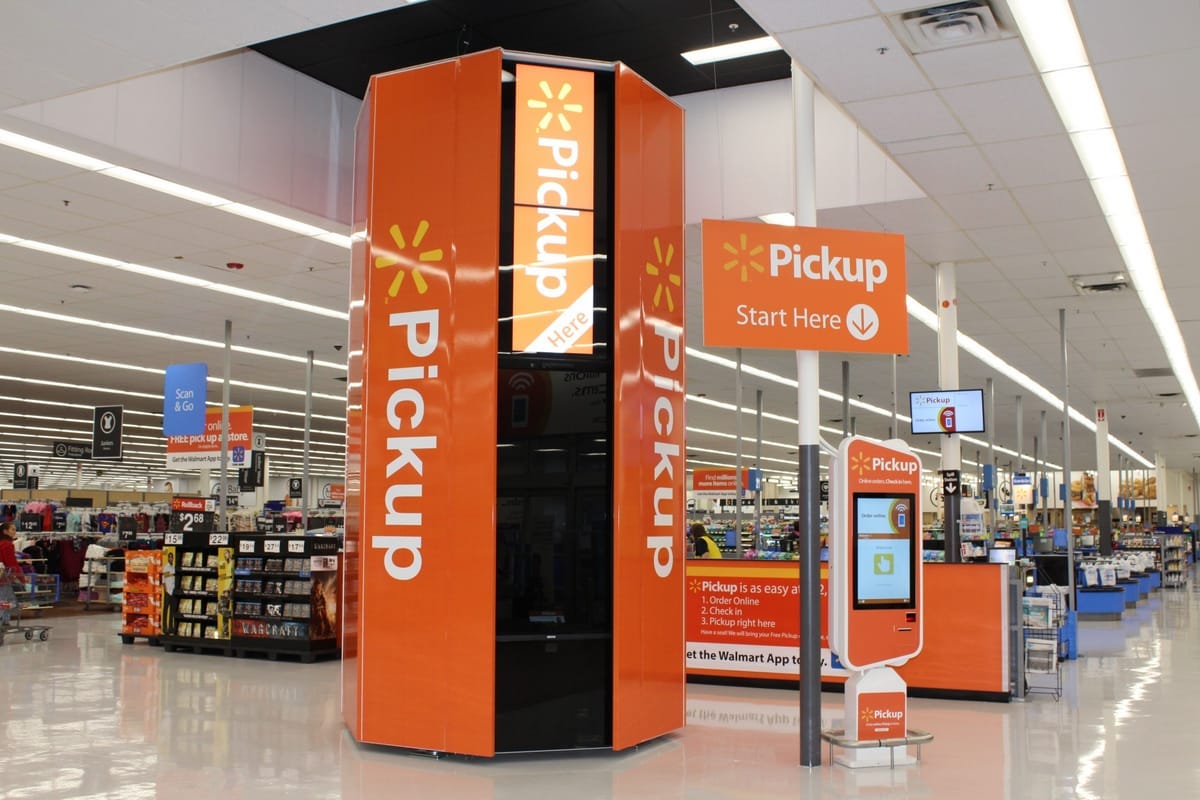 What's Next for Walmart+?
In an inflationary environment amidst what some may define as a recession (the White House not included), Walmart is positioned to resonate with price conscious American consumers. With zero substantiation behind this claim, Walmart's ecommerce business certainly rode pandemic-related tailwinds without much help from Walmart+. Now could be the time to accelerate Walmart+ membership growth, especially in light of Amazon Prime's price hikes.
Lower Prices, Increase Share of Wallet
For as long as I can remember, Walmart's strategy and positioning has been to build the lowest cost structure and compete on price. I'd expect its approach to ecommerce is similar, especially considering its existing customer base. Given consumers' sensitivity to Prime's $20 price hike this summer, price increases would probably limit Walmart+ membership growth anyways. It's worth noting Walmart hasn't lowered the price since launching two years ago, even amid inflationary pressures and supply chain disruptions. It hints Walmart doesn't see the membership as a revenue driver on its own. Its customers already average more than $1,000 spent on Walmart.com per year. And there's plenty of data across membership programs that show they acts as a sunk cost and incentivize where a customer start each purchase journey. In Walmart's case, this can be both in-store or online.
Convenience, assortment, delivery speed, and low prices will continue to drive adoption. A 2018 study found Walmart's prices were 10% cheaper than Amazon, and even more so when comparing grocery products against Whole Foods. We'll likely see Walmart+ further tie in with Walmart's lower price strategy, which will need to maintain a lower cost structure than competitors.
Lower Costs and Higher Adjacent Product Adoption 
Walmart has what most large ecommerce companies don't: a massive retail footprint. Walmart has continued optimizing its in-store pickup and delivery operations over the years (via automation and reconfiguring store layouts), especially during the pandemic. Incentivizing customers to pick up orders from a store reduces last mile delivery costs (the most expensive logistics costs), while also driving adoption of adjacent high margin, in-store products. Operating a retail store has high fixed costs, and higher adoption of products like its Pharmacy, other healthcare services, automotive care, and various money-transfer and financial services should boost Walmart's bottom line. Eventually, Walmart can shift most of these products online, boosting their margins even further and likely increasing advertising revenue as well (more below).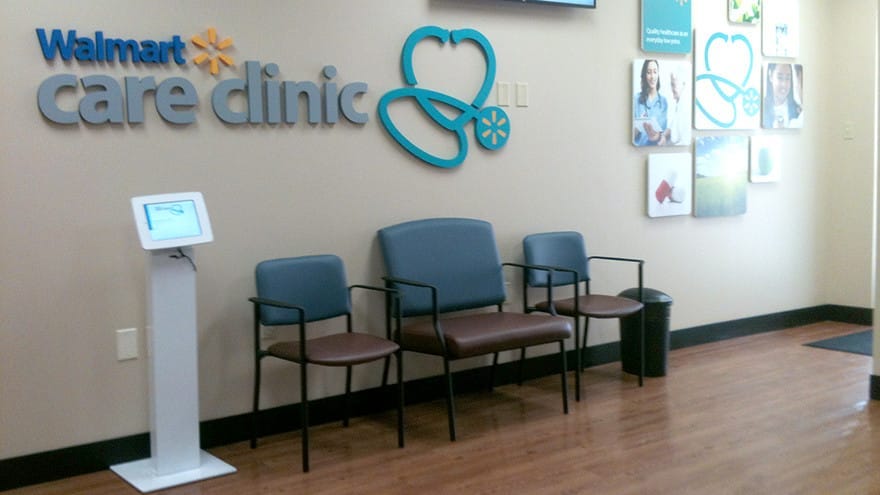 We should expect Walmart+ to add more "free" products, discounts, and rewards. For example, its current gas savings equate to roughly 10 cents per gallon. This costs Walmart $2-3 in revenue on a 20-30 gallon tank, which is probably worth it if a customer spends money in a store after filling up. Non-gas spend is typically where gas stations generate most profitability. And in this case, Walmart isn't a 500 square foot building selling snacks and energy drinks, its the largest retailer in the world. As it gets larger, we may expect even more discounts, which ultimately acts as a lever to impact customer acquisition and retention.
Partnering with streaming platforms like Paramount+ avoids the $13 billion in content-related costs Amazon paid in 2021 (up from $9 billion in 2020). And its partnership with American Express Platinum card likely increases adoption with higher income consumers that may not do shop at Walmart otherwise. These discounts and partnerships will likely lead to lower customer acquisition and retention costs than doing so outright.
Grow the Ecommerce Marketplace and Advertising Revenue
Walmart is also building out its Marketplace ecosystem to compete with Amazon. Its launching more seller tools this fall, including advertising and search support. It's important to note that, despite being 1/3 smaller than its cloud business, advertising likely contributed the same amount to Amazon's operating income in Q4 of 2021 as AWS. This is probably the most important aspect of all of this. And I'm assuming Walmart has finally figured this out, and they're looking for ways to generate this high margin ecommerce advertising revenue as well.
Increasing the number of transactions that happen on Walmart's app where it can show more ad impressions is likely top of mind. Its search results are already heavily sponsored (the first two pages of a search for "laundry detergent" below is 100% ads), so most new ad revenue will likely come from increasing the time customers spend in its app.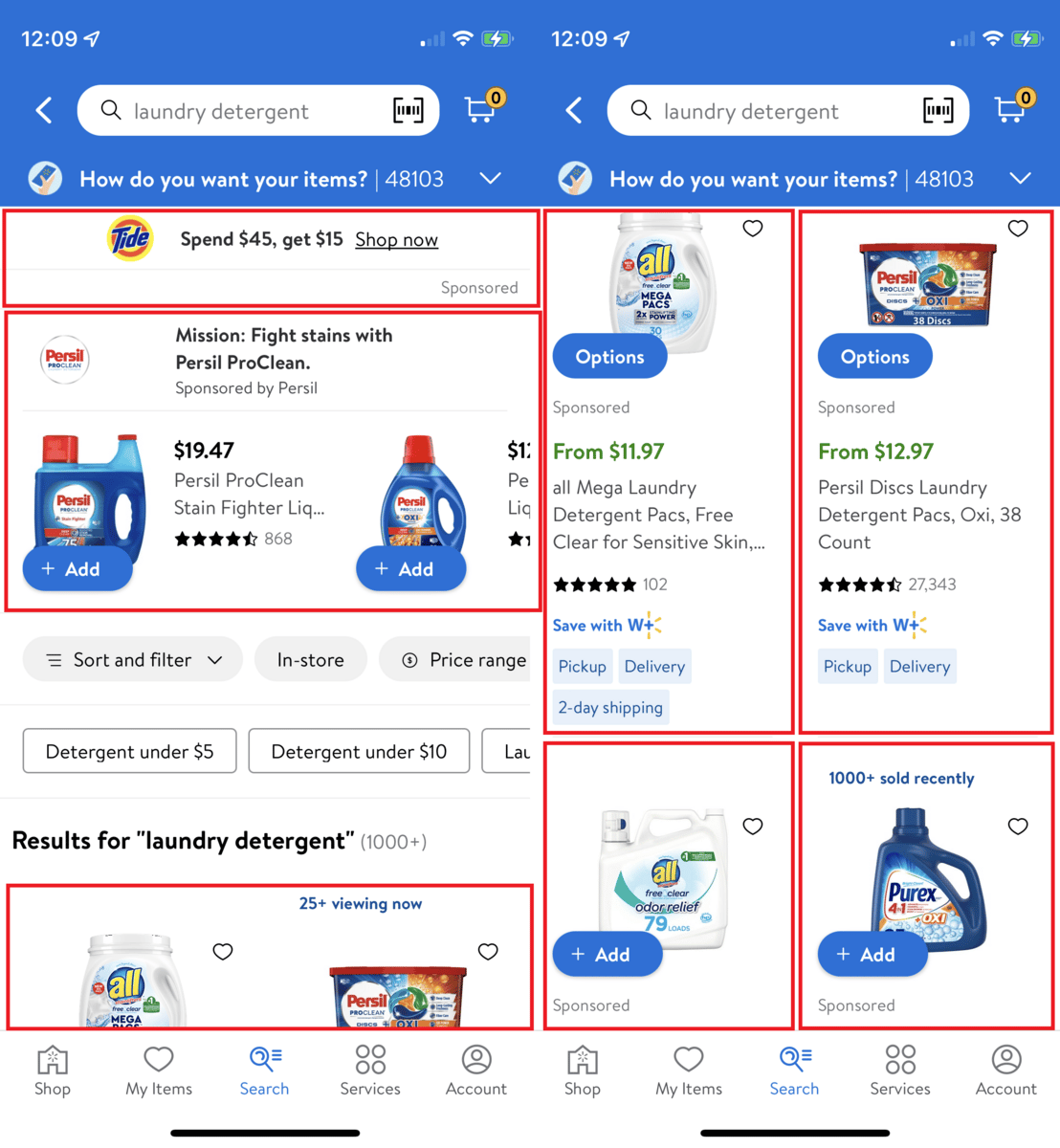 And don't forget: Walmart tried buying TikTok in 2020 amidst some of the controversy around its parent company Bytedance's Chinese ownership. The average young TikTok user now spends more time in-app than Instagram or YouTube.
Using Scan & Go to drive app adoption is starting to feel very timely...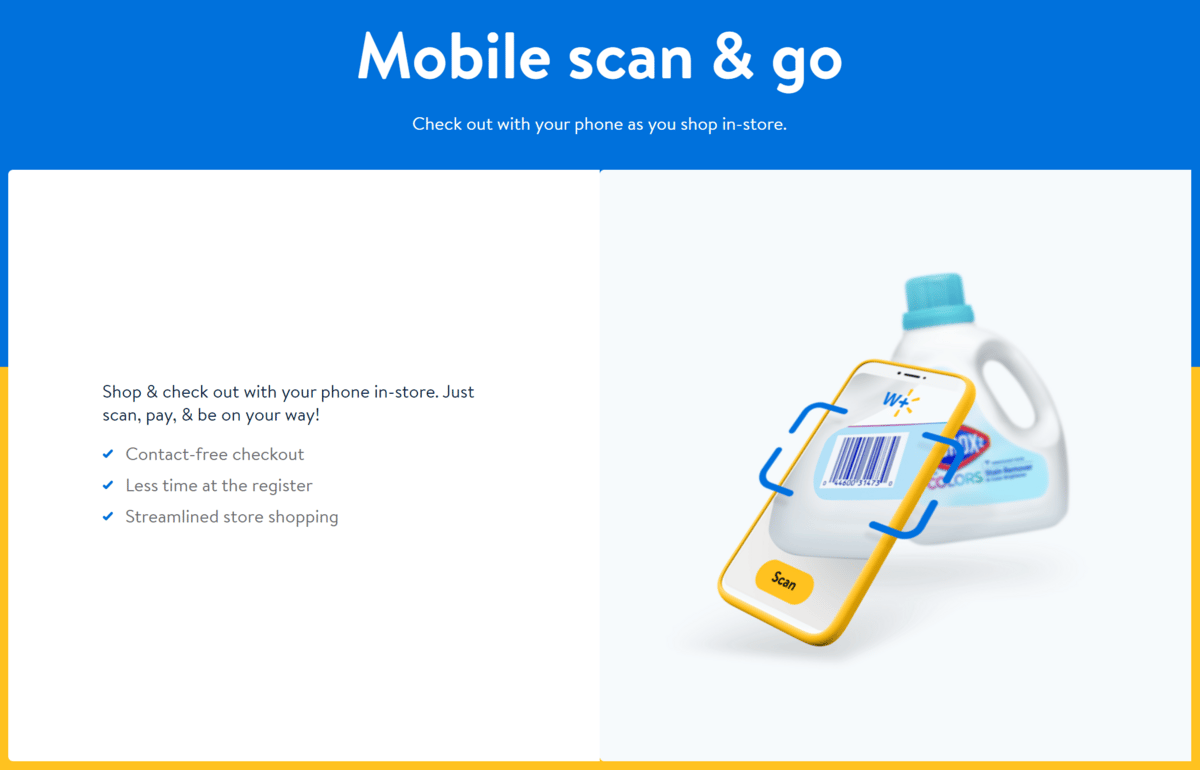 International Expansion
Depending on performance, Walmart may look to roll out its US learnings across international markets. Walmart's international segment represents a notable portion of the business at $100 billion of revenue or just under 18% of total in so far in 2022.
Its international business is supported by 2,900 pickup and 1,900 delivery locations, and Walmart can leverage the same strategies and large CPG brand relationships that are already advertising in its US marketplace to expand globally. Its also possible what we're seeing today in the US is just Walmart applying what's already working internationally.
Don't Count Walmart Out
Overall, don't expect the frequent Whole Foods shopper to defect from Amazon Prime to Walmart+. Instead, watch for Walmart to leverage its existing retail network, logistics infrastructure, and in-store services to drive additional revenue across its existing customer base, which generally skews more rural / suburban and lower income than Amazon. Walmart also operates Sam's Club, its "Costco but owned by Walmart" membership model with 600 stores and and 47 million members, most in the US. On a long enough timeline, I wouldn't be surprised to see elements of Walmart+ and a Sam's Club membership start merging together. 
If anything, we're watching Walmart take a page out of Sam Walton's playbook: "I have always been driven to buck the system, to innovate, to take things beyond where they've been." Finally, 25 years after Amazon's IPO, Walmart is finally taking things beyond its stores and onto the internet.
Do you think Walmart+, or Walmart more broadly, will continue seeing success in its ecommerce business? Or was the past two years entirely a COVID-related blip? Tap your answer and let me know why.
Login or Subscribe to participate in polls.
I'll share the results and any well-reasoned responses on Thursday.
Like what you're reading?
Subscribe to The Split for more every week.
Product Launches
YouTube announces 45% revenue share for Shorts creators: A big deal, as no platform has really cracked ad revenue sharing in short-form video yet. The YouTube Partner Program launched in 2007 has become a gold standard in creator monetization, and it will apply pressure to TikTok, Instagram, and Snapchat to switch from a fixed fund to per-video revenue sharing. This is worse for them, better for creators. More from TechCrunch and Variety.
ByteDance launches BeReal clone "TikTok Now": I missed sharing this last week, TikTok has added both a separate standalone app and in-app feature similar to BeReal. TikTok Now sends a prompt and gives three minutes to take a picture (BeReal gives two), and the Now feature within TikTok also lets users create a video up to three minutes long. More from The Verge.
BeReal to test in-app subscriptions: Clone attempts from Facebook and ByteDance will be interesting to watch play out as BeReal explores a monetization model that does not involve advertising, where revenue is not tied to the amount of time spent using the app. Snap appears to be having early success with its Snapchat+ membership, passing 1 million subscribers within its first month (more here). And more on BeReal's subscriptions from the FT.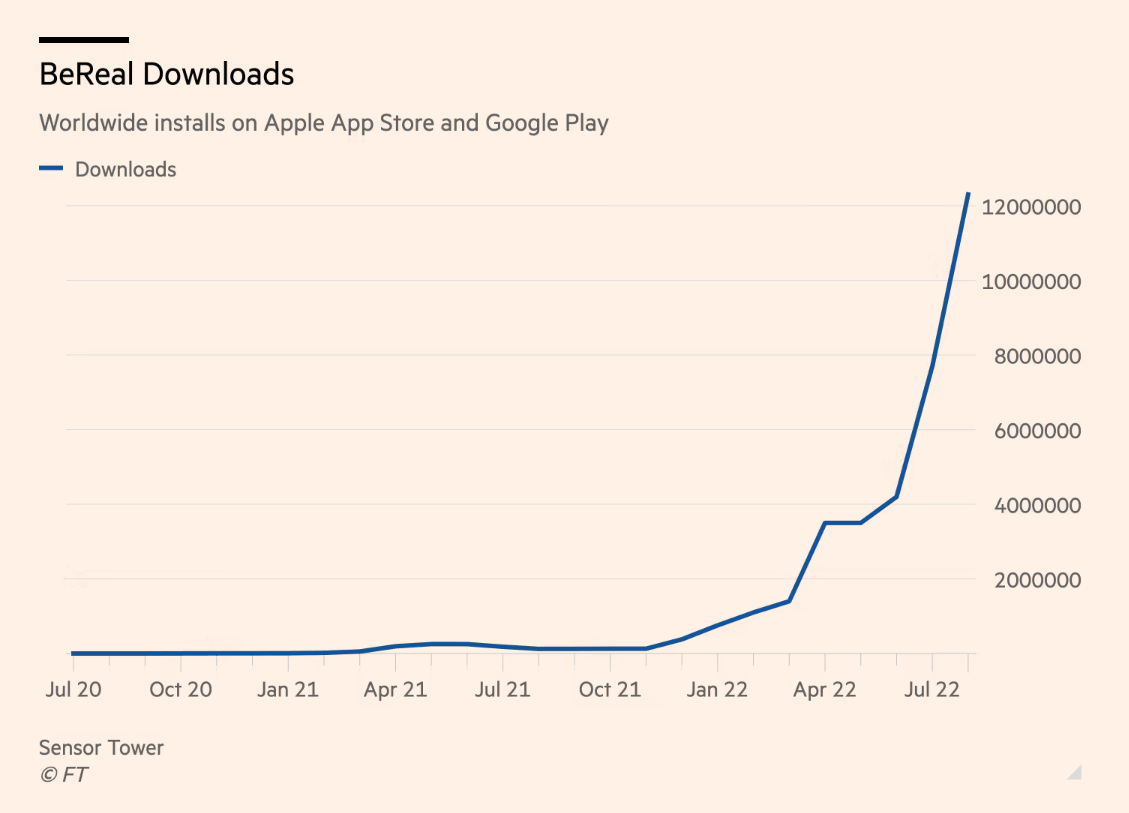 *As a disclosure to the above commentary, Banana Capital is a Seed investor in BeReal and Turner personally owns shares in Snap.
Other Reads
BeReal pulls ahead of Instagram in weekly US downloads: Third party data shows BeReal has consistently out-installed Instagram over the past three months (BeReal has sat on top of both TikTok and Instagram all of September). More from Business of Apps.
YouTube testing videos with 10 unskippable ads: This is so ridiculous that I actually respect whatever PM is pushing it. My friend Trung even found a video with TWELVE ads. This has to be part of some dark patterns to increase YouTube Premium conversions. More from The Honest Broker.
The State of Web3 in 2022: My takeaway: there's still not enough transparency across the ecosystem and it remains unclear what problems most of these products are ultimately solving aside from entertainment. The lower transaction costs we keep hearing are almost here and should unlock some value.
2.5m daily active web3 wallets (flat year-over-year).

NFT volumes down 97% from summer highs.

Decentralized Exchange transaction sizes have declined 90% from last year's highs.

7% of Coinbase's users are active

93.2 million total active users across all centralized exchanges, with 50 million active on Crypto.com (unclear how duplicates are handled)

50 unique wallets mining Ethereum (down from 400 in 2015)

5k weekly active Ethereum developers
Full presentation and summary from Tomasz Tunguz.
Career Services
Yesterday we did Banana Talent Drop #3. 14 new candidates joined, and we're already sorting through applications for Drop #4. If you want to passively get in front of hiring managers at companies across the broader Banana Cap portfolio and network join the next drop as a candidate here.
We're also trying our first contest: if you're reading this as an email, you'll see a unique referral link a few scrolls down. Any company that refers at least three new subscribers (one employees referring three readers, three referring one each, etc) will get three months of unlimited access to the Talent Collective. (This could be tough for me to track, so reach out if you hit three referrals just so I don't miss it. And please be patient if it takes a few days to get back to you. 😅)
If you want to start hiring now, get started here. Remember that joining as a hiring manager gets you in front of all 81 candidates in drops 1, 2, and 3.
Three job openings to highlight:
Browse more or add your own here.
Monkey Business