Discover more from The Split
Stay on top of the latest tech and startup stories.
Over 23,000 subscribers
Turner's Fantasy VC Portfolio II [Originally published May 9th, 2019]
I originally tweeted this on May 9th, 2019 before I set up this blog. Re-posting it here in an easy to read format.
I've gotten lucky since I put out my first fantasy portfolio in Aug '18 (link), with five of the seven companies I picked raising follow-on rounds since then, and two raising twice. For my second fantasy VC portfolio, I picked 17 companies accompanied with a one-page thesis for each.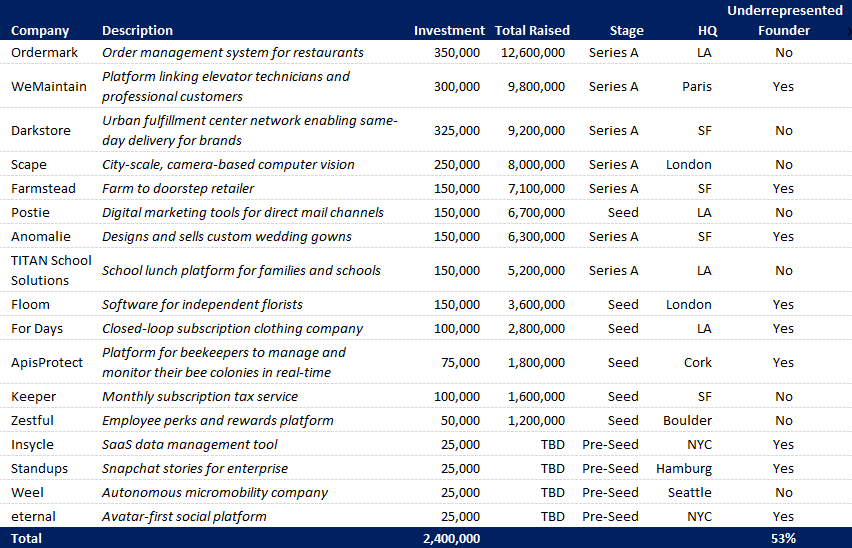 I stayed as early as I could (less than $10M previously raised) as that's what I'm most interested in. I prioritized positive long-term social impact, companies with unique business models, clear revenue prospects, opportunities for defensible distribution channels, and hints of a large market with incumbents that are un-incentivized to react.
My sourcing process is a combination of friends, Twitter, Reddit, other social channels, proactively helping founders and investors, some Product Hunt-ing, a little Hacker News, and following too many blogs, newsletters, and podcasts.
My due diligence is admittedly held back doing this remotely, in my free time, with no budget, and almost entirely blind to metrics. I dig things up on Google, Reddit, and YouTube, listen to podcasts, read blogs/reviews, scan social, and ask people smarter than me too many questions.
I've loved applying my background in credit, PE, and as an allocator to venture, and know I'm just scratching the surface with lots still to learn. Appreciate any and all feedback on this!
Ordermark
Stage: Series A / Total Raised: $12.6M
HQ: Los Angeles / Underrepresented Founder: No
Website
Ordermark created a system to consolidate orders and hardware from all food delivery providers (Uber Eats, Postmates, DoorDash, etc) into one PoS tablet and order ticket printer. Born from a fourth-generation restaurateur who added 14 delivery providers all at once, saw it boosted revenue but increased complexity, and built an in-house solution to manage all the inbound orders. There's a lot you can do with delivery order data, and Ordermark is in an interesting spot seeing all the orders from every provider. I also believe food delivery companies are simply last mile delivery providers that used food to build out their networks, and will continue expanding into other categories. Ordermark could be positioned to consolidate last mile delivery solutions for more than just restaurants, or simply become the restaurant PoS system for both in-house and takeout, and use that wedge to become a focused, vertically integrated restaurant SaaS solution.
The incentives seem well-aligned as it helps restaurants generate incremental revenue by tapping into unused kitchen capacity by plugging in multiple delivery providers, while making it easier for delivery providers add extra restaurants options to their networks. Also plays into the rise of Cloud Kitchens - kitchen-only restaurants designed for delivery-only. It feels like the large chains that haven't utilized much delivery to-date will be some of the big long-term winners in the proliferation of food delivery, and Ordermark already has Subway, Sonic, Little Caesars, Buffalo Wild Wings, Popeye's, and Papa John's (as a few examples) as customers. I can't find any competing products that are as well-designed or with as many big customers on their sites.
The CEO Alex Canter grew up in the restaurant industry, was previously COO of a food truck ordering app, and had launched various startups as a student at the University of Wisconsin. Uber Eats and DoorDash have experimented with their own hardware, which could make this a tough business over the long-term if they move further into restaurant management and Ordermark is unable to provide more value for customers. On-demand delivery networks will significantly change the restaurant industry over the next decade, and I'd love to hear how the founders are thinking about how they fit into the space. Specifically, are they working with franchisees, or chainwide? How quickly do they see adoption spread chainwide?
WeMaintain
Stage: Series A / Total Raised: $9.8M
HQ: Paris / Underrepresented Founder: Yes
Website
WeMaintain is a platform that connects elevator mechanics and property managers and landlords. 60% of the world's elevators are located in 30 cities, and there are four major elevator operators who hold all the customer relationships and power over the elevator technicians and property managers and landlords in the US and Europe. WeMaintain allows technicians to connect with clients over its mobile platform instead of through the elevator operators, letting them take charge of their own schedule, compensation, and which jobs they fulfill. For property managers, WeMaintain provides price transparency and a faster, digital-first service, of which the elevator cartel has had no incentive to do due to the oligopoly structure of the market.
The global elevator market is expected to reach $130B by 2025. Installation growth will be driven by urbanization in emerging markets. EMEA (41%) and China (33%) make up the bulk of the current global install base, however China is adding roughly 63% of global supply each year. Though smaller, the US and Europe represent the largest service markets, are the most mature / consolidated, and represent WeMaintain's immediate opportunity. The US elevator servicing and installation market will reach $21B in 2019, with growth to be driven by higher safety requirements and interest in energy efficiency / cost savings. The elevator industry is beginning to adopt technologies like IoT to diagnose and pre-empt maintenance, something WeMaintain is positioned to take advantage of.
Prior to co-founding the company, the CEO Benoit Dupont finished an MBA from Harvard in 2016, and spent the past 12 years in progressive roles at Otis Elevator (one of the elevator majors); four years in France, eight years in China. Here's his (literal) elevator pitch. Seems like there's eventually an opportunity to do more than just elevator maintenance once it builds up its customer and technician base, and I'd love to talk to the founders about the long-term strategy. I'd also want to know what sort of contracts the existing elevator companies have with clients, because while maintenance is likely higher margin and more attractive than manufacturing, I could see there being service exclusivity contracts with the big players. China and other emerging markets will largely drive installs in the immediate term, but will become large servicing opportunities as those new units age and will likely become key growth markets around the time of a hypothetical IPO. I've been following WeMaintain for almost a year, they just raised a Series A as I was putting this together, and think they're uniquely positioned for a big opportunity.
Darkstore
Stage: Series A / Total Raised: $9.2M
HQ: San Francisco / Underrepresented Founder: No
Website
Darkstore operates a network of third party urban fulfillment centers that enables 1-hour shipping for brands (5 min pitch from the CEO in 2016). Faster shipping reduces the # of orders that fail to convert / die in cart, which boosts sales for e-comm partners. 1-hour shipping has interesting implications with exclusive drops, like the Air Jordan III shoe drop they partnered on with Nike and Snapchat in 2018. Darkstore also allows any storage facility, warehouse, courier depot, physical store, mall, etc. to monetize unused space by becoming a Darkstore fulfillment center, which appears to be largely automated and can be fulfilled by workers via mobile. It also partners with last mile delivery partners like Uber and Postmates, which are integrated with Darkstore's product. This gives Darkstore a capital-light business model by not needing to build its own fulfillment centers or operate a last mile delivery network.
Darkstore says its all-in fulfillment fee for retailers is near 3% of the retail price (compared to what it says is a 25% average for e-commerce brands), sharing a cut with fulfillment partners, also giving additional revenue to delivery partners. The business model seems to be a win-win-win for customers, real estate owners with excess capacity, and delivery providers. I could see the current product scaling up as-is, but Darkstore could also build tech to allow customers to bring Darkstore's automated fulfillment solutions in-house to their own space.
The founder Lee Hnetinka previously founded Wunwun, a 1-hour delivery provider for restaurants and retailers, which was acquired by HelloAlfred in 2015. Looks like he's hired some ex-Amazon logistics / operations folks and others with others with same-day delivery expertise. Biggest question I'd have is, since they don't have massive warehouses, how do they figure out how to stock inventory at each fulfillment center? Do they rely on their customers shipping them the right mix of inventory? Do they have enough density in each urban market to allow them to stock different inventory types in strategic locations around each city? I'd also love to hear a little more on how the math works with pricing so low, but could see the model working since they aren't spending much on leasing or in-house delivery.
Scape
Stage: Series A / Total Raised: $8M
HQ: London / Underrepresented Founder: Yes
Website
Scape built a cloud-based, city-scale localization engine (their "Vision Engine") using only cameras and no LIDAR. By mapping on the server, not on the device, they've taken a very different approach from 6D, Placenote, Jido, etc, avoiding CPU, memory, and storage limits. Server-side also allows them to build a single city-scale map, with every camera querying and adding to the same map in the cloud. This means everything is geo-positioned, allows them to localize in rain, wind, snow, etc, and their product is essentially a hyper-accurate GPS.
The first product is a camera API for city-scale AR placement, with plans to apply its Vision Engine API in self-driving cars, delivery robots, autonomous drones, etc. It seems as if most non-stealth companies working in the space have targeted smaller-scale localization (on-device, not on-server) that allows them to add AR geometry to the environment, making them better-suited for room-scale games. Scape focused on city-wide localization from the get-go (beta is live in 100 cities) and is more suited for things related to autonomous navigation and Pokemon Go-type games.
The founders have complimentary histories in autonomous robotics and VR/AR/360 video, which gave a unique skillset to build both the tech and developer-facing ecosystem. Computer vision is capital intensive and they will likely need to raise multiple rounds to scale up. I'd want more clarity on the product roadmap and how they specifically see themselves staying competitive against others in the space who may have more capital and look to implement similar camera-based localization.
Farmstead
Stage: Series A / Total Raised: $7.1M
HQ: San Francisco / Underrepresented Founder: Yes
Website
Farmstead operates a network of farm-to-fridge grocery stores built from the ground up optimized for delivery. Farmstead takes an AI-first approach by combining historical sales, current trend data, consumer recommendations, holidays and product sell-by dates to predict customer demand and stock just the right amount at each warehouse. Intuitively a delivery-first grocer could have lower costs, faster speed, etc, compared to partnering with physical stores delivering out of buildings and inventory / employees base, etc that are not optimized for delivery. Farmstead gives discounts/free delivery when customers pool deliveries with neighbors, which reduces delivery costs and minimizes the carbon footprint (will eventually benefit from EV's and AV's, of which it is already partnering with Udelv). Global food supply chains are extremely inefficient and wasteful, and Farmstead reduces food waste (8% compared to industry average of 35%) and allows for fresher local food. This combination of 1) delivery-first infrastructure, 2) pooled delivery routes, and 3) less food waste gives it a lower cost structure compared to traditional grocers.
Farmstead was growing 20%-30% MoM as of December, and nearing contribution margin positive. With groceries as a multiple-times-per-week order for most families, they could use it to wedge into other household products, clothes, etc to become a delivery-first retailer. I also believe consumer preference will favor retailers and manufacturers that adopt closed loop / reusable / zero-waste packaging solutions, and Farmstead appears well-positioned to do this with the frequent, direct-to-household delivery channels it's developing.
The co-founders met at Yahoo, CEO Pradeep Elankumaran spent time as Head of Driver Growth at Lyft, and is a 2x YC grad. I like groceries as a wedge into becoming a larger retailer, and they have a delivery-first approach that I think other grocers will have trouble competing with. Biggest thing I don't understand is how they order from local suppliers, and how well that will scale as they expand. One of the articles I linked notes their six-month retention is "over 50%", so I wonder how that's changed over time and if they see it improving as they add more categories.
Postie
Stage: Seed / Total Raised: $6.7M
HQ: Los Angeles / Underrepresented Founder: No
Website
Postie is bringing digital ad targeting and machine learning capabilities to the $46 billion direct mail industry. Postie's data management platform integrates with most CRM's, websites, and mobile apps, and uses the same A/B testing, custom and lookalike audience modeling, retargeting, and performance attribution digital marketers have become accustomed to. Postie also designed a printing system that lets advertisers create and ship out individually customized direct mail campaigns at scale within 24 hours, much quicker than legacy processes that take weeks. Postie has been profitable from day one, reaches up to 320 million consumers, and early customers are seeing ROI as strong as top performing digital campaigns.
Direct mail is a $46B industry that is just now starting to adopt digital best practices. It's quantitative, highly optimizable, and directly measurable, but has not changed much in decades. Physical mail elicits more emotion in consumers and generates high-intent conversions. Response rates across the industry are up 60% over the past decade, with 20-30 year olds as the highest converting age group. Publishers have learned the importance acquisition channel diversification, and recent Facebook Ad Manager outages have caught digital marketers flat footed. The combination of plateauing user growth and rising CPM's on the large digital platforms will lead savvy marketers to continue looking for emerging, high ROI advertising channels.
The team is distributed across the US, and the two founders previously worked on D2C marketing campaigns for Dollar Shave Club and numerous other brands while executives at venture studio Science Inc. Postie's customers seem to be concentrated in e-commerce, and it may be vulnerable to a pullback in the early stage consumer funding environment or a broader recession. While direct mail alone is a large market, I wonder if the core tech will allow Postie to add other channels and become more sticky? It does not appear that they have much proprietary data, and I'm wondering how proprietary their printing system is? Direct mail would be an interesting add-on to Facebook's Ad Manager, but I'm not sure the opportunity would be large enough for Facebook to take seriously until an acquisition makes more sense.
Anomalie
Stage: Series A / Total Raised: $6.3M
HQ: San Francisco / Underrepresented Founder: Yes
Website
Anomalie designs, manufactures, and sells custom wedding gowns directly to consumers. It has a team of stylists that use a data-first approach to work directly with brides to design a dress to fit their unique style and budget. It's product is a faction of the cost and has less lead time than traditional bridal gowns.The dress is both the central piece of modern wedding ceremonies and a key pain point for most brides, and Anomalie offers an affordable, custom solution for brides who's style or body types don't fit the narrowly defined box of the industry. Eventually, Anomalie could build out its own network of boutiques and design workshops, offer pre-made, customizable designs, and potentially adds-on other pieces of the wedding process that flow from the design of the wedding gown. There's also an opportunity to use their tech and manufacturing process to create other categories of custom garments.
I've grown up in the wedding industry, raised by a single mother who designed and hand-sewed hundreds of custom wedding gowns out of our home, and (unsuccessfully) launched a similar concept in 2012. The US wedding market is over $100B+, and the US wedding gown industry was over $8B in 2018 (roughly $34B globally). The industry is largely brick and mortar, very fragmented and localized (with the largest player going through bankruptcy), and pricing is very opaque across the industry. Most gowns are bought off-the-rack, however most brides seek certain aspects of customization and boutiques often charge for post-production alterations that Anomalie largely eliminates. Most of the world's silk, and over 80% of wedding gowns, are made in Suzhou, China. By going straight to the source, Anomalie is able to undercut boutiques that have low inventories and no manufacturing expertise. Most brides have the vision in their head, but can't find it in person.
Anomalie was founded by couple Calley Means (ex-Strategy at Zenefits) and Leslie Vorhees, who met while doing their MBA's at Harvard. Leslie applied her work experience managing factories in Asia for Apple and Nike to source, design, and manufacture her own wedding gown (similar to wedding gowns, both Nike shoes and the Apple Watch she oversaw production of were handmade). Friends asked her to do the same for them, and the company was born. They are attracting top talent, recently hiring the ex-Head of Production for David's Bridal (oversaw 35% of US wedding dress production), data scientists from Stich Fix and AirBnB, and operations managers from Google and Goldman Sachs. I believe Anomalie's full-stack approach will be much more difficult to copy than other D2C products because it's not a generic item that can be drop-shipped from hundreds of different Chinese manufacturers. While Anomalie's product is very differentiated, it's ultimately competing on cost as more sales increases Anomalie's leverage with workshops to re-design and optimize their manufacturing process, allows them to negotiate lower material costs, gives them more data, and ultimately increase virality and allow them to lower the price (which both increase demand).
Titan School Solutions
Stage: Series A / Total Raised: $5.2M
HQ: Los Angeles / Underrepresented Founder: No
Website / App Store
Titan developed a browser-based HTML5 PoS system for school lunches that works on any hardware. The product includes a mobile app for students with menus and nutrition information, and allows parents to add funds to accounts and see their child's purchase history. Lunch is a daily use case for every single student, and it hits many different parts of the back-end infrastructure of a school district (accounting/finance, compliance, inventory, purchasing, etc). Seems like they're positioned to use what they built for school lunches as a wedge into becoming a school ERP system that bridges both families and districts.
30.4M students participated in the National School Lunch Program in 2016, which spends over $15B to serve 5B+ meals per year in over 100k k-12 schools. Titan serves 1M students in 150 districts (primarily in AZ and CA) as of December of 2018, up from 350k students in 70 districts as of May of 2018. Buying food for a school district requires dozens of non-standardized processes, learning state and federal regulations and reporting requirements, and sorting through product catalogs and annual trade shows. Also requires menu planning, contract negotiations with food distributors, running / hiring staff for daily cafeteria operations. Budget size significantly impacts how many resources, how much purchasing power, and what sort of supplier access a school district has. Titan simplifies this process and offers districts real-time reporting, with an an opportunity provide an inventory management platform / ordering marketplace at scale, to eventually transition to a district-wide ERP solution. Titan's website mentions a 100% retention rate.
CEO Brad Blankenship previously worked at Harris School Solutions, a subsidiary of Constellation Software (the Berkshire Hathaway of software). Looks like he brought over some of his senior management team from Harris based on scanning LinkedIn. Harris seems to be one of their big competitors, and would love to hear Brad's perspective on the industry. It looks like Titan goes a step further than Harris' products by, simplifying the process for students and parents, speeding lunch lines, and integrating inventory / supply chain process for districts. Titan's reviews have an "it just works!" reception from districts, and it smells like the "ex-employee coming over from the broken, unwilling to fix it" incumbent.
Floom
Stage: Seed / Total Raised: $3.6M
HQ: London / Underrepresented Founder: Yes
Website
Floom is building an operating system for florists. It's bringing creativity and design back into the floral process, minimizing the environmental impact caused by global competitors, while still offering the same day delivery consumers expect. The company was built upon the thesis that flowers are an emotional (and most universally accepted) gift, and existing competitors are built around centralized, bland global product catalogs that treat florists as order stuffers. The company started as a marketplace for local, independent florists selling unique, seasonal bouquets. Floom is using its relationships with florists to create a full-stack SaaS solution for florists that includes everything from local order and inventory management, online web management, seamless checkout, an in-store PoS system, and delivery. This allows florists to better manage their time, cut costs, and provide better experiences for customers.
The US floral gifting market is projected to reach $16B by 2023, and is north of $100B globally. Growth will largely be driven by a growing consumer preference for local, custom, and more expensive flowers. Local flowers are not only typically one-off designs hand-prepared by independent florists, but also have more sustainable supply chains. Global competitors are run as centralized hubs with generic pictures that push out orders for local networks to fill, and they are structurally unprepared for the creativity and self-expression the Instagram Age has brought back into the floral industry. Currently, local florists in the US are a very fragmented, $7B industry, and must do weddings and large events to generate high enough margins. There's an opportunity for a platform to not only simplify the process of running an independent floral boutique, but also facilitate the relationship between local suppliers, creatives, consumers, and wholesale local floral bouquets to supermarket shelves.
Founder Lana Elie had zero background in the industry before founding Floom, and came up with the idea after many years of trying to order unique floral bouquets during her time in content, design, and marketing at Vice and Burberry. She realized the incumbents model, which required seasonal flowers to be held in stock year-round by every order partner and treated them as order stuffers without a consumer-facing brand, was structurally unable to compete with a local-first model. Lana realized there was an opportunity to empower florists to order their own inventory from suppliers, use that inventory to create their own stock, and then created a dashboard for them to manage their own product catalog. This not only gives florists more control of their business, but also allows Floom's customers to sell products the global chains are unable to distribute.
For Days
Stage: Seed / Total Raised: $2.8M
HQ: Los Angeles / Underrepresented Founder: Yes
Website
For Days is a circular manufacturing and commerce platform. It launched as an annual subscription product (a capital efficient, upfront cash infusion) that allows customers to order plain cotton t-shirts and return them once worn-down directly to For Days' to be de-threaded and re-spun into new products. For Days utilized a waitlist incorporating Robinhood-like pre-launch referrals and social engagement to drive demand. The company designed a zero-waste manufacturing system in LA built on renewable energy and water reclamation to support that initial product, and is now opening up its capabilities to other companies. For Days will need to generate significant scale to drive down costs and make a closed loop manufacturing process affordable for consumers, and opening its platform to the industry gives it an opportunity to scale the business faster and onboard more brands to the circular economy.
The global apparel, shoewear, and jewellery industries are roughly $2T, and have long been considered large contributors to global pollution. Regardless of the true impact the industry has on the environment, consumers are increasingly demanding more sustainable solutions. Consumers have become conscious of the environmental impacts of the industry, and have incorporated second-hand and thrifting into their consumption habits. Even still, the majority of donated clothing ends up in landfills. As awareness of the waste currently produced by the apparel industry continues to increase, I believe closed loop manufacturing will eventually become the norm. This will largely be made possible by the rise of direct to consumer e-commerce channels and last mile delivery networks. It's possible that closed loop systems are inherently slower than the fast fashion model that has driven the industry in recent years, however I believe a closed loop re-threading process will eventually allow for customized products that can be recycled and re-customized for the next customer.
Co-founder Kristy Caylor has nearly two decades of experience in the industry, and previously founded Maiyet, one of the first sustainable fashion brands. Prior, she worked in progressive roles at the GAP, and founded an online membership-based reservation system for LA restaurants in 2000. Co-founder Mary Saunders previously launched Maiyet with Kristy, and prior to that worked in progressive merchandising positions at GAP after completing her MBA at Harvard. They've brought on early employees with impressive textile backgrounds, including a Chief Manufacturing Officer with nearly four decades of experience in all aspects of textile operations, most recently running three dyeing and finishing factories for American Apparel. It's hard to gauge exactly how For Days cotton de-and-re-threading process works, but I'd want to learn more about how it can be utilized on other materials and in other categories outside just apparel. It seems like the founders have brought on the right talent, but haven't talked much about global expansion, which I think will be important as most industry growth going forward will come outside the developed markets where they're currently based.
ApisProtect
Stage: Seed / Total Raised: $1.8M
HQ: Cork, Ireland / Underrepresented Founder: Yes
Website
ApisProtect retrofits bee hives with data sensors and provides beekeepers real-time, mobile monitoring to better-manage their colonies. The sensors create a black box of previously non-existent hive data (temperature, humidity, CO2, sound, and movement data) and provide actionable messages, such as "this hive is sick" or "no queen", for each hive, allowing beekeepers to proactively respond to problems as they arise. This allows beekeepers to monitor their hives during times they can't check manually (in the night, in poor weather, in the winter), while also removing manual, periodic hive checks from their work flow, which take up most of their time and are a large cause of disease, pests and other issues that deteriorate hive health and contribute to hive loss.
Crop pollination adds an estimated ~$175B in "economic value"  globally per year. The US Beekeeping Industry is estimated to be $327M in 2018. This is largely driven by the almond industry as nearly 73% of US colonies are used for almond pollination during the summer, contributing ~$313M of revenue in 2018. Colony health is important when negotiating terms with almond growers, and ApisProtect provides beekeepers with insight and added value. Beekepers lose anywhere from 30-50% of their hives every year, yet bees are responsible for pollinating most fruits and vegetables in the global agriculture supply chain. The total number of managed honey bee hives is up 45% over the last 50 years, but supply has not kept up with demand as there has also been a 300% increase in agriculture production that relies on pollination. Long-term consumer preferences moving towards local, natural, and sustainable beauty products and food sources (and eating more than just corn and soybeans, which don't need to be pollinated), plus the adoption of indoor farming, could lead to significant expansion of the pollination and honey markets over the next few decades. I'd expect network effects as colonies are on-boarded, logging more hive activity to monitor patterns both regionally and globally. Benefits could extend into other forms of insect management, and there may be an opportunity to create an IoT platform that spans the entire agriculture industry.
Founder Fiona Murphy studied Electrical Engineering in undergrad and completed a PhD in Embedded Systems (IoT) in 2013, both at UCC in Ireland. Her doctoral research on the application of sensors and networking in honeybee hives initially attracted the beekeeping community, which is how she got involved in the industry. There are 91 million managed beehives worldwide, and ApisProtect currently monitors 144, with plans to increase to 200 next year, and 300k hives over the next five years. They're manually installing themselves today, I'm assuming they'll need to figure out at-home installs to ramp up to 300k. They raised a $1.8M Seed round in November (Atlantic Bridge + some ag-focused VC's) to open an office in Salinas, CA, considered the center of the industry due to the local almond industry's reliance on bee pollination.
Keeper
Stage: Seed / Total Raised: $1.6M
HQ: San Francisco / Underrepresented Founder: No
Website
Keeper is a monthly subscription product that automatically finds tax write-offs for independent contractors (real estate agents, freelancers, scooter chargers, online sellers, rideshare drivers, etc). Uses Plaid to pull spending info, sends SMS texts each day to track expenses throughout the year, and gives an export at tax-time. Plans on a full-suite tax filing solution for the 2019 filing season next year.
The US tax prep industry will be ~$11B in 2019, and accounting services in the US and globally were $120B and $507B in 2018. I think there's an opportunity for a monthly subscription tax product that's incentivized to give customers high quality year-round service, whereas incumbents focus on confusing consumers and charging high lump sums upon filing. The average user reports $2,073/year in write-offs ($173/mo compared to the $10/mo price) they would have missed without Keeper. I could see Keeper evolving into a full-suite SMB accounting and tax provider, a new-age Intuit.
I like their GTM which seems to be partnering with and offering discounts to workers of other on-demand startups. One of the co-founders (Paul Koullick) has a background in data science at Square, created the tax/expense tracking app for Stride (health benefits platform for independent contractors), and studied Applied Math / CS at Harvard. Other co-founder (David Kang) went to U of Chicago and spent the past five years as a options trader at a hedge fund in Chicago. Feels like a team that could build this, but would want to learn more about how they're thinking about the space and how they'll localize the product if they decide to scale globally. They just raised $1.6M in April, and I'd assume they want to staff up for tax season if they see good traction over the next few months.
Zestful
Stage: Seed / Total Raised: $1.2M
HQ: Boulder / Underrepresented Founder: No
Website
Zestful provides a physical debit card that allows companies of all sizes to adopt employee perk and alternative compensation programs. It allows for hundreds of options (food delivery, subscriptions, ride hailing, events and experiences, fitness, and education and charities) that can be customized by each employer at the employee level. Zestful makes a compelling employee perk program economical for small businesses, and enterprise clients benefit from real-time monitoring and elimination of cumbersome 10-week reimbursement processes via Zestful's debit card. Zestful was born from the insight that some employees value a lower salary with unique perks because it has a higher impact on their lives. Zestful provides an interesting value proposition as it allows its customers to promote employee happiness while also being more capital efficient by lowering their all-in compensation costs.
Employee recognition is a $5.8B industry, projected to grow at a 10-year CAGR of 15.7% to $29B by 2028. Roughly 89% of companies have employee recognition programs, and nearly all have some sort of recognition, reward, discount, or bonus program. Zestful falls within multiple mega-trends, as younger demographics are trading salaries for unique benefits and experiences, and companies are realizing the value of employee happiness. The customization of consumer products is spilling into the enterprise, and the rise of decentralized work will not only allow employers to reduce CapEx spend on in-house perks like cafeterias and fitness centers, but present a need for the modularized perk program that Zestful provides. There are legacy providers in the space, however most are not positioned for the future of work and have participation rates of around 20% compared to the 94% of Zestful users who are active every month. There are other corporate charge card providers, however they are largely optimized for enterprise, not employee perks. Zestful charges a flat fee per card, plus a small % fee per use.
The founder Mat Vogels initially took the company through YC in 2017 and is a YC and Techstars mentor. He has a background in finance, design, and product marketing that shines through in all aspects of the product, from Zestful's digital presence to the physical debit cards. Mat has recruited a team that includes CTO Malte Muenke, who co-created GoToMypc, GoToMeeting, and GoToWebiner, one of the original suites of enterprise SaaS products. Zestful's bright colored debit card attracts free, organic attention at every use and may lead to structurally low long-term customer acquisition costs. The back-end is built to on-board a long-tail of local business in under 24 hours, which means more perks, more clients, and more data to eventually recommend customers situational out-of-the-box perk packages. Managing a debit-card facilitated employee perk program also presents an opportunity to eventually move into other aspects of employee engagement, human resources, or financial services.
Insycle
Stage: Pre-Seed / Total Raised: N/A
HQ: NYC / Underrepresented Founder: No
Website
Insycle is a tool to bulk-manage, sync, and update data across multiple SaaS platforms like Salesforce, Hubspot, Zendesk, Intercom, Yext, etc. Enterprise software is projected to continuing proliferating, and Insycle is intriguing because it lays on top of its customers SaaS platforms. I also think an inevitable increase in mobile, voice-first, and other data input methods (contractors taking photos of invoices; transcribing customer service calls, etc.) will increase data inconsistencies across different products, especially in the short/medium-term. Insycle currently uses a manual process to bulk-approve changes, and I think there's an opportunity for AI to dramatically speed up the process over time.
The founder Yonatan Lee is originally from Israel, and spent over a decade building wall street trading software (Bank of America, Citigroup). He's recruited a small team, just wrapped up the Acceleprise accelerator in NYC, and has been very hands on with customers planning out the product road map.
Standups
Stage: Angel / Total Raised: N/A
HQ: Hamburg, Germany / Underrepresented Founder: No
Website
Standups is a Snapchat-stories inspired take, 60-120 second video updates, on standup meetings for distributed work forces that span multiple time zones ("asynchronous work"). I came across Standups in August of 2018 from this post on Hacker News (he had just launched at the time), followed by their Product Hunt launch, where JP the founder does a good job responding to feedback. He's been a developer on distributed, asynchronous teams for the majority of his career, and understands exactly what asynchronous teams need.
The use of distributed/remote teams has continued gaining momentum over the past decade (Stripe just made a big announcement here) because it opens up a global talent pool and has evident cost savings. I believe efficient communication will be a core component of distributed teams. Owning the daily update, a crucial piece of the remote-enterprise stack, could give an opportunity to expand into other aspects of asynchronous/remote enterprise work. I also think the remote workforce trend is still new enough that there's room for products specifically designed for it. JP doesn't see his product limited to distributed teams, he thinks he's found a need for all teams that require constant updates, whether they're all in one room or spread out over the world. He also thinks there's an opportunity to apply data science to provide much more than daily standup video updates.
Weel
Stage: Angel / Total Raised: N/A
HQ: Seattle / Underrepresented Founder: No
Website
Weel is building autonomous bikes and scooters that deliver themselves.
Eternal
Stage: Angel / Total Raised: N/A
HQ: NYC / Underrepresented Founder: Yes
Website
Eternal is an avatar-first digital identity company. Their first product is the social game Icon.