Discover more from The Split
Stay on top of the latest tech and startup stories.
Over 23,000 subscribers
TikTok's Evolving Ecommerce Strategy
GrubHub and Amazon team up, Nikola takes Q&A from Robinhood shareholders
Welcome back to The Split! 10 minutes watching a TikTok Live this weekend had me digging into its latest ecommerce initiatives. Also, more on a recent Amazon + GrubHub partnership, and the sharpest earnings call Q&A you've ever seen, gifted to us by Nikola shareholders.
We're also close to someone grabbing the first banana cap 👀 👀  (shoutout to Jared at Dragoneer!). If you're a subscriber, grab your unique referral link at the bottom and send it to some friends.
- Turner
TikTok's Evolving Ecommerce Strategy
A recent Financial Times headline stated "TikTok abandons ecommerce expansion in Europe and US". This came a few weeks after "Influencers abandon TikTok Shop in latest blow to UK ecommerce venture". Is TikTok actually abandoning its ecommerce ambitions?
A more accurate headline might read "TikTok's evolving ecommerce strategy". Based on the reporting, it looks like internal team issues, minimal infrastructure / support for sellers, poor product quality, and a lack of monetization for sellers were driving TikTok's ecommerce struggles in the UK, its first new market outside Asia.
Why does TikTok care about ecommerce? Facebook, Google, and Amazon's advertising businesses (three of the largest) all enable commerce. And Facebook specifically has been impacted by Apple's recent Ad Tracking Transparency (ATT) changes. Controlling the point of sale and reducing checkout friction is important for TikTok's business long-term.
In China, much of the $100+ billion live streaming industries sales are driven by influencers, also called KOLs (Key Opinion Leaders). Specifically, KOLs partnered directly with suppliers. This often means broadcasting directly from the source of production, like the image below. Recent job descriptions on LinkedIn suggest TikTok may begin incorporating creators at the manufacturer and supplier level, instead of relying solely on influencers at the end of the value chain.
This weekend I came across a TikTok stream from @highland_crystal, which appeared to come directly from a facility in China. Googling the company name in the Terms of Service on their website, there are many similar websites, including at least one with Chinese characters in the FAQ.
The streams content was simple and mesmerizing. Polished rocks were poured into a large bin. The host then picks rocks out at random, as someone else off-camera hands her bag after bag with customer orders printed on them (who knows how many are real orders). The seller's profile is simple and directs viewers to its Shopify site. While the viewer browses the site in TikTok's in-app browser, audio from the stream continues in the background. In this specific instance Shopify site includes four non-live products, but they are conveniently sold out, with the only available option being an "Amazing Scoop" of crystals for $39.98 (50% off!).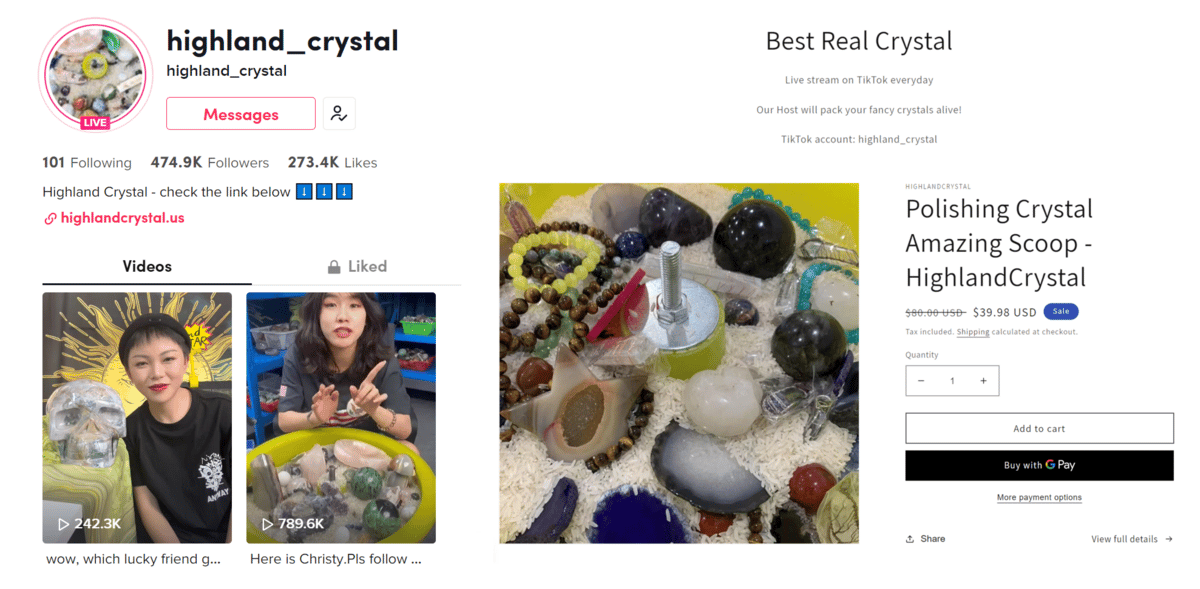 Despite QVC's decades of success, one reason live stream ecommerce may have struggled in the West is due to a lack of training and resources for hosts. It's clear Highland Crystal is streaming from a warehouse and the host has a team around her keeping the show moving at a fast pace. With $40 orders fulfilled every 20-30 seconds, a stream could bring in the equivalent of $5,000 per hour. The whole experience is also centered around FOMO, and seemed to borrow various aspects from WhatNot's success in live streaming collectibles that propelled it to a $3.7 billion valuation within three years.
US sellers have been slow to adopt TikTok's "shop from video" features. TikTok is likely using live selling to build the behavior and onramp merchants onto other asynchronous shopping products.
Just like TikTok bootstrapped its US short-form video network using content from Asia, its possible they use the same strategy for live. Many Chinese merchants are familiar selling live domestically, and they're familiar selling cross-border on platforms like Alibaba, Amazon, and Wish.
ByteDance may be layering on another channel of demand (international TikTok users) for its existing merchants selling on Douyin (the Chinese version of TikTok) to tap in to. If successful, it could make ByteDance the preferred platform for Chinese sellers over Kuaishou, Xiaohongshu, Pinduoduo, Meipai, JD Live, or Alibaba's Taobao and Tmall that can't provide overseas demand.
But first, TikTok has to get Americans and Europeans buying via live stream.
On a scale of 1-5, how confident are you in TikTok's ecommerce business?
Login or Subscribe to participate in polls.
Product Launches
Grubhub announces free delivery for Amazon Prime Members: US Prime members now get one free year of Grubhub+. This gives free delivery on certain orders and includes various perks and rewards. Amazon did something similar last year with Deliveroo in Europe. Is this a one-off or does it hint at further partnerships?
Worth Reading
Blackstone sees shelter as "long-term contributor to inflationary pressures". They believe supply issues made up the majority of higher inflation this past year. h/t @WTCM3.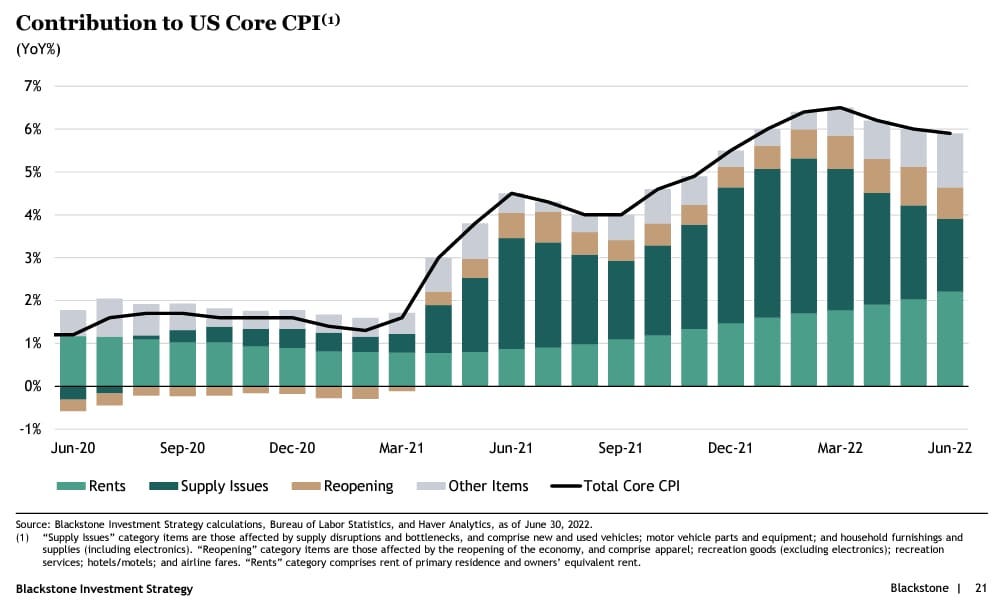 Book publishers face a paper and printer crunch. Amid a COVID-induced increase in demand and decrease in supply, book publishers are also facing paper shortages and employee resignations. This comes as much of the book publishing industry repositioned their facilities to produce ecommerce packaging. More.
US personal savings rates down to pre-COVID lows. Sources say most of these savings were "invested" in dog-themed crypto currencies, cartoon JPEGs, and Pokemon cards throughout 2021. h/t @LizAnnSonders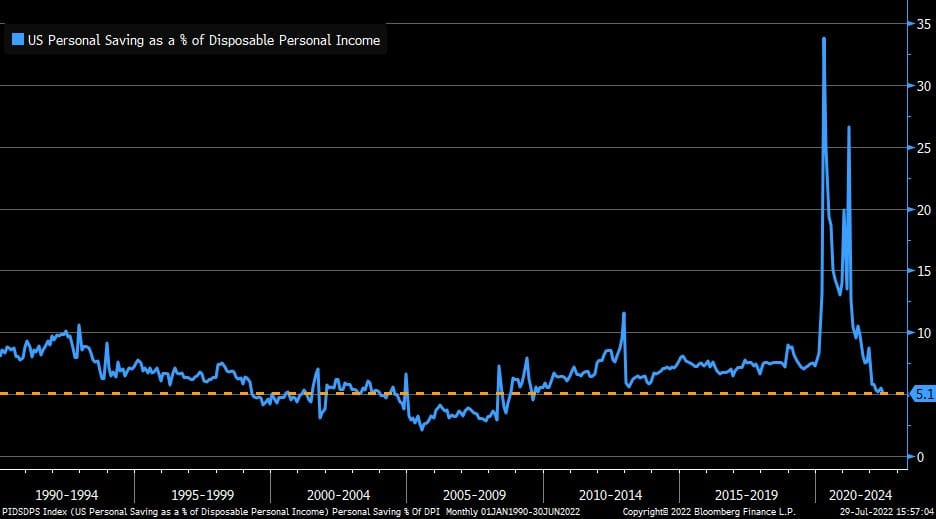 Hawaii just received its last ever shipment of coal: In 2014, Hawaii was the first state to make a net zero pledge, aiming for 100% renewable energy by 2045. Its last coal-fired power plant is shutting down in September. Encouraging, however roughly 2/3 of its energy still comes from oil. More.
Job Board
Looking for your next job? We're working on something to help. Stay tuned.
In the meantime, some roles you might like:
Are you hiring? We're also working on something to help here. Be on the lookout for more, otherwise reach out for the inside scoop.
Monkey Business
Robinhood lets users submit Q&A questions for company earnings call. The questions for Nikola's upcoming call on August 4th are just as funny as you'd expect. Steven is asking the tough questions with his $935,000 position.