Discover more from The Split
Stay on top of the latest tech and startup stories.
Over 23,000 subscribers
TikTok Starts Scaling Its US Ecommerce Business
Plus DoorDash launches package pick-up, New York states gives startups $250k each, and why virality is (mostly) a myth
Happy 2023! 🎉
Welcome back to all new subscribers and the 14,700+ people tuning in every week! Today I'm digging in to TikTok's plans to scale its ecommerce business across North America and Europe. I also read a lot over the holidays, and am sharing a few more links, charts, and long reads than normal.
If this email was forwarded to you, subscribe here for the next one. And remember, you can always tap the link in the top right of these emails to open it in your browser or share it in the group chat. 🤝
A Message From Lemon.io 🍋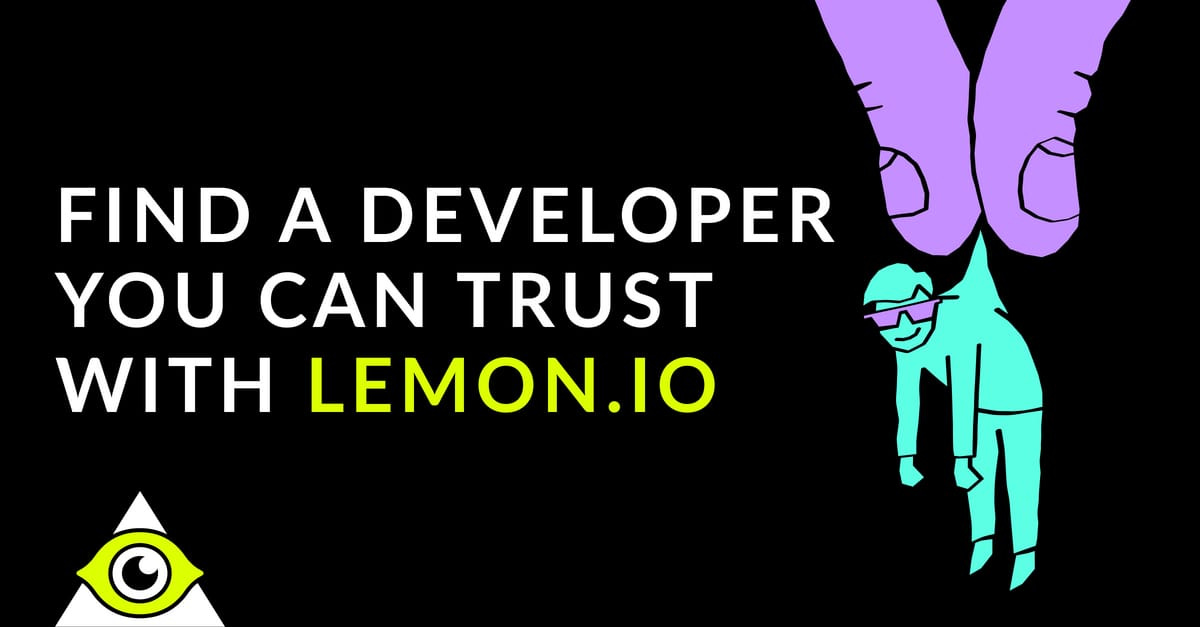 Come up with a great idea to kick off the New Year? Get some of the best engineering talent to start building it.
As a startup testing ideas, don't waste time chasing developers yourself. Instead, work with Lemon to quickly match with skilled senior developers who are pre-vetted, results-oriented, and ready to help you build. (All at a competitive rate!)
Startups choose Lemon because:
They offer only handpicked devs with 3+ years of experience and a proven portfolio.

Only 1% of candidates who apply are approved into their community, so you can be sure the engineering talent is high-quality.

And if something ever goes wrong, Lemon offers a swift replacement, giving a sort of hiring warranty.
To learn more, go to Lemon.io and find your perfect developer, or tech team, in 48 hours or less. If you sign-up through this link, you can claim a special discount exclusively for readers of The Split: 15% off the first four weeks of working with your new devs.
Grow faster with an extra pair of hands with Lemon.io.
TikTok to Start Scaling its US and European Ecommerce Business
According to The Information, TikTok plans to push further into ecommerce in the US, Brazil, Spain, and Australia this year. This comes after a few years of success across Asia and false start in the UK last year.
Just how successful has ByteDance's Douyin been in ecommerce (its near-identical to TikTok product) in China? Chinese consumers spent $208 billion buying things on Douyin in 2022, up 76% compared to 2021. Shoppers in SEA spent $4.4 billion, which appears to be mostly the Philippines, Thailand, and Vietnam.
This US ecommerce push comes after reports of TikTok building its own US fulfillment centers. Logistics is huge pain point to selling online, and a "Fulfilled by TikTok" experience could be a huge boost for seller adoption and retention. Its rumored that too much friction for sellers + internal team dynamics held back success in the initial UK pilot.
The broader launch reportedly has hundreds of merchants lined up. It's unclear exactly what the product will look like, and there's lots of angles it could take. Two are a "Shop" tab featuring discounted flash sales like the screenshots from the Philippines I found in November OR the "Shop this video" features we've seen tested over the past two years.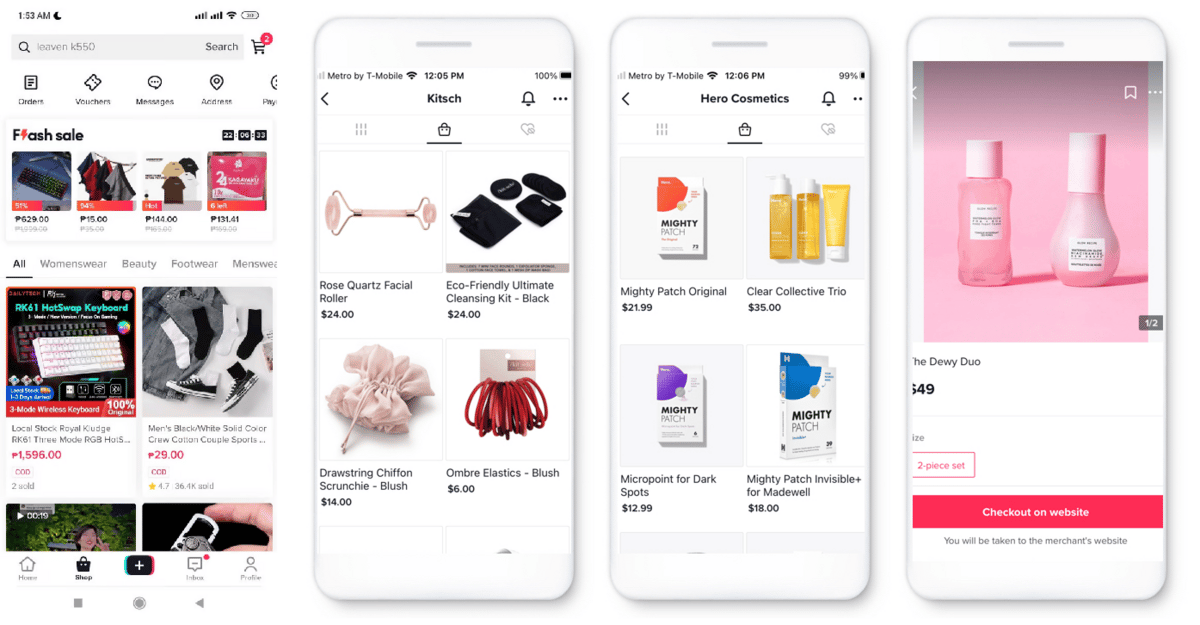 Live streaming is a third option. TikTok started partnering with agencies to train live streamers, which is a similar strategy it used in China and has become a large % of social ecommerce GMV in the country. Personally, I think live is the least likely to be a part of this initial push, as it takes a very specific skill set and I doubt TikTok bets this first big US launch on it. TikTok does have the perfect base of creators for it (and a lot are already going Live on TikTok), so I think live selling will be at least a small part of its strategy.
I'm not sure the exact numbers, but TikTok has captured a significant % of our "bored and scrolling" time spent. Transitioning this to "bored and shopping" time is a huge opportunity, and frankly seems fairly straight forward too.
Like what you're reading?
Subscribe to The Split for more every week.
🚀 Product Launches
Rewind launches a search engine for your life: Rewind automatically records everything that happens on your computer and allows you to search through it all (meetings, browsing, Slack, etc). Data is stored locally on your computer (compressed by 3,750x!), and founder Dan Siroker describes it as "using technology to augment our memory the same way a hearing aid augments our hearing". Rewind just left stealth and announced $15 million in total funding from a16z, First Round, and a host of angels.
DoorDash launches Package Pickup: Customers can request a Dasher to pick-up as many as five pre-paid packages from their home and drop them off at a local carrier like FedEx, UPS, and the USPS. The service has a flat fee of $5, or $3 for DashPass members. It seems like a compelling value prop for small merchants that sell online + a smart way for DoorDash to acquire non-restaurant businesses that may eventually sell on its platform. I'm sure many will become DashPass members as well (DoorDash's version of Amazon Prime).
Delta to offer free in-flight WiFi: The service is going live on February 1st on 80% of domestic flights, and is set to cover international flights by the end of 2024. The only catch appears to be customers must use their Delta SkyMiles account to login, which is probably a good thing for Delta. Based on what I can tell, Delta spent $1 billion to equip 700 planes with Viasat equipment ($1.4 million each!), which was also apparently sponsored by T-Mobile?
🔗 Links and Charts
New York States announces it will match up to $250k in venture funding: The $30 million program is part of a broader $500 million initiative to support small businesses. Companies must have raised $2 million or less in funding, be structured as a C-Corporation, and have its HQ and at least one c-suite exec in the state. I'm not sure what the terms are, as in if this is a grant or equity, but at the surface seems like a great initiative for founders in New York. You can apply here.
Carta's look at the Pre-Seed Market: Carta's data shows the rising popularity of SAFEs. It also implies the average check size at Pre-Seed nearly doubled between 2020 and 2022 (which is also reflected in this separate graphic on increases in pre-money valuations).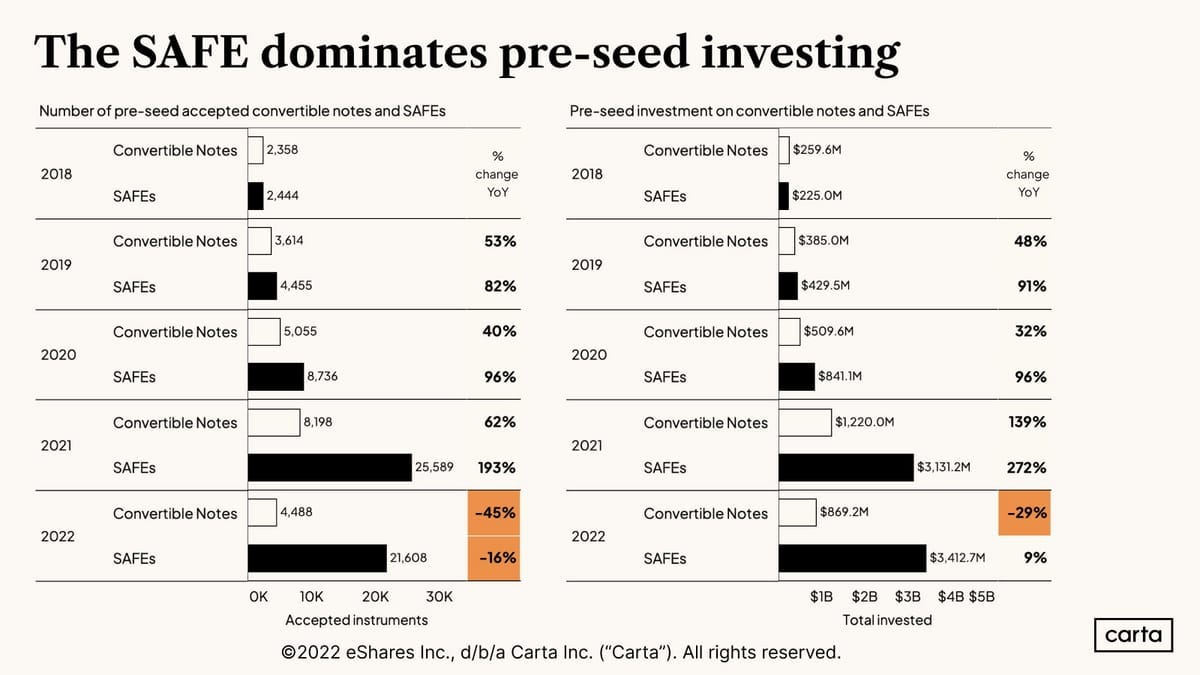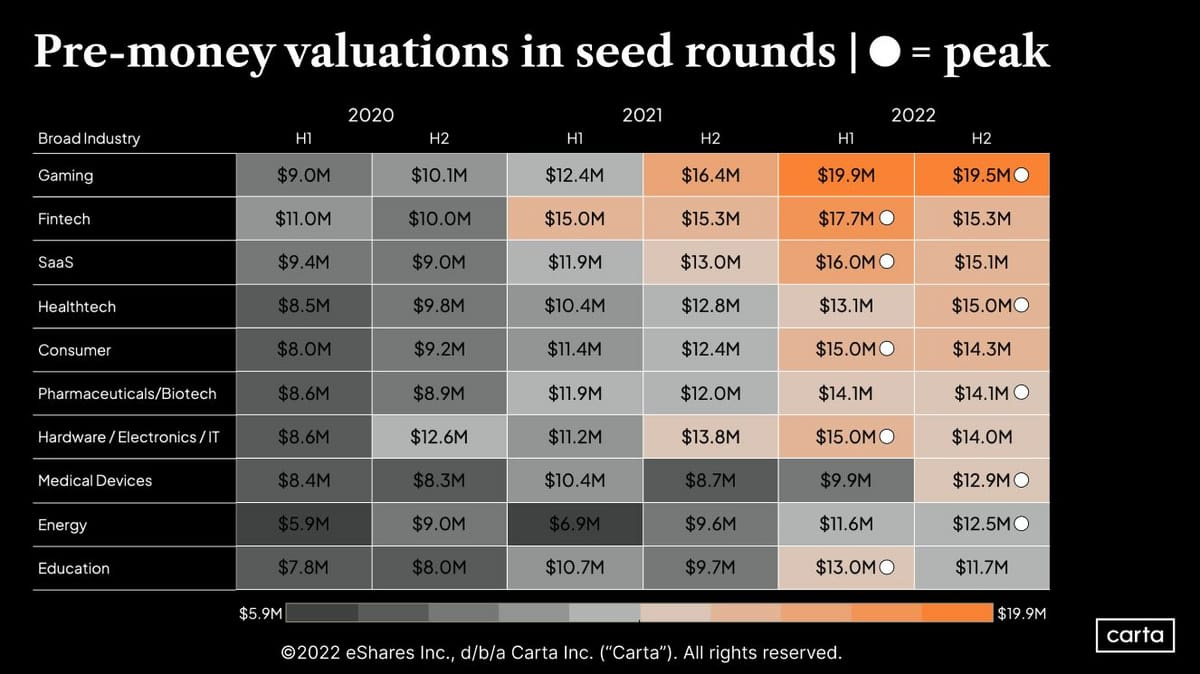 My assumption was later stage fund would shift a bit more capital towards Pre-Seed and Seed this past year, and Carta's data seems to support this. h/t Carta's Peter Walker for sharing.
How to read a software balance sheet: Great post for any founder (or investor) looking to better understand the financials of software businesses.
Future unicorns raise more funding: Don't read too much in to this, but companies that raised more funding at early stages are more likely to become unicorns in the future. The Stanford study covered 1,110 US-based VC-backed unicorns between 1997-2021 and 1,028 randomly selected VC-backed companies matched only by the founding year and US HQ location. I'm not sure if this tells us that raising more money leads to success, or that successful founders are simply able to raise more. But it's probably heavily skewed recent years, so I'm personally not putting too much weight into it.
Software IPO's see worst year in three decades: If you wondered why that VC never followed-up after the intro call for your Series A, the fact that their exit market practically vanished in 2022 might explain why. h/t Janelle Teng for sharing this chart in her SaaSy Predictions for 2023.
The Fed is hiking faster than any time in modern history: This is not good news for Elon's Twitter debt.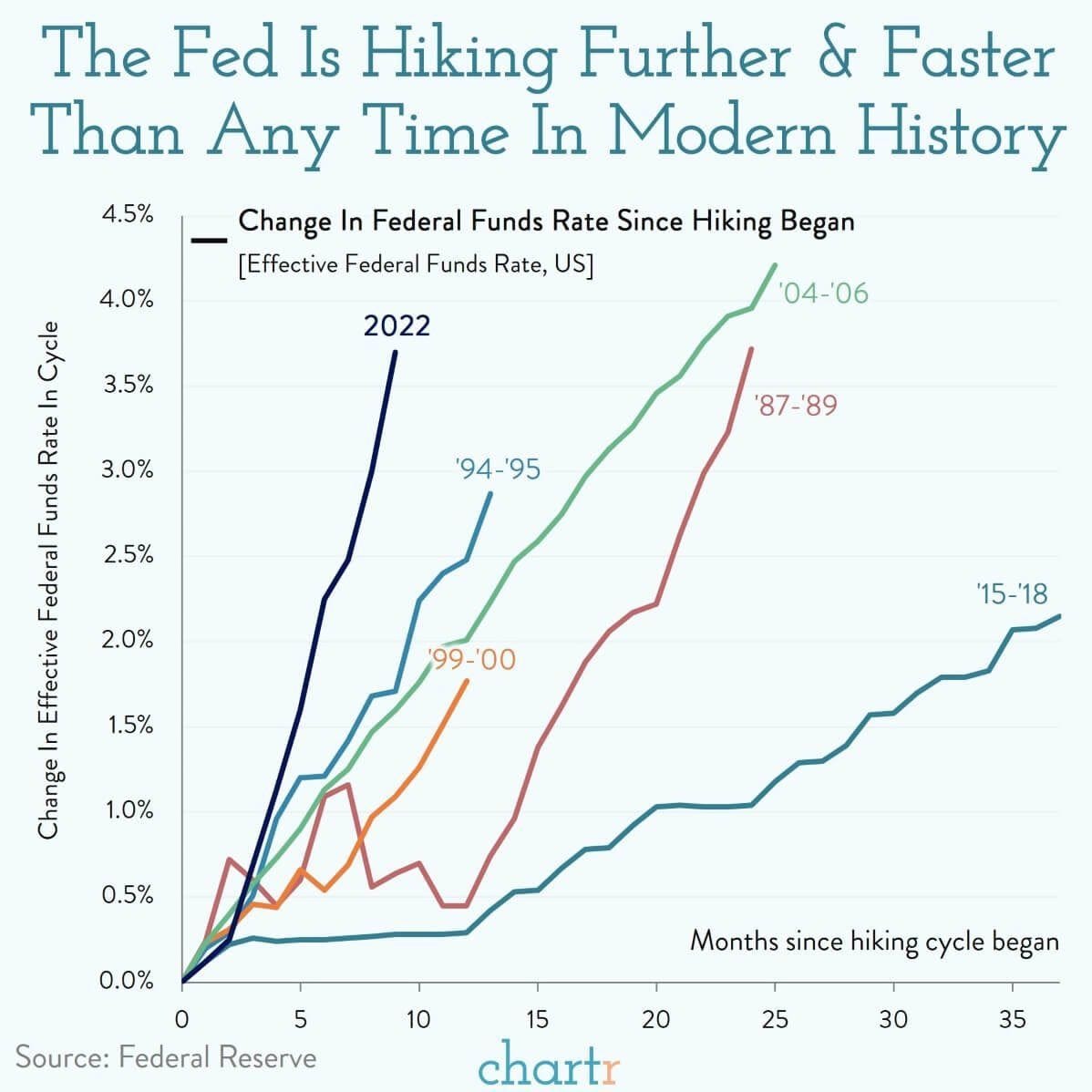 2022 was the worst market since 1871: I think I shared this chart back in November, but here's the updated version to close out the year. Brutal year to manage an institutional portfolio. Not only did your equities drop 20%, your cash-like balance also dropped ~16%. Hopefully all our institutional LPs reading had Citadel exposure (up 38% in 2022)!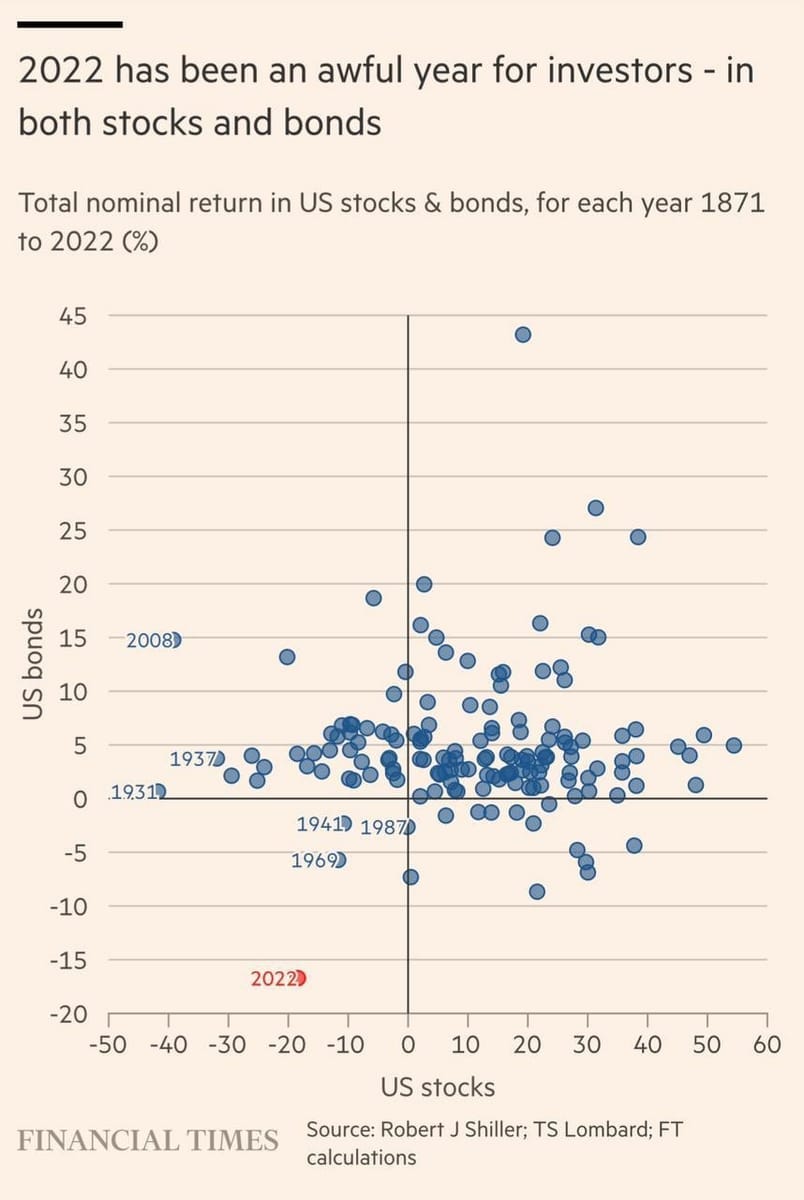 Michael Dell's family office merges with an investment bank: The combination of Dell's MSD Partners and Byron Trott's BDT Capital Partners is intriguing because it seems to set them up to start competing with big banks like Goldman and Morgan Stanley. "Do you want to work with that DJ guy or someone who's founded, scaled, and exited a $50 billion company??" I haven't listened yet, but MSD CEO Gregg Lemkau just recorded an episode on Capital Allocators with Ted Seides here.
Goldman expects core goods inflation to turn negative this year: Crazy how much of last year's inflation run-up was auto-related. Goldman expects it to reverse this year. h/t Brian Cheung.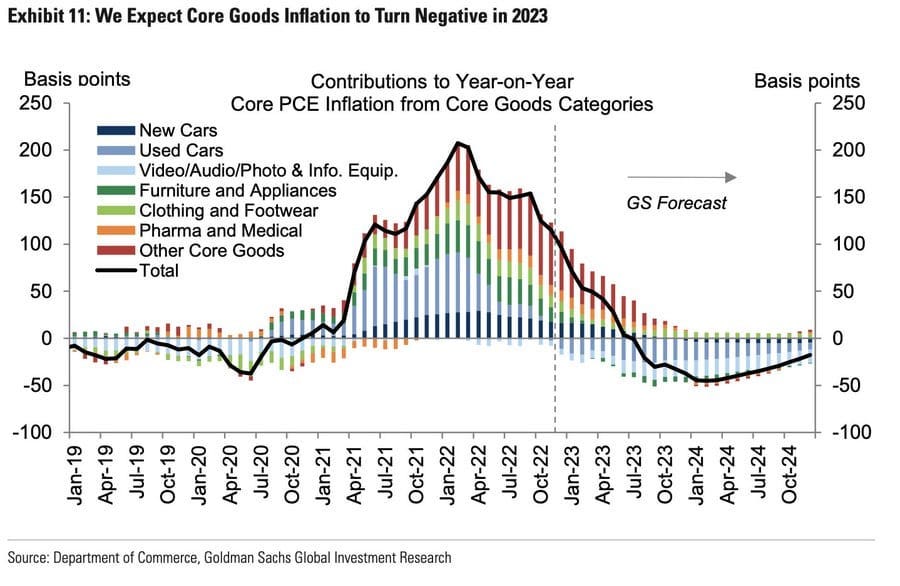 The US FTC moves to ban noncompetes: Noncompete agreements impact an estimated 20% to 45% of the private sector workforce. Studies estimate a ban would raise wages for workers, increase corporate competition, and ultimately benefit smaller businesses (like startups).
How Facebook saw HIGHER usage by sending FEWER notifications: This counter-intuitive study shows the importance of understanding how short-term and long-term effects may differ.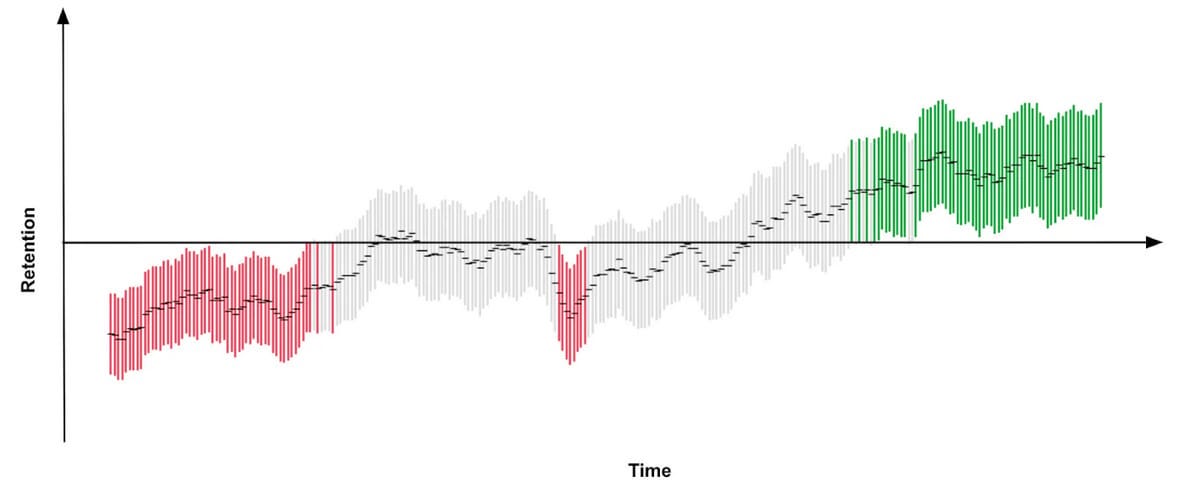 E-bikers ride 340% more than regular bikers: New e-bike owners increased their average daily bicycle use by 340%, from 1.3 miles to 5.7 miles. They also increased the bicycle in their share of transportation distance, from 17% to 49%.
Zero US states have obesity rates below 20%: This 2018 stat is up from zero states with obesity rates above 20% in 1990.
Health and wellness is an area I've been spending more time on lately (both personally and professionally), and broadly speaking, the industrial food system seems to be responsible for a lot more than you'd expect. Justin Mares (founder of Kettle & Fire, Perfect Keto, Surely, and now TrueMed) writes a good newsletter on the topic called The Next and where I first came across this stat. You can check it out here.
Vegan milk has 16% market share in the US: And Oat Milk sales grew 50% in 2022. I haven't had dairy milk in over six years and have tried all the alternatives. Personally, oat milk tastes the best by far, so this doesn't surprise me.
54% of public schools in Jackson, MS have no running water: Schools are starting the new semester virtually district-wide. And the city recently received a $795 million grant to repair its water system, which will take years. I've written about this before, but studies show the US needs to spend trillions upgrading basic water infrastructure over the next two decades.
Why Are American Teens So Sad: An alarming chart below, Derek Thompson at the Atlantic concludes there doesn't seem to be a single culprit. Instead, he highlights four themes that are likely contributing in some manner: 1) higher social media usage, 2) lower in-person social interaction, 3) higher consumption of "stressful news", and 4) modern parenting strategies centered around college acceptance.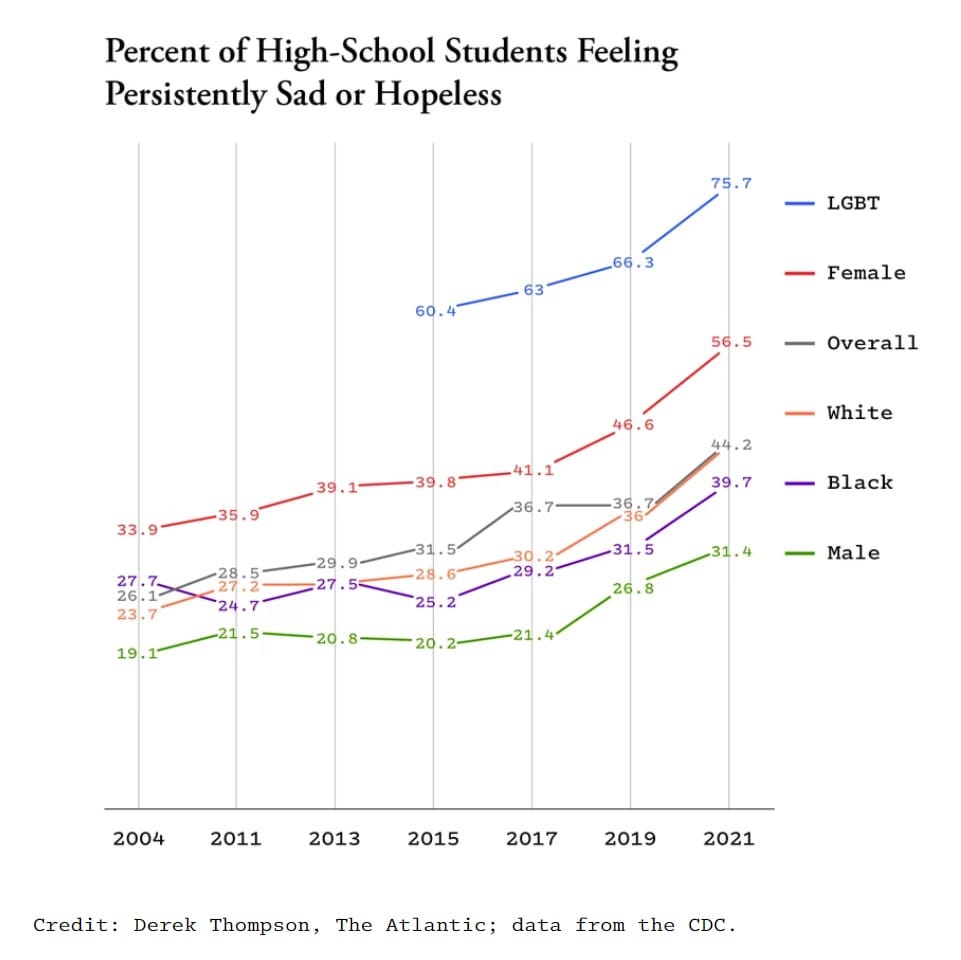 China estimates 250mn people caught COVID in 20 days: After emerging from what was essentially a three year lockdown, roughly 18% of China's population were reportedly infected with COVID-19 in the first 20 days of December. According to The Guardian, 90% of people in China's Henan province have now been infected. Infections appear to have peaked mid-December, and I'm crossing my fingers these were all the correct decisions from the CCP.
Chinese manufacturing catching up with US: Not surprising for any #AmericanDynamism readers. But this shrinking wage gap combined with better robotics and factory automation continues to make moving production closer to end-demand in the US more economical. More data like this in KKR's 2023 Outlook. h/t @bedouincap for sharing.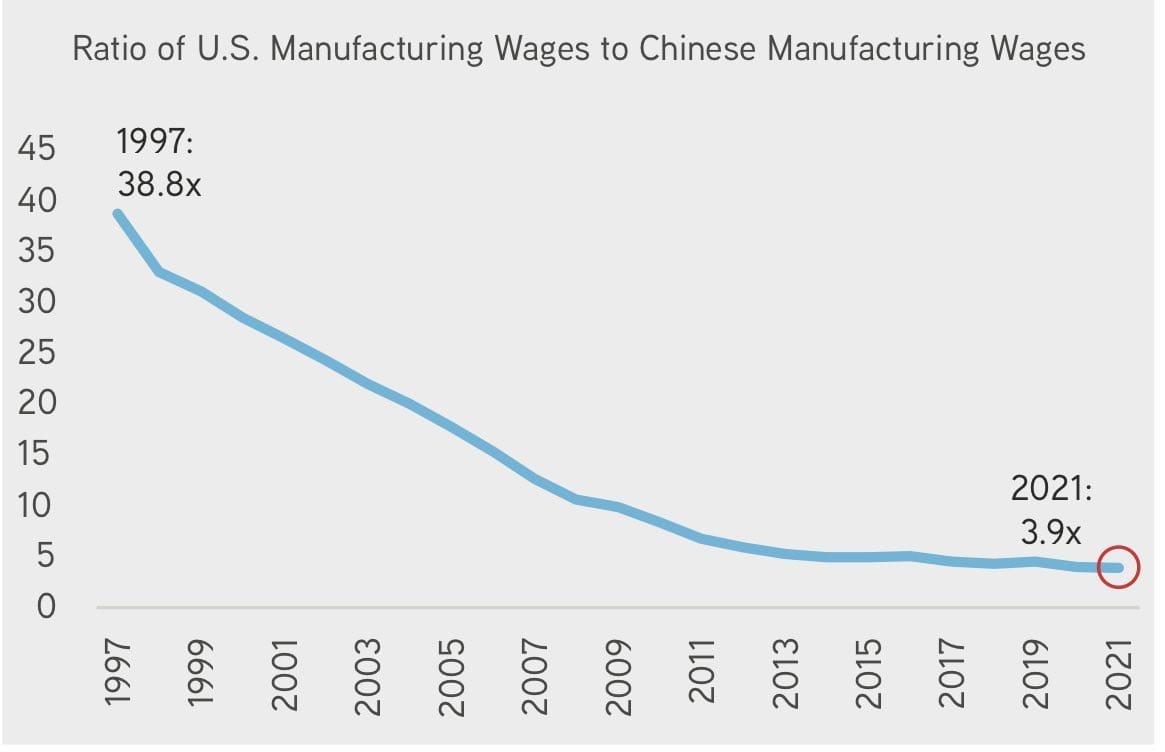 A THIRD of genetics papers published in top journals have errors: This is because Excel classifies many genetic abbreviations like SEPT2 as dates.
📚 Long Reads
This probably won't be a consistent section, but here are longer pieces I read over the holidays that were interesting.
Virality Is a Myth (Mostly): Fascinating piece by Lenny on how most "virality" is actually just individual events with large reach. Tying this to what we see today, "going viral" is often just a single platform showing something to a large amount of people, IE TikTok picking something up on its For You Page or "getting to the front page of Reddit". 
Why are there no global Japanese software companies? This 2014 paper highlights how historically a lack of Computer Science graduates and low local customer demand limited Japan's domestic software market.
Up until 2006, Japan's Ministry of Education regulated and limited the number of Computer Science students. This meant it naturally fell behind markets like the US, which (to my knowledge) imposes no limits on a national level. Japanese private sector firms also spent a significantly lower amount on IT as a % of revenue than US-based firms (1.03% vs 4.3%). Additionally, 70% of this spend was on "outsourcing", such as hiring consultants at Accenture to implement solutions from companies like IBM, SAP, etc, compared to 34% in the US.
The paper argues this behavior is largely attributable to hardware conglomerates founded in the 1960's (and still run by hardware engineers) dominating Japanese tech. @BucknSF argued on Twitter that the US market also uniquely benefits from being both the largest source of supply AND demand of software. This built a flywheel that's hard to compete with. If you've ever been involved early on with a US-based software startup, you know firsthand how the first wave customers are almost always OTHER US-based software startups.
We've been digging into Japan at Banana for awhile now (it's the third largest economy in the world with almost zero startup ecosystem!), so I thought this was an interesting read. h/t Corry Wang for sharing.
How Transportation Tech Shaped Empires: I loved this breakdown showing how most empires were built on top of transportation systems. The more efficient the system, the bigger the empire could be. This influenced how fast information, food, commerce, trade, culture, political affiliation, and armies traveled. As a general rule, two weeks of travel from the capital seems to be the limiting distance. It's Part 5 in a multi-part series on how transportation technologies have shaped the world.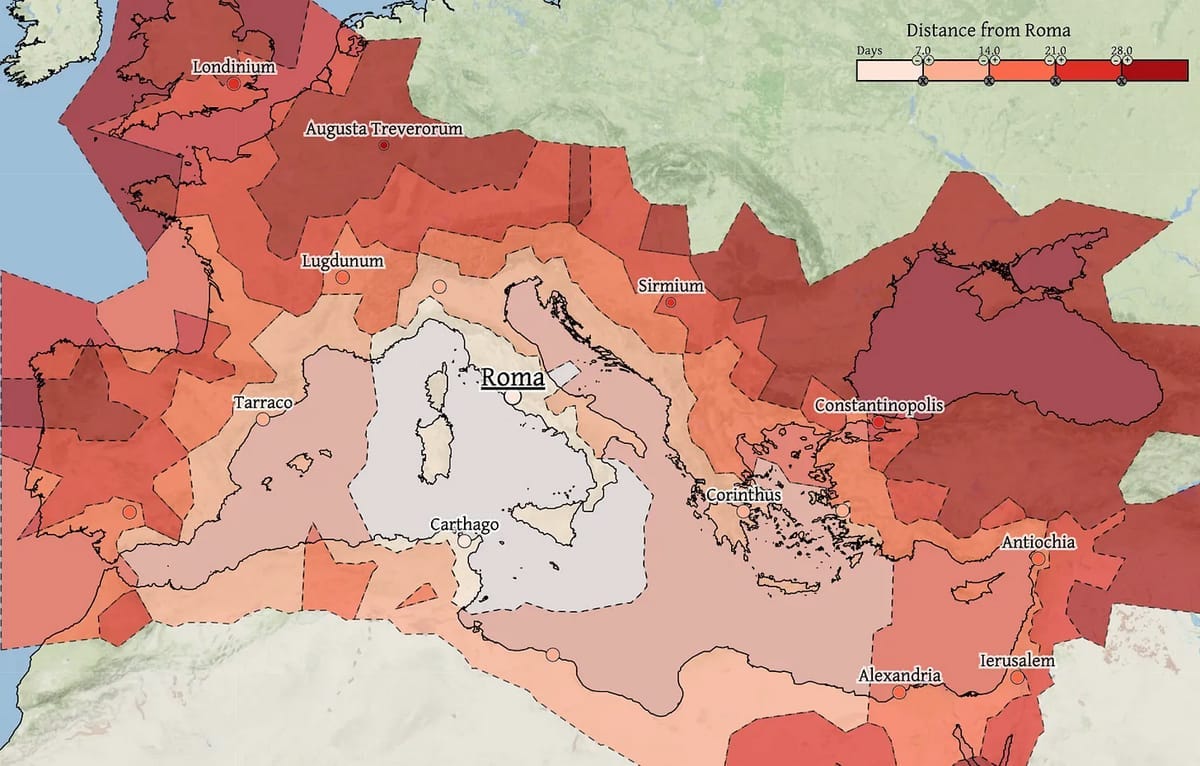 Lessons from Barnes & Noble's Surprising Turnaround: B&N has been in structural decline for decades. In August of 2019, James Daunt was hired as CEO, who had previously turned around a UK-based book retailer called Waterstones.
His new strategy was simple: B&N stopped taking upfront promotional money from publishers. These deals helped publishers get specific titles to the top of bestseller lists, and also gave retailers like B&N cash flow relief. It also meant retailers had to heavily promote certain books, whether customers were buying them or not. No longer taking these deals meant B&N could promote whatever books were selling best. James also decentralized decision making by giving more power to buyers and managers at the store-level. They could now source and promote whatever books sold best.
My takeaway was how a simple decision like this could have so much down stream impact. It also shows the power of curation, and ultimately just recommending good content. 👍
The Many Escapes of Justin Sun: Long investigative piece on one of crypto's richest and most notorious men.
The Power of Defaults: A piece on network effects and what they ultimately lead to: defaults. A summarizing quote: "The largest operating system humanity has ever seen only exists to protect an advertising business two layers further up the stack."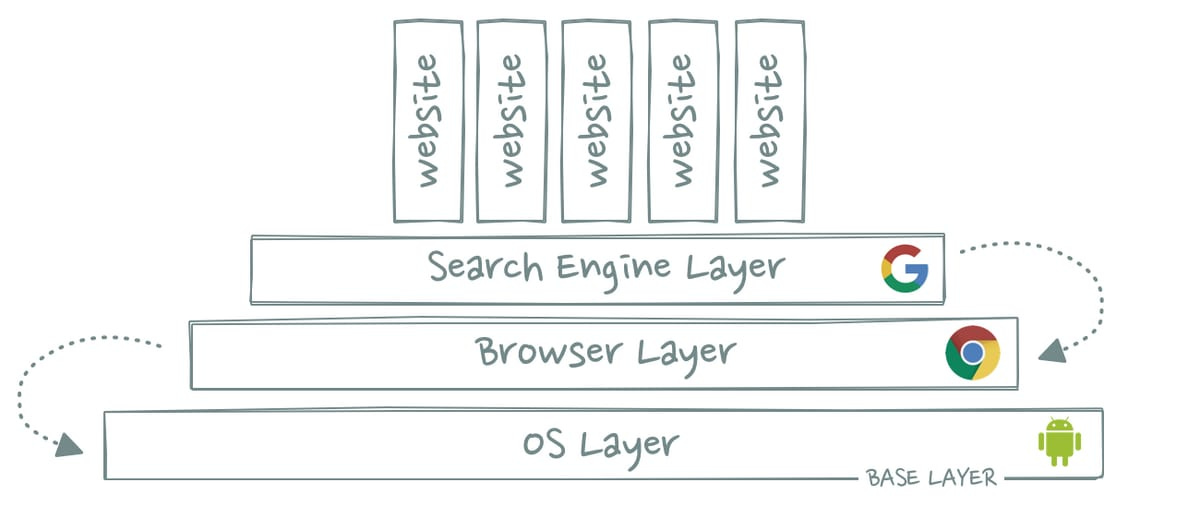 Shopify's 2023 Ecommerce Trends Report: Of the 61-slides, my biggest takeaways were the majority of DTC brands plan to increase inventory levels in 2023, and 73% of them plan to rely on external financing in 2023.
🔊 Podcasts
From Writing to Investing: Back in December, Packy from Not Boring, Mario from The Generalist, and myself had a 54 minute discussion with Jordan at Compound about our journeys from writing to investing. We shared more on our early days and how we got started, about our process (none of us seem to really have one), and we also made fun of the fake brick wallpaper in my office (which was cut from the beginning but still mentioned a few times).
💼 Career Services
Banana Talent Drop #9 is happening this Sunday! The Banana Talent Collective now has 180+ candidates, with new candidates in Drop #8 from the companies below:
If you're starting to explore a new role or hiring and want a feed of pre-vetted candidates, get started here. (And as always, if you're at a Banana portfolio company, reach out for access!)
❤️ Reader Love
Thanks to Dalmar for the shoutout on LinkedIn last week! Looks like I need to keep writing about the auto industry... 😄
🍌 Monkey Business
🍌 The Split is brought to you by the team at Banana Capital. Read more about what we're up to at Banana here.
🤝 Interested in a sponsor partnership with The Split? Inquire here.
🐝 And if you're thinking about starting your own newsletter, I can't recommend Beehiiv enough. Get started here.