Discover more from The Split
Stay on top of the latest tech and startup stories.
Over 23,000 subscribers
Snap Partner Summit 2020: Recap and Reflections
Snap opens itself up to developers and adds more features that will increase users, advertisers, and monetization potential
Today's Snap Partner Summit (replay) gave us new Snapchat usage metrics and more importantly, features that will be core as Snap opens itself up to developers and expands its products beyond the Snapchat app. Many of these new features appear to bolt into Snap's Ad Platform, giving advertisers access to over 229 million users that use Snapchat every day.
Impressive New Snapchat Usage Statistics
Snap reminded us it still reaches more 13-34 year old's in the US than Facebook or Instagram, and the 100 million users it reaches in the US is more than Twitter and TikTok combined.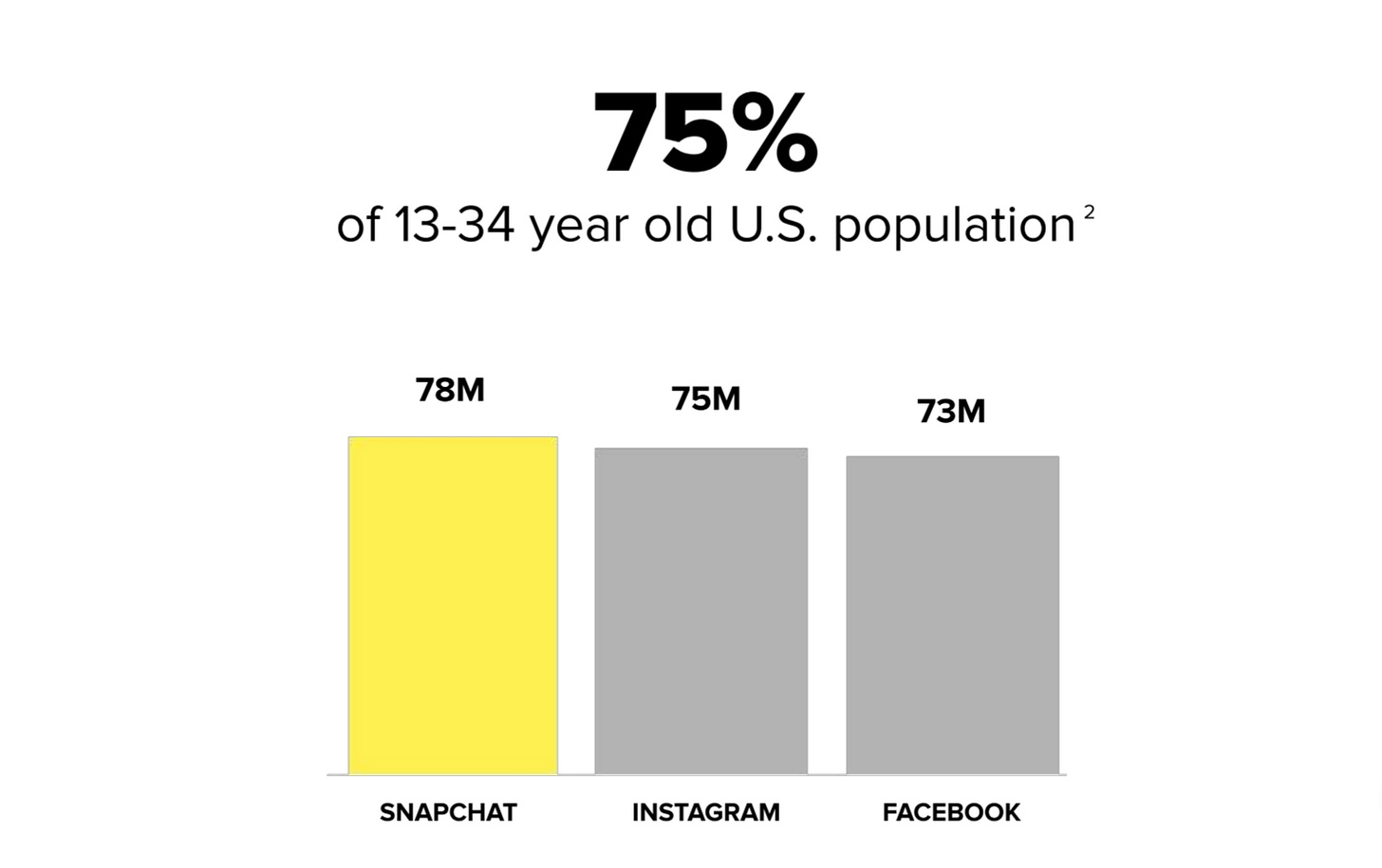 Snap said 125 million people got news from Snapchat over the past year and "hundreds of millions" watch content on Snapchat Discover. Snap announced that 20 Snap Kit apps are now in the Top 100 of the iOS and Google Play Stores, up from 15 in March. The Snap Map now reaches 200 million MAU's (Monthly Active Users), and Snap Games have been played by over 100 million unique users. They also disclosed DAU's (Daily Active Users) in India were up 120% year-over-year (YoY), though likely on a base of only 4-5 million.
Snapchat: the Camera, AR, and the Snap Map
Snap reminded us that over 30 times per day, 135 million people create AR with its camera daily, and 170 million interact with it. A big announcement was SnapML. This allows developers bring their own machine learning models into Snap Lens Studio. They highlighted language learning and commerce as early use cases. They also announced 3D face meshing, skeleton tracking, and AR material programming. Importantly, Snap also announced products built in Lens Studio work in all Snap SDK's - inducing its AR glasses, Spectacles.
Snap also disclosed a new social feature called Local Lenses where users share persistent AR experiences within a neighborhood. It looks like an expansion of the Landmark feature it announced last year.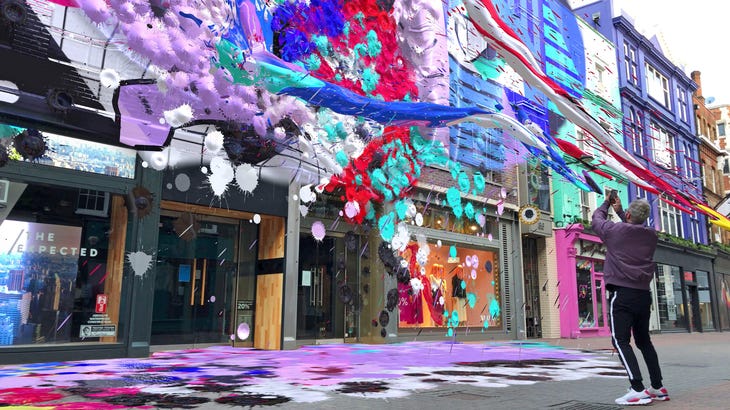 It also hints a push into supporting local SMB's, and how Snap may monetize the Snap Map. It suggested the Snap Map will become more contextualized, with plans to offer features similar to Google Maps: hours of operation, reviews, Snap stories unique to the location, and delivery options like Postmates, DoorDash, Uber. This sets the stage for integrating both advertising and miniaturized apps that live within Snapchat (more below).
Surprisingly a little early than expected, Snap also announced Alexa-like voice-enabled lenses called Voice Scan. This builds on its Scan Platform through a partnership with SoundHound, which it also announced is now linked to Lens Studio and thus Snap's AR Developer Platform. They also threw in some teasers (see below) on how integral commerce will become to the Snapchat Camera.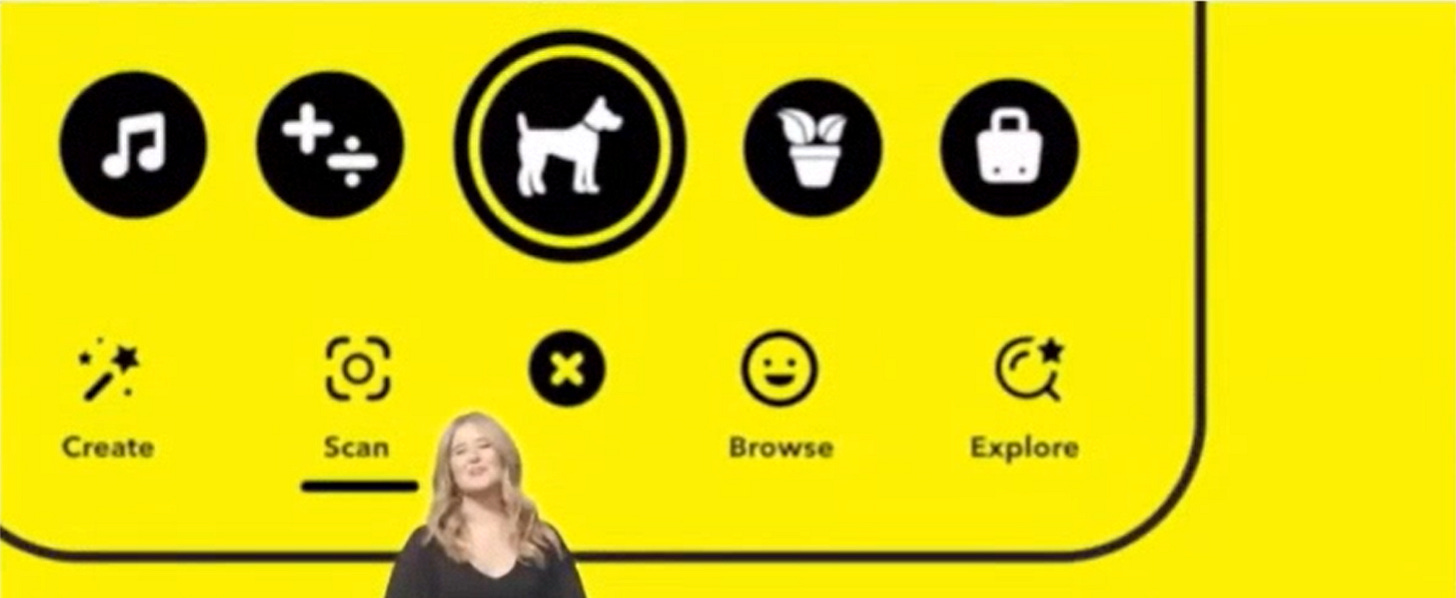 Discovery has always limited Snap's AR products. It was first done through the in-camera carousel, and Lens Explorer ("Browse" in the image above) which launched two years ago. User-created lenses can now be tagged with voice commands. Voice Scan is significant as over 1+ million lenses have been created by the community to date per Snap, up from 900k as of March 31st. The highest viewed UGC lens appears to have over 14 billion views based on Snap's disclosures.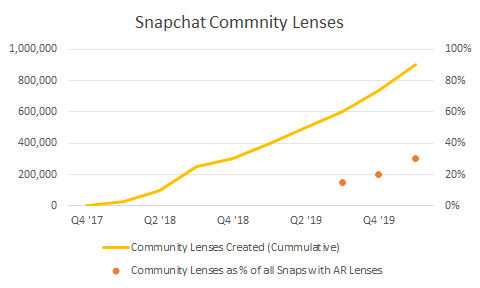 Snap also rolled out a action bar that will live at the bottom of the app and contextualize based on the user and how they're using the app. It looks like a subtle change, but undoubtedly makes it easier for older users to use Snapchat as it continues bringing them into the app. It also elevates the Snap Map as a core product, which should become a focal point as Snap's AR products continue leaving our phones.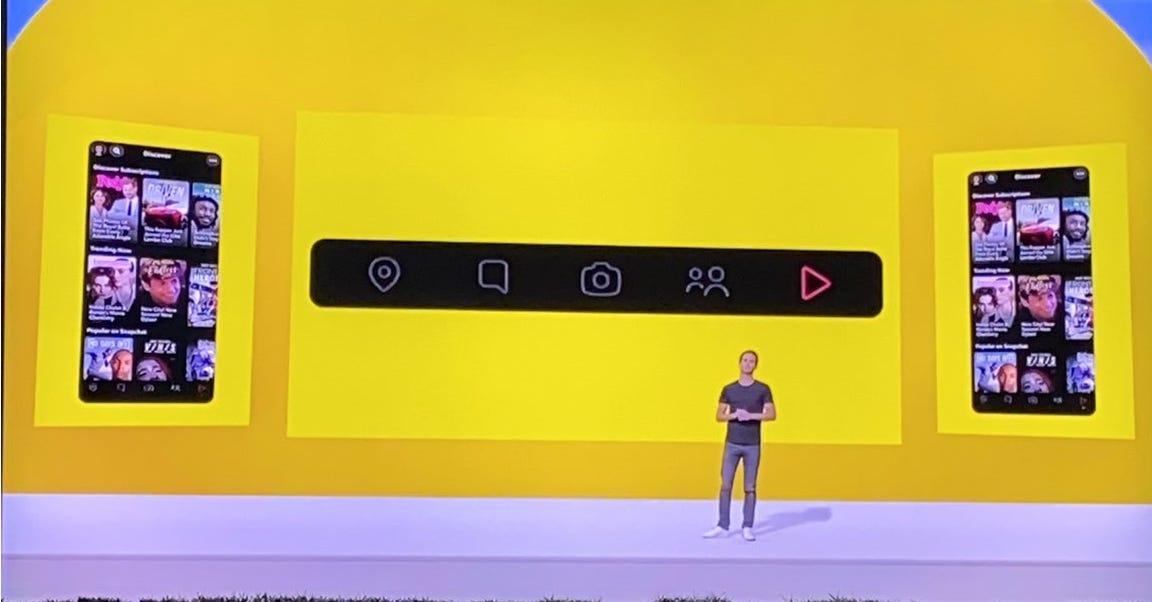 All of these new features have interesting applications today, and are also building blocks for the next decade. Snap has become more vocal lately about its intentions to move into spacial computing, or projecting things onto the physical world around us. All of these products, which are already used by most of the youth in the developed world today, are first steps that will eventually converge outside our phones.
Content: More Reach in the US than Netflix
Snap announced a few new content features. Specifically, the Happening Now bar, which now sits at the top of the Discover page (far right). They also expanded on their participatory AR content, allowing users to become part of the show.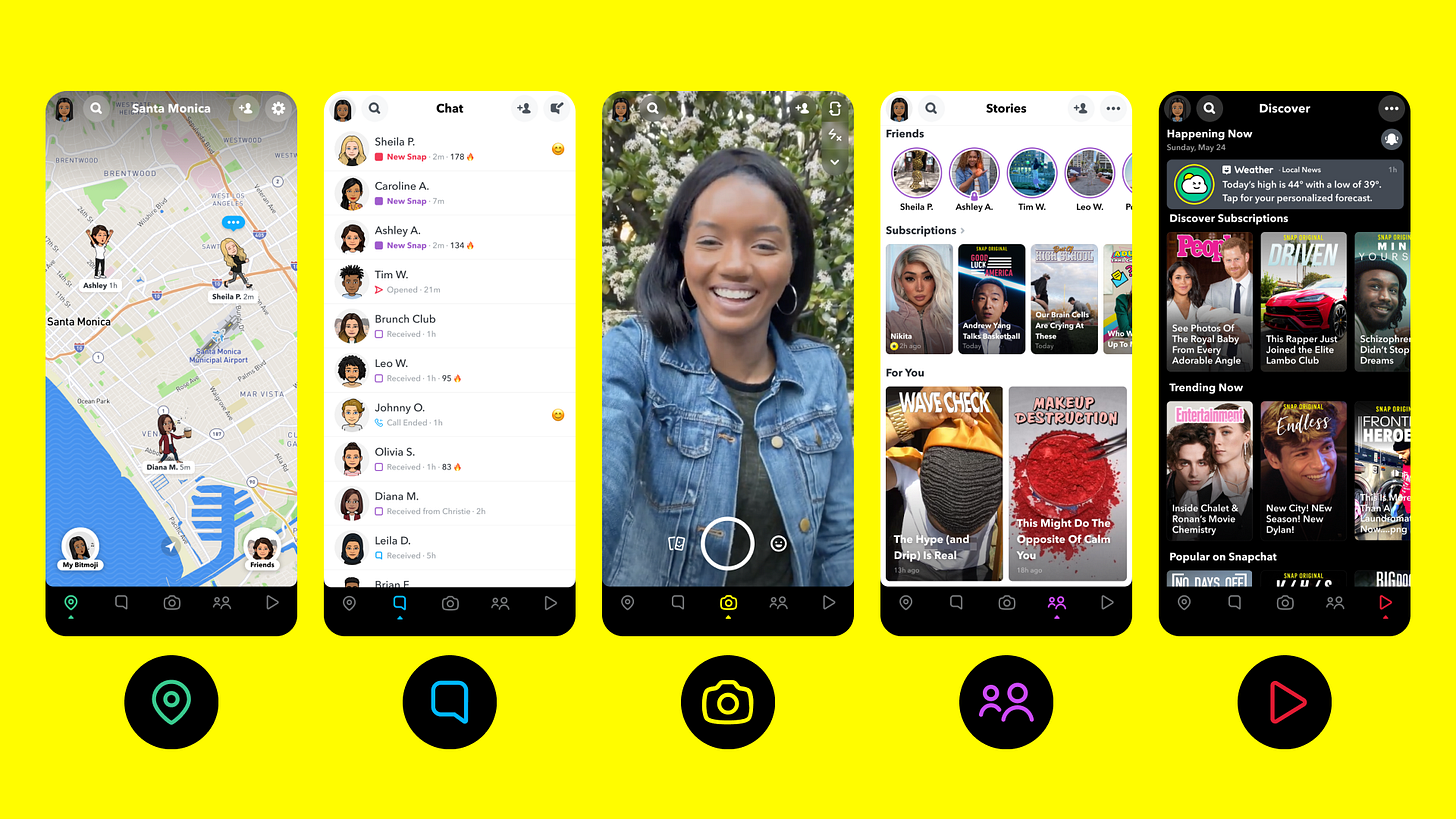 It re-highlighted metrics it's driven home in recent earnings calls. Time spent watching Discover was up 35% and time spent watching its Original Snap Shows doubled YoY. Specifically, it highlighted Will Smith's show "Will From Home" has now been watched by over 35 million people, up from 15 million in Q1. For context, he has 46m followers on Instagram and 29m on TikTok.
As mentioned above, 125 million people got news from Snapchat within the past year, and "hundreds of millions" now watch Snapchat Discover. Snap also disclosed that Snap Originals (which it described as "lasting franchises") are now watched by over half of all Gen Z in the US and 70% of people who viewed one episode of Dead of Night came back to watch the entire series. These all seem very relevant compared to the 70 million subscribers Netflix has in the US, per Statistica.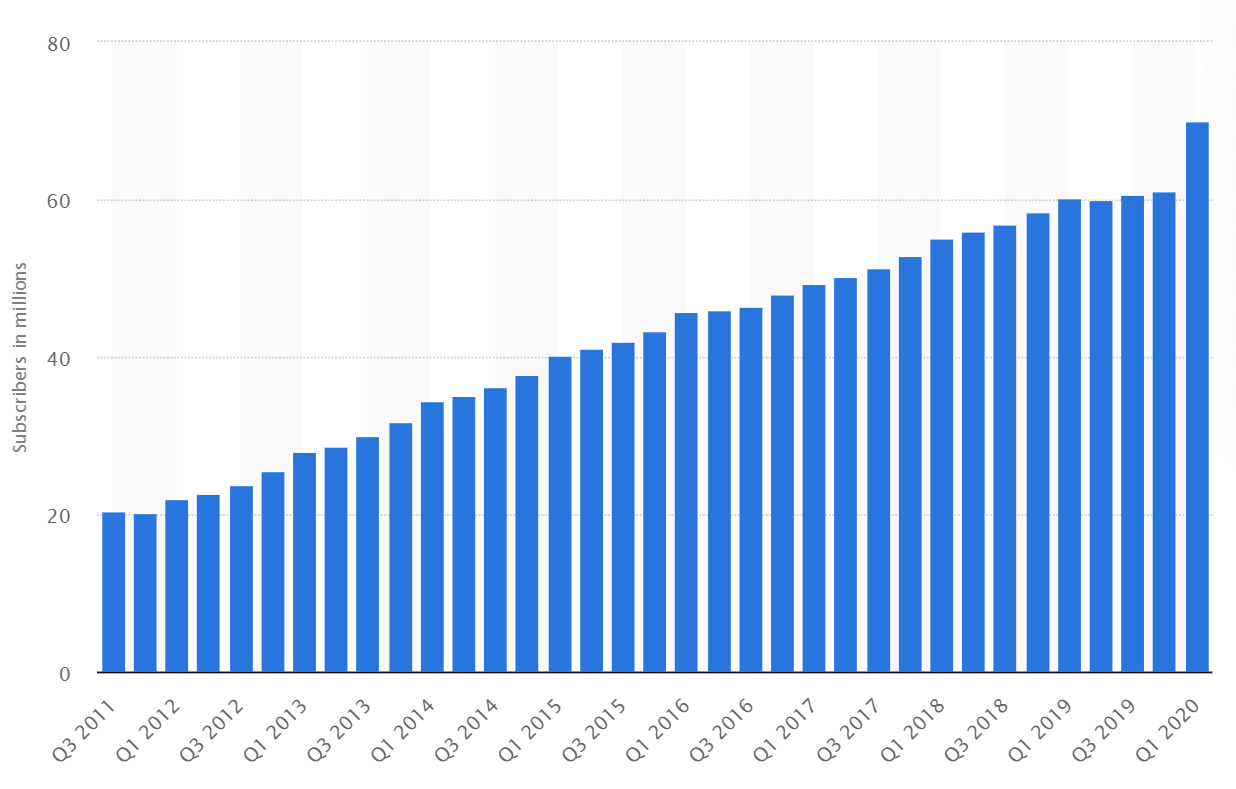 Bitmoji and Snap Games: A Distributed Social Network
Snap officially re-announced Bitmoji Games, a cross-platform SDK to bring users' Bitmoji into other publishers games on nearly every platform: PC, Mac, Xbox, Playstation, Switch, iOS, Android, and others.
This allows for quick personalization, and continues laying the groundwork for a back-end giving developers access to Snap's friend graph, easy in-app purchases, and a distributed metaverse, social network, and digital economy that spans Snap's developer ecosystem. Bitmoji is uniquely positioned to do this as its already used by practically all would-be early adopters and its IP is inherently cross-platform: 2D, AR, and eventually VR.
Snap disclosed that over 100 million people have played Snap Games, and play an average of 20 minutes per day. Ready Chef launched six months ago and has been played by over 25 million unique users. Play sessions are 2x longer when with a friend, proving that no install, built-in monetization, attribution, in-game chat and voice, and a pre-built friend graph can be very powerful for developers. They announced new partnerships with four new studios, including Voodoo, a French publisher that has over 3.7 billion app downloads across its portfolio.
Most importantly, all of Snap Games are built on HTML5, which is likely architected for cross-platform distribution as Snap opens itself up to developers and eventually launches its own hardware.
Snap Mini's: Other Apps in Snapchat
In arguably the most important announcement, that Snap used the same HTML5 base as Snap Games to launch Snap Mini's. These are pared apps that live within Snapchat's chat and accessed from the same interface as Snap Games, which has already been used by over 100 million people. After launching in chat, Mini's will likely hit the Snap Map and AR lenses next.
Early Snap Mini's are from a set of curated partners: Headspace, sports betting, booking concert and movie tickets, class schedules on Saturn, registering to vote, and collaborating on flashcards to study. Like most of its products, Snap likely keeps this closed for a year or two before opening it up for any developer to build on.
Bitmoji, which Snap acquired for $64 million and may have north of 300 million MAU's, also has a keyboard that could potentially plug Snap Mini's into any other app. They specifically announced a partnership integrating Bitmoji into all Samsung keyboards.
If you're familiar with Tencent's WeChat, Snap Mini's will look familiar. WeChat Mini Programs facilitated over $115 billion in transactions by 300 million people in 2019 (25% of the user base), up 45% YoY. Snap could go beyond WeChat by eventually extending these outside Snapchat, and they'll likely be interoperable with other pieces of the Snap Platform and the eventual Snap Operating System that will live on its hardware products.
Snap Kit: The Snap Platform
Much of the above ties into Snap Kit. It now has 800 integration partners (~125 added since Q1) and 148 million MAU's. Specifically, 20 Snap Kit apps are now in the Top 100 of the iOS and Google Play Store's, up from 15 in Q1.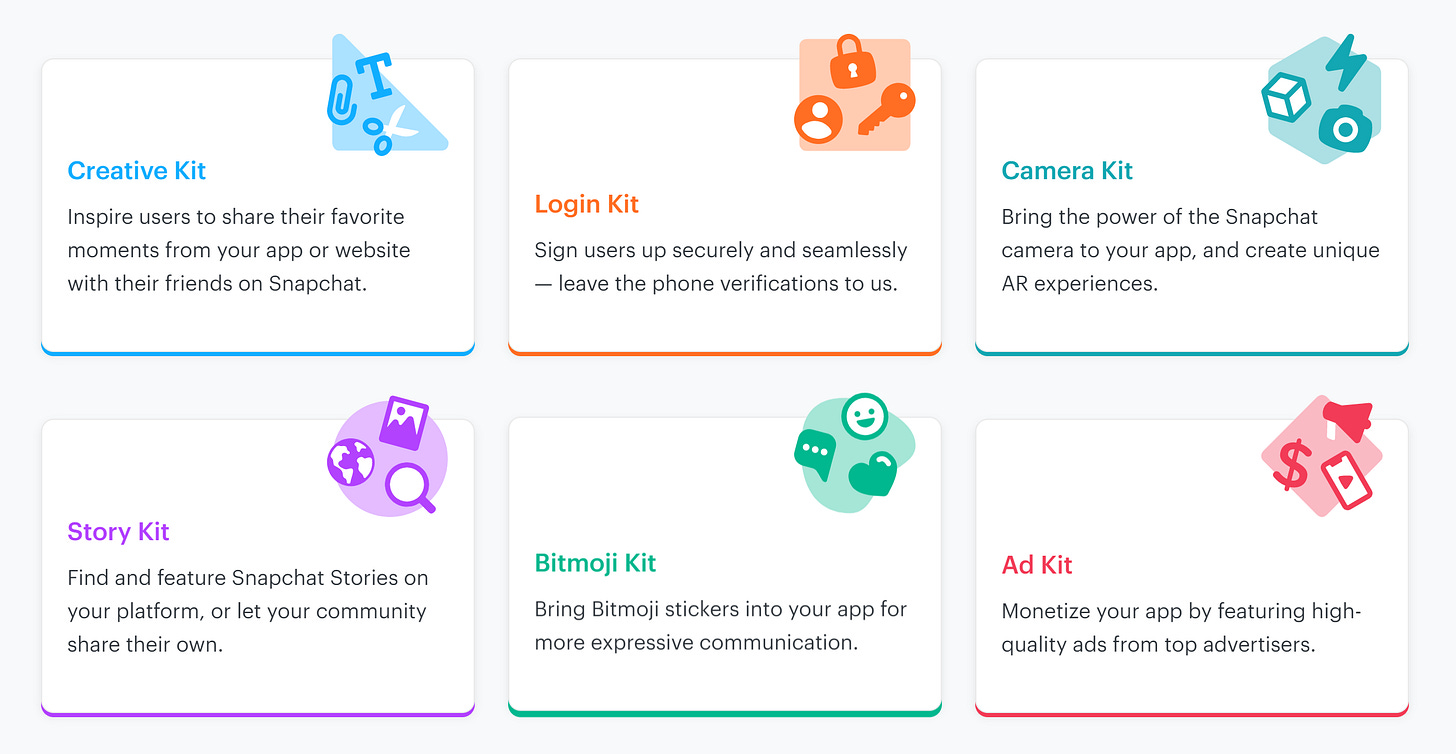 Snap announced dynamic AR lenses in Creative Kit. This allows developers to use Lens Studio to build and integrate the creation of a Snapchat lens in their own app. Two examples given were sending a snap to a friend inviting them to join a Houseparty room and a 3D model allowing users to swipe up and purchase a fractional share of a vintage car on Rally Rd.
Finally, Snap officially announced Camera Kit. This officially opens up Snapchat's camera for other developers to bring into their own app. This builds upon the Snap Camera for desktop with Triller and Squad as early launch partners. Its not hard to see how these products arm the long-tail of consumer social rebels and help both Snap and all of its partners generate more long-term value for their businesses.
Snapchat and the Power of Friends
Behind all these product announcements is a reminder Snap is building on a very strong competitive advantage: a messaging network of hundreds of millions of close friends in markets with high per capita income.
In the short-to-medium term, all these products increase Snap's monetization potential. More video ads in content and games. More AR ad inventory and commerce opportunities as it opens up its camera. Monetization from the long-tail of business across the world as they open up the Snap Map and Snap Mini's. It's likely these features also drive new users into the app, which continues to build on the user acquisition flywheel Snap created with content and AR.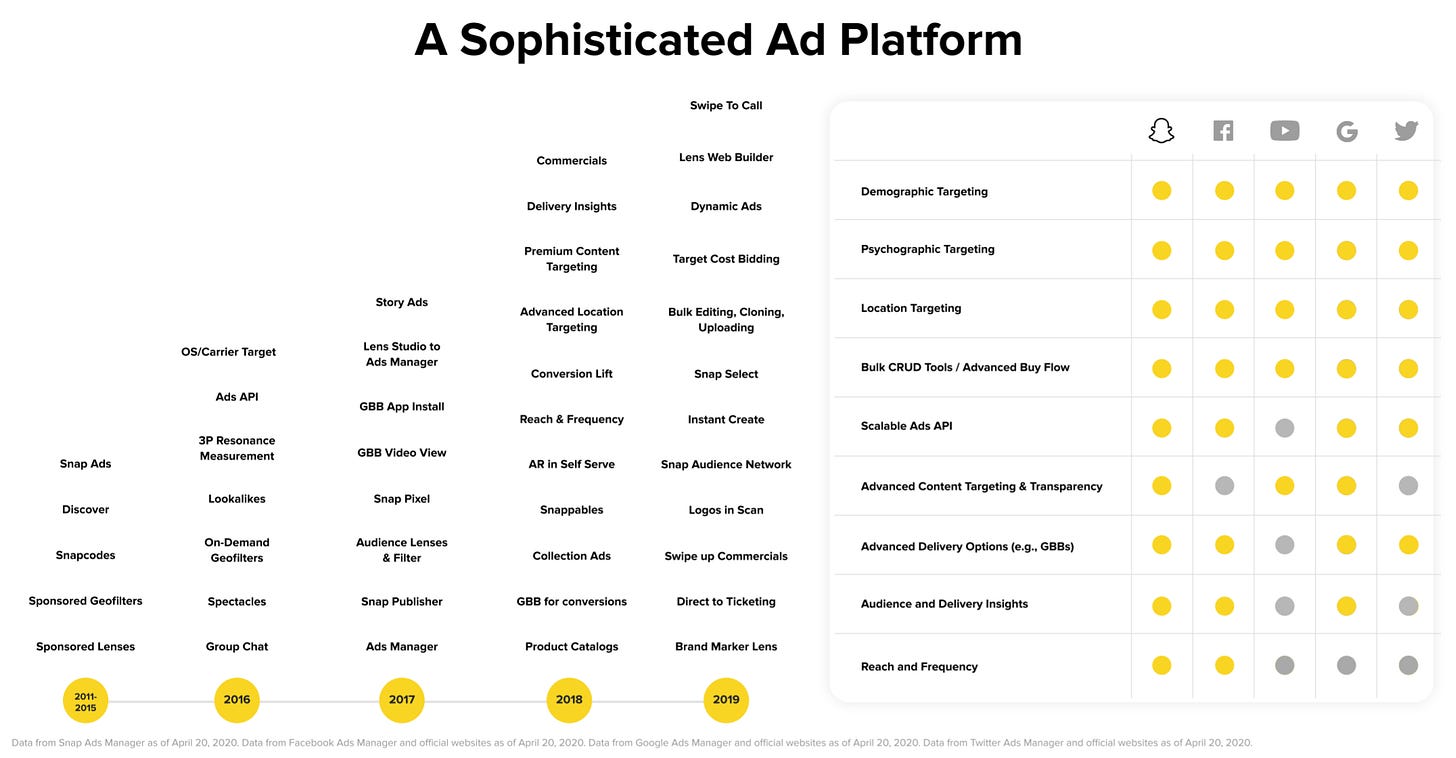 Over the long-term Snap Kit, the Bitmoji SDK, and the Bitmoji keyboard spread Snap's products into every other app. We didn't get any updates on Ad Kit, Snap's Third-Party Ad Network built into Snap Kit, however, it will likely integrate with all Snap's other distributed products over time as well. And voice will become increasingly more important in the context of hands-free computing with Spectacles.
One of the biggest tests for Snap will be figuring out a monetization model beyond advertising. No one has cracked this outside of China yet, and Snap's messaging network of close friends makes it possibly the best positioned to do so.