Discover more from The Split
Stay on top of the latest tech and startup stories.
Over 23,000 subscribers
Snap Focuses on Profitability
Disney explores membership program, US life expectancy hits 100-year lows
Hi everyone 👋 Turner back again. No deep dive today. I lost power for 48 hours this week and I'm on the tail end of moving across Ann Arbor. I'll write about Pinterest's new Shuffle app on Tuesday. I'll give it to them, its better than I expected.
Shoutout to Adrian Ohmer at the Kresge Foundation for referring (or requiring) his entire venture law class at the University of Michigan to read The Split. A banana cap is on the way! 🍌🧢
Snap lays off 20% of employees: There have been very few people as bullish on Snap as me over the past few years, and its sad to see so many talented people I've met there let go. The tl;dr is Snap appears to be cutting long-term projects that won't meaningfully impact revenue in the short-term. Content will focus on creators (an about-face from Snap) and partner content instead of the more expensive Snap Originals; Minis and Games will shift towards a maintenance mode; and all hardware investment outside of Spectacles has been slashed.
This cuts $500m in annual expenses, a significant amount for a company valued at $18 billion. Snap also disclosed Q3 revenue to-date is up 8% over last year, up from 0% in Q2 after advertiser pullback during the war in Ukraine and measurement challenges due to Apple's ATT changes.
The one thing confusing to me is Snap is shutting down Zenly, a social map product. Acquired in 2016, its a similar product to Snapchat's Snap Map. Zenly had roughly 40 million Monthly Active Users (MAUs), mostly across France and Asian markets like Japan, Vietnam, Taiwan, Korea, and Russia where Snapchat has little presence. Snap also included the chart below in its latest investor presentation updated yesterday, hinting they may start monetizing the map over the next two years. To me, shutting down Zenly could make sense if they plan to merge the userbase into Snapchat. Snapchat has an existing ad product and monetizable features, and ByteDance did something similar with Musically when it officially rebranded to TikTok.
The other interesting news from yesterday was Snap promoted Jerry Hunter to Chief Operating Officer. This comes as Snap loses Jeremi Gorman and Peter Naylor to Netflix, two of its most senior ad employees. From what I understand, Jerry's teams built Snap's ad platform pre-IPO, rebuilt the android app in 2017-2019, and recently reignited Snapchat's growth internationally. It looks like Jerry is now leading the engineering, product, and sales orgs. It will be interesting to see how tieing them together impacts revenue and profitability over the next few quarters. And turnover on the ads team adds to my theory that Snapchat+ will be be a big part of Snap's future.
Disney explores Amazon Prime-like membership: This would expand its Disney+ streaming subscription to include park visits, merchandise, and shoppable commerce to Disney+ content. Building a direct relationship with customers has always seemed like the long-term opportunity for Disney. Operating theme parks has mostly fixed costs at each level of capacity, and bundling park visits that may go unused by most customers for a few extra hundred dollars per year could increase profitability significantly. More from the WSJ.
Where do memes come from: A fascinating read from Know Your Meme on a full decade of meme origin data. Surprising to see Twitter hold around 40% market share for five years, as well as TikTok's rapid rise. Read the full article here.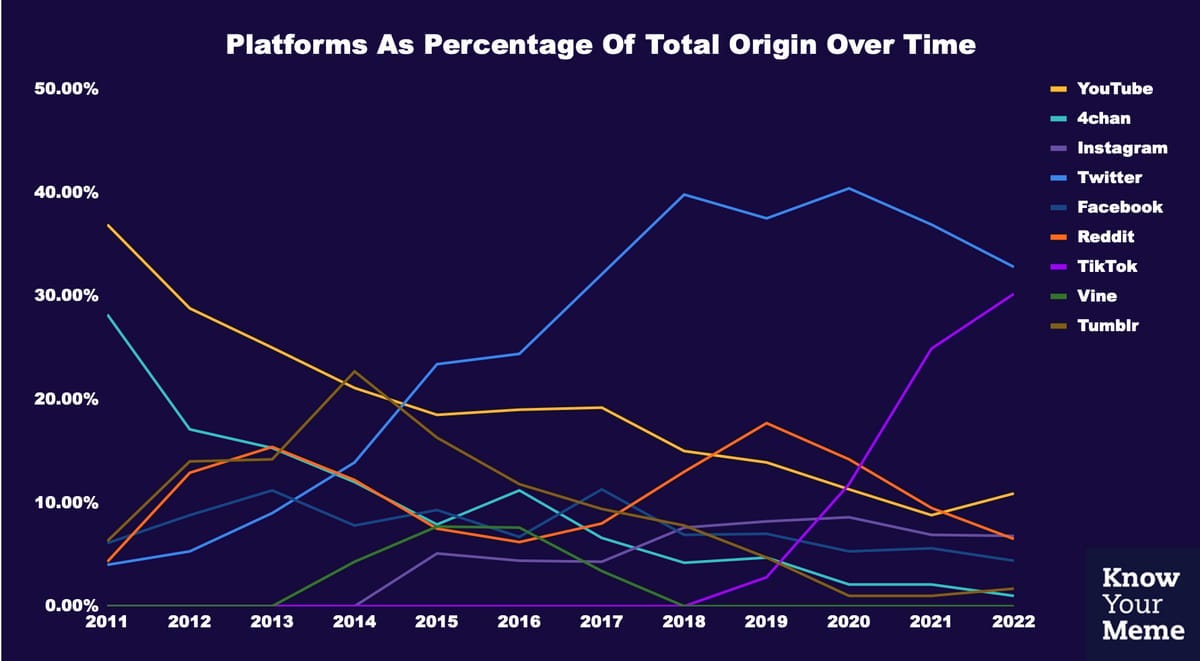 US sees largest 2-year decline in life expectancy in 100 years: Not surprisingly, COVID was a large contributor, as it was in other countries that were slow to vaccinate and take behavioral measures to prevent infections. Surprisingly, the US was more unique in an increase of accidental deaths, drug overdoses, heart disease, and liver disease that also contributed. Much of this can be attributed to poor diet, lack of physical activity, poverty, pollution, and unequal access to care across the population. More from the NYT.
Texas now generates more renewable energy (mostly solar and wind) than all but five states generate total power: Despite being known for its strong oil & gas sector, Texas has become a renewable energy juggernaut. More energy charts from EnerSection.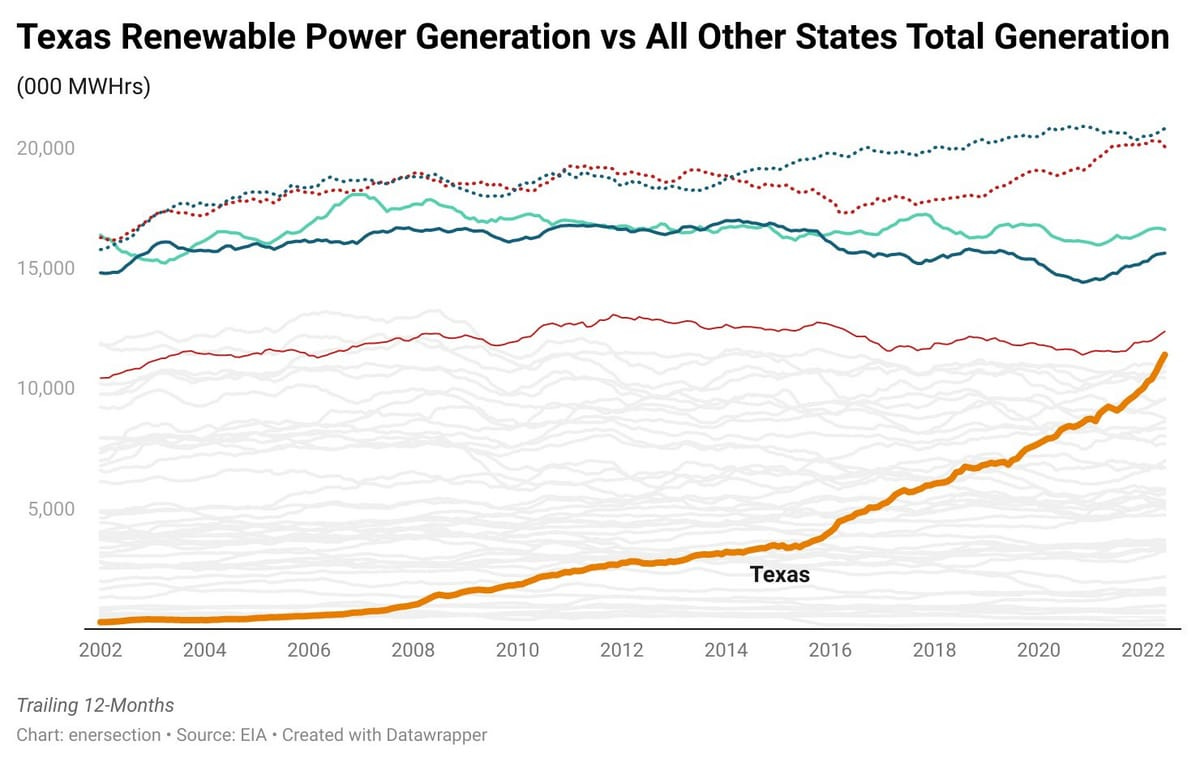 Research suggests mushrooms communicate with a 50 word vocabulary: Scientists believe they've observed fungi using underground electric signals that are very similar to human speech. More from The Guardian.
Career Services
Banana Talent Collective drop #2 will go live on Sunday, September 11th. For smart ambitious people looking to work at a startup, its a free and anonymous way to passively browse new opportunities. Join here.
If you're hiring, there are now over 50 individuals from junior to senior level roles across engineering, growth, product, finance, and even a few consultants 🤓 looking to jump into tech. Most recently, we're already seeing an influx from Snap and our first Dropbox PM just joiend. If you're hiring and want drop #2 in your inbox, sign-up here (Banana portfolio companies reach out for free access).
Three openings to highlight:
Browse more or add your own here.
Monkey Business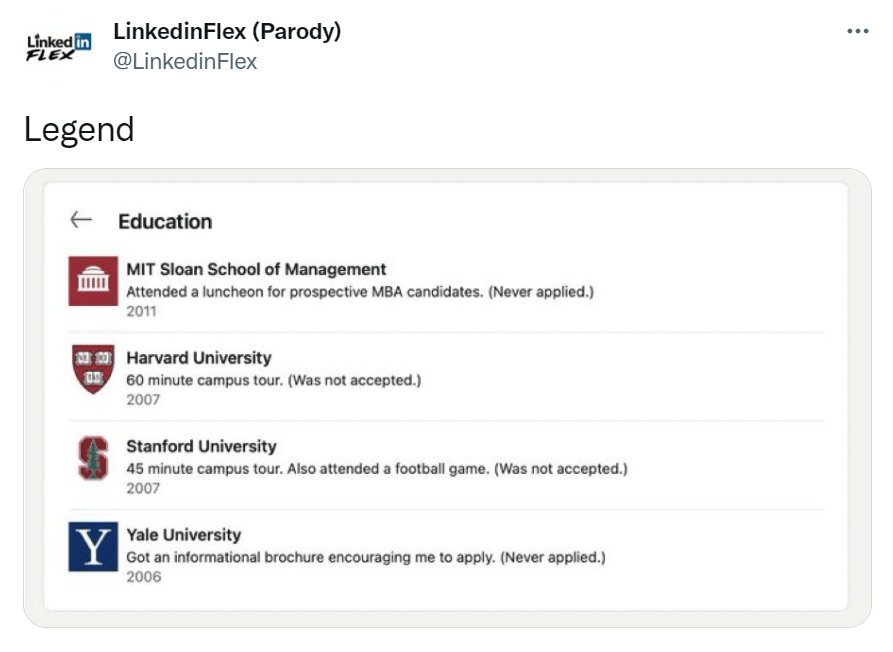 I'm just glad I know this one isn't real...