Discover more from The Split
Stay on top of the latest tech and startup stories.
Over 23,000 subscribers
SKKY Partners: The Kardashians New Fund
Why the Kardashian's new private equity fund is a big deal
Happy Thursday! Its Turner 👋 and today I'm digging in to the Kardashian's latest venture, SKKY Partners, a new consumer-focused private equity firm.
We're gearing up for the Banana Talent Collective Drop #2 this weekend. If you want to make the jump into a role at a fast paced, high growth startup - or want to hire someone who does - click here or read more below.
We also have SIX people only a few referrals away from a Banana Cap 🍌🧢 (including Jared at Dragoneer still sitting at nine). I'll have the link ready all weekend to send to anyone who hits 10 referrals.
The Kardashians Launch a Private Equity Firm
Kim Kardashian announced yesterday she's teaming up with Jay Sammons, who ran consumer investing at Carlyle and led their Beats By Dre and Supreme investments, to launch SKKY Partners. The new firm will invest in consumer and media businesses.
This might seem ridiculous at first glance, but Kim, and the Kardashian family more broadly, is arguably one of the most influential people in the world. She reportedly charges up to $1 million for a sponsored Instagram post. And the Kardashian family has launched multiple businesses off their collective personalities that do over $100 million in revenue, with two reportedly valued at over $1 billion.
Many funds have partners who solely bring in deal flow. And the Kardashian's are "the influencer's influencer", lending immediate credibility to every portfolio company. The Kardashian's also have a very strong PR and media network they've built over the past few decades to control and shape the narrative around the family. Its hard to argue why the best mid to later stage consumer founders wouldn't want SKKY on their cap table. And they could even use the platform to institutionalize an incubation strategy that puts their existing strategy into hyperdrive.
You could think of this as the latest evolution in the creator economy. Assuming the firm eventually gets to $1 billion funds at steady state (Carlyle's website mentions its consumer team has deployed $25+ billion), 20% carried interest returning 2x net to LPs is $66 million to Kim (if split 1/3 between Kim, her mom Kris Jenner, and Jay), which is a lot of money no matter how they're slicing it. The $6-7 million in management fees annually (assuming the 1/3 split) also stacks on top of the $20 million Kim reportedly makes per season of The Kardashian's, not including the cash flow generated by their various beauty and personal care brands that likely have high gross margins and below industry average marketing costs. The numbers on SKKY get exponentially larger if they're good at this and build an institutional firm that successfully raises and exits multi-billion dollar funds every few years. 
Per TechCrunch, Kim and Kris will be involved and this isn't just them licensing out their name, but SKKY is another business that lays nicely on top of the family's brand. I'm sure one day someone will make a cool flywheel diagram showing how the different pieces of the Kardashian empire intersect and build on top of each other...

If the Kardashian's are smart, they'll be running SKKY on AngelList's Fund Admin product. Its a streamlined platform that simplifies the hardest and most boring parts about starting and managing a fund like LP relations, reporting, legal, accounting, taxes, and more.
 I use AngelList personally to run Banana because I've found AL's combination of price and features better than every other product on the market. I've gotten a front row seat to how fast they've been shipping new features over the past two years and I recommend it to every fund manager I talk to.
If you're interested in AngelList's Fund Admin product, let me know and I'll personally connect you with the team.
Product Launches / Shutdowns
Instagram scaling back shopping features: Meta now appears to be focusing its ecommerce efforts on increasing its own advertising revenue rather than enabling commerce itself. Owning the entire user journey from discovery to checkout seemed like the end state of Instagram, but its possible pressure from TikTok may have forced Meta to change priorities. This seems like good news for Shopify. More from The Information.
Other News
Baltimore water system suffering from E. coli contamination: After more than 48 hours, Baltimore appears to have partially lifted its water boil advisory for at part of the city. More from the Baltimore Banner.
Related, a 2016 report from Deloitte estimates the US will need to invest at least $1 trillion restoring underground pipes over the next 25 years, and an additional $655 billion over the next 20 years ensuring proper drinking water standards.
"A 2001 report titled Dawn of the replacement era, the AWWA points out that cast-iron pipes that were laid in the late 1800s have an average lifespan of 120 years; pipes laid in the 1920s, constructed using different manufacturing techniques, have a lifespan of a 100 years, and pipes laid during the post-World War II economic boom are expected to have a useful lifespan of about 75 years. This means that much of the underground pipeline network will be due for replacement in the next two decades."
Additionally, we'll likely see the federal share of capital spending on water utilities increase over the next decade.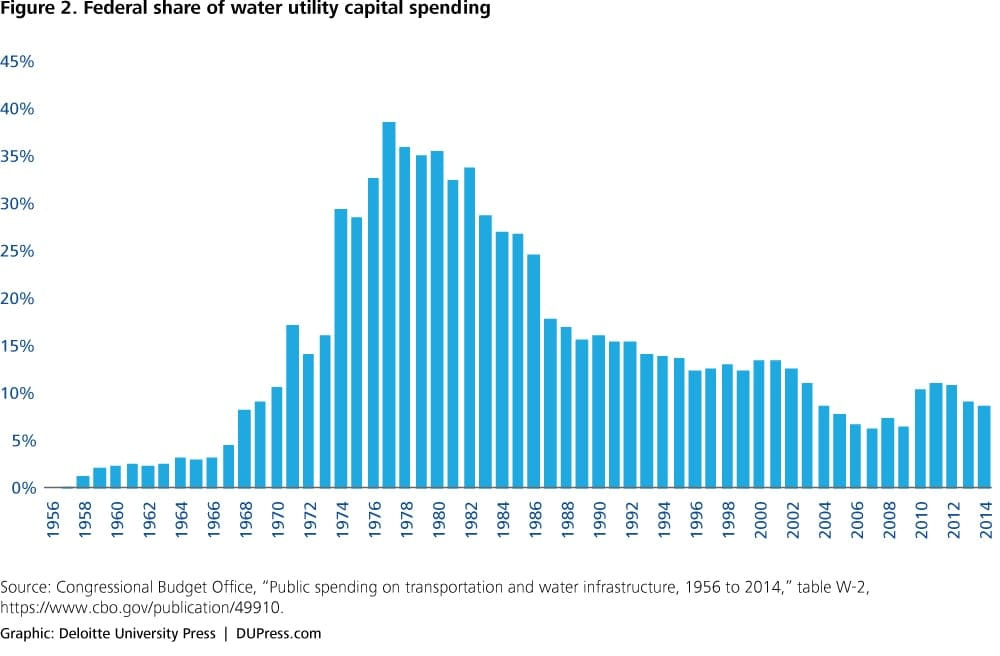 Netflix games averaging 1.7 million Daily Active Users: Its mobile game apps have been downloaded a total of 23.3 million times, and its reported 1.7 million DAUs is less than 1% of its 221 million global subscriber base. Netflix plans to expand its 24 game library to 50 by the end of 2022 - here's a full list. Personally, games feel like a natural extension of both Netflix's IP and to-be-built ad platform. More from CNBC.
Countdown Capital raises $15 million Fund 2 to back pre-seed deep tech founders: Not to be outdone by the Kardashians, shoutout to my friend Jai announcing Countdown Capital Fund 2! Reach out to him or someone else at Countdown if you're early on your journey building for the next industrial revolution. More from TechCrunch.
Career Services
Banana Talent Collective drop #2 will go live this upcoming Sunday, September 11th. For smart, ambitious, humble people looking to get a job at a startup, this is a free way to passively and anonymously browse new jobs. Drop #2 already has folks from a bunch of awesome large and small companies. Join here.
If you're hiring and want Drop #2 in your inbox on Sunday, sign-up here (Banana portfolio companies please reach out for free access).
Three job openings to highlight:
Browse more openings or add your own here.
Monkey Business