Discover more from The Split
Stay on top of the latest tech and startup stories.
Over 23,000 subscribers
Series D Startup Valuations Drop 85%
Digging in to Cooley's Q3 2022 Venture Financing Report
Happy Wednesday 👋 Turner back again with The Split. Welcome to all new subscribers and the 14,200+ readers tuning in!
Cooley recently published a report on late stage startup valuations. At a high level, things don't look good, and I'll dig into it below. I'll also touch on new product news from Microsoft, TikTok, and Instagram, and a not-quite-a-product-yet news around Apple.
🍋 Need devs? Lemon has your back 🤝
Looing to expand your engineering capabilities? Lemon runs a pre-vetted community of experienced developers from around the world looking for full-time projects.
For startup founders, Lemon saves you time searching for qualified engineers. They take care of the team while you focus on growth, product, and everything else that building a startup entails. Lemon promises a first match within 48 hours and that you'll have an engineer (or more than one!) working on a project within a week of sign-up.
And they're growing just as fast as you. Their goal for the next 12 months is to become the main source of income for 1,000+ software developers. Lemon is based in Ukraine, but has engineers across the world, meaning you can save money and time no matter what time zone you work in.
To get started, click here for a 15% discount on your first four weeks.
What's Happening With Startup Valuations?
If you've paid attention to the venture markets this past year, valuations were clearly trending downward. This follows a few years of very good times in startup land.
AngelList publishes quarterly reports on the state of early stage venture in the US. This chart from Q3, which essentially maps the health of funding rounds that happen on its platform (the red circle's are mine), highlights how we went from one of the best periods in their data set to the worst within the last 12 months. And a lot of the unhealthiest startups aren't closing funding rounds right now, so this doesn't even show the full picture.
Cooley recently published their Q3 2022 Venture Financing Report which gives a further look into the market. But first, here's my general link of thinking on all things venture data.
I typically trust AngelList's data the most when it comes to early stage. And then take in other sources like Cooley, Pitchbook, etc as it comes to later stages. Founders and investors are increasingly using SAFE's for early funding rounds. A SAFE essentially means: lawyers like Cooley are expensive, so we won't bring them in yet, but when do, this is an agreement the investors will get equity in the business. SAFE literally stands for Simple Agreement for Future Equity (more from YC who popularized the document).
All things said, Cooley doesn't necessarily have the same view on the early stage venture markets as AngelList. But Cooley was the #1 ranked law firm in the US for overall venture deal count. And with times getting rough and verbose legal terms and structure getting more necessary, they can definitely give us a picture of what's going on when lots of money is on the line in larger, later stage funding rounds.
Back to Cooley's report, median amounts raised per round are relatively stable at Seed. Series A round sizes are down 40%. Looking at later stage rounds, Series C and D round sizes are down 70%.
It seems alarming - and it's a big decrease - but its really just reverting back to historical averages. From this lens (only going back eight years), it looks like Series B hasn't quite slowed down yet. It could be a combination of things, but my guess is the only companies closing Series B rounds right now have healthier underlying businesses that justify the round size and valuation.
Its possible some of the C's and D's closing, especially extensions to rounds done over the past two years, do not. Which is why investment round sizes are much smaller, because they're not full rounds, just small extensions.
Looking at the past eight years of valuations tells the same story. 2021 and 2022 was an anomaly in the late stage private markets, and we're reversing to the mean. Series D valuations are down 85% from their highs earlier this year.
Looking at valuations from another lens: in September of 2021, of all the financing rounds Cooley saw, almost 60% had a pre-money valuation above $100 million. By August of 2022, less than 20% did (here's an explanation of pre vs post-money valuations if you're unfamiliar).
How should we think about this? Lower valuations can be hard to stomach. Especially if its happening to a company you have equity in. But its fair to admit the industry got ahead of itself, and a reversion to the mean is healthy for the ecosystem over the long-term.
Its also important to remember this is all US data. Some markets like India may be fairing slightly better (I haven't looked, but that's my guess). And if we were to expand further out on the risk spectrum (either in various emerging or frontier markets or into non-traditional venture-type businesses), we might expect to see valuations even lower.
Needless to say, nature is healing.
Like what you're reading?
Subscribe to The Split for more every week.
🚀 Product Launches
Microsoft Teams launches Communities: This is in an attempt to compete with Facebook and Discord. And really, this is an attempt to build a super app, similar to Tencent in China and Yandex in Russia, to compete with Google in Search.
TikTok adds new horizontal full screen view: I've seen this in the wild a few times now. A button that says "Full screen" pops-up (highlighted below), which switches the video to a horizontal full screen view. This is an obvious next step at expanding the product to look more like YouTube.
Instagram tries another BeReal clone + goes after Twitter with new status feature: In what should surprise zero people, Instagram's latest BeReal clone is a much better shot on goal than its first one. The new status feature, while not quite like Twitter, is more like a WhatsApp status or an AIM away message for all you old schoolers.
🔗 Links and Charts
Apple to Allow Outside App Stores in Europe: New laws in the EU mean Apple will be required to allow alternative app stores on iPhones and iPads, similar to what Google allows on Android. It also appears to open up the device camera and NFCs to third-party developers.
Said another way, there will soon be ways around Apple's 30% cut it typically takes on App Store payments. And its possible we see similar laws passed in other regions soon. This European law only seems to apply to companies with a market cap of at least €75 billion ($80 billion) and at least 45 million Monthly Active Users with the EU.
The New Consumer 2023 Survey: Lots of good slides in here. This was the most surprising to me: Gen Z and Millennials are 2-4x more likely to prefer celebrity-founded brands over Gen X and Boomers. I figured it would be higher, but not this high. This is happening within the context of online customer acquisition costs rising significantly amidst Apple's ATT changes. To combat CAC, we should expect to see more celebrity and influencer-led brands popping up.
Desktop traffic to Twitter's ad manager is plummeting: I don't know if its fair to say Twitter's ad revenue is down 80% since earlier this year since many advertisers run automatic campaigns. But it does not paint a good picture.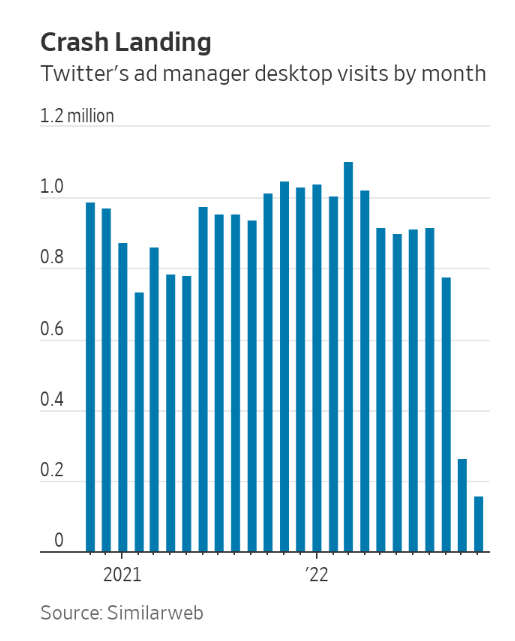 US lawmakers present bipartisan bill to ban TikTok: The bill would block all transactions from any social media company in or under the influence of China or Russia. This comes after multiple states have now banned TikTok on state-government provided devices. I still think an outright ban will be tough to pull off. I don't have a strong view on the timeline, but it does seem inevitable ByteDance is forced to eventually spin TikTok out as a separate entity if it wants to stay in the US.
US scientists see first ever net gain in a fusion reaction: We're still many years away from sustainable nuclear fusion at scale, but a 20% net gain is an early milestone in establishing more efficient forms of energy production. 
One-fourth of Millennials are living with their parents: I'm sorry to say, but this is literally me as well, as we moved in with my in-laws over the summer 😅. The reasons are varied, and it looks like the two primary reasons are to save money and to spend more time with them.
In crypto, SBF was arrested by the Bahamas authorities the day before he was expected to appear before congress (probably just a coincidence...). And BlockFi is appearing more and more intertwined with FTX. Its business model was essentially: 1) take liquid assets from customers, 2) promise high yields, and 3) try to earn that yield by either buying risky crypto assets or loaning to crypto hedge funds at a higher rate.
Binance may also be insolvent: And if you've been following what's happening in crypto, this probably doesn't surprise you. 
💼 Career Services
We just did Banana Talent Drop #8! The Banana Talent Collective now has 170+ candidates hailing from the companies below + more (if you're at a Banana portfolio company, reach out for access).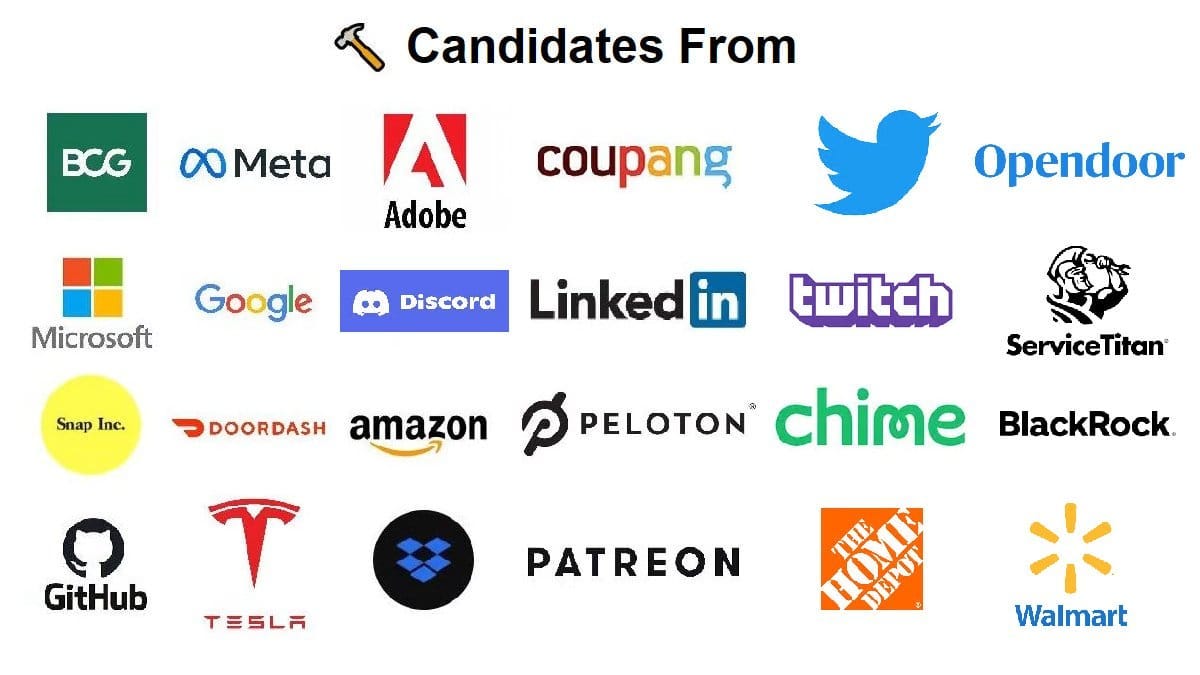 If you're starting to explore a new role or hiring and want a feed of pre-vetted candidates, get started here.
🍌 Monkey Business
(click for video 👇)
🍌 The Split is brought to you by the team at Banana Capital. Read more about what we're up to at Banana here.
🤝 Interested in a sponsor partnership with The Split? Inquire here.
🐝 And if you're thinking about starting your own newsletter, I can't recommend Beehiiv enough. Get started here.