Discover more from The Split
Stay on top of the latest tech and startup stories.
Over 23,000 subscribers
Launching the Banana Talent Collective
Find your new favorite job or hire for your next role
A few days behind schedule, we're unveiling something new we've been cooking up: The Banana Job Board and Talent Collective.
We also just sent out the first Banana Cap's to Jenny at Freestyle and Sheel at Better Tomorrow. Jared at Dragoneer is, unfortunately, still the top referrer with nothing to show for it. Grab your unique link at the bottom of the page (shows up in email only) and throw it in the group chat.
Launching the Banana Talent Collective
The question I'm asked the most from founders is "can you help us with recruiting?". From candidates, its "what are the startups I should work at?"
If you've been following along the past few weeks, you've noticed I've been highlighting interesting jobs across the Banana Cap portfolio. They're consistently the most-clicked links, so today we're launching the Banana Job Board and Banana Talent Collective. Its 100% free for all candidates and Banana portfolio companies.
Here's how the Banana Talent Collective works:
For talented individuals open to exploring new roles, browse a curated list of startup opportunities in the Banana Cap portfolio and our broader network. You can even remain anonymous if you don't want anyone to know you're on the market!

For startups, receive a flow of high quality, vetted candidates that read The Split and are in the broader Banana Cap community.

If both parties opt-in to an intro, we connect you, and you take it from there.
The job board and talent collective will weave in with the newsletter each week. We'll promote featured jobs, re-surface the talent collective, and highlight successful matches that both sides are open being shared publicly. We're still onboarding companies to the job board - be on the lookout for more next week!
If you're ambitious, a fast learner, hardworking, humble, and open to a new challenge, get started joining the Banana Talent Collective here. And if you run recruiting for a startup, sign-up here to take the first look at candidates next week.
For the Pre-seed founders: Will Bricker at Hustle Fund shared data around what they're seeing after reviewing 1,324 pre-seed decks this year. May be obvious, but building an MVP (not just an idea) and proving out a customer/user acquisition process to start generating revenue cause the two biggest bumps in valuation. More here.
Ramp's 2022 Q1 Spending Benchmarks Report: If you also love this stuff, I recommend requesting the full report here.
Do PE Acquisitions of Public Startups Imply We've Hit a Pricing Bottom? Redpoint's Tomasz Tunguz takes a look at recent PE firm software transactions, concluding we're seeing a pricing floor. There doesn't seem to be any correlation between revenue multiple, growth rate, or free cash flow margin (profitability), so I'm not sure anyone actually knows what's going on.
People are gaming IMDB for online clout: Fascinating Twitter thread on how a group of individuals are getting fake IMDB movie credits and a "knowledge panel" on Google. I'd expect we see this in the Series A fund PR toolkit by Q4.
Gas dips below $4 per gallon for the first time since March: Not many know this, but cheap gas is the reason I live in Michigan. More from the WSJ.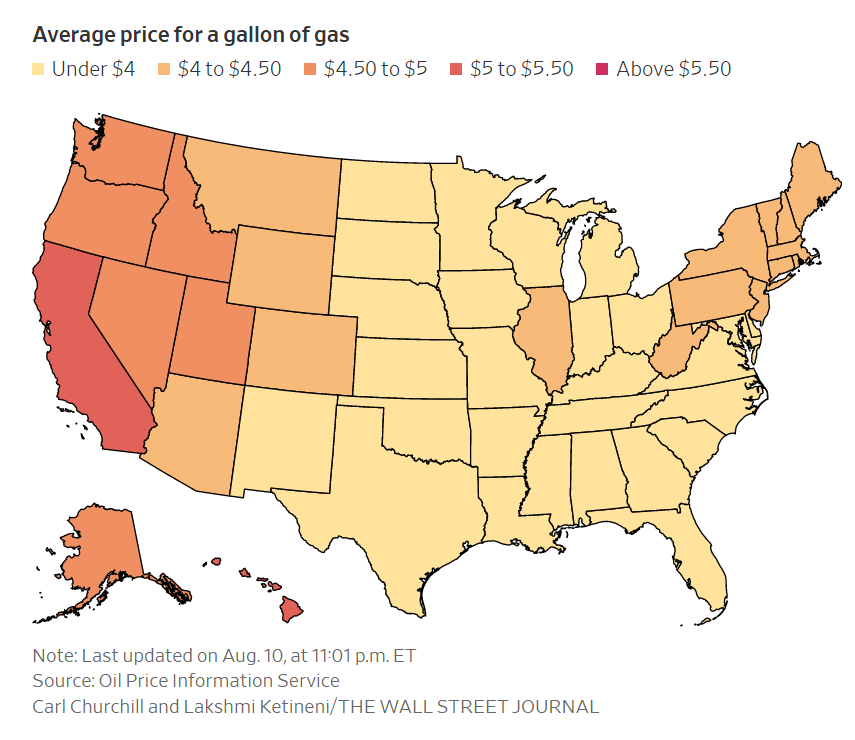 The Transformation of American Families: A piece on how the American family structure has evolved. This chart in particular stood out. I've experienced multigenerational living since the beginning of COVID, and I'm not sure we'll ever go back.
Disney Surpasses Netflix in Subscribers: Certainly some double-counting, but Disney now reports 221 million streaming subscribers across its portfolio compared to Netflix's 220.7 million. I remember making a bet with Sheel about Disney's subscriber numbers, I just can't remember what it was. If I lost, hopefully he doesn't remember.
Featured Jobs
If you're still on the fence about joining the Banana Talent Collective, remember that its free, anonymous, and all passive through your inbox. As we roll this out, candidates who sign-up will start getting personalized drops of pre-vetted roles at high-growth startups. Get started here.
We're still onboarding more jobs, but see the full job board here.
Monkey Business