Discover more from The Split
Stay on top of the latest tech and startup stories.
Over 23,000 subscribers
Klarna's New Influencer Marketing Platform
Plus: Podcasts on Enron and the Friendship Recession, and how founders can best leverage their investor networks
Happy Tuesday 👋 Turner back again with The Split. Welcome to all new readers and the 14,000+ tuning in every week!
No big piece from me today, just sharing some things I've been reading and listening to. Klarna just launched a new influencer marketing platform for its merchants, two podcasts on Enron and the "Friendship Recession", and a great read on how to leverage your startups investor networks.
🚀 Product Launches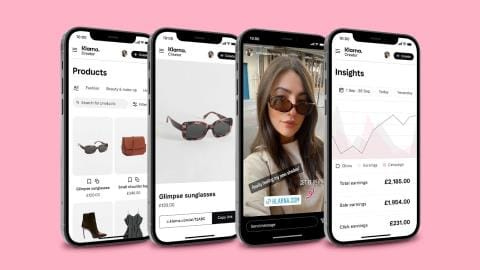 Klarna launches a platform to connect brands and influencers: I don't think I've ever mentioned it here, but I've been fascinated by how the Buy Now Pay Later companies essentially launched ecommerce platforms off of their credit products. Typically, it happens the other way around, where a retailer launches some sort of lending product to its captive customer base.
The BNPL apps were first used by consumers as a way to repay the loans underwritten at the point of sale of a merchant (like Peloton). As the apps reached scale, they were then used as marketing channels for the merchants to acquire more customers. One of the largest, Australia-based Afterpay, recently passed 5 million active customers in the US.
At this point, I'm not sure what the BNPL business actually is. Are they lenders, ecommerce destinations, or both? Klarna's new Creator Platform looks like a hybrid affiliate-network and influencer management tool. If I squint and extrapolate out, it feels like they may be moving more into Shopify's turf with a full suite of ecommerce tools. More from Finextra.
🔊 Podcasts
Experimenting with a new section in the newsletter today! TBD if this will be recurring, but I recently listened to two podcasts worth sharing.
Why America is Suffering a 'Friendship Recession': If you read The Split last week, this might sound familiar (I swear I didn't steal the phrase, someone sent this to me over the weekend!). This goes much deeper on some of the aloneness and loneliness trends I initially hit on. More from Plain English.
The Complete History & Strategy of Enron: If you've been following FTX, this 212 minute episode takes you from Enron's founding story to the post-bankruptcy fallout. More from Acquired.
🔗 Links and Charts
The Anatomy of a Fraud: This piece first highlights "what is fraud", and then outlines the four elements that generally make up each occurrence, followed by examples. The author Stacey spent a few years at a short-only investment firm, meaning she used to get paid to sniff this stuff out. More from her blog Trust, but verify.
US housing costs as % of median income: Feels like this will break soon, if it hasn't already. h/t Charlie Bilello.
$41 billion was spent on Ethereum NFTs in 2021: This compares to the $50 billion global art market and excludes also NFTs on non-Ethereum blockchains, like Solana. What's interesting is that transactions under $10,000 made up more than 75% of volume, but only 32,400 wallets (9%) held 80% of the value in the market. More from the FT.
I found the rapid rise and fall of the NFT market absolutely fascinating (and crypto/web3 as a whole, the Tether situation, etc). If anyone has theories, reads, or listens on what was or is actually going on behind the scenes, I'd love if you could share!
India and China are now almost half of global mobile traffic: If you believe the internet economy is converging with THE economy, its hard to ignore how Asia is positioning to become the new economic center of gravity. h/t Benedict Evans.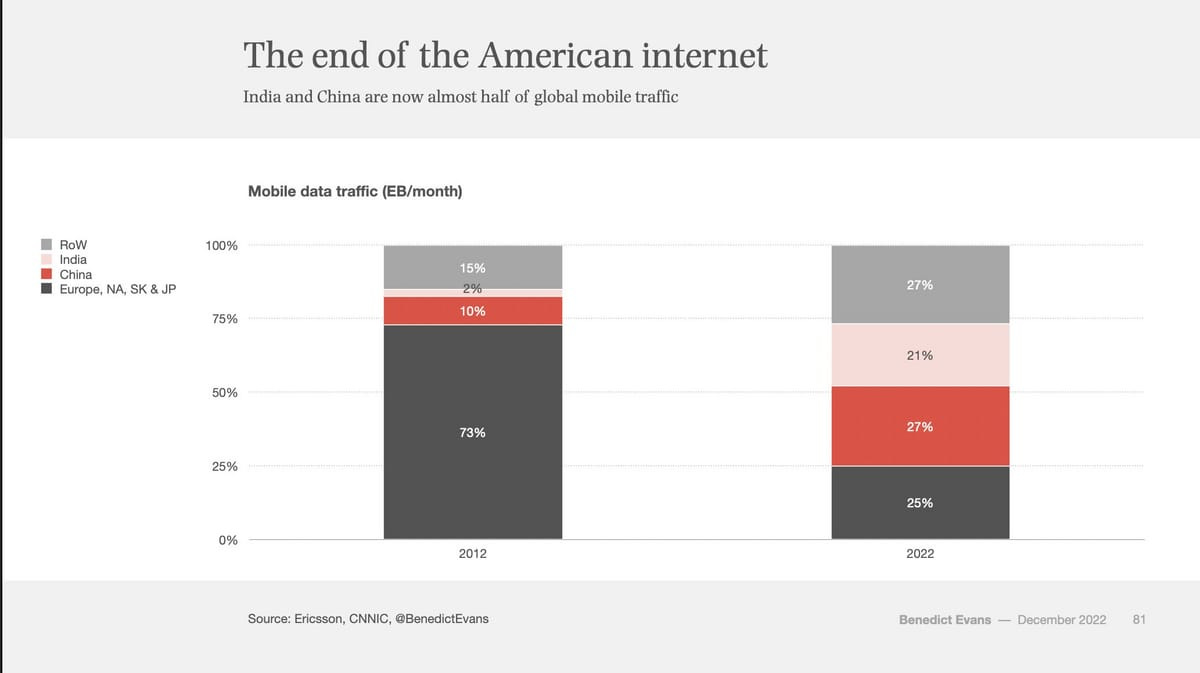 What we thought inflation would look like over time: This proves just how hard it is to predict inflation. h/t @East_Cap
70%+ of UK restaurants only use one delivery provider: And only 3% were listed on all of Deliveroo, Takeaway, and Uber Eats. This could be explained by exclusivity discounts given by the platforms, but still surprising to me the majority of restaurants only work with one platform. h/t Trash Panda Capital.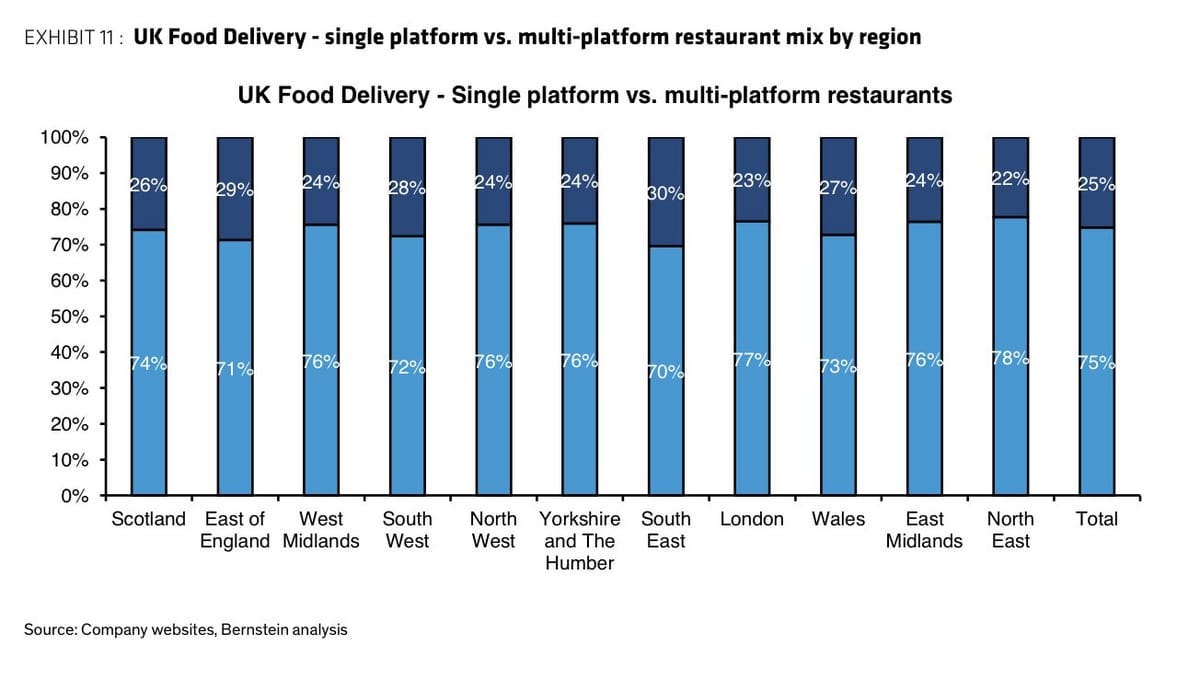 How to activate your investor network: A great post on how Sam Corcos at Levels leverages his investors' networks. He ends with "Activating one's investor network is among the most underutilized resources that almost every startup has access to. It takes practice to learn how to do it well, but once you do, it can be a tremendous and differentiating source of value." Read it on Lenny's Newsletter or here for a shorter, non-paywalled version on Twitter.
💼 Career Services
Last weekend, we did Banana Talent Drop #7. The Banana Talent Collective now has 150+ candidates and 50+ hiring companies, close to half of which are in the Banana Capital portfolio (if you're at a Banana portfolio company, reach out for access!). Additionally, the acceptance rate on intro requests is nearly 50%.
Candidates have experience from startups to big tech, including the below: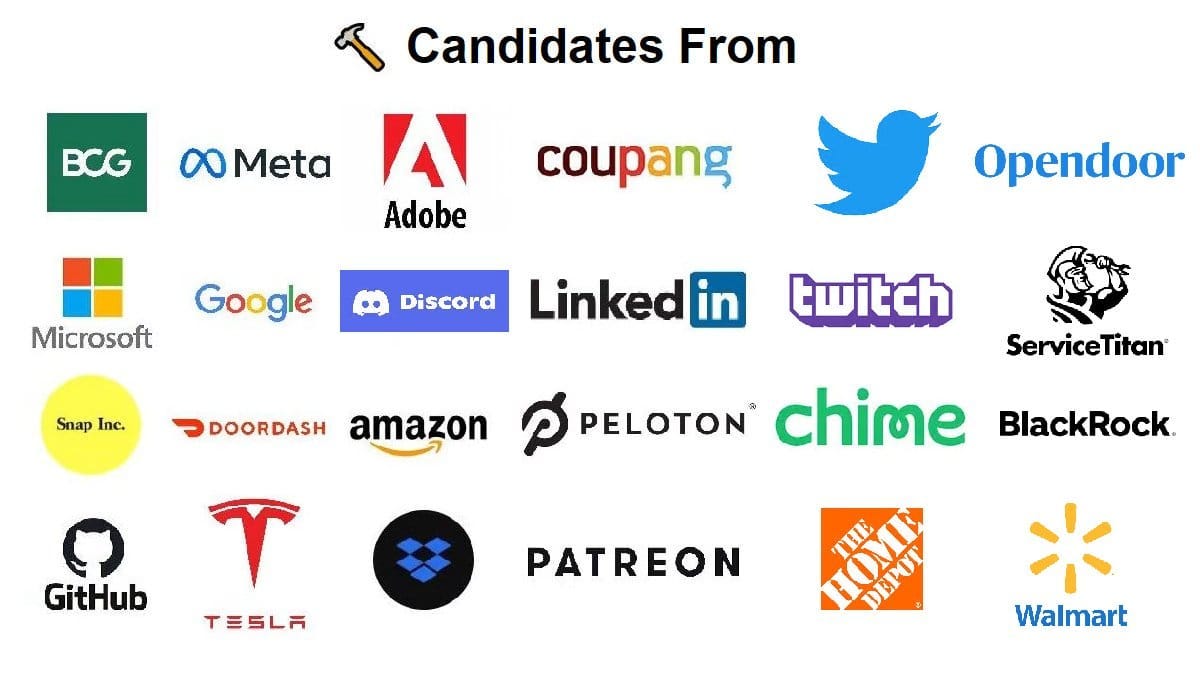 If you're starting to explore a new role or hiring and want pre-vetted talent, join here.
One job to highlight today: Walnut is hiring a Technical Team Lead in Mumbai. Walnut is a US-based Banana portfolio company building payments for the healthcare industry. The founders are looking for someone to lead the Mumbai-based portion of its engineering team. Apply here.
🍌 Monkey Business