Discover more from The Split
Stay on top of the latest tech and startup stories.
Over 23,000 subscribers
How The Snapchat Redesign Could Affect The Stock [Originally published Dec 4th, 2017]
I originally published this here on Seeking Alpha on December 4th, 2017.
Summary
Combining messaging and stories will further monetize Snapchat's messaging network.

Algorithmic content delivery will allow Snap to place content anywhere within its feed, allowing it to charge brands for premium placement like Facebook.

Snapchat's new Discover feed will help spur international growth, as users do not need to add any friends or follow anyone to discover content, a la Netflix.

Snapchat still has an exclusive network of hard to reach consumers in the largest ad markets. This network of users also provides a unique image recognition data set that can be leveraged for ad targeting.

Snap continues to invest in its advertising products – and could be working on a third party ad system similar to Google AdSense and Facebook Audience Network.
On November 29th, Snap gave the market an early look at the previously announced Snapchat app re-design. A detailed overview of the announced changes is available here, and I will touch on a few of them in detail below.
Does Snapchat have a Competitive Advantage?
First, I think it is important to discuss Snap's staying power as a company. Snapchat is a camera-centric messaging app. There is no lack of commentary on how Facebook and its portfolio of apps are crushing Snapchat; however since Instagram Stories was launched in Q3 of 2016, the number of Snaps (aka messages) created per day on Snapchat has increased from 2.5B in Q3 '16 to 3.5B in Q3 '17, an increase of 40% year-over-year. Additionally, if 3.5B snaps per day is extrapolated over 365 days, that 1.27 trillion is greater than the estimated 1.2 trillion digital photos to be taken in 2017 in the entire world, excluding Snapchat.
When you consider that Snapchat's 1.27 trillion snaps per year captures a small sub-set of the global population (young Millennials and Gen Z in the developed world), it shows that Snapchat has a firm grasp on the camera usage of its users. It also shows how Snapchat's primary use-case is messaging, and highlights the strength of its competitive advantage – its messaging network of the hardest to reach, and arguably most coveted consumers in the world – which it can leverage in both content and advertising.
Combining Stories with Messages May Increase Stories Views and Available Ad Inventory
One of the changes in the "new Snapchat" is that messages and stories from friends will now be shown on the same page to the left of the camera, and the Discover feed (Snap Shows, publisher content, Live Stories, and influencer content) will be to the right (previously, messages were to the left, and all stories/professional publisher content, aka Discover, were combined to the right). There is no doubt that the launch of Instagram Stories pulled some "stories usage" away from Snapchat, however as I stated above, messaging on Snapchat is still as strong as ever.
Displaying friends' stories right beside their messages could end up being a smart move. As users are pulled into Snapchat from getting a message notification from a friend, they may be more likely to watch the story from, not only that friend that sent them a message, but all of their friends, as they see them listed beside the message they just received.
By placing Snap ads within Stories that are shown on the messaging tab, this will aid in monetizing the messaging section of the app, one of the topics that analysts keyed in on during the Q2 and Q3 earnings calls. My belief was that Snap still had room to increase ad load within Stories/Discover pre re-design, and this change will significantly boost available ad inventory down the road as stories views increase.
While there has been no lack of coverage on competitors copying Snapchat, Snap has been quietly cloning the features of Facebook and Google's automated ad platforms. Recently, Snapchat combined its editor and ad publisher into one tool, as well as rolling out "Advanced Mode" of its Snap Ad Manager. Snap's ad publisher also recently introduced AI features to automatically crop horizontal video assets to vertical, which is highlighted in the video in this article.
Combined with the potential of Context Cards and its lead over Google and Facebook in Augmented Reality advertising, Snap still has significant levers to pull to spur revenue growth, and is constantly innovating and introducing new ad products (as we have seen with the constant innovation and introduction of entirely new digital advertising products in Sponsored Lenses, Context Cards, the Snap Map, etc.), to spur revenue growth.
The Switch to Algorithmic Feed a Calculated Decision
One of the other significant changes announced in the re-design was that the Discover section of the app will now include content from users who do not follow you back (aka celebrities, athletes, influencers, brands, etc.), as well as from relevant Snapchat Live Stories, Snap Shows, and Snap's media partners. Snap claims its new "Discover news feed" will use an algorithm similar to Netflix to show you content relevant to what you want to see, a different approach taken from the FB/Instagram news feeds, which incorporates your friends activity into the feed.
This seems like an abrupt change; however Snap has been experimenting with gathering user viewing data and delivering curated content in its Search and Discover pages since inception. Snap also hired Hussein Mehanna, Director of Facebook's core machine learning group, back in May of 2017. No doubt it was for the purpose of expanding its use of curation algorithms. As an example of how long Snap works on some projects, the Snap Map was first conceived back in February of 2016, however it was used/tested internally for fifteen months before being released in June of 2017.
Algorithmic News Feed May Drive Facebook-Like Revenue Growth
On Black Friday, Snap announced its newest ad product, Promoted Stories. When thinking about the product in the context of the new Discover feed, you get an idea of how it fits into Snap's advertising offerings – similar to a native news feed ad on Facebook or Instagram. One of the big benefits of Facebook switching its newsfeed from chronological to algorithmic is that it vastly increased Facebook's options for inserting ads within content. By giving users "what they want to see", Facebook could show any content, from any time, at any place, in a users news feed. An algorithmic feed will allow Snap to do the same. If Snap figures out that a user likes a particular Snap Show, it can serve them subsequent episodes in the season; essentially allowing users to binge watch Snap Shows as they could on Netflix. Snapchat will be able to provide users an endless stream of content, whether it was created one hour ago or one week ago.
Facebook has also seen significant revenue growth from limiting organic reach of brands and small businesses since 2012. Prior to implementing the algorithmic news feed, publisher's content on Facebook was pushed to all their followers. As users scrolled, they saw posts chronologically. If a page posted at 8:32am, a user would see the post anytime they scrolled to that point in time within their feed. By switching to an algorithm, Facebook essentially controlled everything its users saw. Fast forward to 2017, and that 100% organic reach has declined to as low as 2% (expected to eventually hit 0%), requiring these pages to pay Facebook to boost their posts views (a significant portion of Facebook's revenue). Not only does the new algorithm give Snap the ability to serve a feed of content it believes is most relevant to a user, it will also be able to generate revenue from media publishers, brands, influencers, events, etc. that wish to boost themselves to the top of the Snapchat Discover feed.
I believe the benefits of an algorithmic feed could go even further for Snap then they did for Facebook. Considering the new algorithmic feed and Promoted Stories product, Snap can monetize both time spent scrolling the news feed (promoted stories) and viewing Discover content (traditional Snap Ads), the latter being something Facebook has tried to crack multiple times (with limited success) with Instant Articles.
New Discover Feed and Improved Android App Could Help Drive Growth in New Markets
One of the benefits of having a strong and fully functioning network effect is that as you get more users, they increase the value of the network for existing users, which subsequently entices more users to join, creating a flywheel effect that continues to build the strengthen of the network. Snapchat seems to have created this sort of network effect within the largest advertising markets in the developed world, however has had trouble growing outside of its core markets.
My opinion is that the new Discover feed will make it easier for new users to join the network. On "old Snapchat", a user had to manually add friends and follow influencers. While "new Snapchat" does not immediately fix the problem of having no friends on the network, it does speed up the process of finding content. Snap also announced that it will allow influencers to monetize their content on Snapchat, something they have been requesting for years. While no details have been announced, my guess is it would be a similar revenue split to YouTube.
And as we have seen with companies like Netflix and Spotify, a good content library combined with good execution can lead to significant international growth. Mashable CEO Peter Cashmore gave a presentation at the 2017 Digiday Publishing Summit, and believes the future of content is premium, mobile video shows.
Snap only needs one (or a few) killer show to make itself a must-have for users around the world. Snap has been working with nearly every major TV network to create custom, "made for mobile" vertical 3-5 minute shows, where either Snap, or both Snap and the TV network, sell the ads (which introduces the TV network's advertisers to Snap's ad platform), and they split the revenue 50/50. Per the article linked above, Snap provides significant data to all of its media partners (and can use for itself) on how young consumers view content on mobile. Snap has invested in building out a content team to create Shows in-house, while also looking to license Shows from third parties. Ultimately, if Snap can pull off either a licensing or in-house content creation strategy, it would begin seeing all the ad revenue from its Shows (which is nascent so far; Snap only recently starting allowing programmatic ads in Snapchat Shows), essentially doubling revenue from the current 50/50 revenue share and offer significant scaling opportunities in its content business as nearly that entire additional 50% of revenue falls to the bottom line.
Snap also recently hired Cheryll Idell, a former Nielsen executive with nearly three decades of experience in the entertainment industry, to help pitch the value of its advertising products to the movie and TV industry.
If Snapchat can continue creating vertical, made-for-mobile content that users enjoy (from both established media brands like NBC, TBS, etc. and established influencers), it will act alongside the messaging features to act as a one-two punch that brings users into the app. As users join Snapchat for the unique-to-Snapchat content (which Snap has invested heavily in over the last three years in Snap Shows and Live Stories), it could entice users to begin sending Snap's augmented reality filters to their friends and strengthening the messaging network.
Also key to international growth will be Snap's progress on improving the performance of its Android app. These Reddit threads from October of 2015 and November of 2016 go into detail on Snapchat's performance issues on Android. Comments from the two Reddit threads tell us that Snapchat has historically performed very poorly on Android. In summary, the problem stems from how it captures data from the camera. One of Snapchat's competitive advantages is that it owns the camera of young people in the developed world. This is, in part, because Snapchat remains the best way to capture quick moments. Snapchat keeps the camera running at ALL TIMES when the app is open, even if it is not open to the camera screen. Constantly running and tapping into the camera API is very GPU-intensive, and can be a drag on lower-end phones.
When developing on iOS, a developer only has to incorporate one type of phone – an iPhone. There are a few different iPhone models (and iPads), but the phones are all designed by Apple. Comparatively, on Android, there are tens of thousands of phone models. This report from 2015 highlights over 24,000 different Android device models – and Snap disclosed that Snapchat was used on 60,000 different types of Android handsets in Q3 '17. Android phones vary in quality, from the new Pixel 2 from Google to the numerous low budget phones popular in Asia.
On its Q3 '17 earnings call, Snapchat announced it was completely re-building its Android app from the ground up. In a recent feature on Snap CEO Evan Spiegel from Wired, there is a note that Spiegel is currently using an Android phone – a sign that the company is taking its Android issues seriously. While pressure from Facebook has no doubt slowed user growth, I think it is fair to assume that an improved Android app could help spur user growth once again, especially outside of developed markets where Android is much more popular than iOS. If Snap is able to figure out a solution to keep the camera running in its Android app across a wide spectrum of devices, it could see an uptick in international growth. Snap acquired Strong.Codes, a Swiss firm specializing in encryption services, in early 2017. If Snap has truly found a solution, it may explain the desire to protect its code from competitors.
Snapchat is Sitting on an Image Recognition Data-Mining Goldmine
Another feature Snap recently announced (not related to the re-design) was serving users filters related to the content of their snap. Snap has displayed its image recognition capabilities in its Search feature since its release (search "dog" and you see snaps of dogs, search "trophy", "car", etc. for similar results), however this could mark the start of expanded use.
Image recognition as a standalone feature appears easy to copy. And I agree – the core tech is slowly being commoditized across the industry. The key is that Snapchat not only has an army of young users in the developed world (who are more likely to send a camera-based message) training its algorithm (sending snaps such as "Picture of my dog!" or "Look at my new car!"), but it also has the user and advertising network to take advantage of this data for advertising purposes.
Similar to how Facebook can target ads based on how you view content within the app (which Snap does as well), Snap can also gather extremely relevant, recent data on the content of Snaps. Things such as "new car buyer", "someone who just sold their car", "someone who just got in a car accident", etc. are just a few examples of very relevant ad targeting metrics that could be generated based off of the text and images contained in snaps and stories that users send over the network.
When combining these capabilities with Snaps extremely engaged network of users creating 3.5 billion photos and videos per day, as described earlier, you see how Snap's black box of data centered on camera usage gives it a significant advantage. It is no secret that Facebook is pushing users towards the cameras inside Facebook, Instagram, Messenger, and WhatApp; however when it comes to the developed world (the largest advertising markets), Snapchat seems to have similar reach to Instagram, and absolutely dwarfs the reach of Facebook and Instagram when it comes to teens, as seen in the charts below (from August, 2017) that compares the number of ad viewers within the Facebook News Feed, Instagram Feed, Instagram Stories, and Snapchat's Discover/Stories (which may potentially increase after the re-design as described above, as it excludes users who ONLY use messaging).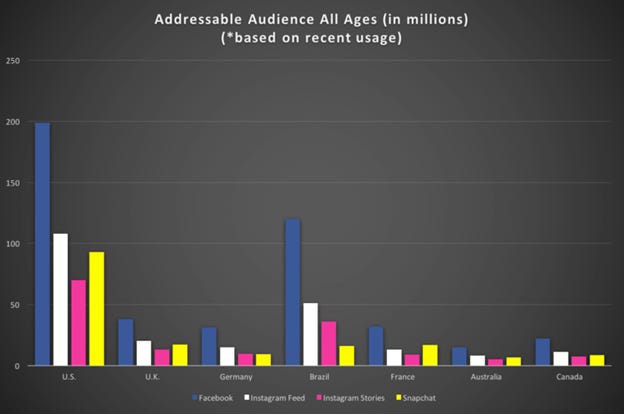 Source: How Facebook's, Instagram's and Snapchat's audience size estimates compare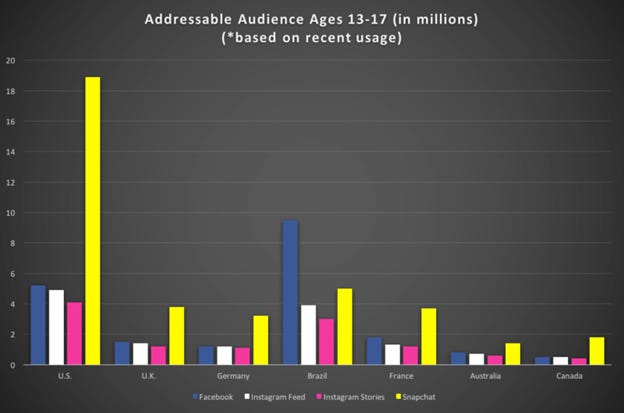 Source: How Facebook's, Instagram's and Snapchat's audience size estimates compare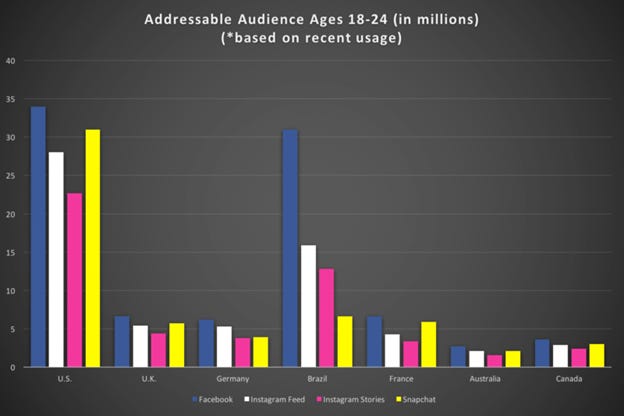 Source: How Facebook's, Instagram's and Snapchat's audience size estimates compare
A recent report by App Annie also shows that despite the competition from Facebook, Snapchat still reaches an exclusive audience within the United States that cannot be reached on other platforms on any given day.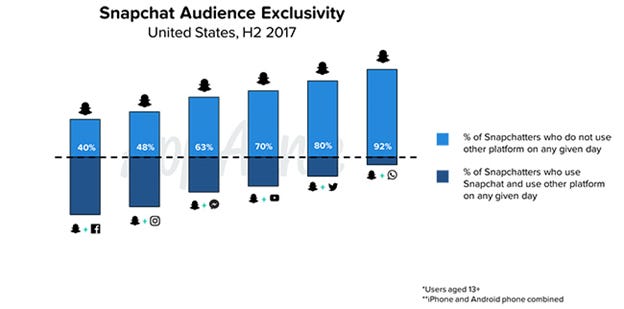 Source: Snapchat & the Power of Putting Data in Context for Marketers & Advertisers
Facebook HAS disclosed that Instagram Stories, WhatsApp, and Messenger Day have 300 million, 300 million, and 70 million users using these features on a daily basis, respectively, however it does not give any breakdown of how many users are actually creating stories versus just viewing the stories of celebrities, influencers, or brands; or a geographic breakdown of where those users are located. Both these are important, especially when it comes to messaging, as each message pushes a notification to a user that brings them into the Snapchat ecosystem (a pulling mechanism that gets more difficult to pull off effectively as users reduce the amount of content they are directly sharing on the platform). And as we can see in the charts above, Snapchat is very competitive in the largest ad markets, which is essentially what matters as we think about revenue opportunities over the next few years (while completely disregarding any international growth Snap may see with its expanded focus on content and an improved Android app).
Snapchat's messaging network is sitting on an untapped treasure trove of data, which can be used for both optimizing content and delivering ads. As the saying goes, a picture is worth a thousand words. Could the same be said about a snap?
Is Snap Developing a Third Party Ad System?
In February of 2016, Snap hired Sriram Krishnan from Facebook. While almost two years ago, it was an important hire, as Krishnan worked on the team that developed the Facebook Audience Network – a third party ad network that allowed Facebook to both track user data and show ads on third party platforms (under a revenue share). Very similar to what Google did with AdSense, it allowed Facebook to expand its reach and grow revenue beyond its own platform.
Many attributed the hire as Snap's move into an Automated Pragmatic Interface, or API (essentially an automated ad-buying system), which allowed advertisers to purchase ads via an online system instead of manually calling/emailing/discussing with Snap's sales representatives – an extremely profitable business for FB and Google. It served as the foundation of Snap's relatively new auction-oriented automated ad platform, and I believe could set the stage for Snap moving into a third party ad network of its own as Krishnan worked on the similar product at Facebook.
Krishnan left Snap in February of 2017, which I believe signaled that his work was done. As the linked TechCrunch articles states, he was living with his family in San Francisco  (with his wife, a startup founder, with plans to have children) and was commuting to Snap's HQ in Los Angeles – not an ideal long-term situation.
Snap appears to have acquired MetaMarkets in Q3 of 2017, a platform that offers live inventory discovery and bid monitoring, gives clients an API to import data into other apps, and aggregates ad metrics over numerous ad platforms (notable clients include Twitter and Oath, the combined AOL and Yahoo). MetaMarkets is reportedly generating tens of millions in revenue, and saw 426.6% revenue growth between 2013 and 2016. While this acquisition could simply be Snap beefing up its existing internal ad network, I think it is far to assume this could be a step towards Snap creating a third party, mobile native, vertical video ad network.
Combined with Snap's recent launch of its Pixel ad targeting feature (with similar to tracking capabilities offered by Google/Facebook), it definitely appears Snap is beefing up its ability to measure ad performance outside of Snapchat. Snap has also recently rolled out "Advanced Mode" for its Snapchat Ad Manager, which made managing large ad campaigns on the platform much more efficient. Snap's Q2 acquisition of Placed, a third party location measurement solution for advertisers, will also be integrated into the platform, providing further location tracking features, such as the ability to measure if a consumer visited a physical location after viewing an ad on Snapchat.
With the challenges digital media publishers have faced thus far in 2017, I would not be surprised to see Snap throw some sort of lifeline to publishers (as they did with Discover). A recent study by Nielsen seems to show that Discover not only benefited publishers within the Snapchat app; it also boosted their audience growth on TV, desktop, and other mobile platforms as shown below.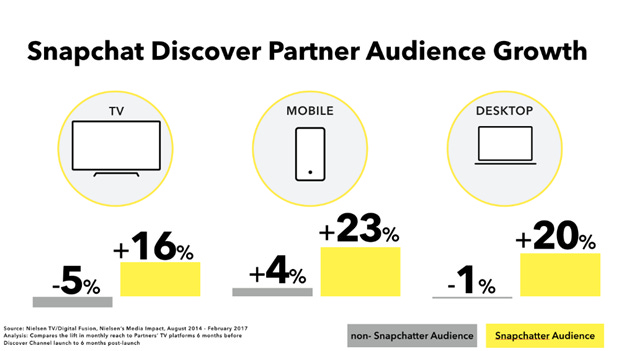 This lifeline could be in the form of a third party ad network, allowing publishers to cut costs on their sales force and split revenue with Snap, just like they do within Snap's Discover feed. Buzzfeed recently announced it was cutting 100 employees, largely in advertising and business operations, and also recently experimented with a Snapchat-like Stories feature in its own mobile app.
Alternatively, Snap could also be looking acquire one or many digital media companies at fire-sale prices in order to plug them in to its ad network. Ziff Davis recently acquired Mashable for $50 million, one fifth the value of its reported peak valuation of $250 million, after raising $46 million since 2005. Snap has been upfront at stating it is a media/content company – something Facebook has avoided – and its recent moves suggest it may be looking to leverage its newly created auction network.
Snap already has a base of 60+ digital media publishers on its Discover platform. While I doubt everyone would be interested in what I outlined above, some may experiment with a third party ad system powered by Snap. Snap has also experimented with college newspapers publishing on Discover. While this alone will not drive any significant revenue growth, I believe it represents Snap making a move into more localized news; something that nearly every local newspaper in the world could eventually take advantage of.
Aside from just vertical videos, Sanp's third party auction network may also revolve around augmented reality advertising. Snap introduced 3D Bitmoji avatars in Snapchat two months ago, and two days ago announced that McDonald's was the first brand to sponsor a 3D Bitmoji lense. While obviously something that is not going to happen any time soon, CEO Evan Spiegel did state on the Q3 call that Augmented Reality was a key focus for the company in 2018. Spiegel also mentioned Snap Lens Studio was being tested by the likes of Netflix, which will essentially allow any user or advertiser to create a Snapchat face filter.
With the release of Apple's ARKit in iOS 11, analysts are projecting explosive adoption of consumer AR over the next few years. Similar to how apps and websites can allow users to "login with their Facebook profile" in exchange for user data, Snap could do the same with Bitmoji and other augmented reality apps. Could Snap be working on the first augmented reality advertising network?
Future Revenue Growth to Come at Low Marginal Cost
When looking at Snap's financials, the company appears to be an absolute disaster. It continues to burn cash at a faster rate each quarter, increasingly losing more and more money. This is due to Snap investing heavily in future innovation, both on the consumer and the ad product side, as I have described above.
Looking at the last eleven quarters, most noticeable to me is the drastic increase in employee count (which is a relatively fixed cost). Total employees increased from 600 in Q4 '15 to 2,995 at Q3 '17; a nearly 400% increase in less than two years. Per the Q1 and Q2 '17 conference calls, 90% of new hires in those quarters were in sales and engineering… hard to expect all of those expensive hires, who are going to be the key drivers of future revenue growth, to immediately begin contributing to said revenue growth.
Source: Q1 '15: Estimated, could not find a source; Q2 '15: The 50 Unicorns Hiring The Fastest And The 50 Losing The Most Employees; Q3 '15: How many employees does Snapchat have?; All others, Snap's SEC filings
Snapchat has positioned its business in a favorable position as the large brand advertisers convert their traditional TV advertising dollars to digital. On the Q2 '17  earnings call, Chief Strategy Officer Imran Khan stated that over 75% of the top 100 adage leading national advertisers spent on Snapchat's ad platform in Q2' 17. The top 100 advertisers represented over $240B in annual ad spend in 2015 globally, and present a significant opportunity for Snap going forward. While revenue growth has come in below Wall Street expectations since going public, Q3 ad impressions increased 400% year-over-year and ad prices have dropped 60% due to the newly implemented ad auction. As the auction becomes more competitive, ad prices will stabilize and increase alongside ad load. Digiday reported that Snap's progmattic ads fetch $3-8 CPM's, similar to Facebook and Google. As brand advertisers are able to compare the ROI on Snap's full screen, vertical video ads that play with sound by default to Facebook and Instagram news feed ads, which are essentially the same concept as animated banner ads that have existed since the 90's (of which Snap ads also have a much higher "swipe up to watch this full 2-3 minute video" than FB news feed ads), we may see a price floor develop as more advertisers pile in and push up auction prices.
On the margin side (when adjusting for non-cash stock based comp and the one-time inventory write-down in Q3 '17), gross margin continues to increase each quarter (aside from a seasonal revenue decline in Q1 of '17 that management said they expected on page 81 of the S-1). Management also disclosed on the Q3 call that gross margin in its US business was approximately 50% - hardly the sign of a dieing business model.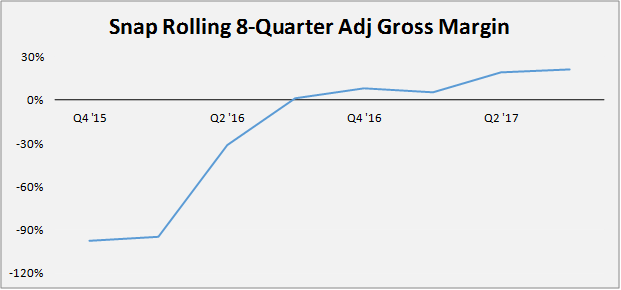 Source: Snap's SEC filings
Looking at solely the revenue brought in versus hosting costs, you can see that the core Snapchat product continues to viable. It is important to note that this excludes some of the content costs and non-cash expenses. Content cost is primarily employee salaries and revenue share to Discover partners, which are less variable than hosting expenses. Stock-based compensation, depreciation, and one-time inventory write-downs are also non-cash, and not as relevant when looking at purely from "does this product generate positive cash flow" perspective.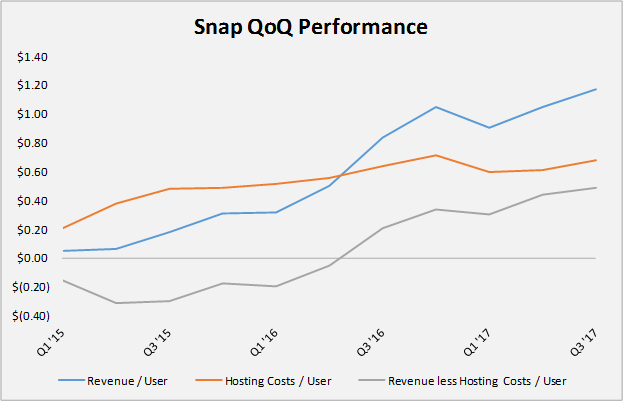 Source: Snap's SEC filings
And while hosting cost is variable and will increase if Snapchat increases engagement, an increase in revenue will not necessarily increase hosting expenses. Snapchatters are already using the app over 30 minutes per day on average, and either a change mix in how time is spent in the app or an introduction of new ad products to take advantage of existing user behaviors could bring in additional revenue with nearly no marginal hosting cost. Snap has been investing in these new lines of revenue over the last two years, and we are now starting to see a corresponding increase in revenue. Snap has seen positive contribution margins since Q2 '16, with 73% and 43% in Q2 and Q3 of '17, respectively.
On the fixed expense side, Snap stated on the Q3 '17 earnings call that its pace of hiring would slow going forward. As revenue increases, we should expect to see more of that cash fall to the bottom line.
Assuming it continues burning through cash at the same pace; Snap will most likely run out of cash sometime in the next two years. This however, assumes Snap does not achieve any sort of scale and becomes profitable as its business matures. It also does also not factor in its $1.2B line of credit (see page 84 of Snap's S-1), which could provide a last minute source of cash if monetization takes longer than expected.
Additionally, when comparing Snap to Facebook, it is important to note the difference in how their financial performance is presented. For example, Facebook's gross margin in 2016 was 86%.  Per page 39 of its 2016 annual report:
"Our cost of revenue consists primarily of expenses associated with the delivery and distribution of our products. These include expenses related to the operation of our data centers, such as facility and server equipment depreciation, salaries, benefits, and share based compensation for employees on our operations teams, and energy and bandwidth costs. Cost of revenue also includes credit card and other transaction fees related to processing customer transactions, amortization of intangible assets, costs associated with data partner arrangements, and cost of virtual reality platform device inventory sold."
Comparatively, Snap's gross margin in 2016 was -12% (worth noting that it had improved every subsequent quarter in 2015 and 2016). On page 75 of Snap's S-1, it states:
"Cost of revenue consists primarily of payments to third-party infrastructure partners for hosting our products. Hosting costs primarily include expenses related to bandwidth, computing, and storage costs. Cost of revenue also includes revenue share payments to our content partners, content creation costs, which include personnel-related costs, and advertising measurement services. In addition, cost of revenue includes inventory costs for Spectacles and facilities and other supporting overhead costs, including depreciation and amortization."
There is huge difference in how Facebook and Snap's hosting costs hit their financial statements. The only real "hosting" costs that hit Facebook's net profit number are small operating/depreciation expenses related to its data centers. The actual costs related to building the data centers, by far the largest "product related costs" are treated as CapEx, and do not actually hit FB's income statement. On the other hand, the majority of Snap's COGS is actual cash being paid to Google/Amazon for hosting (definitely some content creation costs in there as well that FB does not have). Competition in the cloud hosting space continues to heat up, with providers continually cutting prices to gain market share. Renting hosting costs in an environment where performance of new servers improves rapidly, and prices drop consistently, seems to be a trend working in Snap's favor.
Conclusion
In conclusion, the major Snapchat re-design may help boost user and revenue growth going forward. Key revenue and profitability drivers going forward will be how Snap's auction pricing evolves over time, the success of its Snap Shows and the new Discover feed, potential future iterations of its hardware (Spectacles), and the evolution of the Snap Map. Snap appears to have significant levers to pull going forward, and has shown a knack for innovation in both the features in its Snapchat app and in the ad products offered to advertisers. Snap has invested heavily to support future growth and is not in as rough shape as consensus would have you believe. Over 75% of the largest brand advertisers in the United States spent on Snap's ad platform in 2017, and Snap's continued investment in its ad and measurement products should continue to bring in more revenue that scales the business.