Discover more from The Split
Stay on top of the latest tech and startup stories.
Over 23,000 subscribers
Google's Messaging Makeover
Plus: China's becoming less transparent with economic data, and is Google Sheets better than Excel?
Happy Tuesday 👋 Turner back again with The Split. Welcome to the nearly 500 new readers who've subscribed over the past week!
Google just announced changes to its Messages app for Android. Its easy to roll your eyes at another google messaging / communications product, but I do think this update is worthwhile. The Financial Times recently dug into the economic data China publicly discloses and found it has been decreasing significantly over the past seven years. I also recently read the most compelling argument on why Google Sheets is better than Excel (I'm still not sure I'm convinced).
I had trouble viewing the poll from last week until a few minutes ago. I tweeted the same question, and I'll go through everyone's responses on Thursday. There were some heaters!
Google's Messaging Makeover
Google just announced changes to its messages app. Users will be able to:
Play YouTube videos within the Messages app

Turn on delivered and read indicators (announced here)

Reply to individual messages

React to messages with emojis (iPhone users receive a text in iMessage saying the other person reacted with a description of the emoji used)
The last line is specifically due to Apple's iMessage using SMS instead of RCS (Rich Communications Services), the industry standard for sending text messages that Google has adopted and been pushing. Its also worth noting Apple purposefully reduces the quality of images and videos sent over SMS, which impacts anything sent between Android and iOS devices.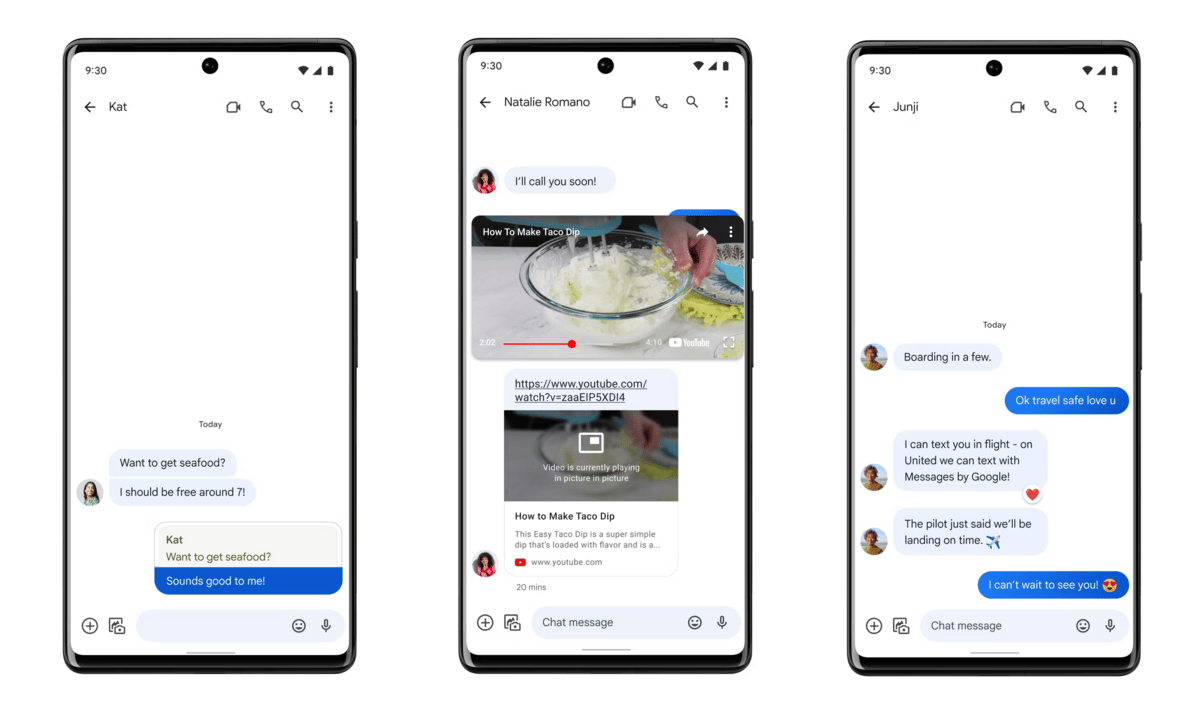 RCS is being pitched as a replacement to SMS and MMS since it's able to support features that the older standards can't, including typing indicators, higher-quality photos and message encryption. RCS is largely led by Google, however, and the standard generally isn't available outside of the company's Messages app on Android.
Like I mentioned, its easy to roll your eyes at any communication product from Google (proof). And the product is underwhelming today compared to the likes of WeChat, Snapchat, Messenger, and even iMessage. But Facebook is building WhatsApp into a transactional shopping destination, which ultimately steals traffic and transactions that could happen within Google's ecosystem. And if Apple ever turns iMessage into a true social network, it will most definitely plug into its small but growing advertising business that's starting to compete with every app built on iOS. Google will be forced to react.
At this point, there are few standalone messaging products for Google to tuck-in. Its possible we see it acquire a company like Snapchat (if reportedly offered $30 billion in 2016) or Line in Southeast Asia. But it may be more realistic to invest in evolving the Messages app shipped on every Android device.
Time will tell. But I think its worth closely following Google's strategy.
Like what you're reading?
Subscribe to The Split for more every week.
🚀 Product Launches
Replit launches a mobile app: After what started as a browser-based coding environment for developers, Replit just launched a mobile app offering similar functionality. The pitch is "code anything, anywhere". Its counterintuitive to think you can code something tapping a screen on mobile, but Replit's product suite is built to 100x the number of people building software. That probably means figuring out a) mobile and b) reaching younger generations. More on the launch here, and a longer write-up on what exactly Replit is doing from my friend Packy here.
🔗 Links and Charts
The top quartile venture fund returns just under 2x cash over 10 years: Despite the blog posts, podcasts, and TechCrunch articles, always a great reminder that (especially considering the lack of liquidity) the average venture capital fund is not a good investment. Still, the asset class as a whole historically outperforms nearly all others, meaning the bulk of the returns come from the top 25% - and really, the top 10% - of funds.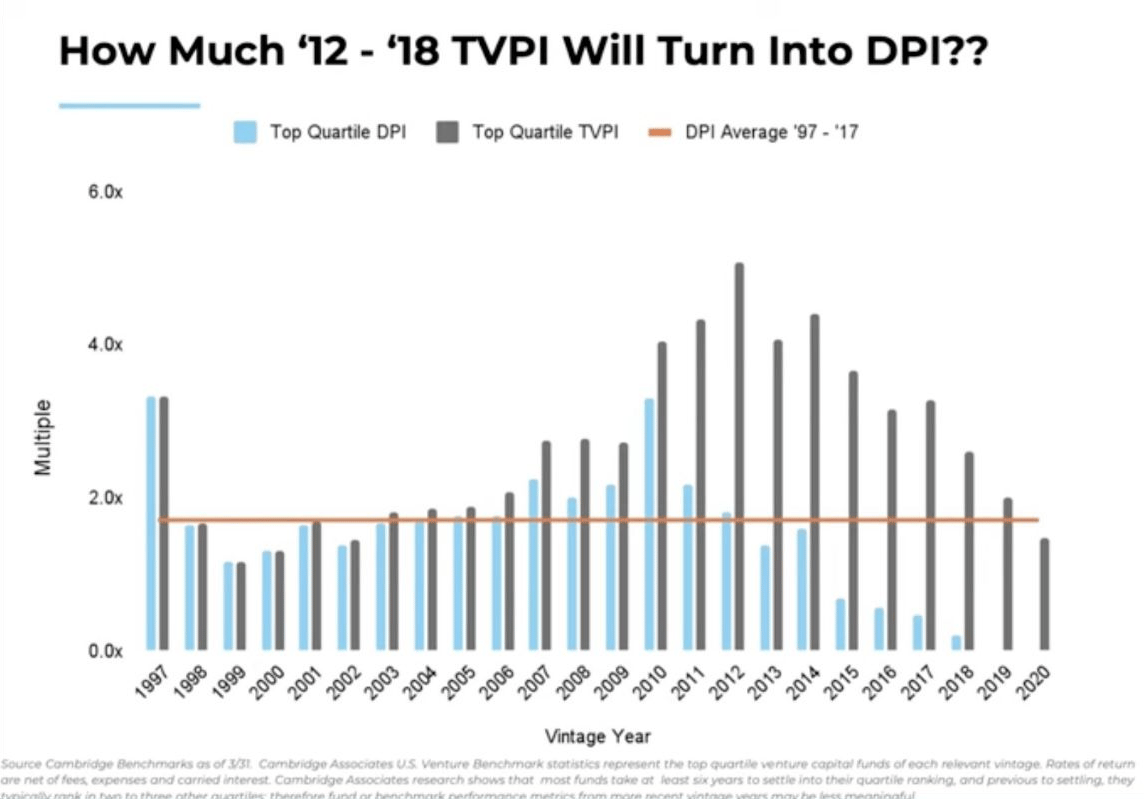 A record 40% of South Korean households now consist of just one person: More from the Washington Post.
Four centuries of Amsterdam real estate prices: I'm sure this will end well! h/t Edmund Simms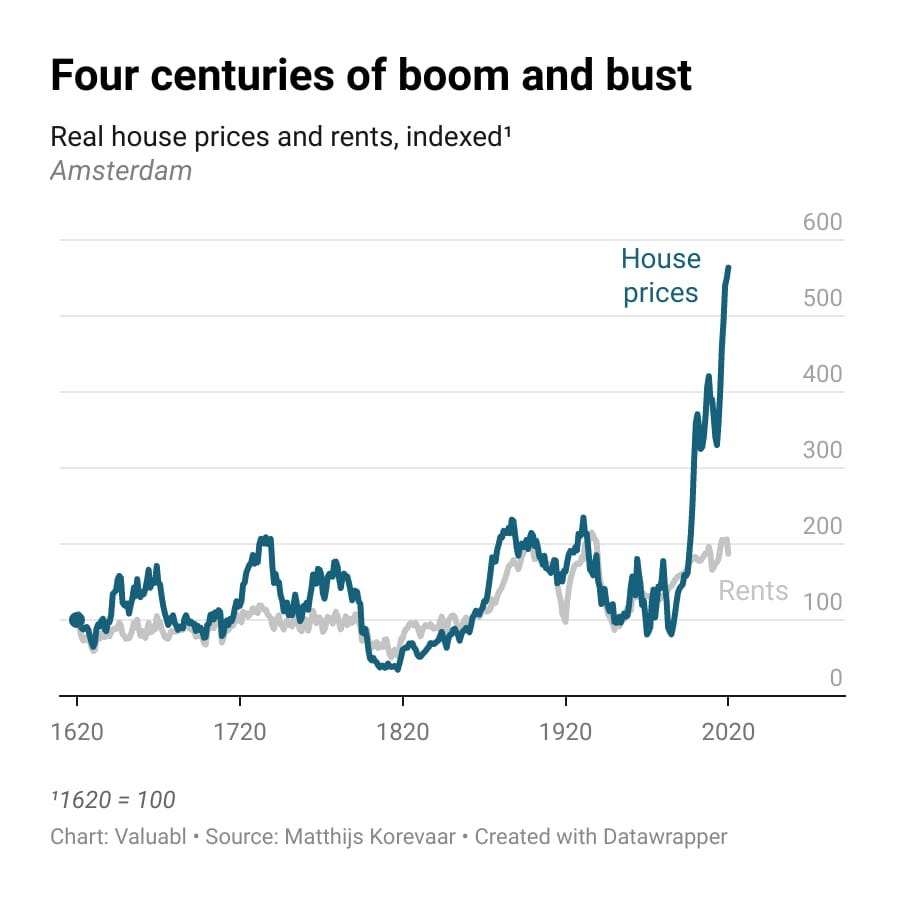 At least in the case of the Netherlands, nearly all mortgage rates are fixed, meaning this will be a slightly less spectacular mess than in other parts of Europe.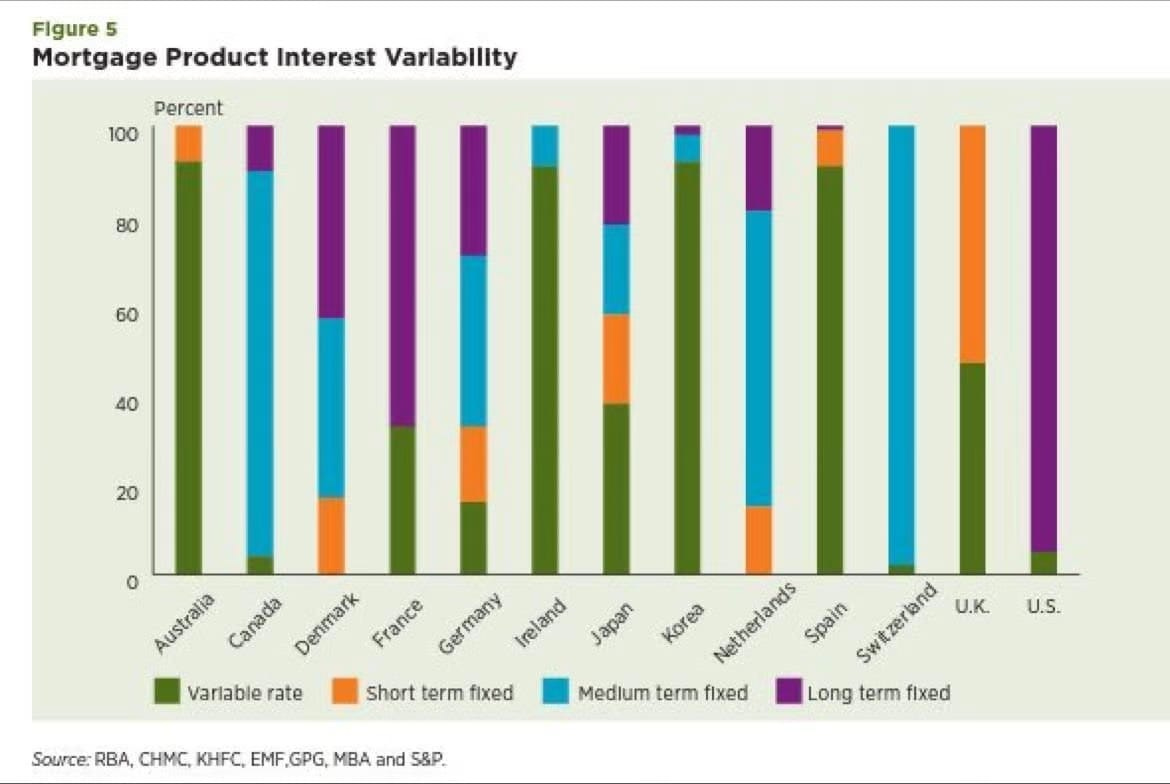 China continues reducing the economic data it publishes over time: This has caused experts to question its economic health. More from the FT.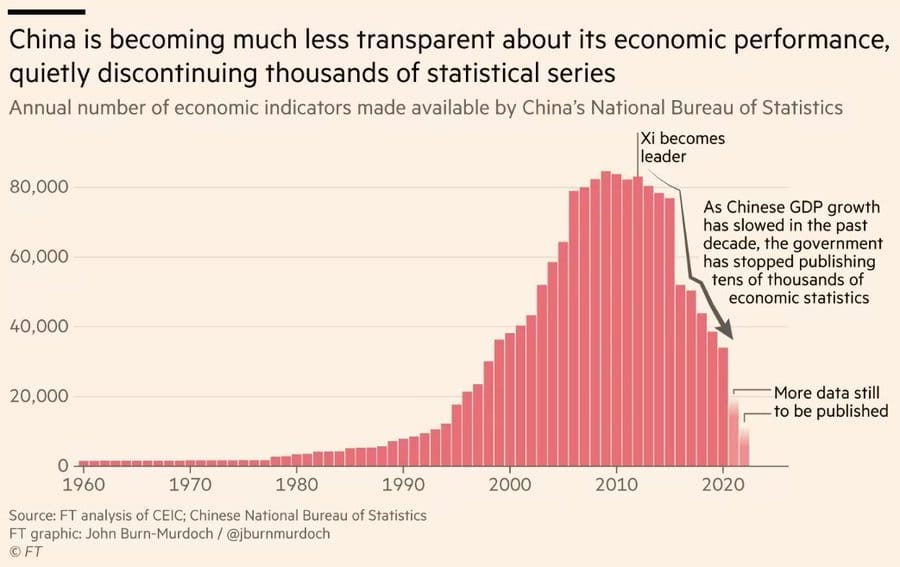 Another chart in the same article, China's economic activity is operating at 70% capacity compared to pre-COVID, the lowest of all G7 countries.
Amazing but not surprising: in the middle of the Diwali holiday, there was a large dip in Indian ecommerce volume when India's Virat Kohli had one of the best-ever innings of Cricket to come from behind and defeat Pakistan in the 2022 Cricket World Cup. h/t Sar Harabakhti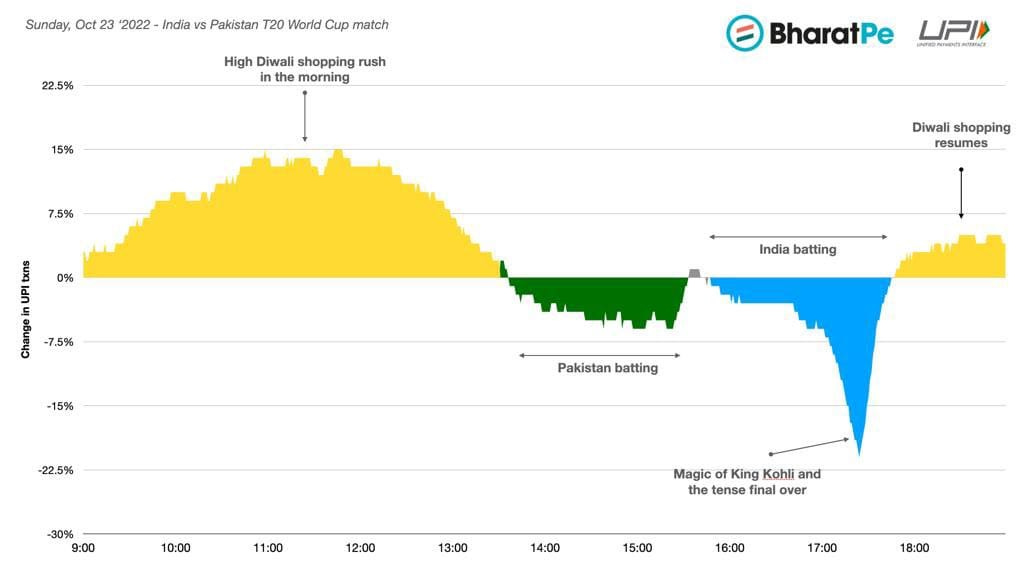 Is Google Sheets better than Excel? This turned my world upside down. The argument is Sheets is teamwork oriented, mistake-proof, constantly evolving, and working with external data is much easier than Excel. Full post from Sean Newman at The Commons.
26% of US adults under 30 regularly get news from TikTok. Aside from Instagram, its the only platform to see an increase over in 2022. I'm sure TikTok is stealing share, but I'm genuinely curious where else some of that attention is going. More from the Pew Research Center.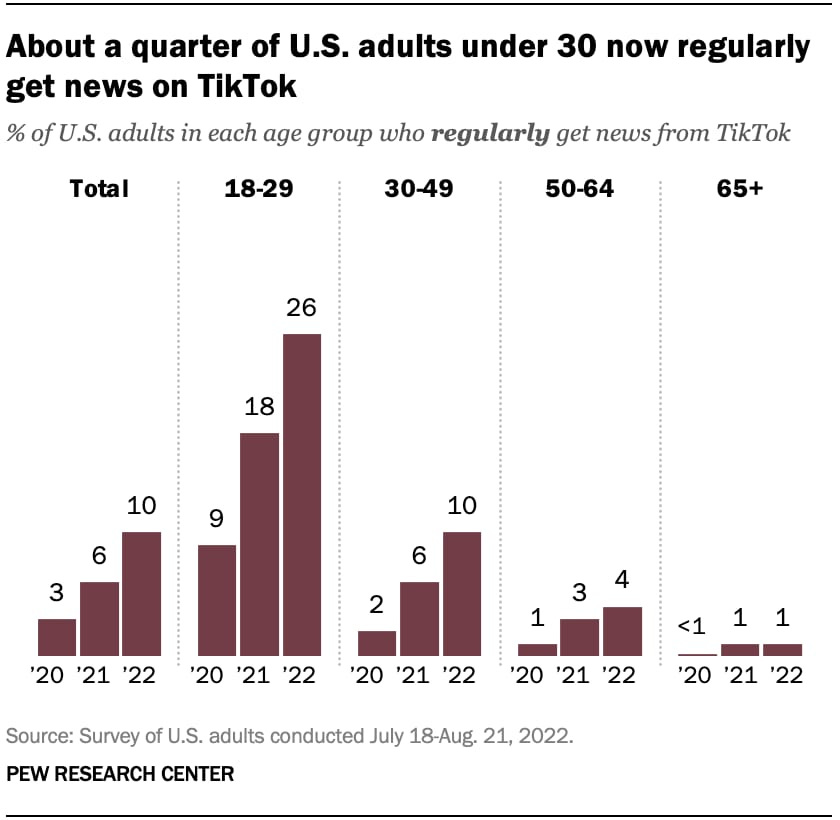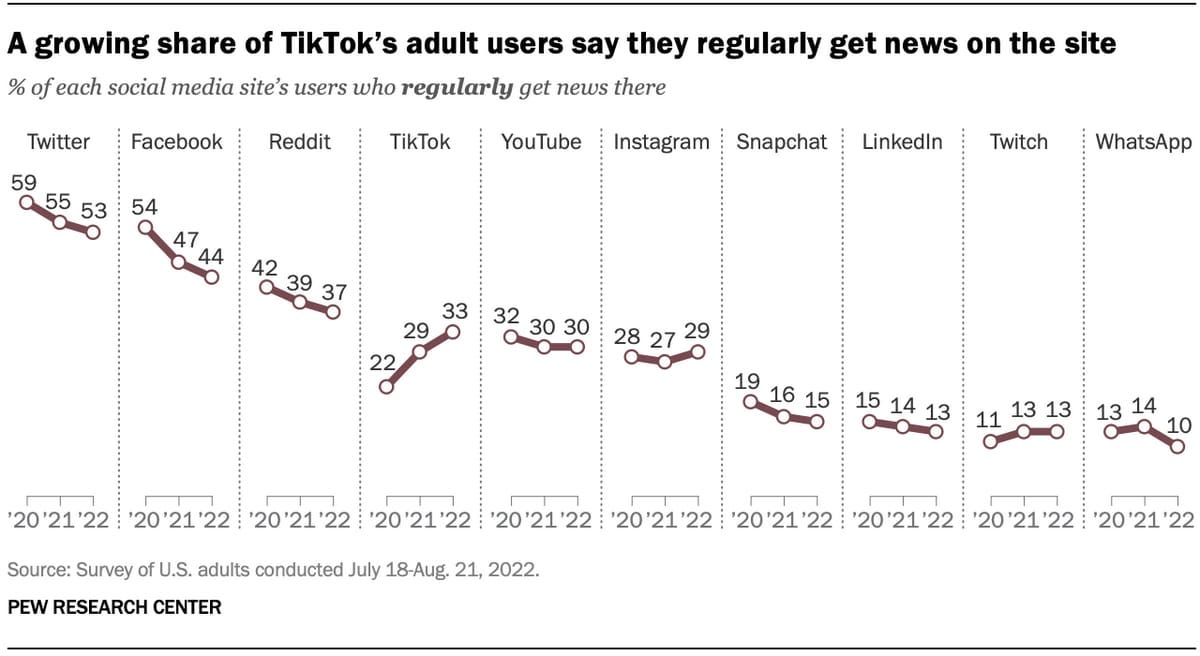 India's homegrown TikTok clones struggle to replicate Bytedance's: Despite initial success following TikTok's ban by the Indian government two years ago, creators seem to gravitate toward Instagram and YouTube. The main reasons: domestic and global reach. More from Rest of World.
Shutterstock to sell AI-generated images: The stock image company is integrating OpenAI's DALL-E to generate stock images. Shutterstock is also launching a program to compensate creators whose images are used to train the AI model. More from The Verge.
💼 Career Services
This weekend we did Banana Talent Drop #5. The Banana Talent Collective now has 125 candidates and over 50 hiring companies, close to half of which are in the Banana Capital portfolio (if you're at a Banana portfolio company, reach out for access!).
Candidate experience ranges from entry level to the C-suite. 41% are working in product, 28% in engineering, and a dozen candidates across growth, strategy, and design.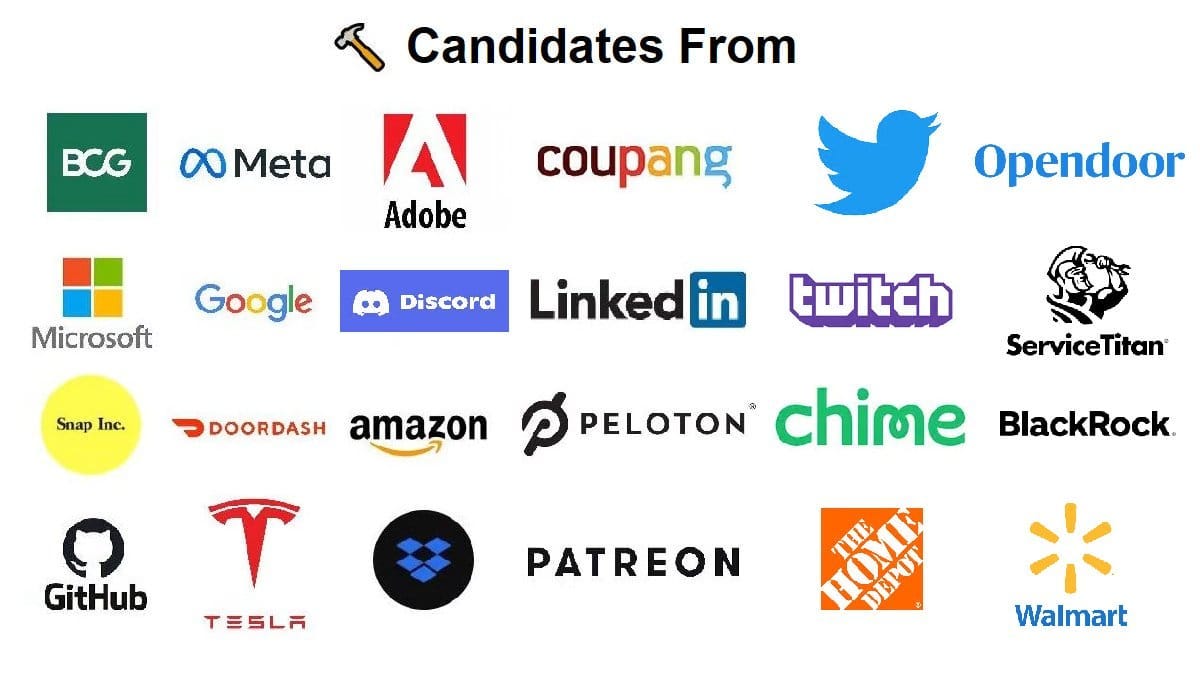 If you're starting to explore a new role or hiring and want talent from the companies above, click here.
🍌 Monkey Business