Discover more from The Split
Stay on top of the latest tech and startup stories.
Over 23,000 subscribers
FTX is Insolvent
Brief thoughts on FTX, the origin of Twitter's verified checkmark, raw learnings from the early days of Teachable, and Canadian home prices
Hi everyone 👋 Turner back again with The Split.
Short post today. Brief thoughts on events related to FTX, the origin of Twitter's verified checkmark, and raw learnings from the early days of Teachable from ex-CTO Noah Pryor.
And if you have a minute, here's a quick reader survey I'd love to get a better idea of who all is reading and what everyone is interested in. I'll share the anonymized results next week. Some helpful (and funny) responses already...
📊 Survey Says
Back in August, it was reported FTX did $1 billion in 2021 revenue and projected $1.1 billion in 2022. I asked everyone "How much revenue do you think will FTX do in 2022?" The answers surprised me: 92% of respondents thought revenue would be flat or increase. 

My commentary on the results was:
Personally, my vote last week would have been for much less than $1.1 billion. I've been very bearish on crypto "use cases" that have emerged so far, and volumes are down bad from last year. One thing I've come around to over the weekend is that MANY crypto exchanges will fail. If FTX is the best, it would in theory steal market share across various institutional and retail use cases + (eventually) increase its take rate, leading to more revenue. I don't know exactly what its margins are, but I believe Coinbase had a quarter with ~70% EBITDA margins last year. Its also possible that FTX cleaned up in Q1 and already booked north of $1.1 billion...

In the last 48 hours, it turns out FTX, the third largest crypto exchange in the world, is insolvent.
I've never felt like I understood crypto enough to know what's actually going on. I'm not going to try explaining it, and the situation is still developing, but:
Jon Wu explained it simply here on Twitter.

The Milk Road wrote an easy to digest summary

Reuters shed more light on the history between Binance and FTX here.

And if those aren't enough, apparently Michael Lewis (author of Moneyball, Liars Poker, Flash Boys) is rumored to be writing a book on FTX and crypto as a whole. Looks like he found his ending.
In the end, you all may still technically end up right. What are the chances FTX cleared $1.1 billion in the first 10 months of the year?
Like what you're reading?
Subscribe to The Split for more every week.
🔗 Links and Charts
Robinhood sees record crypto inflows in last two days: I'd assume we still haven't seen all the collateral damage from the a) crypto bubble and b) crypto crash. Ultimately, the best crypto businesses have turned out to be the exchanges (casino's). And that's dependent on high trading volumes, which isn't as high when people aren't having fun (making money). Over the long-term, events over the past few months are probably a net benefit for Coinbase and Robinhood. More from Bloomberg.
Share of first-time US homebuyers hits lowest level in 40 years: "In 15 years, we've had a historic housing crash, a historic housing crunch, a historic pandemic-fueled buying spree, and a historic mortgage-rate spiral. The number of available homes is still about 40 percent lower than it was before the pandemic. If you want to find a new place to rent, good luck twice over. The average rent has soared to an all-time high, as demand surges in the absence of available units." More from Derek Thompson at The Atlantic. 
When will the IPO market recover? A short paper with data on IPOs going back to 1980. Here's the table showing VC-backed IPOs. h/t @crossdefault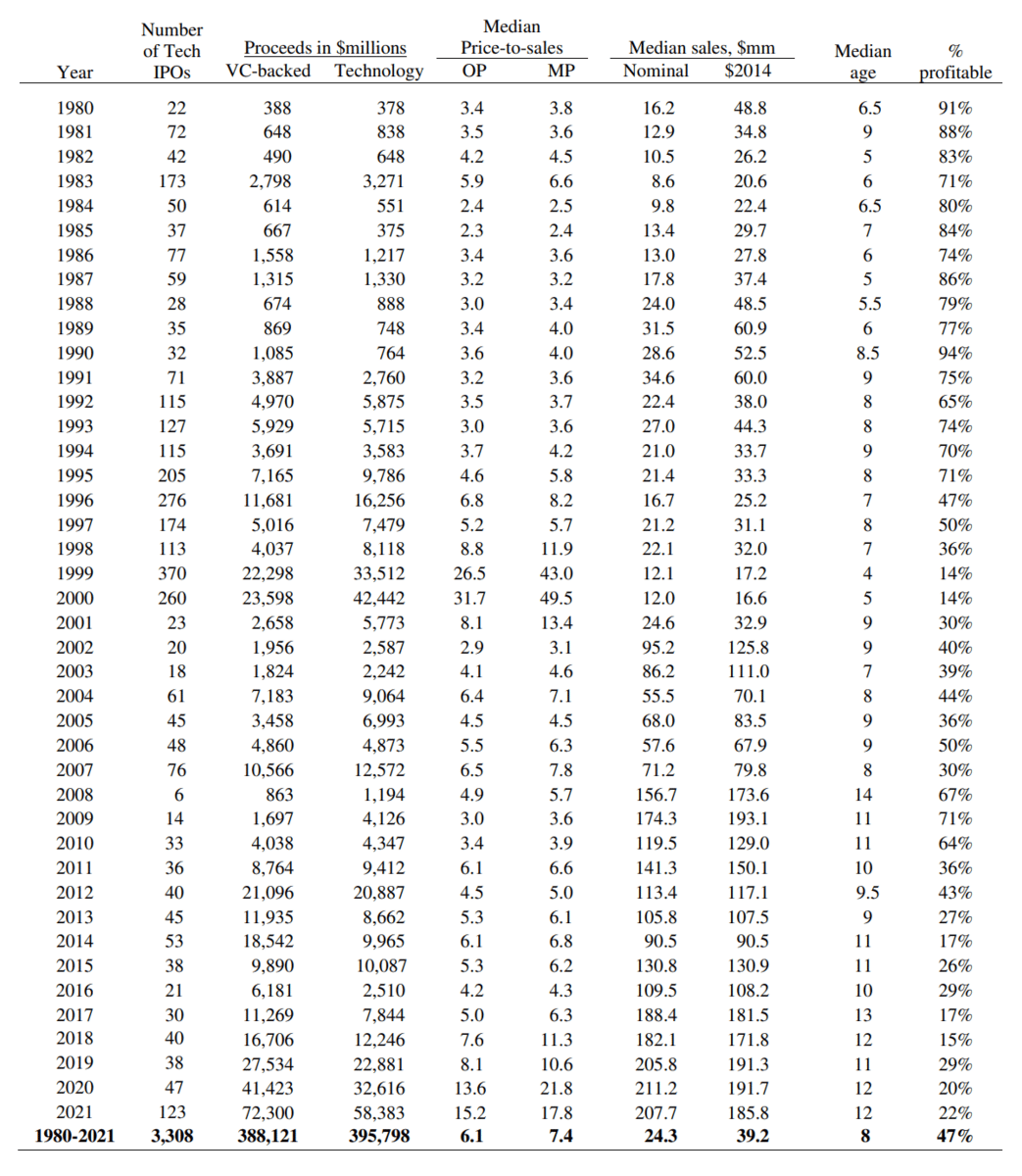 What Noah Pryor Learned as CTO at Teachable: Insightful interview of Teachable's first employee. "How fast you ship product isn't everything" and "Hire early for people who can and want to become managers" seem to run counter what the popular narrative. More from Anu at What I Learned.
The origin of Twitter's blue check mark: From my old boss Anamitra, who was the original PM for Twitter's verified badge.
Ramp customers are spending 18% more on Twitter ads post-acquisition: This $10 billion in anonymized, aggregated spend, mostly from companies broadly categorized as "fast growing startups". Ramp also found spending on LinkedIn was up 21% and down 37% on Apple. More from Ramp.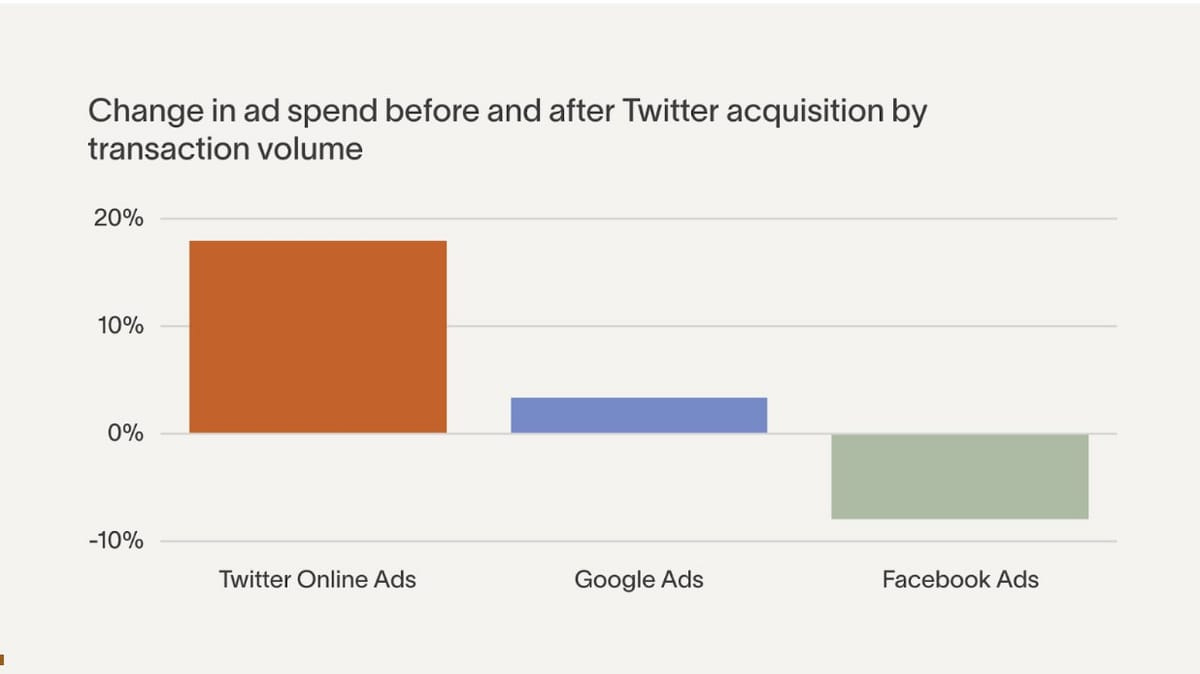 Charts of home prices in Canada never cease to amaze me. This snapback will not end well, whenever it happens. h/t Martin Pelletier.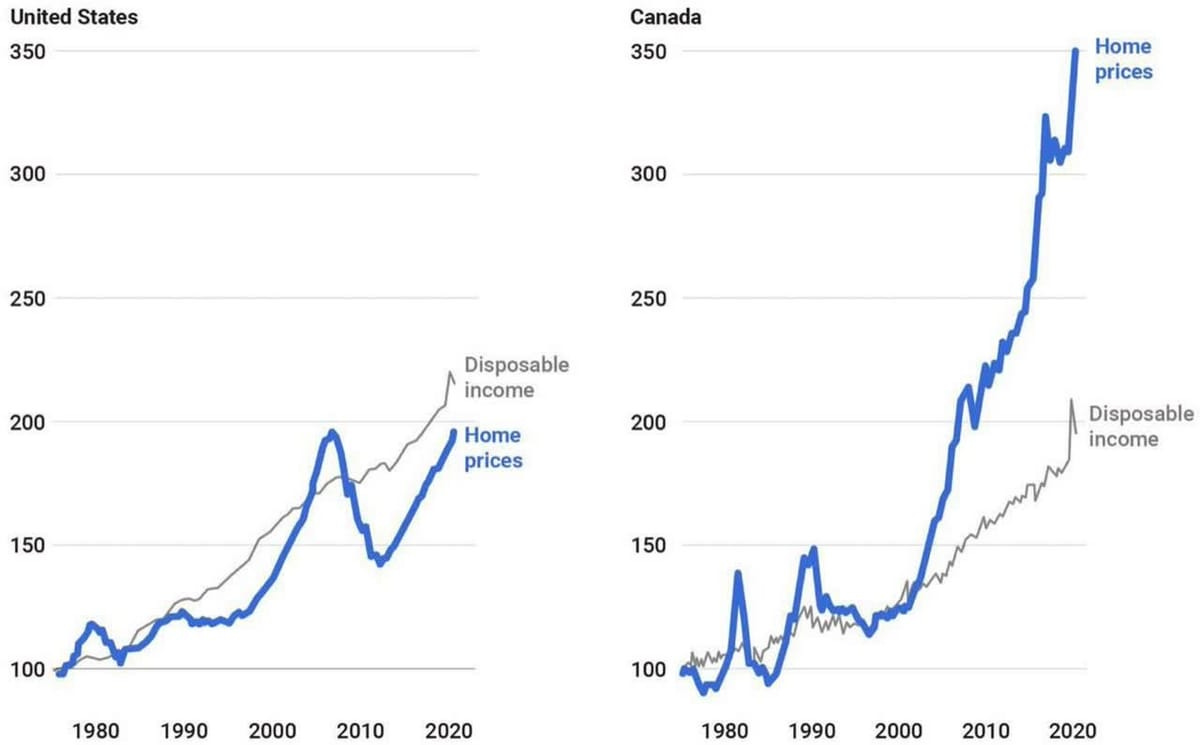 💼 Career Services
If you're considering a new role, or want to start hiring, this is my daily plug to join the Banana Talent Collective here.
If you're looking for (or even just starting to consider) a new role, this is an easy way to get in front of 50+ hiring managers, most in the Banana Capital portfolio (Banana founders not on it yet, reach out for free access). For hiring managers, its a curated flow of vetted candidates with an average of nine years of experience from the companies below.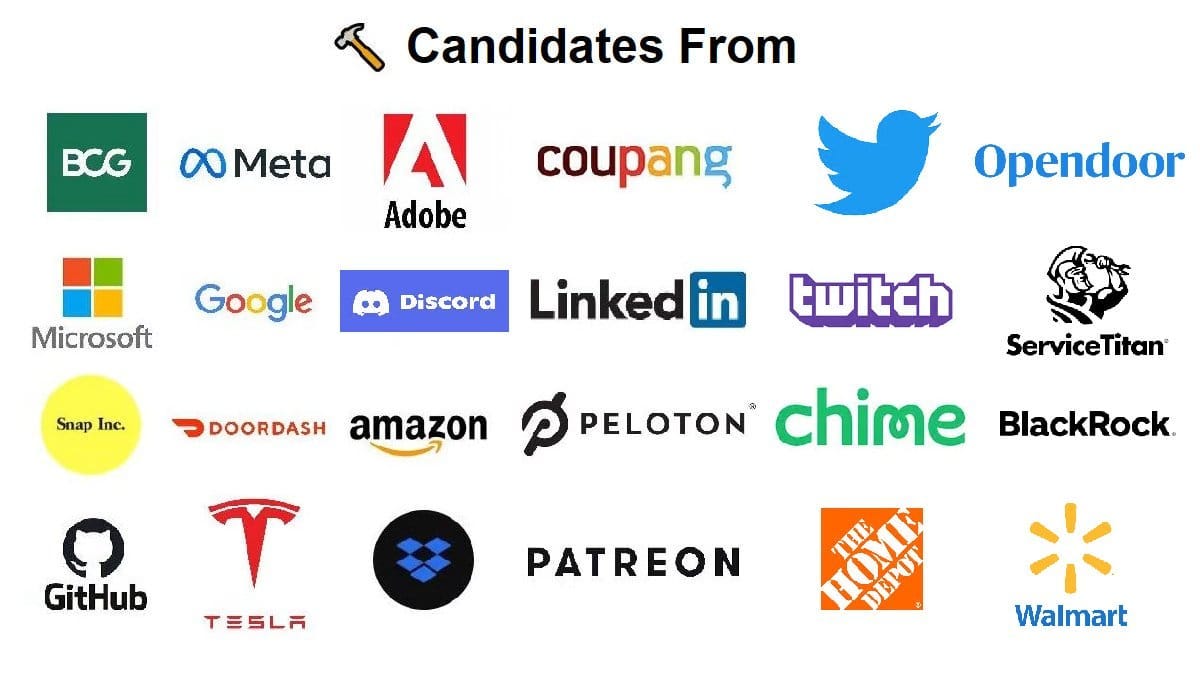 🍌 Monkey Business