Discover more from The Split
Stay on top of the latest tech and startup stories.
Over 23,000 subscribers
Are We in a Friendship Recession?
OpenAI launches ChatGPT, Instagram launches an NFT marketplaces, and why Gen Z loves and hates fast fashion
Happy Friday 👋 Turner back again with The Split. Welcome to all new readers and to the nearly 14,000 subscribers tuning in every week.
Thank you everyone for the support on our Fund 2 announcement on Wednesday! We're sorting through everything today and aiming to get back to everyone tonight or tomorrow. Stay tuned!
The Friendship Recession
A recent chart from the Washington Post hit on something I've been thinking about lately. Americans are increasingly spending more time alone.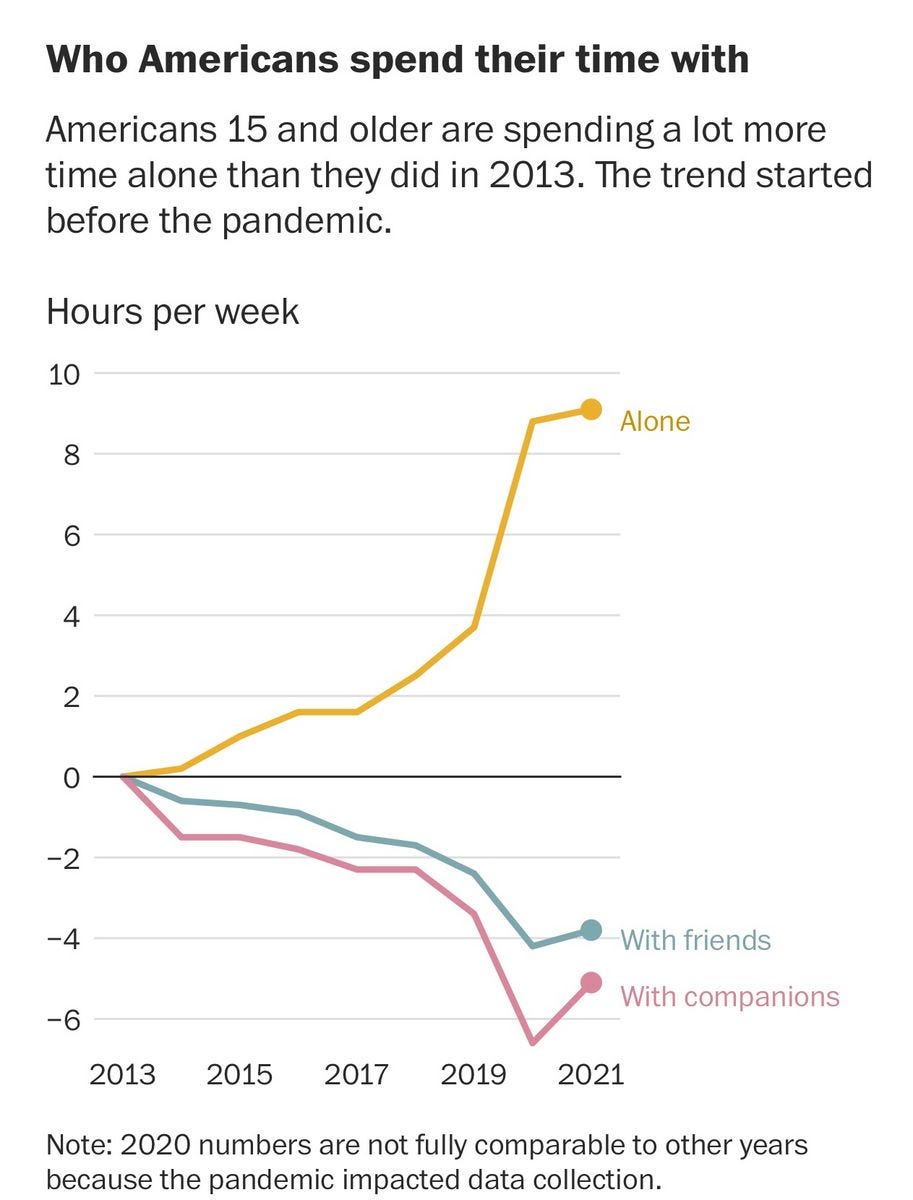 And its not just a US phenomenon. One-third of Koreans feel socially isolated, and its even more stark with the elderly: 42% of Koreans in their 60s feel "left alone". Only 36% participate in some form of group activities, down from 66% two years ago.
Back in the US, male friend circles are declining faster than women's. 30 years ago, 55% of men had more than six close friends. Today, that number is 27%. And 15% of men report no close friendships at all, up 5x from 3% in 1990.

The study from the Survey Center on American Life where this chart is from shows that there isn't much difference in how having zero or one close friend impacts someone. And of Americans with less than four close friends (59% of men and 63% of women), over half said they experienced loneliness and isolation within the past 7 days of the study.
Some people think more time spent on the internet (and our phones) is to blame. Others think it has to do with how capitalism and cities have evolved and affected our living situations and personal consumption habits. Sahil Bloom recently wrote about how we spend our time by age, and it may just be we're spending more time alone because as a species, humans are getting older on average.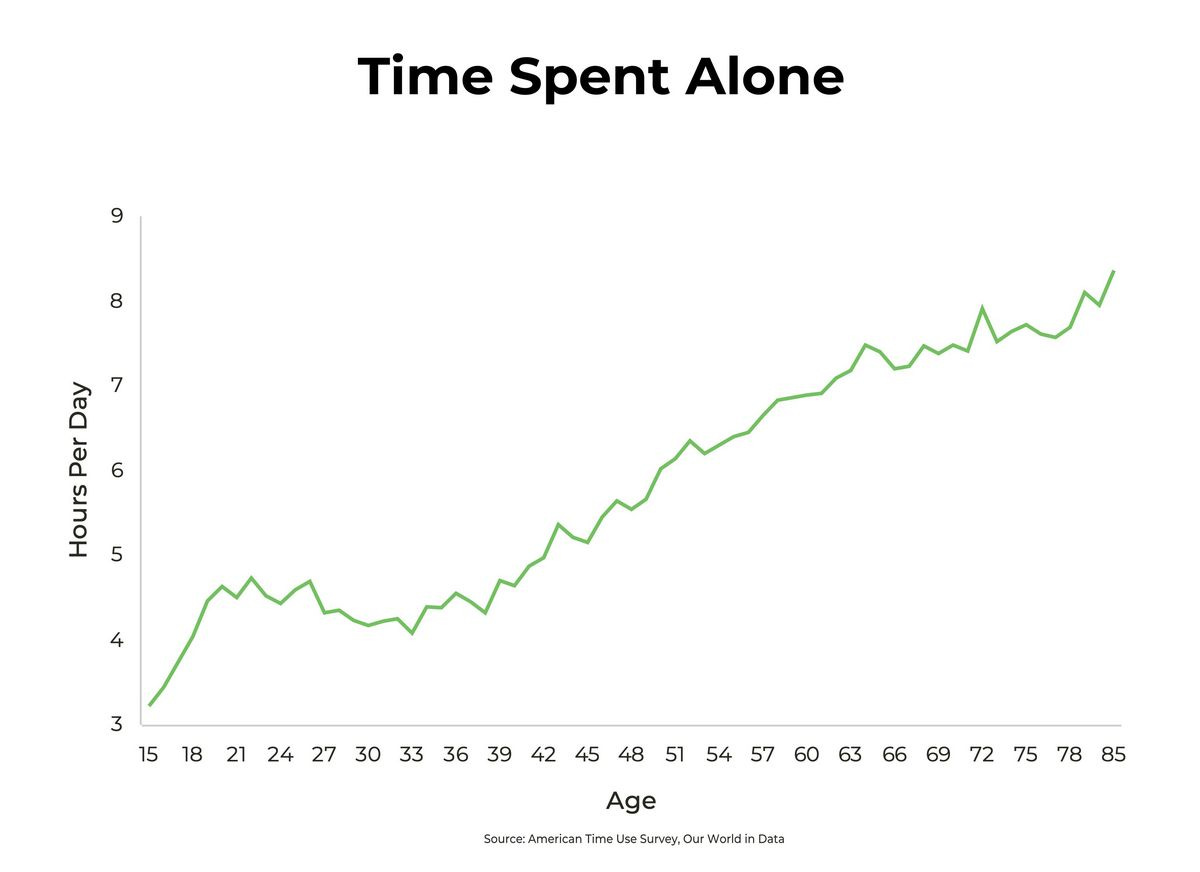 Its a fascinating phenomenon. And frankly, pretty scary. A "friendship recession" may be sensationalist, but there's definitely something going on. COVID appears to have accelerated this trend, but it had been in motion for a decade, if not more. These factors may in part be driving a recent CNN poll that said 90% of 2,000 respondents felt like we were in mental health crisis.
I don't have an answer to fix it. But it's something I'm thinking about.
Did someone share this with you?
Subscribe to The Split for more, twice per week.
🚀 Product Launches
OpenAI launches ChatGPT: A new tool that uses AI to respond to any prompt. In this example Darrell Etherington at TechCrunch asked both to "explain the different Pokemon type strengths and weaknesses", and ChatGPT's result was arguably more helpful than Google's. And if you remember my post from October, Google is trying to evolve beyond text to compete with TikTok. With increasing pressure from multiple sides, it will be interesting to see how Google's product evolves. More from TechCrunch.
Instagram launches an NFT marketplace: While this might seem odd, I actually think allowing creators to sell NFTs directly on Instagram makes sense if you believe NFTs are here to stay. Most NFT discovery happens (or happened) on Instagram, Twitter, Tiktok, Discord, etc, and this saves a step for consumers and gets Instagram in on the transaction.
More importantly, this may set the stage for Meta to eventually roll out its own crypto wallet. This is pure speculation from me (and h/t Alex Adelman for sharing the theory), but it would give instant crypto adoption to over 2 billion Meta users globally. More from NFT Now.
🔗 Links and Charts
Antidepressant use across age ranges: 13% of Americans age 18+ were taking antidepressants between 2015 and 2018, including almost one fourth of all woman aged 60+. An especially alarming fact considering published and unpublished clinical trial data consistently shows most (if not all) the benefits of antidepressants in the treatment of depression and anxiety are due to placebo effect (source). The data is also interesting considering everything I wrote about above. More from the CDC.
Qatar spent 1.2x its annual GDP to host the 2022 World Cup: No words. And honestly, kind of impressive. h/t Ryan Petersen.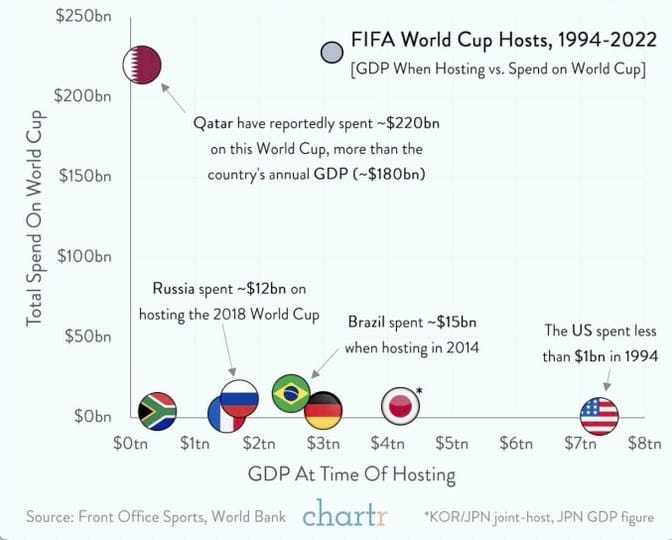 68% of the fastest growing YouTube channels last week were Shorts: YouTube's research shows that "59% of Gen Z watch longer versions of videos that they discover on short-form video apps." More from Tubefilter. h/t Brendan Gahan.
Avatar did 17% of all Chinese box office revenue the year it released in 2010. I still do not fully understand how and why this movie was so popular, but this is truly an insane stat. It significantly dwarfed the 6.6% pulled in by Avengers: Endgame in 2019. More from Matthew Ball.
Gen Z's complicated relationship with fast fashion: According to a Business of Fashion survey, 40% of Gen Z both loves AND hates fast fashion. It ultimately comes down the affordability. Most consumers know the fashion industry is one of the world's dirtiest and most pollutive, but the affordability makes it one of the few things young consumers with little spending power can consistently splurge on. Affordability also explains the rise in popularity of thrifting, and how the same shopper can be a fan of both thrifting and fast fashion. More from BoF. h/t Danielle Vermeer.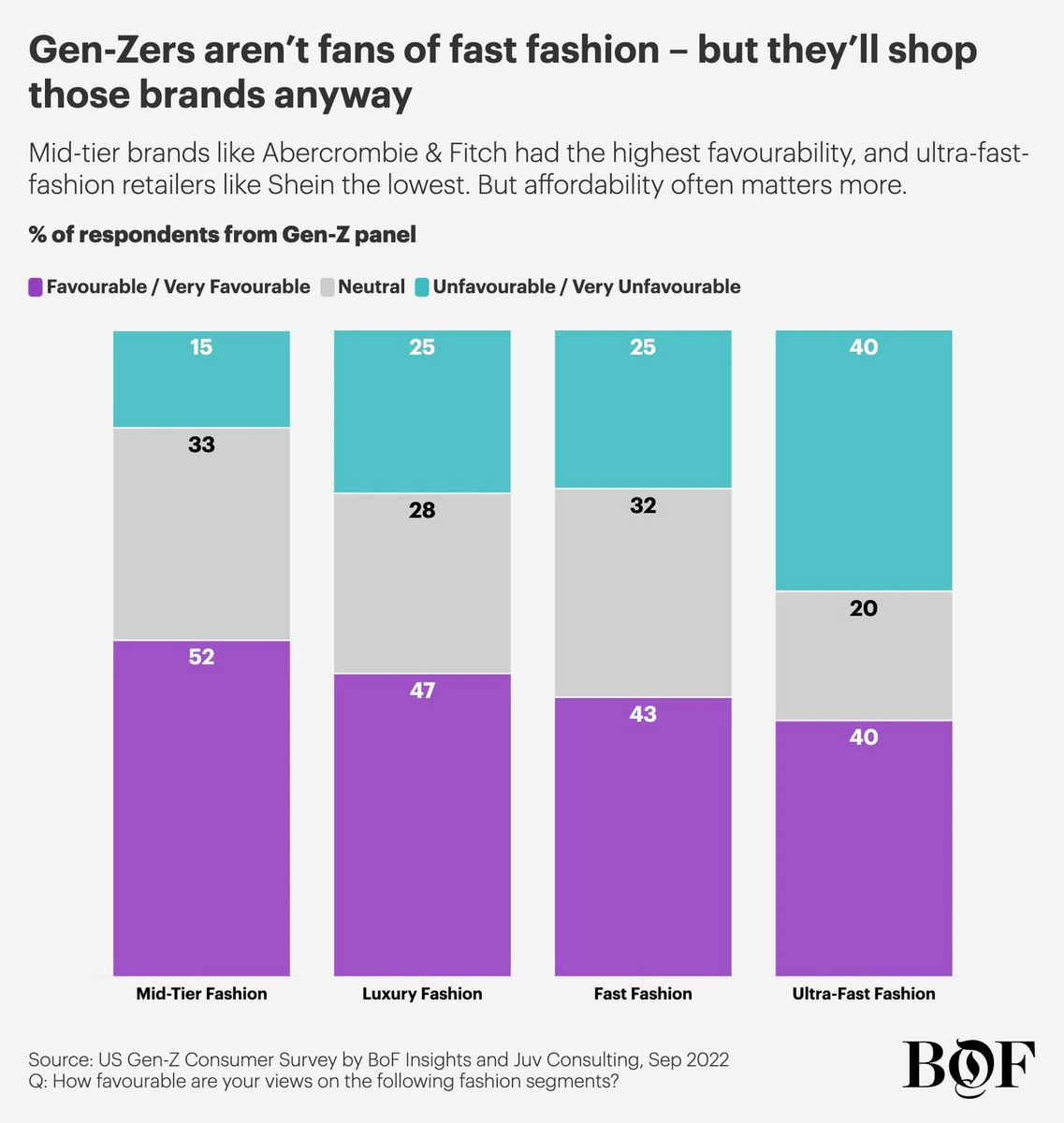 The cost and number of attendees at a wedding can predict divorce rates: A study by Randy Olson had some interesting data points. The results: cheap weddings and a high number of attendees were both correlated with low divorce rates. More from Randy Olson. 

Tech company Gross Profit and Operating Expenses per employee in 2021: An interesting chart that (without telling the full picture) really shows hard it can be to compete with some of these companies for talent. Meta spent an average of $743,000 per employee, which of course included overhead costs NOT specifically attributable to any individual employee. More from Mostly Borrowed Ideas.
💼 Career Services
This weekend we did Banana Talent Drop #7. The Banana Talent Collective now has 150+ candidates and over 50 hiring companies, close to half of which are in the Banana Capital portfolio (if you're at a Banana portfolio company, reach out for access!). Candidates hail from startups to big tech, including some of the below: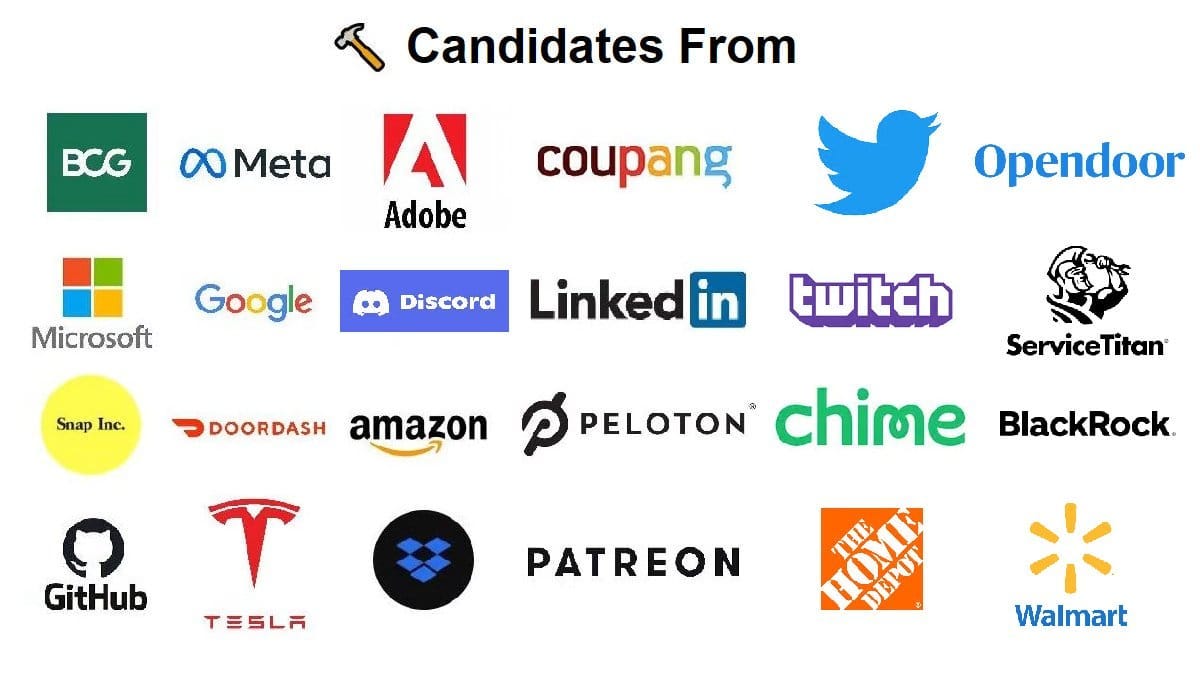 If you're starting to explore a new role or hiring and want talent from the companies above, check out the Banana Talent Collective here.
🍌 Monkey Business