Discover more from The Split
Stay on top of the latest tech and startup stories.
Over 23,000 subscribers
Attack of the Clones: TikTok's Rival Kuaishou Lands in the US
Plus: Developers can build apps inside Snapchat, Microsoft opens up Office
On Wednesday May 27th, a new app hit the top of the US App Store: Zynn. I threw some initial thoughts on Twitter suggesting this may be a big deal since it was backed by Kuaishou (and ultimately Tencent) which was later confirmed by The Information.
As I mentioned, Zynn is essentially a bare-bones TikTok clone with a reward system. The camera tools feel much more like Instagram than TikTok and there is no ability to search by video sound (or search for anything), a key part of TikTok's DNA.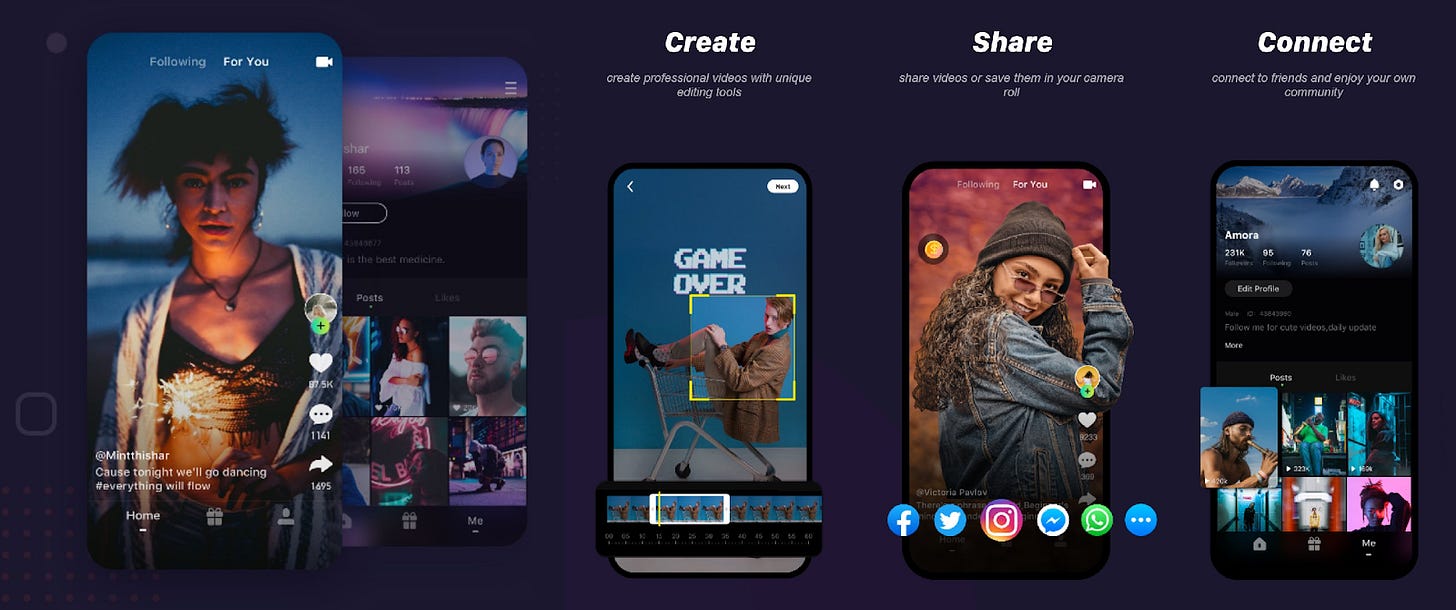 The initial content appears to be ripped directly from TikTok. The upload dates on these videos go back as February and March, showing how the app was seeded for three months before launching. Most accounts are related to themes like snowboarding, street racing, or food (for data targeting purposes?). Some accounts (1, 2, 3, 4) appear to have re-uploaded the most viewed videos of a top sound on TikTok. Some combine posts from multiple TikTok influencers (Zynn, TikTok). There's an account re-posting videos from a beauty influencer as she uploads to TikTok (Zynn, TT). Many of the initial accounts follow each other, and most profiles like exactly 6 or 7 videos. Clicking on these Zynn links, the videos can't be viewed on desktop and the mobile web experience forces you to download the app. This is a stark contrast to TikTok's approach.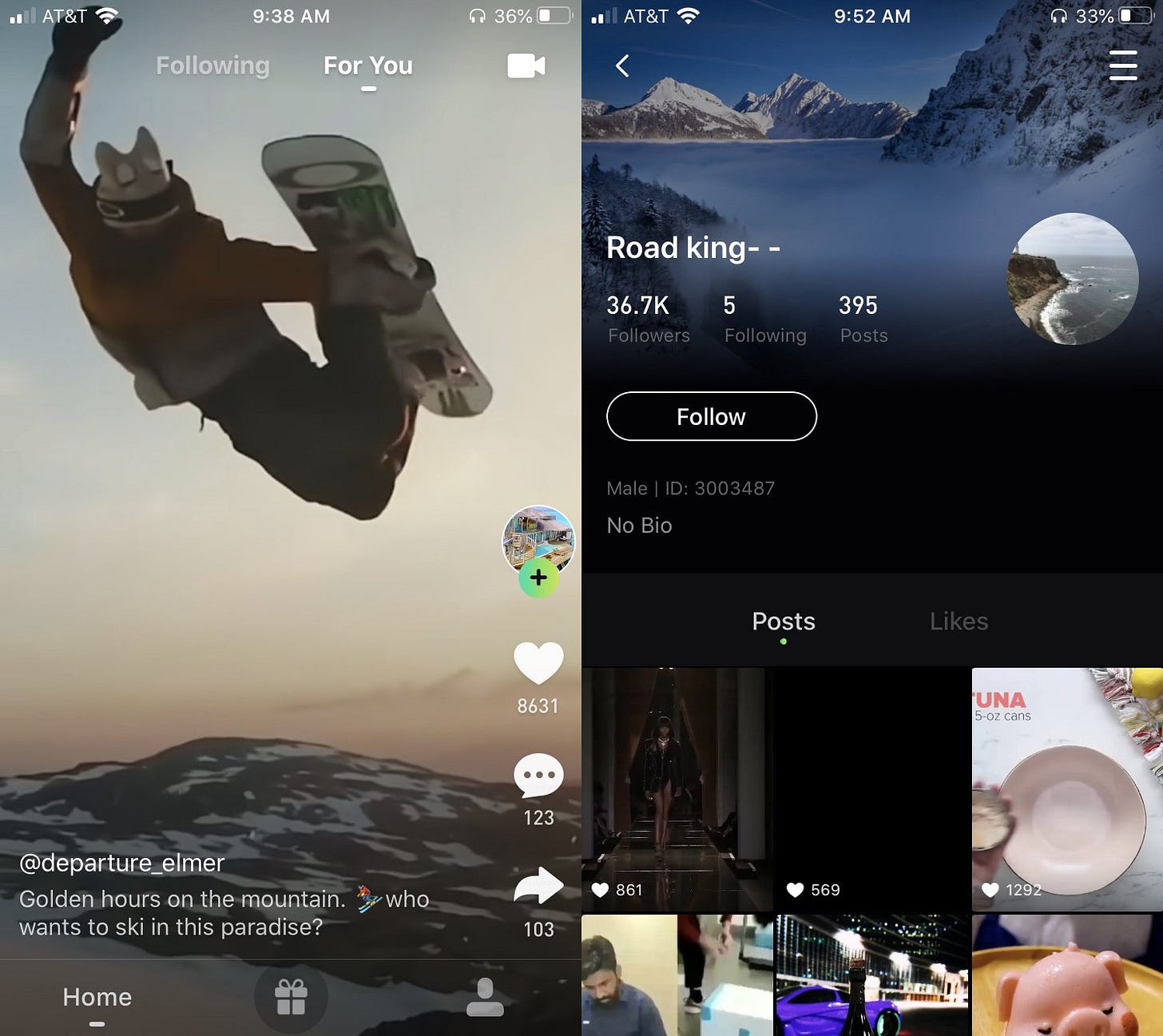 Zynn began climbing the iOS charts in May. It's unclear when exactly it launched on Android, but it hit the top of both the Google Play and App Store (#1 overall) charts as of Friday, May 29th. It doesn't seem to be slowing down either: total downloads on iOS were ~241k on the 27th and 28th, and Android increased from 19k to 28k (per App Annie).


The app's aggressive reward system likely propelled its rapid rise. Users earn small amounts of cash watching videos (around $1.20/hr), bonuses for hitting certain thresholds, and as much as $20 for each friend they invite.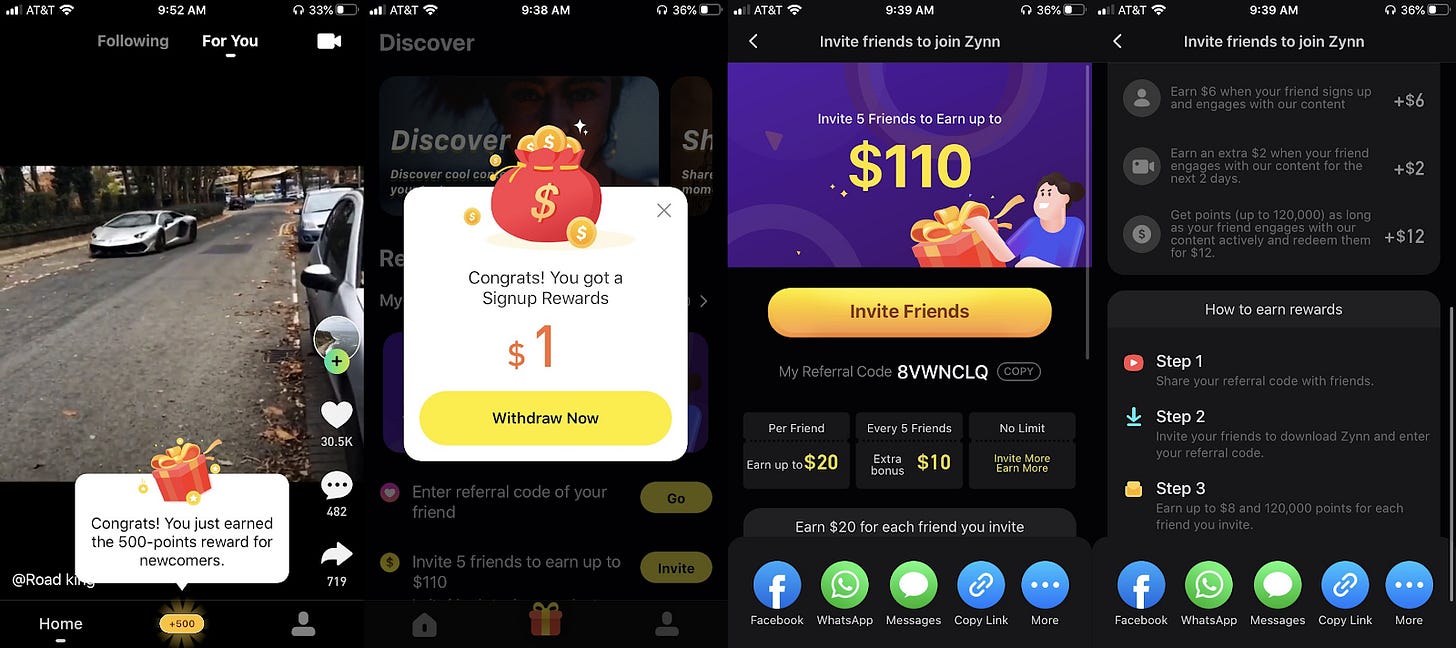 The very big catch behind all of this is the minimum withdrawal amounts and that you can never actually redeem all your rewards. There are some big totals, like $50 gift cards to Amazon, Walmart, and Domino's. This practically requires users to invite their friends and stick around for while if they want their cash.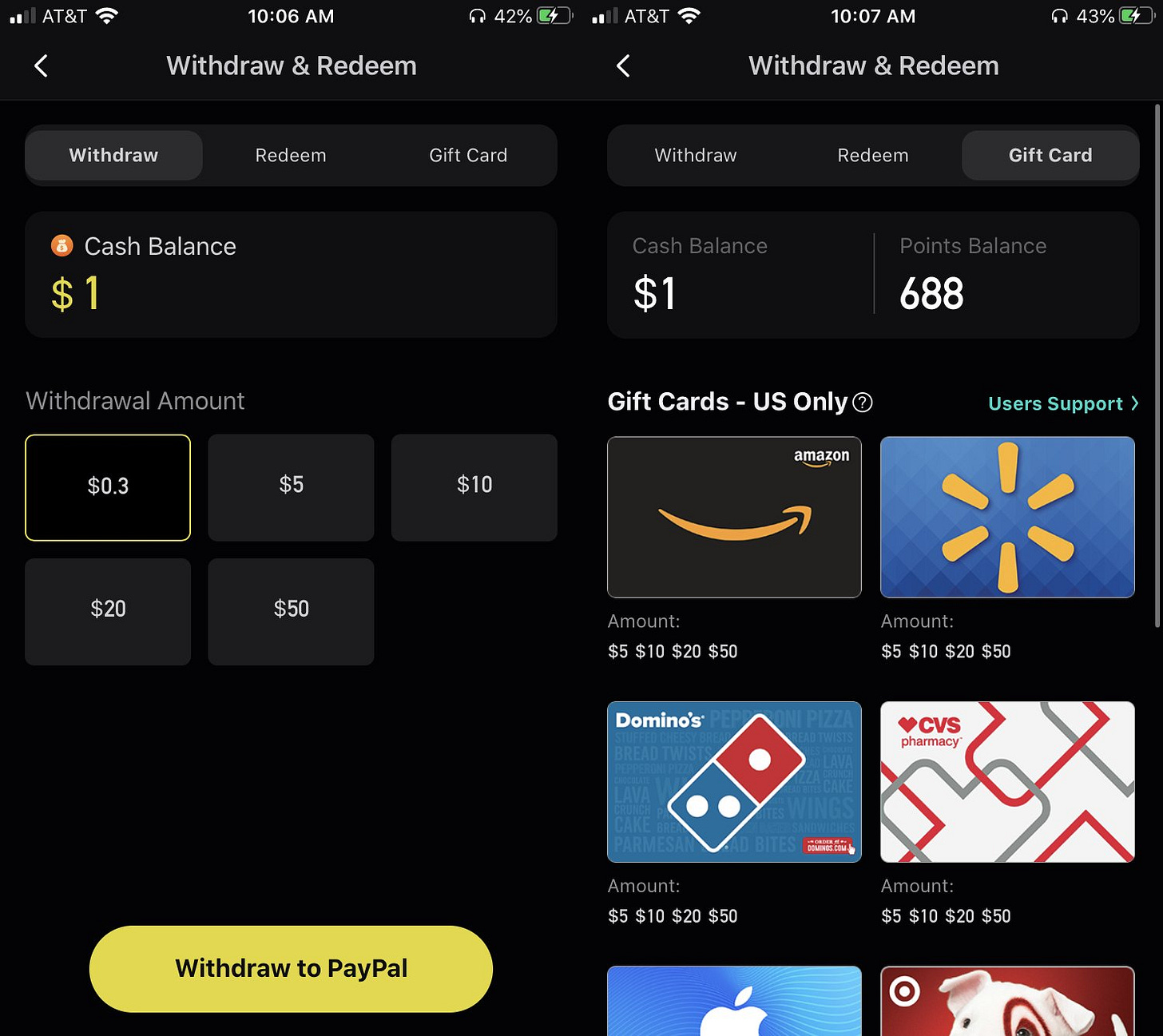 Normally I wouldn't suggest something like this was sustainable, but The Information confirmed what I figured out: Zynn is owned by Kuaishou, ByteDance's (which owns TikTok) closest rival in China. And Kuaishou itself is backed by Tencent (one of ByteDance's other largest rivals), Baidu (a Chinese search engine), and Sequoia (an investor in ByteDance) - and just raised $3 billion from them in December.
An Overview of Kuaishou
Kuaishou was founded in 2011 by Su Hua and Cheng Yixiao. They previously worked at Google and Baidu. It launched as a way to create and share GIF's and quickly evolved into short videos. By 2013, it had over 100 million DAU's (Daily Active Users); three years before the Chinese version of TikTok (Douyin) launched in 2016.
ByteDance and Kuaishou have a long rivalry. I wrote about ByteDance two weeks ago. One recount of the story describes Kuaishou as having a similar multi-app strategy as ByteDance, although moving slower. Kuaishou's initial users were rural and working class, often called "the forgotten 80% of China". Most of the content in its early years was these non-urban users doing weird stunts. Analysts often described Kuaishou as "Jackass for mobile". One of its most popular creators during this time was a woman who ate and drank random objects.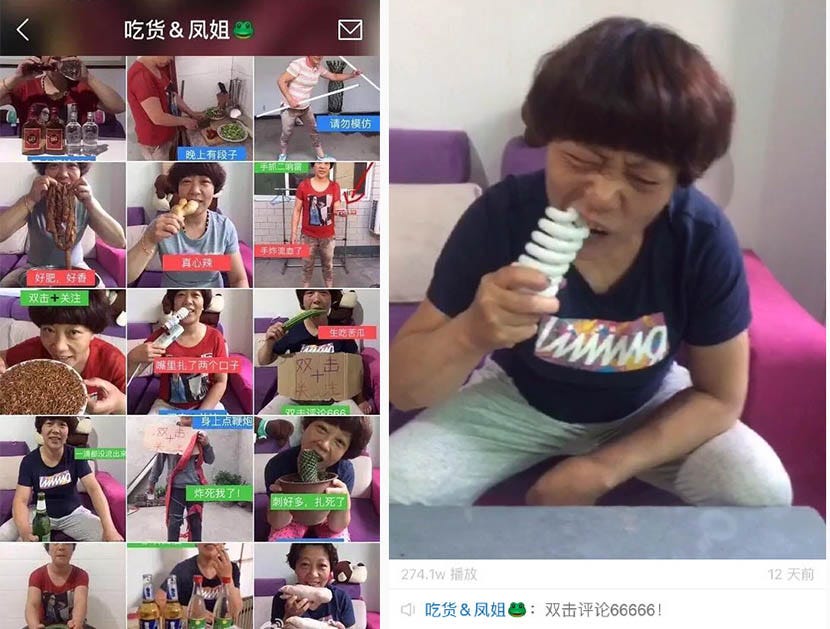 By 2016, Kuaishou was at the top of the Chinese short-video market. Kuaishou's revenue lagged ByteDance's first breakout app Toutiao because its advertising product didn't launch until Q3 of 2016, two years after Toutiao's. This likely impacted how much revenue and cash it had to re-invest in growth. It also struggled gaining traction outside China in major markets like India and Indonesia where TikTok (launched in 2017) now thrives. Like ByteDance, Kuaishou went through many periods where its products were blocked by WeChat (nearly six months in 2018!), which impacted its growth as well.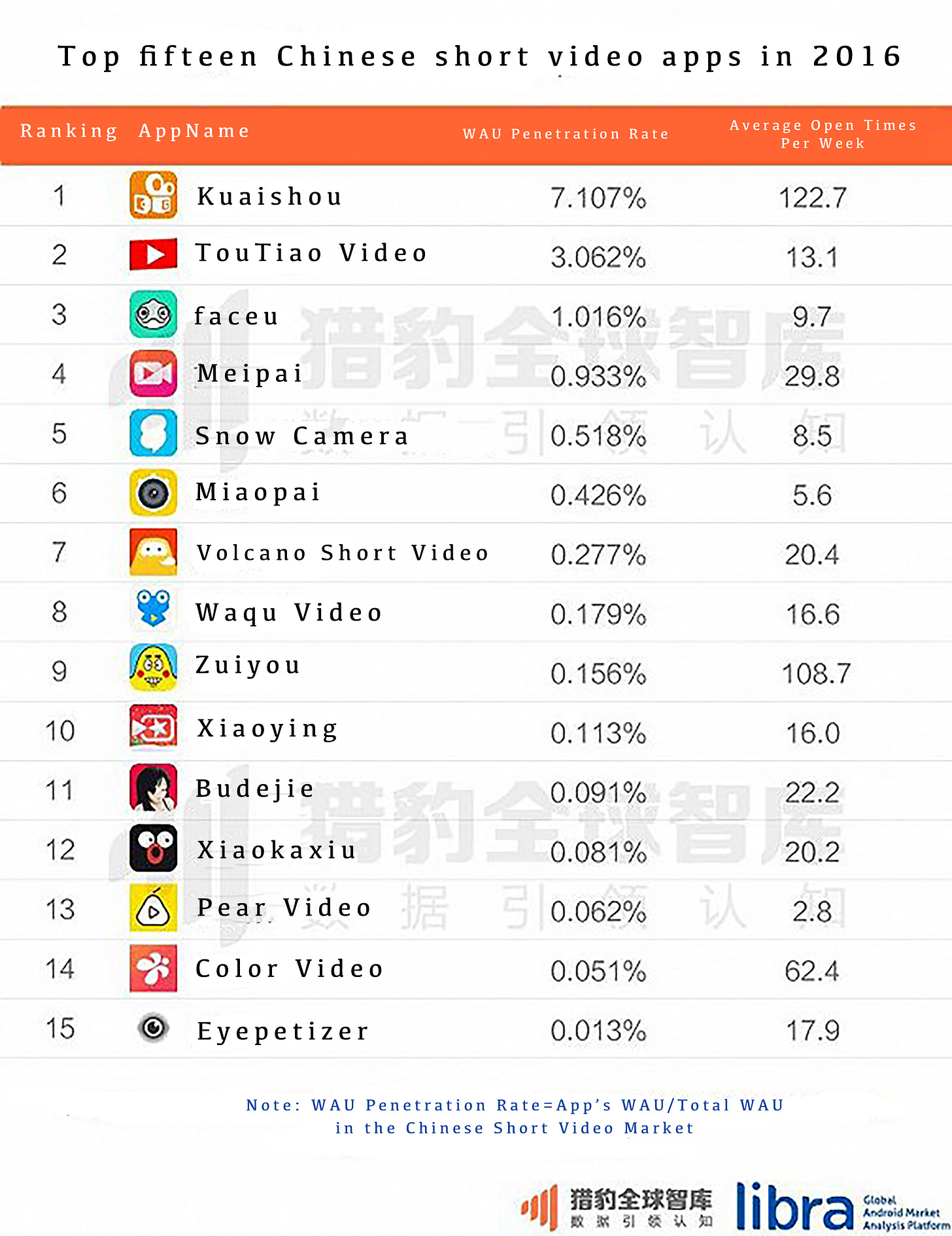 A pinnacle moment in this rivalry came in 2017. Kuaishou was reportedly out negotiated by ByteDance for Musical.ly after it refused to also buy News Republic and Live.Me, two other products backed by Fu Sheng, the founder of Cheetah Mobile and influential Musical.ly angel investor. ByteDance bought all three; and subsequently merged Musical.ly and TikTok while de-prioritizing the other two. TikTok went on to consistently top the download charts in nearly every international market. It was late to enter Latin America, and Kuaishou's international app Kwai eventually gained traction in Brazil. Latin America still appears to be a focus. In June of 2020, its Snack Video app cracked the top 20 in Indonesia, Peru, and Colombia.
By Q1 of 2020, Kuaishou's short-video product reached over 300 million DAU's in China, up from 200 million in December. This was lower than ByteDance's 400 million DAU's in China and 1 billion globally, but still impressive relative to other large digital platforms. It reported revenue of $7.2 billion in 2019 (beating its initial target of $4.36 billion) in its eighth year in business - better than Facebook. This was primarily through taking a cut of live streamed commerce, a market that's projected to reach GMV of $136b in China in 2020, an increase of 121% year-over-year.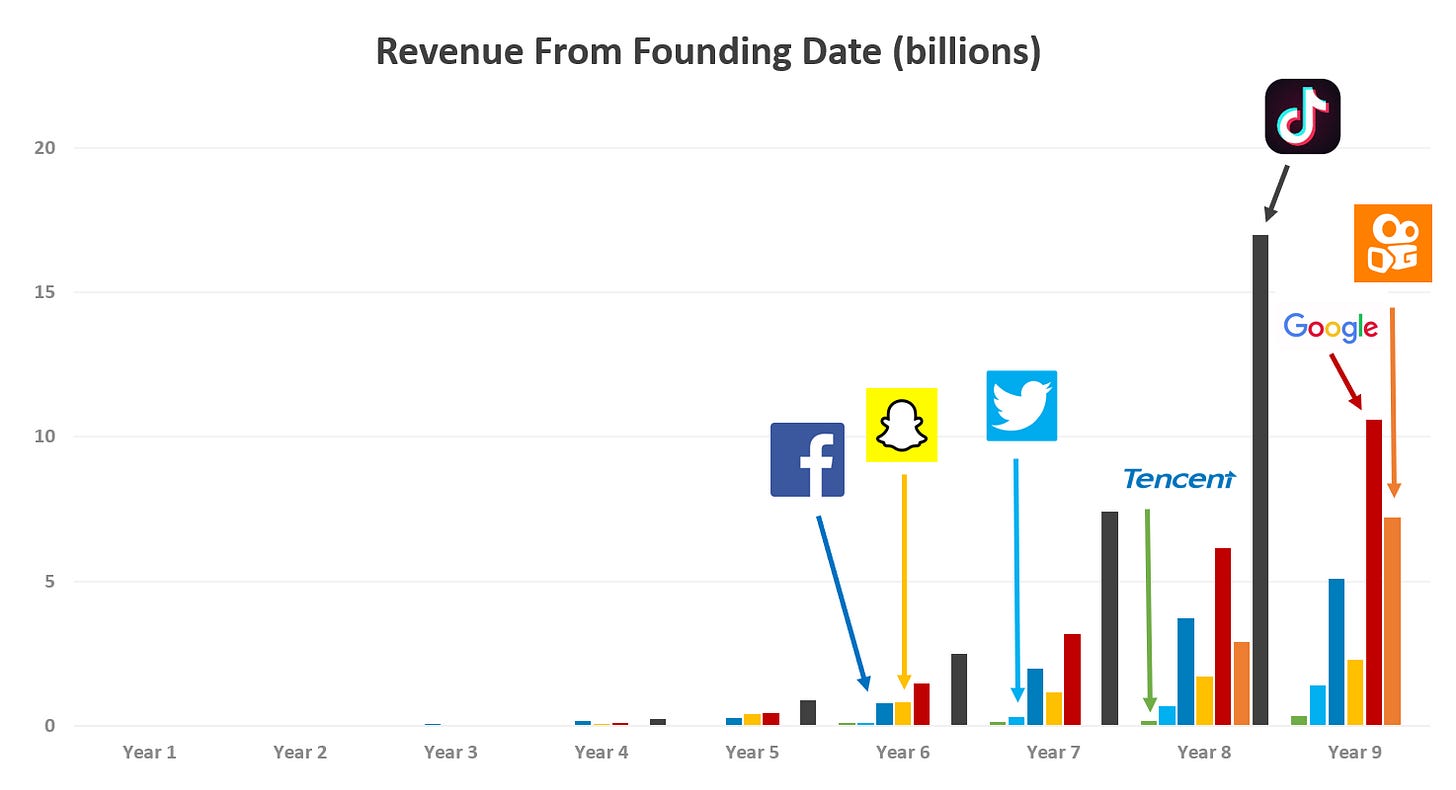 Coming back to Zynn, suggesting we take it (or at least Kuaishou's attempt to enter the US) seriously isn't that crazy. Kuaishou's core product likely has operating margins in the range of 30-40%. This would have generated nearly $2 billion in cash in 2019 to re-invest elsewhere - on top of the $3 billion it just raised at a $28.5 billion valuation.
US consumers are generally the holy grail for internet businesses. As shown in the chart below of Facebook's ARPU (Average Revenue per User), North American users bring in 3x more revenue than Europe, 9x more than Asia, and ~14x more than the Rest of the World. This could be further defined as "developed markets" since RoW and Asia-Pac includes countries like Australia, Japan, and South Korea, which have similar income levels to the US. The US also typically drives Western culture, which makes it the perfect market to seed content for similar markets.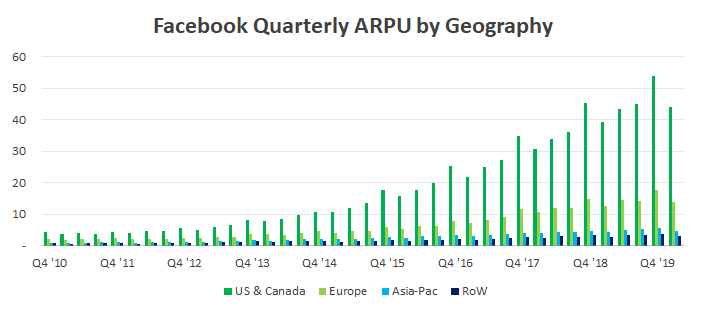 For a Chinese company printing cash and looking globally for growth, cracking the US is likely a high priority. The big US players like Facebook and Google don't exactly move fast, and neither them nor Amazon or TikTok have business models built on live streamed commerce. ByteDance saw success in 2018 and 2019 with TikTok, and we're now seeing Kuaishou attempt the same with Zynn. The majority of Kuaishou's Chinese revenue is generated via live streamed commerce, and its user base primarily lives in smaller cities and rural areas of China. This contrasts with ByteDance's beachhead in China's richest cities, starting with advertising and expanding into ads and commerce. This difference may foreshadow the strategy each company takes in the US.
Is Now the Perfect Time for a Cash-Based Referral Strategy?
In the past 11 weeks, the US has seen an unprecedented 40.8 million unemployment claims. While many jobs will come back as the world leaves lockdown, many Americans are currently stuck at home all day with no job.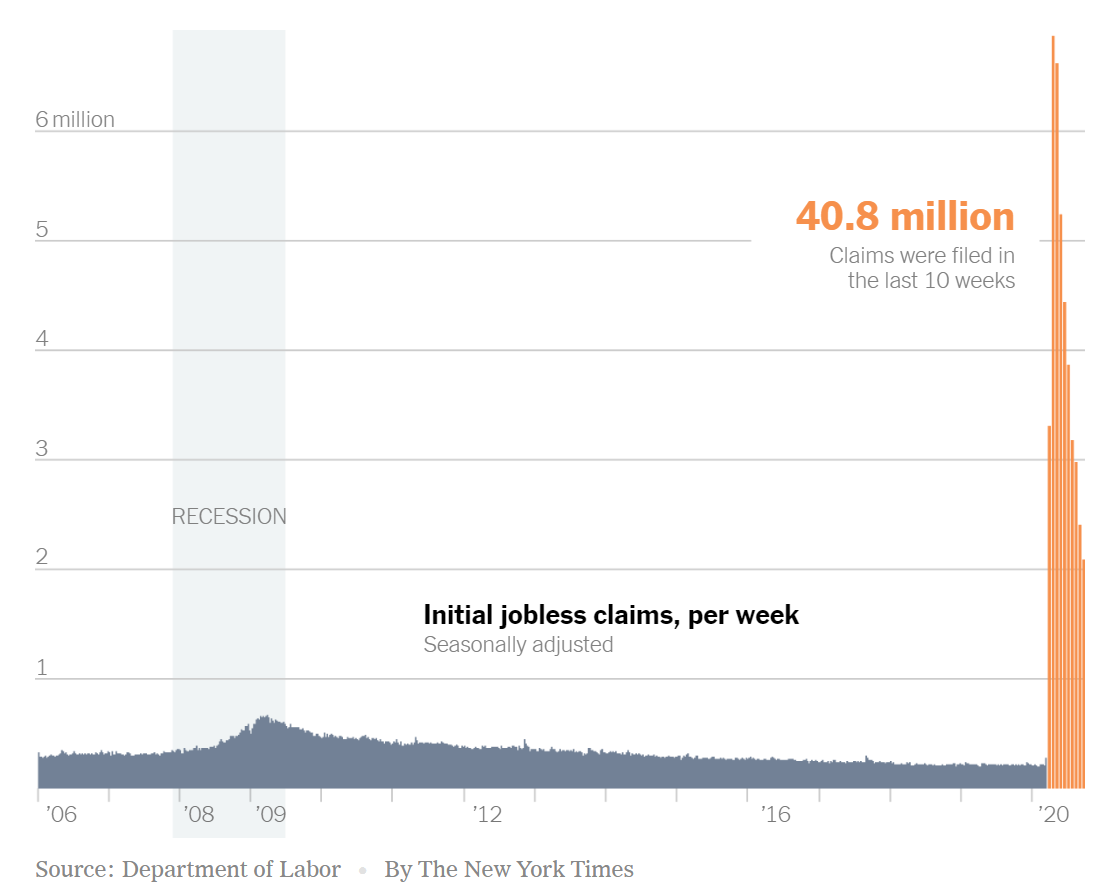 Zynn's referral and "pay to consume" user acquisition and retention strategy has been tried before by another Chinese company QuToutiao, or "Fun Toutiao". If you're familiar with ByteDance, you know its initial product was a hyper targeted news app called "Toutiao". QuToutiao (launched in 2016) is a Toutiao clone that pays users to use the product. They ended 2019 with $778 million in revenue and 46 million DAU's who spent over 60 minutes per day on the platform. Its publicly traded (QTT) and valued at $750 million, or ~1x its 2019 revenue - not exactly a premium compared to Kuaishou's 4x, Facebook's 8x, or Snap's 15x. This is likely because investors believe QTT will always have to pay out the majority of its revenue to users and won't be able to increase its margins. Its sales & marketing expense was 80% of revenue in 2019.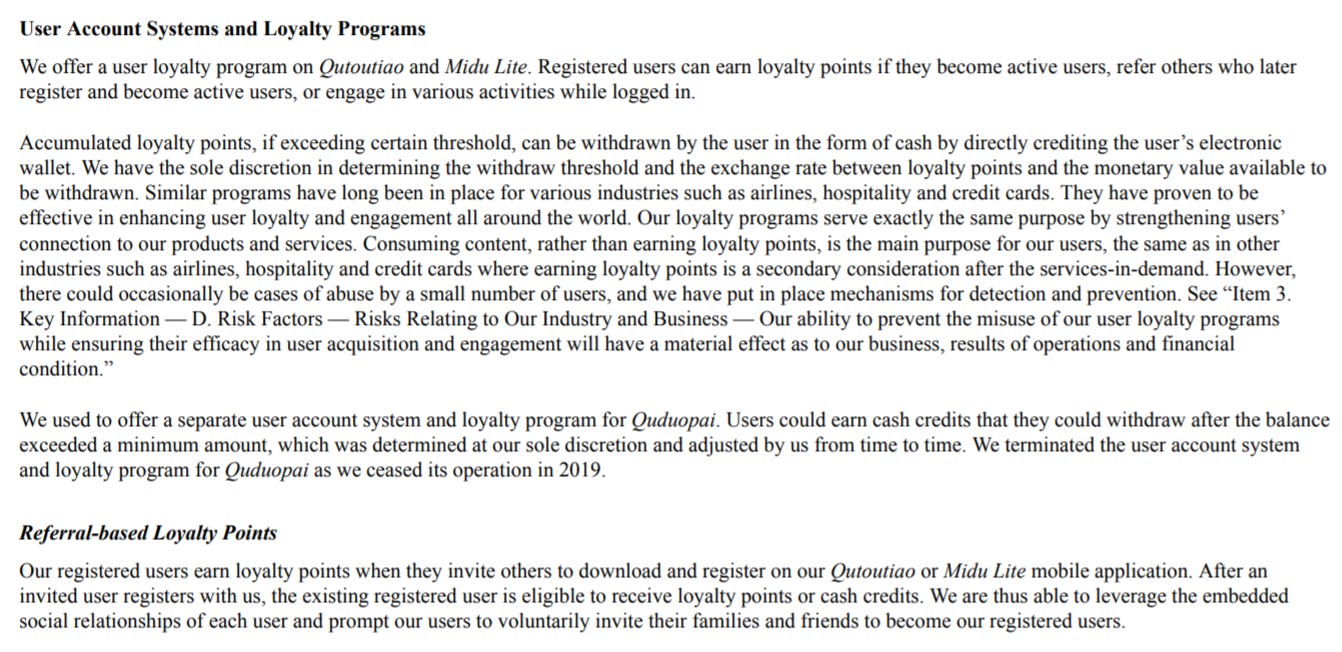 This "pay to consume" model has also been tried by Kuaishou itself. It launched Kuaishou Speedup in August of 2019. It paid Chinese users to watch videos, very similar to Zynn, and reached over 10 million DAU's within the first 20 days. We could be watching the same playbook here in the US. Many Chinese companies see FinTech as a key initiative, and Kuaishou recently launched a red packet product that allowed Chinese users to send monetary gifts to celebrate Chinese New Year. This combination of rewards, payouts, and P2P gifting could be early moves in a digital wallet effort.
The irony of Kuaishou copying ByteDance, by copying the rewards strategy used by another app that copied a different ByteDance product, while copying TikTok that ByteDance initially copied from Kuaishou, shouldn't be lost.
We should also not forget that TikTok got to where is today through an unprecedented user acquisition strategy that hadn't been tried yet at scale: dumping money into competitors' ad products to grow its own user base. As I wrote:
ByteDance flooded the world with marketing. It reportedly spent $3M/day on user acquisition and PR throughout 2018 and 2019, beating short-video competitors in each market by simply outspending them. TikTok spent over $300m on Google ads in 2018; and $10m/month in India alone. In Q1 of 2019, 13% of all ads seen by users of Facebook's Android app were for TikTok (Apptopia). At the peak of the ad blitz in September of 2018, 22% of all ads seen on Facebook's properties by Apple devices in the US were for TikTok.

ByteDance gets lots of criticism for spending so much on ads, but it's worth resurfacing Elad Gil's 2010 reminder that sometimes it's worth spending money to kickstart a valuable network. Facebook used a similar strategy with Instagram by favoring it in the feed, which helped it quickly convert new users… 50-75% of Instagram downloads ultimately came from Facebook in the years following the acquisition.
TikTok acquired Musical.ly's 60 million MAU's in 2017 and was likely much closer to Product Market Fit when it started its marketing strategy than Zynn is today. The initial TikTok product essentially started where Vine left off, and the flood of marketing allowed it to quickly level up its content and user base.
Public reports estimate TikTok paid ~$3-5 per user, which is 4-5x less than the $20 Zynn is promising per referral. Referrals are also an interesting strategy at this moment in time when considering digital ad prices decreased ~30% in Q1.
Zynn: A Mobile-First Live Streaming Platform?
Less than one month after launching, there are early signs Zynn's strategy could be working. As of June 4th, I saw videos in my feed from real users, not the initial seeded accounts. The comments, which initially consisted entirely of referral code sharing and "friend for friend" requests, are slowly starting to resemble TikTok and YouTube. I found one user with more followers on Zynn than TikTok. This account registered on May 15th and now re-posts some videos a few hours after TikTok. Raina Huang, a TikTok / YouTube / Instagram influencer who eats food, launched her account on May 22nd. She re-posts videos from TikTok, and occasionally sees similar engagement on Zynn.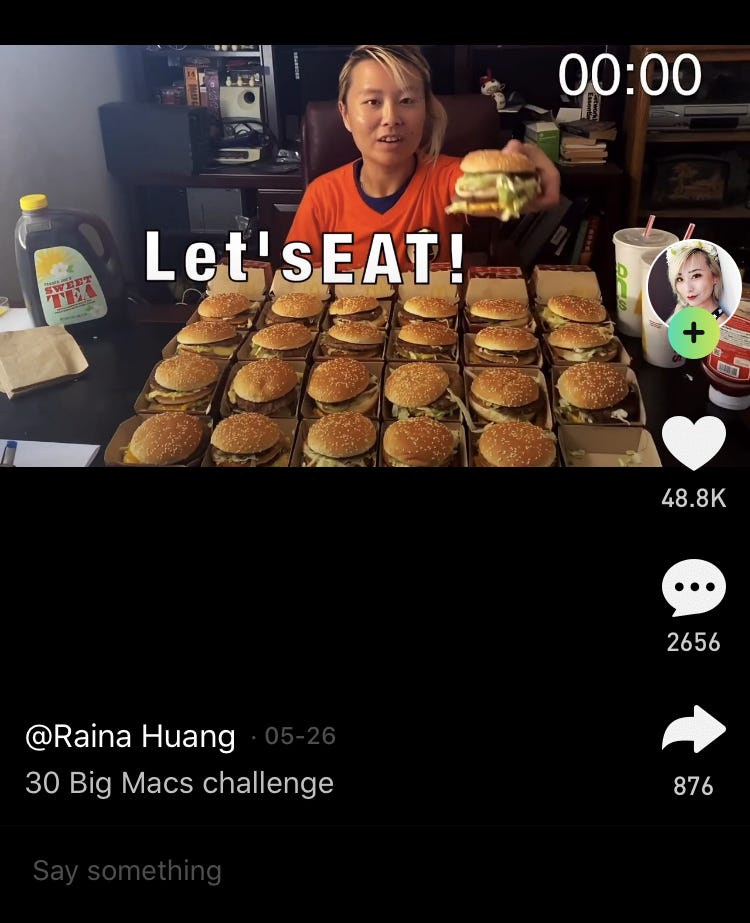 Live streaming will likely be a high priority for Zynn. Looking at the picture above, "Say something" looks much more like a comment on a live stream, not an uploaded video. Kuaishou disclosed over half of its 400 million registered users had live streamed at least once as of May, 2017, and that 10% of streamers have sold goods. Most TikTok power creators don't have that skill set, and its arguably still open for the taking. One things for sure: distribution (or content?) is king, and China is willing to pay for it.
The Power of Friends
Paying for content and distribution starts to look much more like traditional media than social media. Products with friend graphs and true user-generated content have structural competitive advantages vs those that don't. One of the reasons Facebook and Snap are such valuable businesses is because they can place ads beside the content their user base creates for free.
Over the last 4 quarters, Facebook generated an average of $186 in revenue per US Facebook app DAU. It paid all-in costs (expenses and capital expenditures) of $28 per global "Family of Apps" DAU. Facebook's disclosures with the SEC make it difficult to understand its costs by market, but assuming they're even around the world, its operating margins are roughly 85% in the US. That's very good. We see this with Snap as well: roughly 70% of each $1 in new revenue it generated over the past two years has converted to cash on its balance sheet (or Snap's case, less cash was burned).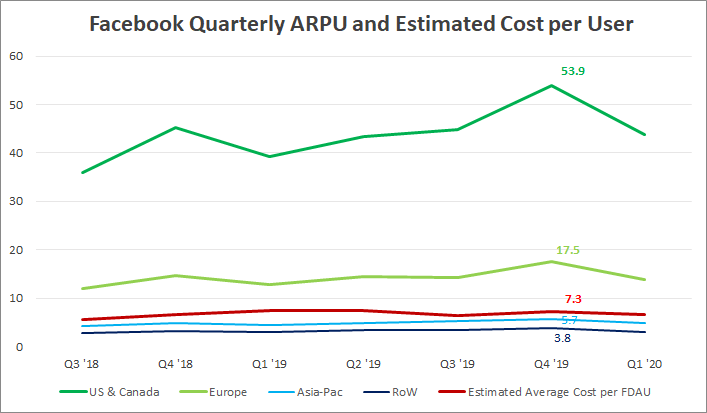 Starting with Facebook's numbers, let's assume Zynn spends an extra $20 per user for the initial referral bonus. This increases the total cost to $48 per user, or an operating margin of 74%. Kuaishou will likely keep paying bonuses to users to retain them, at least for now, which will also eat at its margins.
It doesn't seem to have a strong recommendation algorithm, which hints at a weak targeted advertising product. It also generates most of its existing revenue (in China) through live streaming, which means it will likely take a 50% cut of "tips" and pay out a majority of the live streamed ecommerce GMV it generates to creators. Using Facebook's $186 US ARPU as an anchor and assuming the average marketer targets a 3x ROAS (Return on Ad Spend), Facebook facilitated roughly $558 in commerce per US user in 2019. Kuaishou had over 100 million daily live stream viewers in 2019, and Zynn's lack of editing tools I described earlier could hint at a long-term focus on live streaming. It disclosed over 19 million users had earned income live streaming on Kuaishou through September of 2019, up from 10 million at the same point in 2018. An announcement of its 2019 funding round also mentioned strategic initiatives in gaming.
Zynn / Kuaishou's US operating margins may look closer to 30-40% at scale. That's still impressive and worth paying up for today, provided it can retain its users. They'll need to get them generating content to boost their margins, which may have already started happening, and could be accelerated if they pay influencers to post, like TikTok.
This ties back into my original point: Broadcast-based, or one-to-many social networks, are starting to look much more like traditional media companies that pay for content and distribution. Jeff Bezos famously says "Your margin is my opportunity", and digital advertising companies are among the highest margin businesses of all-time. Snap cloned Facebook's self-serve advertising platform in four years, and TikTok will likely do it even faster. Why wouldn't their competitors give up margin to build similarly massive businesses? Maybe instead of thinking of these platforms as winner take all, we should think of them as TV Networks 2.0; the next iterations of Comcast/NBC, Disney/ABC, CBS, Viacom?
The large platforms like Facebook, Instagram, YouTube, Amazon, and TikTok will continue to get larger; but newcomers will be able to beat their distribution advantages with capital efficiency and superior product decisions. Products that rely on friends and true user-generated content will continue to have the strongest competitive advantages and highest margins over time.
---
Links I'm Reading
Snap will let other companies build versions of their apps within Snapchat. This appears to be an extension of its SnapKit developer platform, and may look similar to WeChat's popular mini-programs. Considering Snapchat is used by over 88 million North Americans for over 30 minutes per day, there will be lots of opportunities to build on top of. Its no secret Snap sees its future as a camera-based computing platform. Snap Kit, the Snap Map, AR Lenses, and now mini-apps are strategic pillars that will converge as Snapchat eventually launches a phone, AR glasses, or another piece of hardware that isn't on anyone's radar yet.
Microsoft took the lid off its Fluid Office Framework. Its an open source, web-based framework that embeds Office into other products with real-time collaboration. Its launching on Office.com and Outlook. Teams integration will come next, and non-Microsoft products soon after. Microsoft has been building this for 18 months with a team of approximately 140 employees. This should increase the stickiness of Microsoft's bundle and likely creates many opportunities for other products to build on top of it. It will also bring up strategic questions that other companies building in the space will need to answer.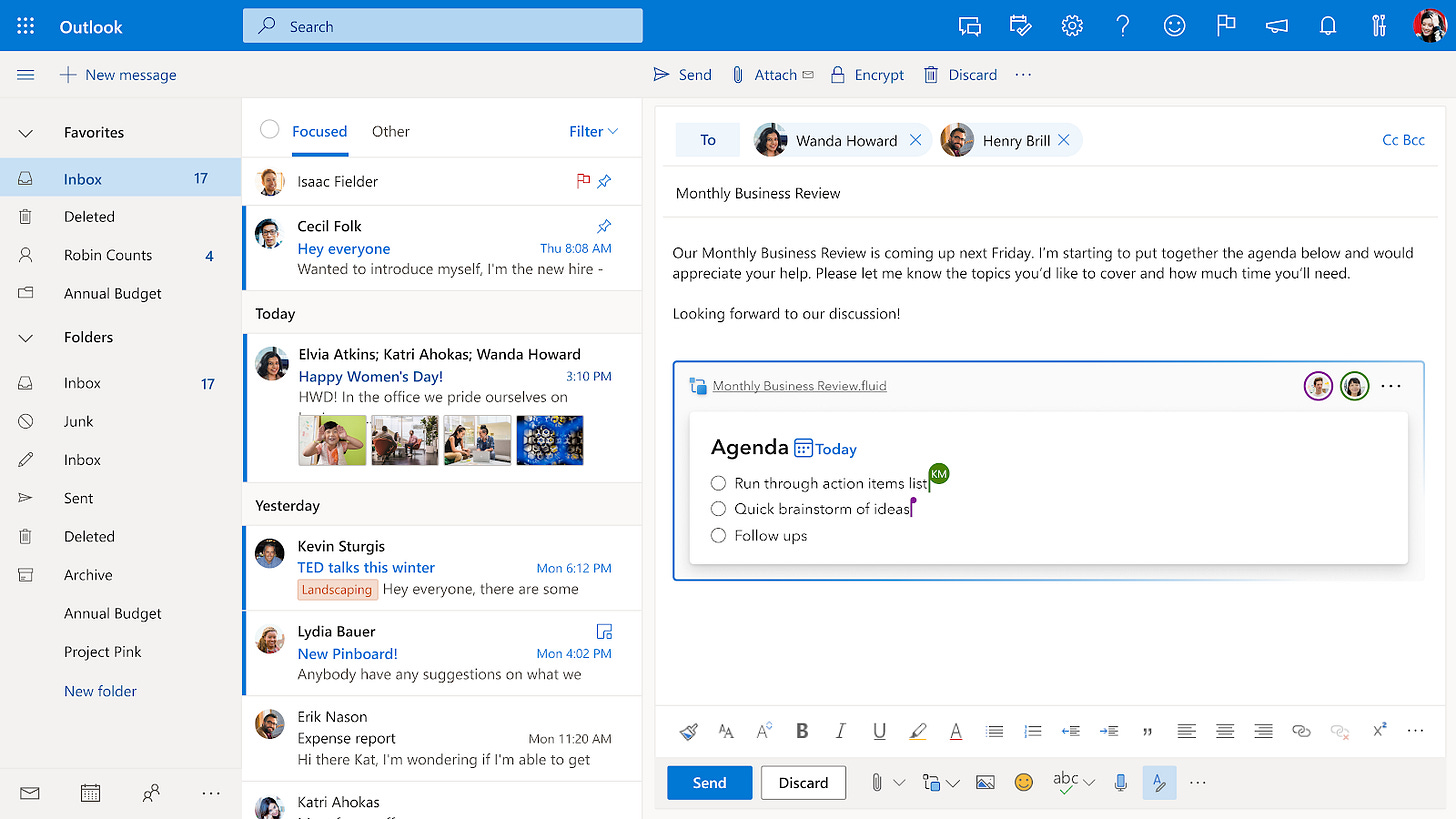 Instagram to start showing ads in IGTV. 55% of revenue will be shared with creators. IG also announced users will be able to purchase badges that appear next to their comments during a particular accounts live stream. This feels like a long-time coming, and puts even more pressure on TikTok and other platforms to launch creator monetization.
---
I write about the intersection of business and technology from my perspective as a venture capitalist. If you'd like this in your inbox twice per month, please subscribe! If you'd like to read what I'm thinking about more often than that, follow me on Twitter at @TurnerNovak.