Discover more from The Split
Stay on top of the latest tech and startup stories.
Over 23,000 subscribers
Amazon Launches Same-Day Delivery From Mall Brands
YC reduces batch sizes, Michael Saylor steps down from MicroStrategy, Pepsi invests in Celsius. 🤔
Happy Thursday! Amazon just announced it will offer same-day delivery fulfilling orders for other retailers. While I doubt it gets me shopping at PacSun, it could be a smart move.
We're also working on something cool we hope to announce on Tuesday. Stay tuned!
Amazon Launches Same-Day Delivery From Mall Brands
This week, Amazon announced it will offer same-day delivery from other retailers. Launch partners included PacSun, GNC, SuperDry, and Diesel. This third party inventory can be discovered and ordered through Amazon's app or site. An Amazon delivery partner then picks the order from the retail location and delivers it to the customer, and some locations may offer in-store pick-up.
Aside from just learning that PacSun still exists, I think this is smart from Amazon. It increases utilization of its franchised last mile delivery fleet (Flex), and helps these retailers turn their inventory faster (while making them more reliant on Amazon for consumer demand). It also continues the overplayed meme of Amazon generating revenue from its cost centers (how long do we think until these retailers are paying Amazon for the pick-up foot traffic?).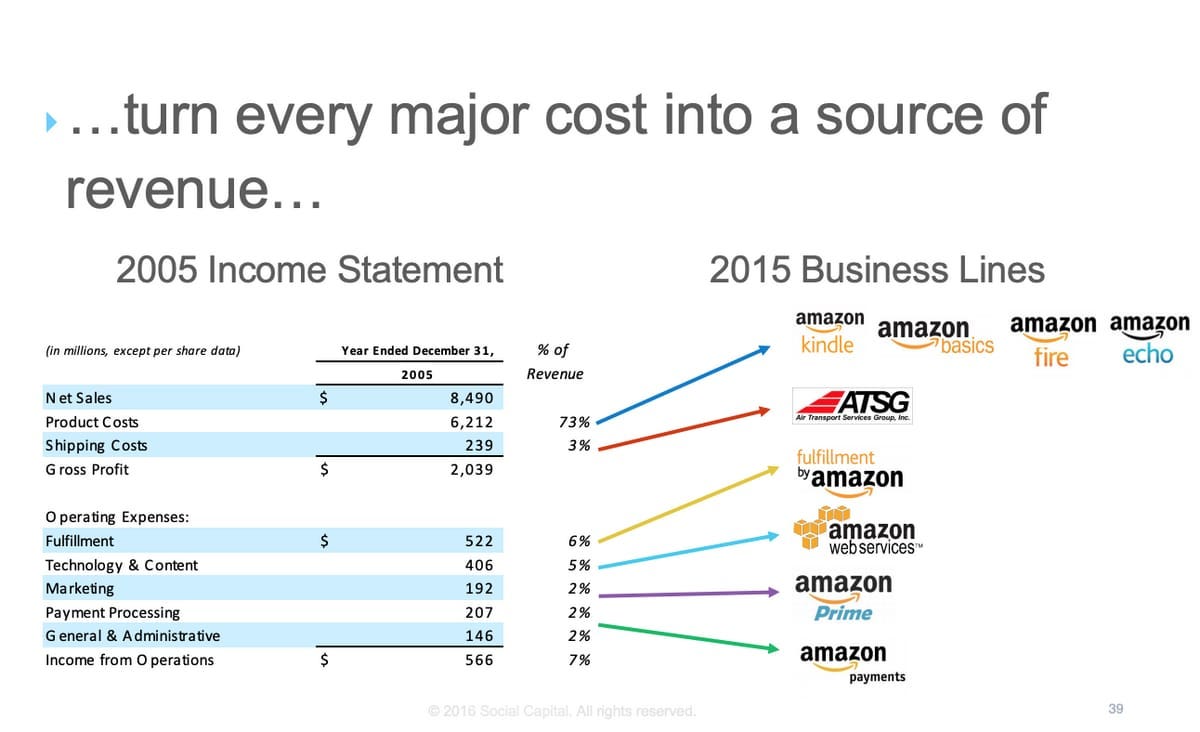 The pick-up component is smart. While not every customer wants to pick-up an order, marketing and logistics are two of the highest variable costs in ecommerce. Eliminating the cost of last mile delivery to the customer (often the most expensive) improves margins or allows for reduced prices. It also shifts the point of sale from the store to online, increasing Amazon's advertising inventory, its highest margin product.
We've internally been skeptical at how fast Amazon could effectively compete in same-day, on-demand, and last-mile delivery against the likes of DoorDash and Uber. And I still think there's a way to go until they can deliver in 15 minutes. But by first building Flex to shift fulfillment from UPS, and then layering on things like this new same-day initiative and fulfilling mall-based retailers deliveries, its getting closer.
SoftBank emerges as big loser in tech downturn: After pulling back in 2019, Masa himself led a charge to double down into rising valuations. SoftBank invested $38 billion into 183 companies in 2021, the most ever by a VC in a single year. After the market pullback, analysts think Vision Fund 1 and 2 fair value may be down 60% from highs. "I'm a lot more worried about Vision Fund 2 than I am about Vision Fund 1, and I have very little faith in Vision Fund 1" said one. More.
YC summer batch size down 40%: A slew of factors, including a return to in-person batches (sizes increased when remote during COVID) and a tougher funding environment are the likely reasons. After increasing its check sizes from $125k to $500k last year, we've anecdotally noticed a much higher valuation floor in startups coming out of YC (~$20 million). This has caused us to not followed the batches closely and heard similar comments from others. A smaller cohort will likely better balance supply and demand, especially as VCs have slowed investment pacing this year. More.
MicroStrategy CEO Michael Saylor steps down: After building his public image borrowing billions of dollars and investing $4 billion of the corporate balance sheet into Bitcoin (MicroStrategy's current market cap is $3.5 billion per Yahoo Finance), he's stepping down to "focus more on Bitcoin" in his next job. He then tweeted how MSTR has outperformed every major asset class since adopting his Bitcoin strategy.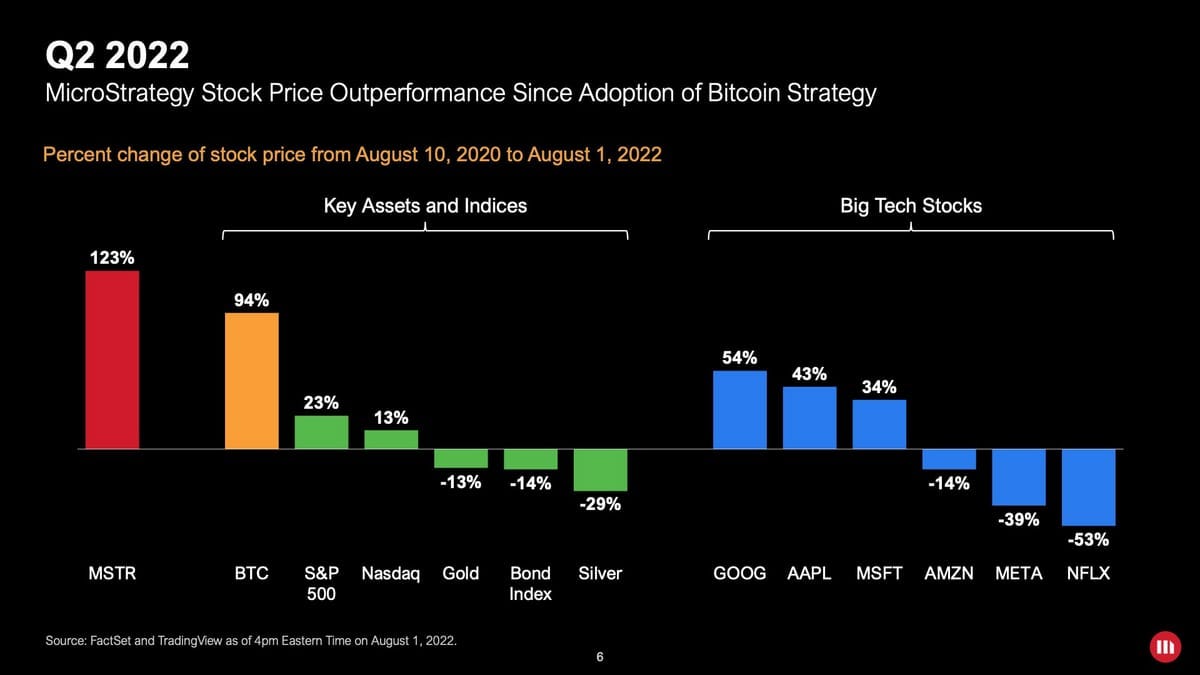 Shanghai to LA shipping rates drop 32% YoY: The cost to ship a 40-foot container has fallen 32% YoY through July 28th as the world works through global supply chain issues. Maersk, one of the world's largest container shippers with 17% market share, expects easing to continue throughout 2H '22. h/t @LizAnnSonders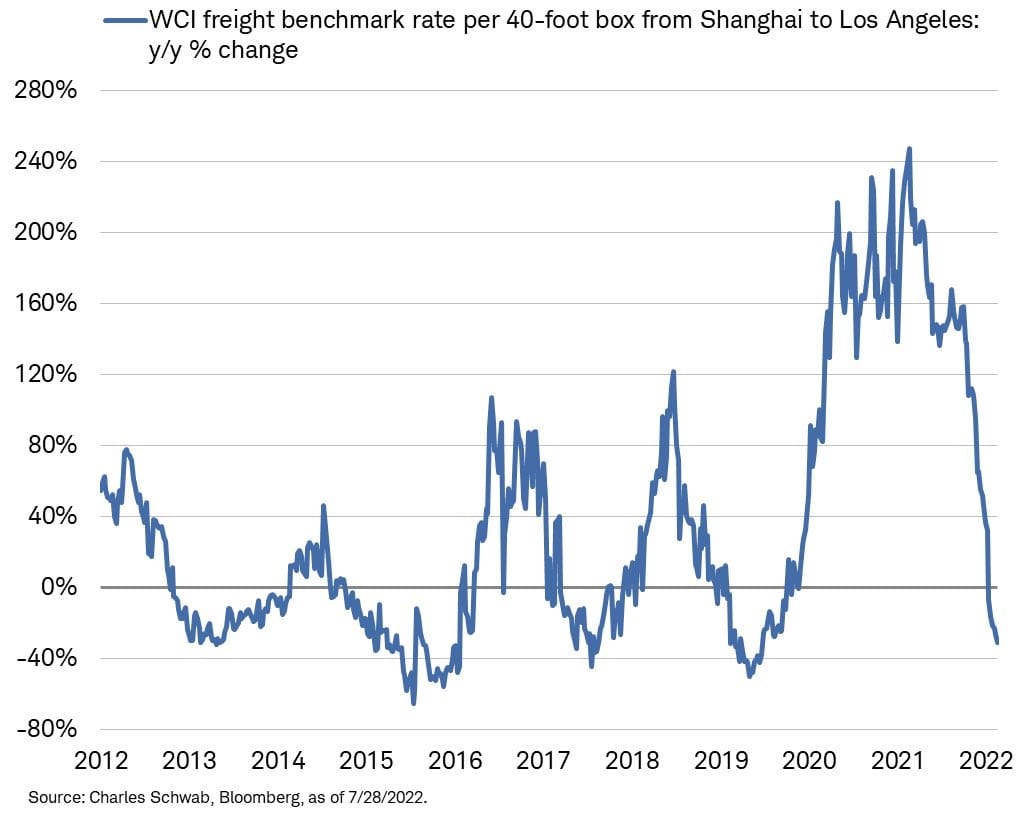 EV Sales up 72% YoY: At the risk of sharing without knowing the accuracy of data in an ARK chart, new EV sales significantly outpaced ICE through 1H '22. h/t @skorusARK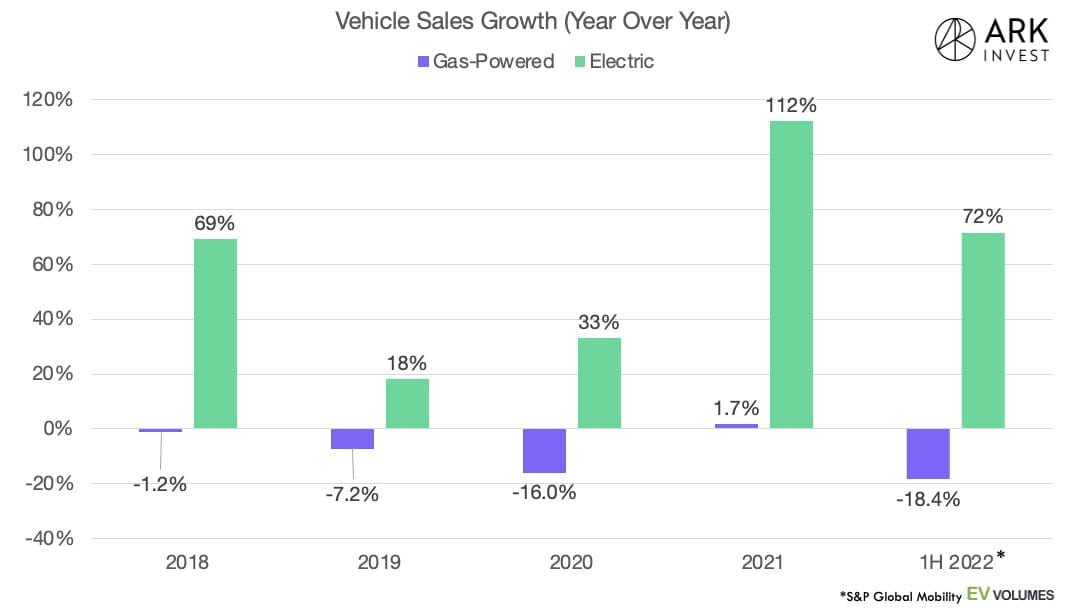 Ramp data shows VC-backed startups decreased spend 9% in June: This is compared to a 25% increase in the same period last year. Largest decreases in June were in electronics (-32%) and shipping (-27%). Spend on lodging and restaurants increased 4%, but hard to gauge the true impact considering COVID may have limited travel. More.
Chinese homebuyers boycott mortgage payments: A group of Chinese citizens paying mortgages on unfinished high-rise condos has sparked a countrywide boycott. After fronting down payments of up to 40%, many Chinese homebuyers have paid mortgages for years awaiting construction. Liquidity crunches at over levered property developers have caused construction delays. Online petitions turned into in-person protests at over 320 projects in 100 cities, some of the largest in China's history. More.
Pepsi invests $550 million in Celsius: The energy drink. More.
From Tuesdays poll, on a scale of 1-5, how confident are you in TikTok's ecommerce business?
33% of respondents were "5 - Very confident".
2 received the second highest votes at 24%, with Balaji at Marqeta citing TikTok's ability to handle fulfillment as a concern.
Featured Jobs
Some open roles across the Banana portfolio:
If you're hiring, we're working on a way to help. Stay tuned!
Monkey Business