Discover more from The Split
Stay on top of the latest tech and startup stories.
Over 23,000 subscribers
In November of 2017, Bytedance acquired Musical.ly for $1 billion. In August of 2018, Bytedance officially rebranded Musical.ly and TikTok into one app.
Shortly after, ByteDance raised $3 billion and was valued at ~$75 billion. Analysts estimate its 2019 revenue was anywhere from $16-20 billion, up 100% from 2018. Its market share of the Chinese digital ad market has grown from zero to 22%, up from only 5% in 2017.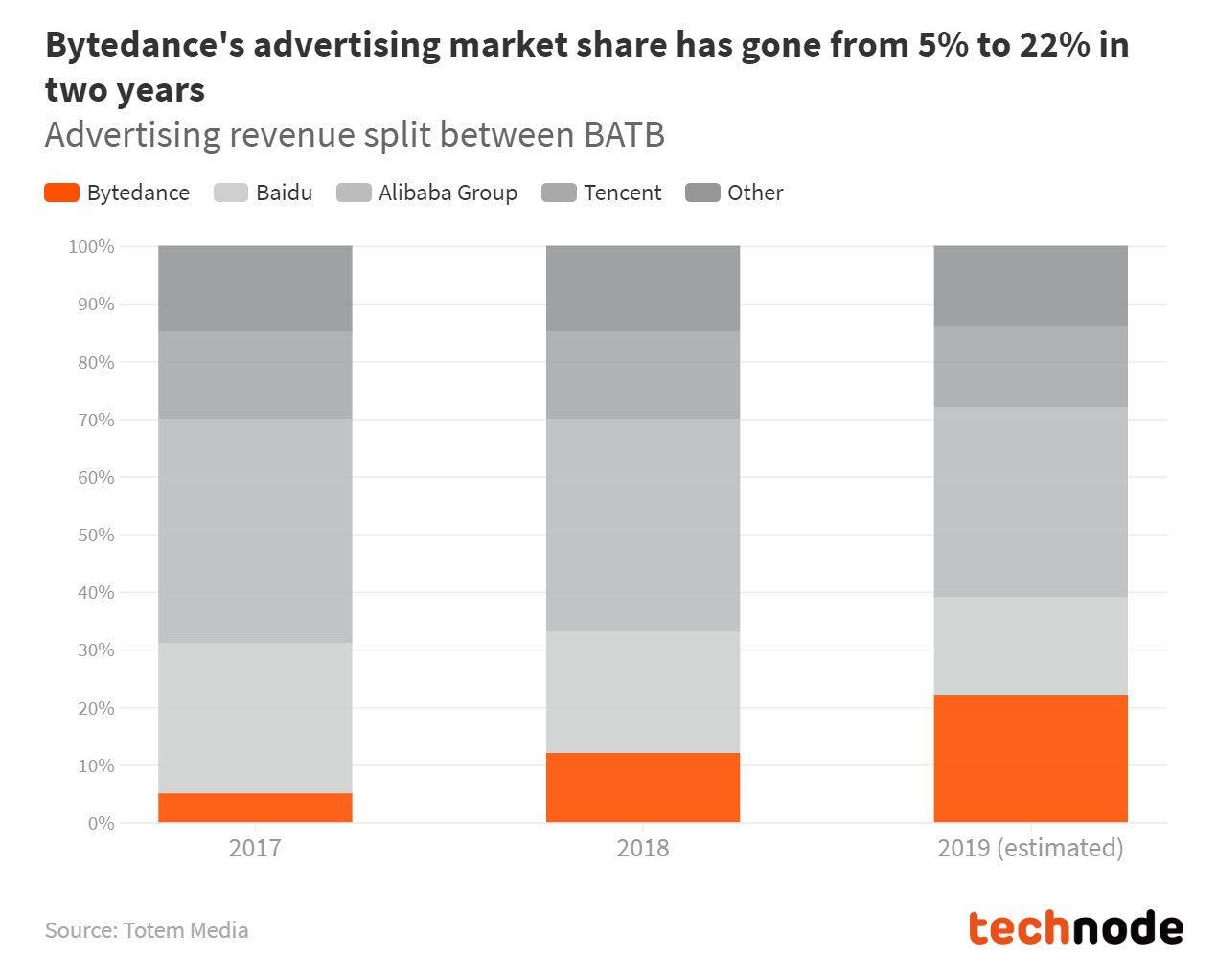 TikTok has become the best way to create and consume short videos on mobile. It rode the wave of AirPods and audio memes to over 1 billion DAU's (Daily Active Users), and is likely worth ~$200 billion. This would make it not only the world's most valuable "startup" but one of the world's most valuable companies, period.
Introducing ByteDance and Toutiao
ByteDance is arguably the most serious competitor to Google, ever. It reaches consumers in the two largest middle classes in the world, China and the US, at a scale larger than any other digital advertising company. Like its Chinese counterparts, its seen success with monetization models beyond just advertising, which US-based competitors have struggled with to-date.
The company was founded by CEO Zhang Yiming, the son of civil workers in the southeastern city of Longyan. He studied microelectronics and software engineering at Nankai University. ByteDance's first product Jinri Toutiao ("Today's Headlines") launched in August of 2012. Its best described as the Facebook news feed with no content from friends that serves hyper targeted content and ads. It peaked in mid-2018 at around 200 million DAU's using it for an average 74 minutes per day; nearly twice as long as Facebook, Instagram, and Snapchat.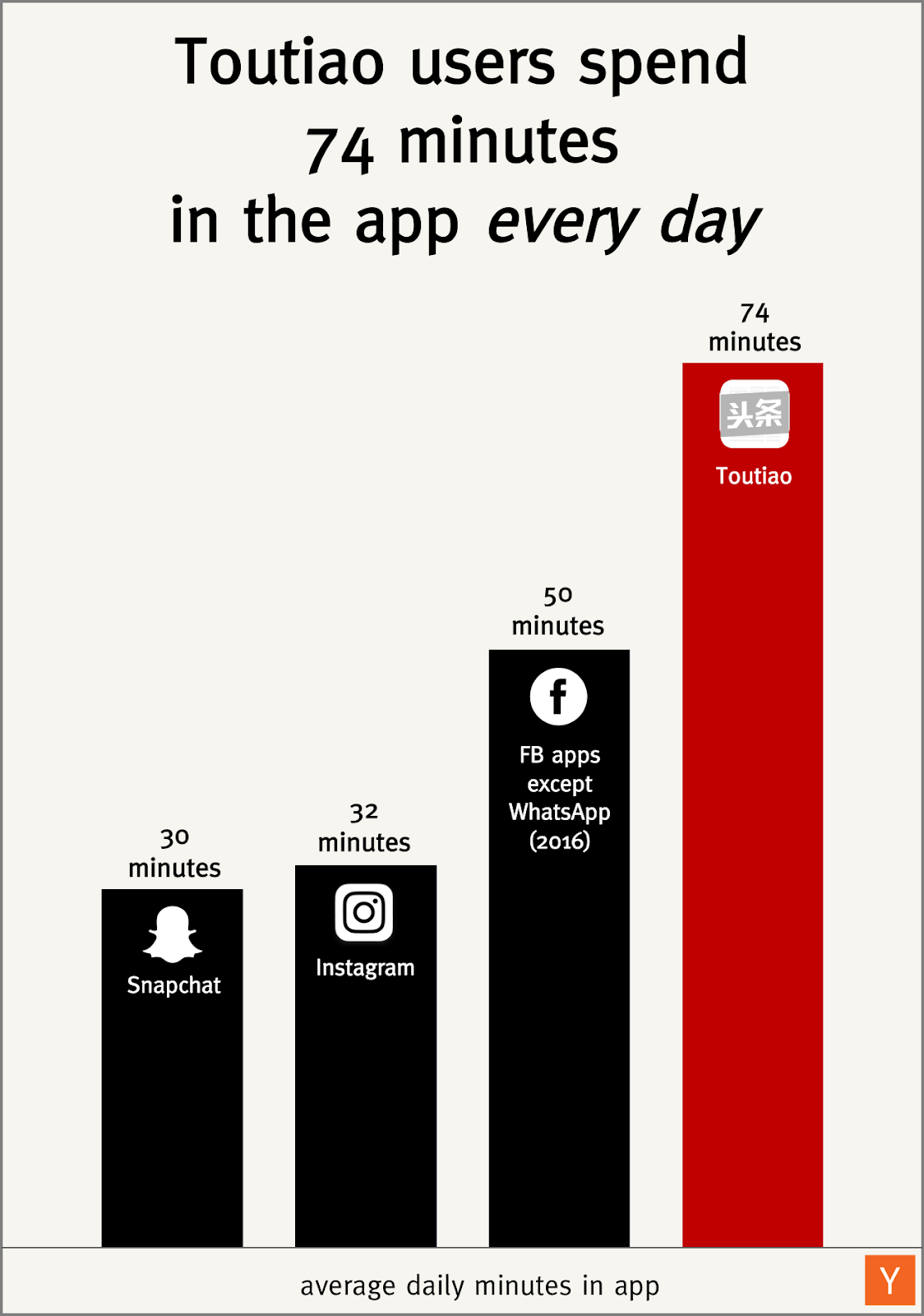 According to reports, Zhang had the idea in 2008 when he was still running the social site Hainei.com with Wang Xing (who founded Meituan). He was using his computer to book a train home and set up a system that sent him a text when a ticket became available. After Hainei, Zhang founded multiple other companies. He was CTO of online travel booking provider Kuxan, CEO of Twitter-clone Fanfou, and CEO of 99Fang, a real estate listing portal that reached 1.5 million users. He also launched a collaborative enterprise software service in 2003 while still in college and spent a short-time at Microsoft in China in between his entrepreneurial endeavors.
When Toutiao launched, China's mobile news market was dominated by censored state controlled media and web portals like Sina and Sohu that served lengthy, boring text that was written and optimized for desktop. Toutiao's initial product crawled content from around the long-tail of Chinese web-based media and reformatted it for mobile. For a time, it went as far as removing the original ads and replacing them with its own.
Toutiao initially seeded the app through Weibo influencers (the Twitter of China). It used aggressive push notifications and frequently nudged users to share content (more later), which helped it grow to 10 million users within 90 days. New users logged in with their Sina or Weibo account, which Toutiao scraped for initial interests and friends. It then used each user's individual usage data (how they tapped, swiped, or paused, time spent per article, their comments, location, time of day, and much more) to serve each user the most relevant content. It changed the titles, cover images, and even shortened most articles. This got users to an 80% read rate on each article in less than one day, which contributed to the 45% lifetime user retention it boasted early on. This was all instant and free compared to human editors and gave Toutiao a 10x better product at a 10x lower cost.
Traditional media companies of course hated all of this and Toutiao was in constant legal disputes. It claimed it was hard to attribute original sources of any particular story and that many sites crashed the app due to bad formatting on mobile. Toutiao eventually let users bounce to outside sites, and Toutiao often made up the majority of publishers' traffic. In 2014 Weibo's traffic started declining, and it invested in Toutiao's $100m Series C round in exchange for guaranteed traffic.
Toutiao soon convinced publishers and curators to create content directly in the app in exchange for a revenue share. A majority of the read-time on Toutiao quickly shifted to partner contributed content. Toutiao's targeting gave its contributors a larger, more relevant audience, much faster than any other platform. This further incentivized contributors - and it had 1.2 million by 2017. State-controlled entities embraced Toutiao because, unlike any other services like Weibo or WeChat, they did not need followers to distribute public statements or updates on health epidemics. Tencent, Alibaba, Baidu and many startups eventually launched similar news products, but Toutiao's high-margin business model (its core business was reportedly profitable in 2015 with $220 million in revenue) helped partners monetize their content and kept most contributing directly to Toutiao.
Over time Toutiao added relevant comments from friends (made on other platforms) to articles, the ability to share pictures to a feed, job listings, buttons to launch into fitness, music, and podcast apps; and live streamed shows, interactive Q&A channels, and a platform for full-length movies (Xigua). It followed other Chinese tech giants and introduced mini programs in 2018, which allowed developers to build app-like experiences within Toutiao. This introduced third-party delivery for restaurants, groceries, and pharmacies. Last, Toutiao had a culture of quickly shipping new apps with names like "good-looking pictures", "connotation comics", "funny embarrassment", "must-see videos tonight", and "getting pregnant when you laugh too much" and shutting them down within two months if they didn't take off.
Most importantly, Toutiao incorporated video all over the app. Similar to Facebook, this allowed it to start inserting video feed ads. Toutiao initially went after big brands just starting to invest in mobile ads. Despite being much smaller than competitors Baidu and Tencent, brands were convinced to try Toutiao's hyper-targeted ad product that reached its wealthy user base in Tier 1 and 2 cities. The targeting worked so well that data-driven marketing companies like Meituan were spending 85% of their ad budgets on ByteDance properties by July of 2019.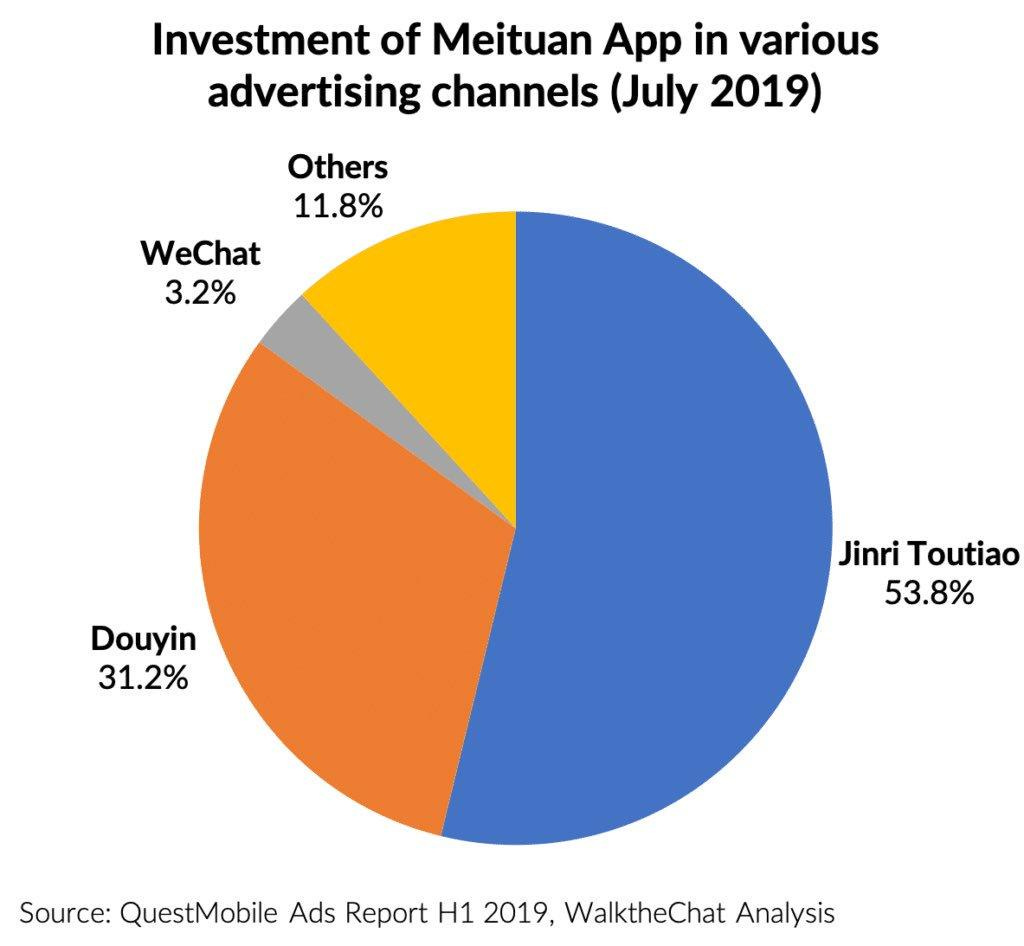 Toutiao's reach with Chinese consumers and ability to hyper target video ads propelled ByteDance to an estimated $16-20 billion in revenue by 2019. This was more than twice Google in its eighth year of existence (2005).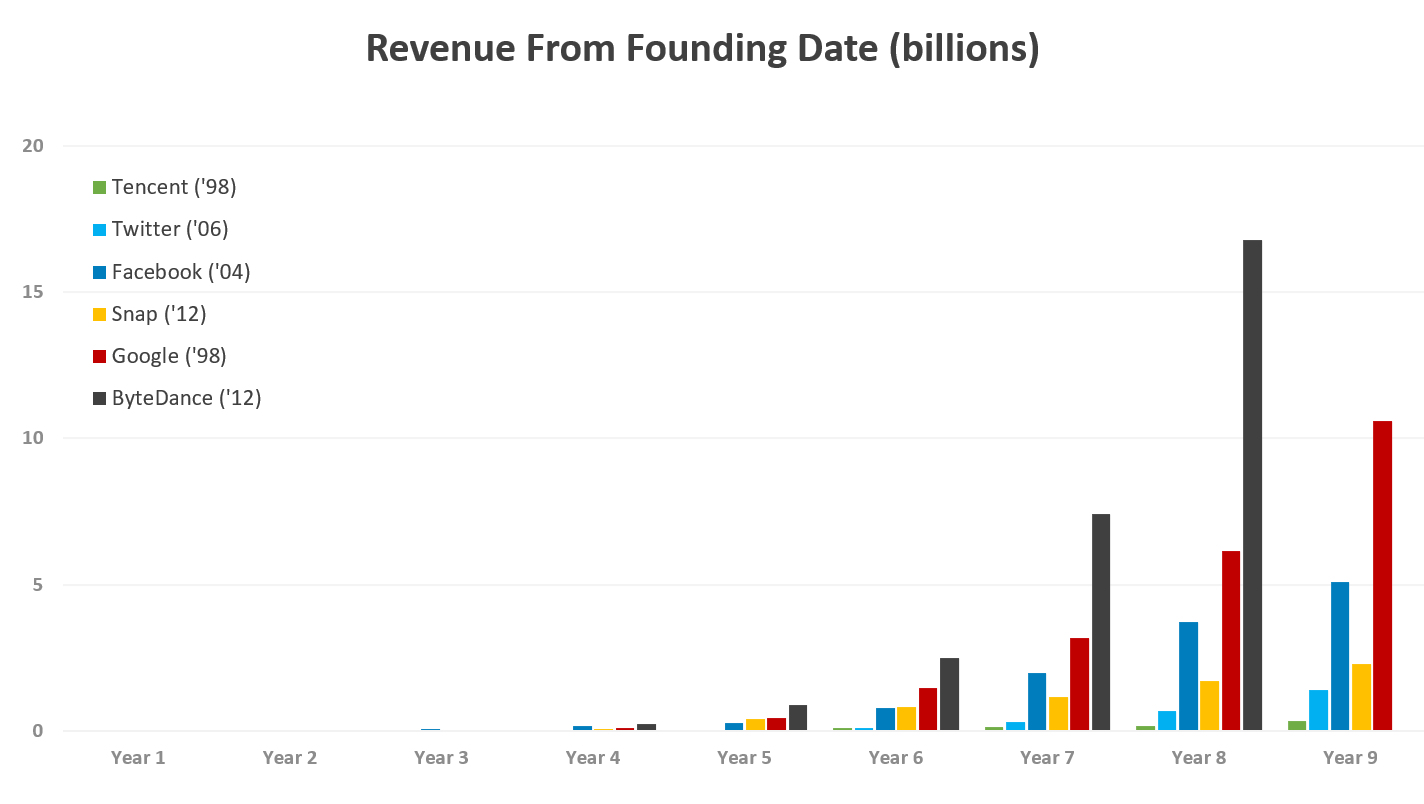 In September of 2016, ByteDance used its core recommendation algorithm and the distribution it had built up with Chinese users and advertisers to launch short-video app Douyin in China (originally called A.me), and TikTok to the rest of the world in 2017 (important to note these are two completely separate products). Not only did this expand Toutiao's video ad inventory, but also created an avenue for introducing commerce and expanded outside its largely-male user base. Most importantly, it became evident by 2018 that Toutiao had reached maturity and ByteDance's future growth would need to come from new products.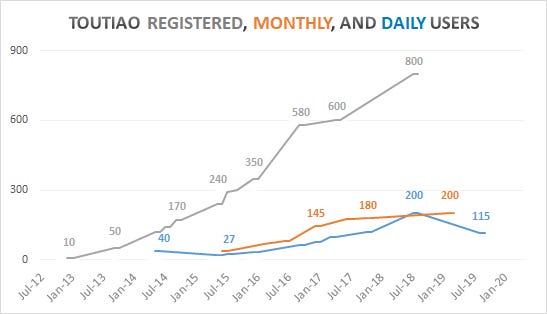 Zhang, ByteDance's founder and CEO, has stated his primary strategy is to eliminate the need for search - how Google and Amazon serve their very profitable advertising products - and immediately serve users exactly what they want. All digital ad products have evolved to serve recommendations in some form or another; however their core DNA's rely on products originally designed for desktop, not mobile.
TikTok: YouTube Built for Mobile
Its hard to argue with TikTok's success. It disclosed it had over 1.5 billion MAU's (Monthly Active Users) in June of 2019 and TikTok's US leader suggested it was surpassing 1 billion DAU's in October of 2019. Besides a ruthlessly executed growth strategy that I'll explain later, it rode a few specific UI decisions to become a global phenomenon.
Video-First UI
TikTok's key feature is a video-first interface, the "For You Page", that takes up the entire screen and starts playing immediately, sucking users into the app. There's a one-screen onboarding at the very first open, with no login required as it creates shadow profiles based on device ID. Many users don't actually have accounts. Every video loops by default, and users swipe up and down to navigate the endless stream of videos, sideways to jump into a creator's profile for more content, or tap one of multiple small buttons around the edge of the screen.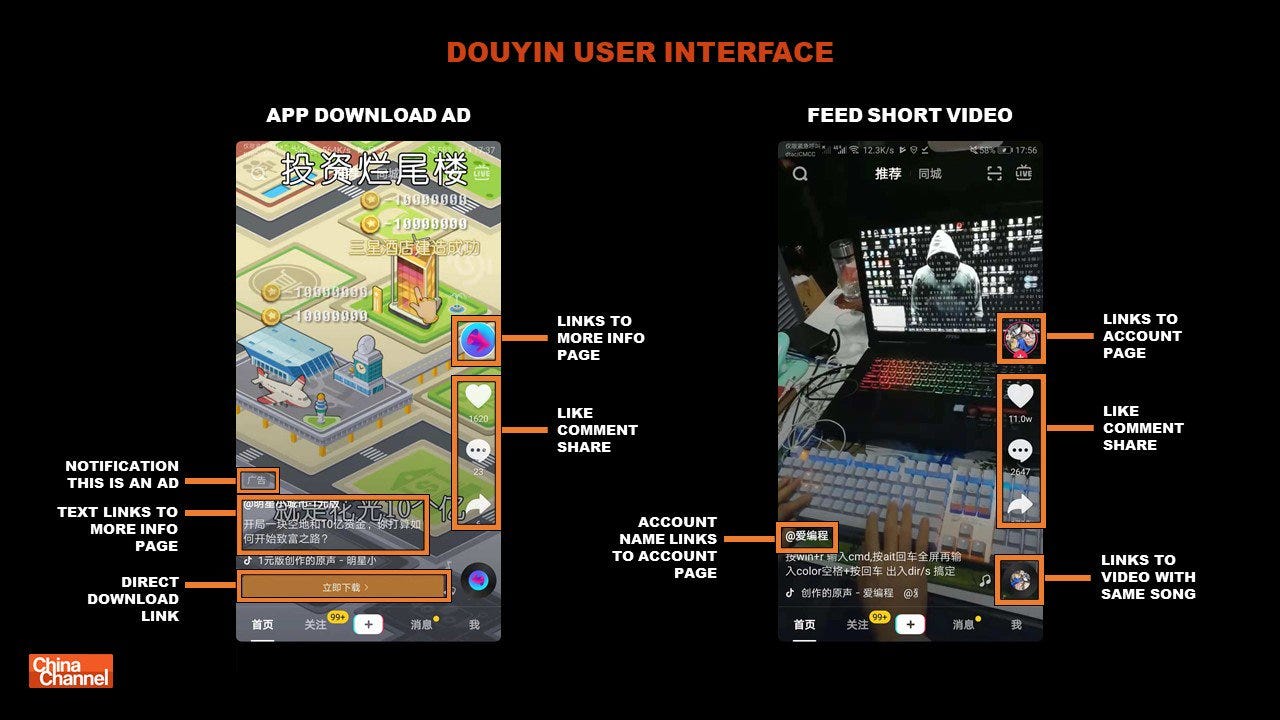 Just like Toutiao, TikTok uses app behavior to quickly build each user a data profile. Other digital media companies serve content using algorithms, but their mobile products carry design debt from feeds built for desktop. Large portions of the valuable, limited screen space on mobile is wasted. Here's a comparison of three different core use cases: Do you think someone is more likely to watch a video or engage with an ad on WeChat (16% of screen), Instagram (31%), or TikTok (100%)?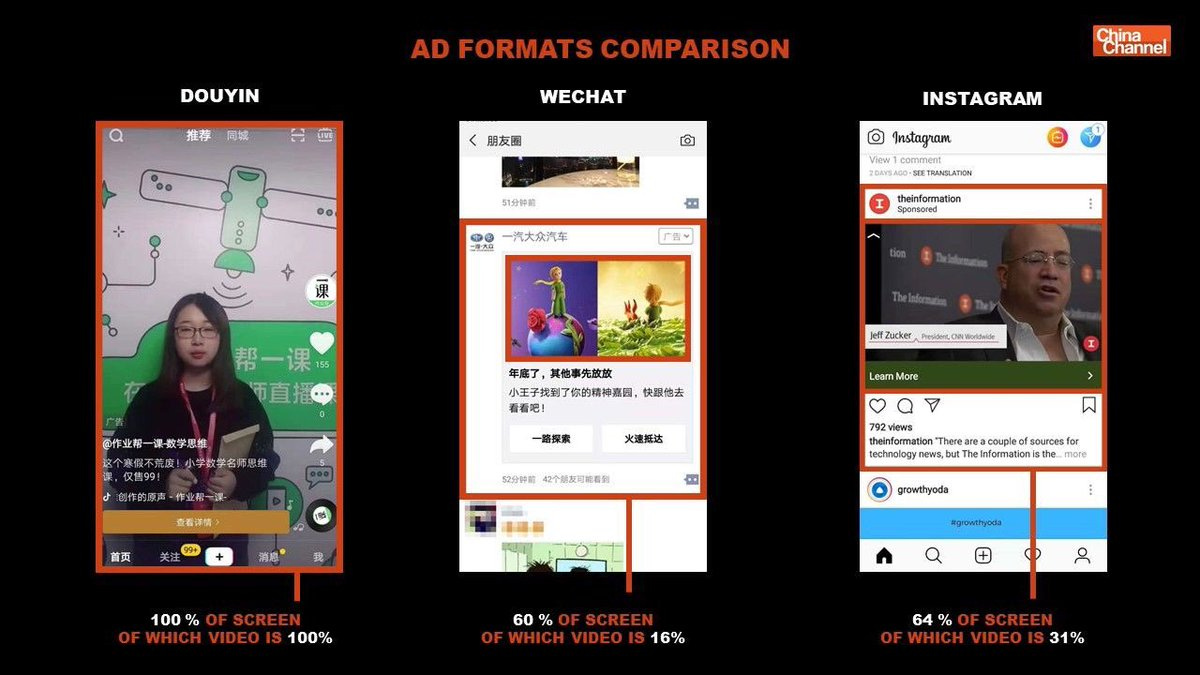 The cross-cultural nature of UGC video may also have stronger network effects than traditional news or text-based social media. Purely entertaining bite-sized content may stay relevant to the TikTok algorithm for years. And a silly video uploaded in Thailand is potentially interesting to someone in Romania and the US.
Short-Form Video
Content on TikTok is very short - originally 15 seconds, and now up to 120 on Douyin in China. Short video is optimized for mobile by default, and naturally leads to a very different product DNA than long video.
Short-form reduces the friction of both creation and consumption. Most TikTok videos are produced by the creator alone, and many post multiple videos per day. A ByteDance advertiser deck from 2018 claims 34% of US users shoot content daily. Longer content on other platforms is typically not shot or edited on mobile, and creators often employ large teams around them.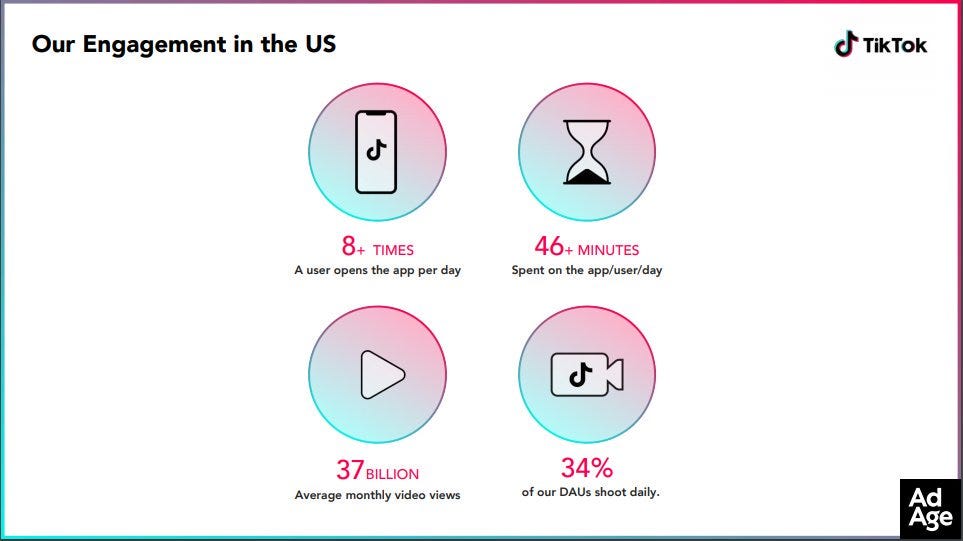 Editing content themselves also puts TikTok creators much closer to the action. They must constantly consume the product themselves and understand the nuance of the community. An assumption could be made that the younger, mobile-first creators on TikTok are more motivated and innovative than their older predecessors on YouTube.
From a consumption perspective, an experience of entirely short content has less commitment each time a user opens the app. Each dopamine hit happens fast, and many TikTok's climax at the very end (the algorithm favors watch-length). All videos replay by default, which often leads to multiple re-watches (which also has heavy weighting in the algorithm). This trains each users algorithm very fast: in the time it takes to watch a 10-minute YouTube video, TikTok can capture data from 40, 15-second videos. Training users to actively sit through full videos (that play with sound by default) makes them more receptive to ads, and TikTok's bite-sized content will provide frequent, natural ad-breaks as its US advertising business ramps up.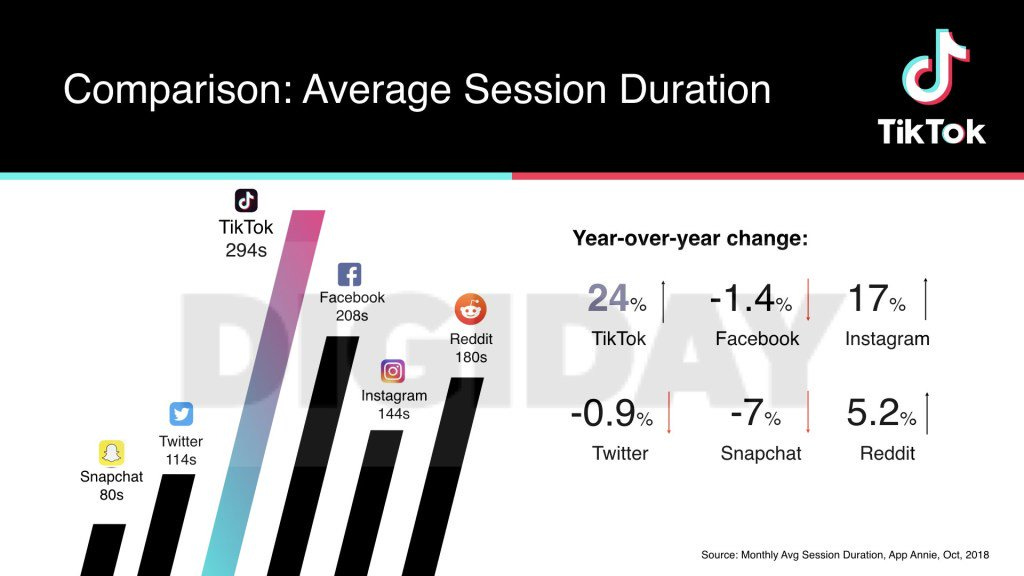 YouTube, TikTok's closest competitor, is optimized for large screens and simply not competing on the same playing field. It just signed its biggest star, PewDiePie, to a Live Streaming deal - and over 100 million people watched YouTube on a TV in March.
Snapchat Stories evolved from the constraint of sending picture and video messages to friends with the camera, and worked perfectly built on top of its core messaging use case with very strong network effects. When following Snapchat, Instagram failed to capture the greater opportunity by copying the format exactly and bolting it at the top of the feed, even though it did not have the same messaging constraint. Instagram placing this artificial constraint on creation, opening to the feed by default, and its emphasis on a follower graph, all capped the potential of any full-screen video product it launched.
Anti-Social Social Media
TikTok is the largest social media company that has little reliance on a social graph.
Facebook had a growth mantra of "7 friends in 10 days" that made the product sticky for new users, but TikTok doesn't require any friends, followers, or even an account. The hyper-personalized algorithm recommends content based on thousands of objects and tags analyzed in each individual video, along with an individual user's view history, re-watches, likes, comments, shares, and even post-view activity. a16z partner Connie Chen called TikTok the first mainstream consumer app where artificial intelligence IS the product. This runs in stark contrast to the algorithms of legacy social products based largely around interactions from other users.
This anti-social approach may have more staying power than traditional models that suffer from context collapse, where the value of the product eventually goes down as a user adds too many friends. By default, TikTok separates young users from their parents as the user base matures. The switch to non-chronological feeds allowed Facebook, Instagram, and Twitter to smoothly transition into boosted and sponsored posts, and TikTok will have no chronological component whatsoever from the first moment it turns on self-serve programmatic advertising.
TikTok's Expansion Strategy
TikTok used a very deliberate expansion strategy in each new market:
To start, it created the best tool to edit short-videos on mobile. This included easy clipping and scrubbing, a variety of filters, and a large library of music. Initially, many creators used it to post on other platforms. TikTok forces videos to be posted in order to export them, and also inserts a watermark on every exported video. Influencers on Weibo, Instagram, YouTube, and Twitter all drove traffic back to Douyin and TikTok, whether they realized it or not. Many creators who initially used it as an editing tool would deliberately start posting more when they noticed fans started following and interacting with them on the app.
Additionally, it made creators first-class citizens, giving them full-service support that included weekly content suggestion emails, 1-on-1 demos with TikTok's staff, and live in-person events to create a community and encourage collaboration (an important aspect explained below). They even sent phone stands to keep their phones steady while recording.
It went after each market's biggest social influencers, and quickly built them social capital on the app. In the early days, everyone on its operations teams was tasked with roping in influencers (and long-rumored to have found ways to pay them to post). ByteDance partnered with (paid) celebrities to seed Douyin with content in China. One early partnership was with Baidu-backed streaming service iQIYI, where Douyin curated audition videos for China's first hip-hop talent show, growing DAU's from 290k to 1.73m between April and July of 2017. A partnership on a Michael Kors catwalk event in mid-2017 led to another spurt of user growth. Its speculated both Douyin and TikTok ripped and re-uploaded popular videos from other platforms to seed themselves with interesting content (Kwai is likely guilty as well), however some believe these were independent creators growing an audience. Finally, buying Musical.ly for ~$1 billion allowed ByteDance to enter North America and Europe by acquiring all its users.
Deliberate product decisions compounded this process. Extremely short videos, algorithmic discovery on the FYP, the muted importance of a follower graph, and constant traffic into the app via heavy marketing, cross-platform posting, promotion by influencers, and (eventually) habit allowed TikTok to deliberately control the allocation of social capital across the network to its most talented creators, both new or old, as new users poured into the app. Alex Zhu, Musical.ly founder and now Head of Product at TikTok, likens the process to creating a new country and giving a greenfield of opportunities to a new class of creators. Hyper fast user onboarding and no friend graph let it use the entirety of time spent in-app allocating this social capital. Casey Newton described this perfectly:
"In previous eras, most of the spoils went to the platform's earliest adopters - mining value gets harder as the platform ages. TikTok, on the other hand, promotes all content regardless of who made it or how many followers [social capital] they have."
In business, superior distribution (reach with customers, users, etc) usually wins in the long run. A common way to beat a competitor with a distribution advantage is to build a better product that eventually surpasses their distribution. Despite fewer users, the product decisions above gave new TikTok creators instant distribution advantages over existing platforms. This was similar to when Instagram added Stories and gave creators instant distribution advantages over Snapchat. Creators with ~100k followers on Snapchat eventually switched to posting the same content for their ~1 million followers on Instagram. On TikTok, the best videos could instantly reach the entire user base.
TikTok also localized the content and creation tools for each market. Eventually, content in markets got so good that local influencer agencies began frequently scouting on TikTok, which created a flywheel as the best platform for creators. TikTok also allowed comments to be read in the bottom half of the screen while videos played. This encouraged more audience interaction with creators, participation with each other, and lots of inside jokes that spurred future content creation.
TikTok also aggressively promoted sharing of content. After two loops of a video, the share icon lights up (green icon on the left), which pops up an internal and external share page that takes up half the screen. TikTok is optimized for mobile web, and users get sucked into more videos they receive from a friend even if they don't have the app. These off-platform shares between friends allowed it to start building both data profiles and a friend graph for any future social products based on device ID.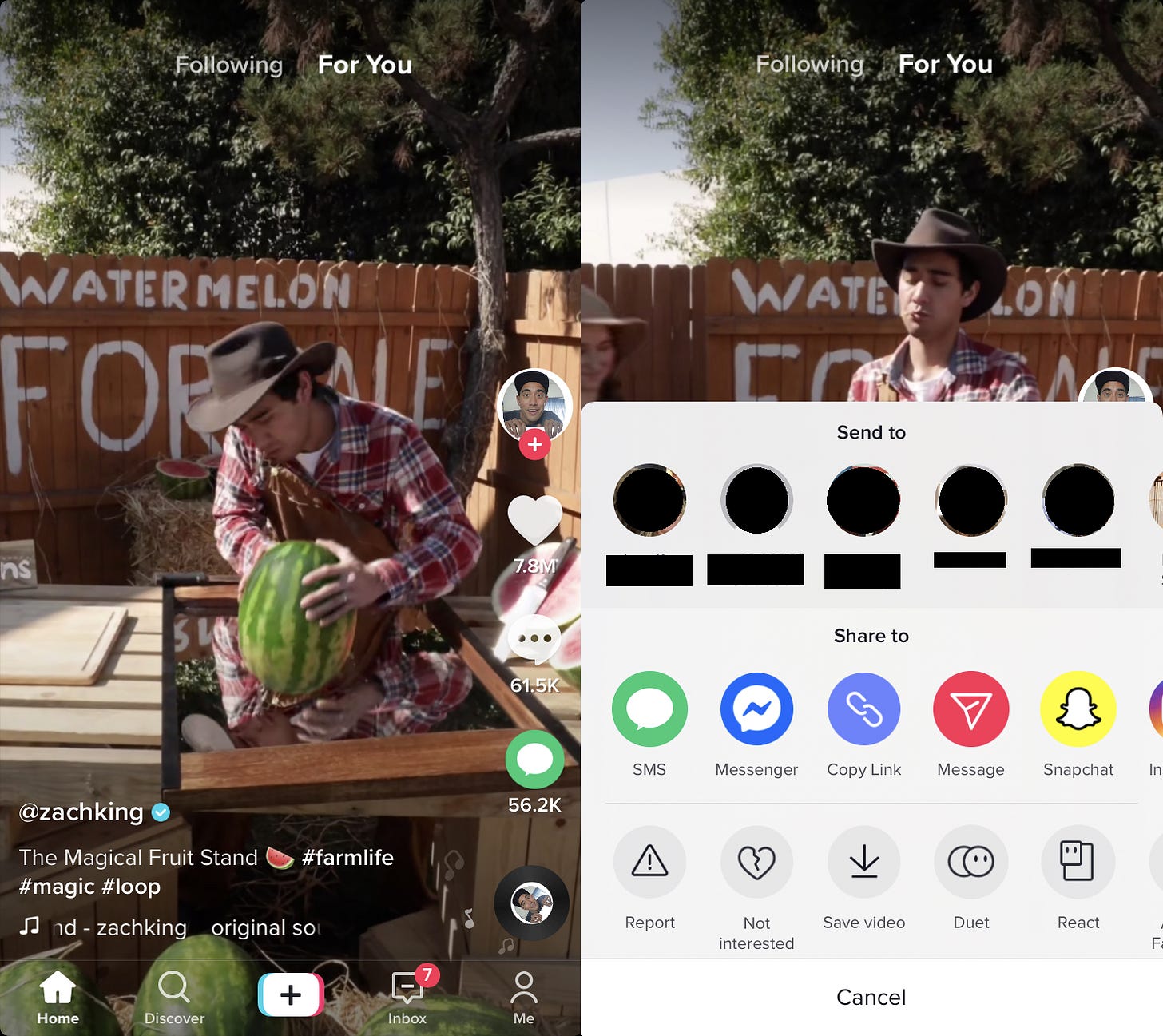 Finally, ByteDance flooded the world with marketing. It reportedly spent $3M/day on user acquisition and PR throughout 2018 and 2019, beating short-video competitors in each market by simply outspending them. TikTok spent over $300m on Google ads in 2018; and $10m/month in India alone. In Q1 of 2019, 13% of all ads seen by users of Facebook's Android app were for TikTok (Apptopia). At the peak of the ad blitz in September of 2018, 22% of all ads seen on Facebook's properties by Apple devices in the US were for TikTok. The watermark on videos posted to other platforms also fed this loop.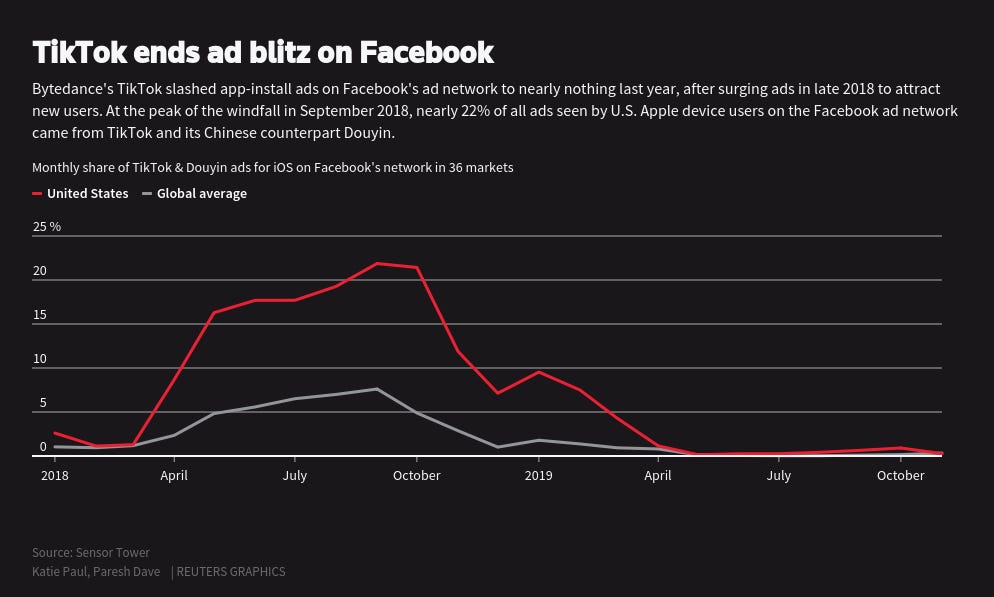 At first, TikTok's 30-day retention of new users in the US was as low as 10%. This was likely due to targeting such a broad audience with content still very similar to Musical.ly and Vine. Retention improved over time, and has hovered between 28-40% since early 2019 per App Annie. Even as early users churned, the massive flood of traffic gave TikTok views and social capital to allocate to new creators that were just joining the platform.
ByteDance gets lots of criticism for spending so much on ads, but it's worth resurfacing Elad Gil's 2010 reminder that sometimes it's worth spending money to kickstart a valuable network. Facebook used a similar strategy with Instagram by favoring it in the feed, which helped it quickly convert new users. As seen below, it's evident 50-75% of Instagram downloads ultimately came from Facebook in the years following the acquisition.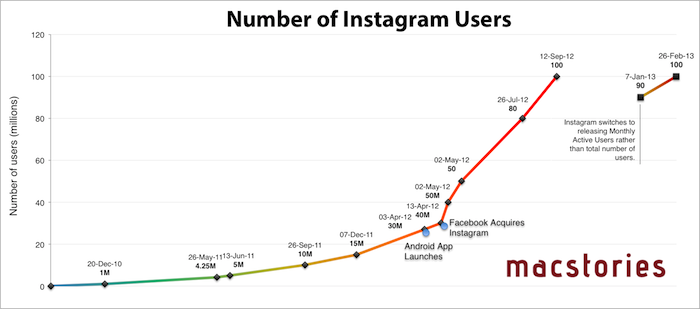 ByteDance didn't have Facebook, but it did have over $7B in high margin advertising revenue from one of the fastest growing businesses of all time. This allowed it to raise an additional $3B from SoftBank's Vision Fund that let it play by similar rules. In China specifically, it consistently dealt with dominant social network WeChat blocking access to Douyin videos shared by users. By necessity, cross-promotion in its own apps, aggressive sharing, and heavy marketing was part of its DNA.
As the growth of legacy platforms plateau, TikTok's exploding user base and time spent in-app allows it to continue strategically allocating social capital. TikTok has clearly eaten into Instagram's downloads...
… and the "monthly reach" in the US shown in Instagram's ad platform was FLAT in the US between January of 2019 and April of 2020, the most valuable market in the world, during a time most of the population was stuck inside.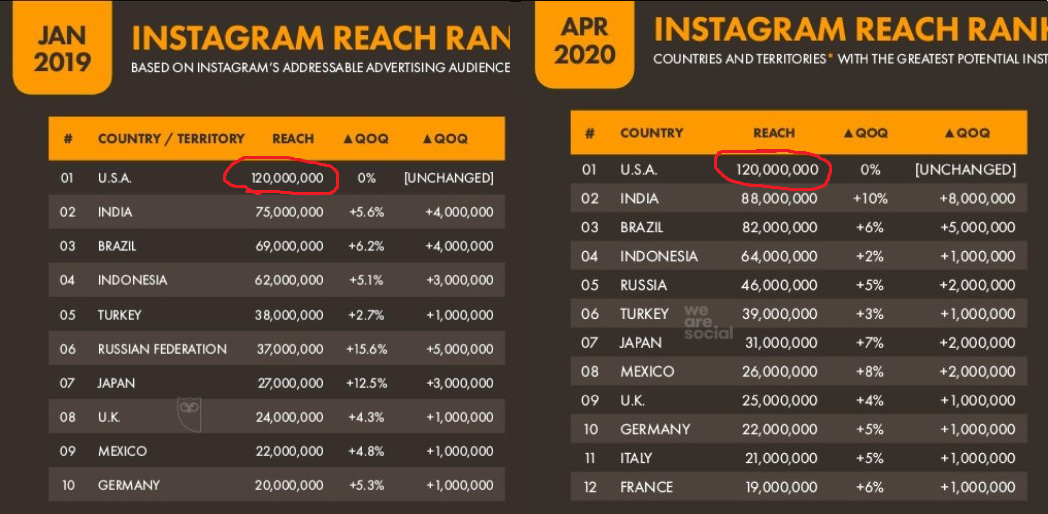 Investors and marketers haven't been too spooked by Facebook and Instagram's user struggles yet, but they will. App Annie data shows US users spend more time in aggregate on TikTok than Instagram (with a user base half the size), and reported time spent by Chinese users the first week of February was up 130% from the weekly average in 2019. ComScore reports total time spent on TikTok in the US increased 93% between October of 2019 and March of 2020, and 55% within the app specifically (this shows how frequently TikTok videos are shared and viewed outside the app). While ComScore usually under reports metrics on mobile, they're directionally correct and show that total time spent on TikTok by US users has nearly doubled in the last six months.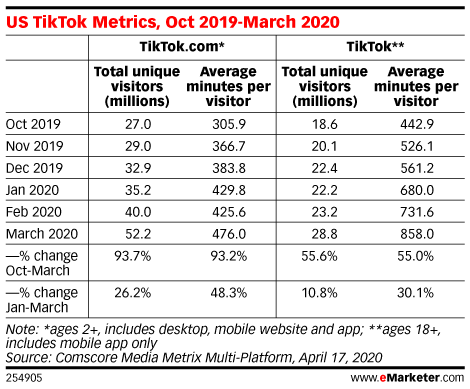 TikTok's downloads also accelerated significantly in Q1 of 2020 for its best quarter ever. This was presumably with much less ad spending, proving its strategy of smothering the world in marketing to kickstart the network worked.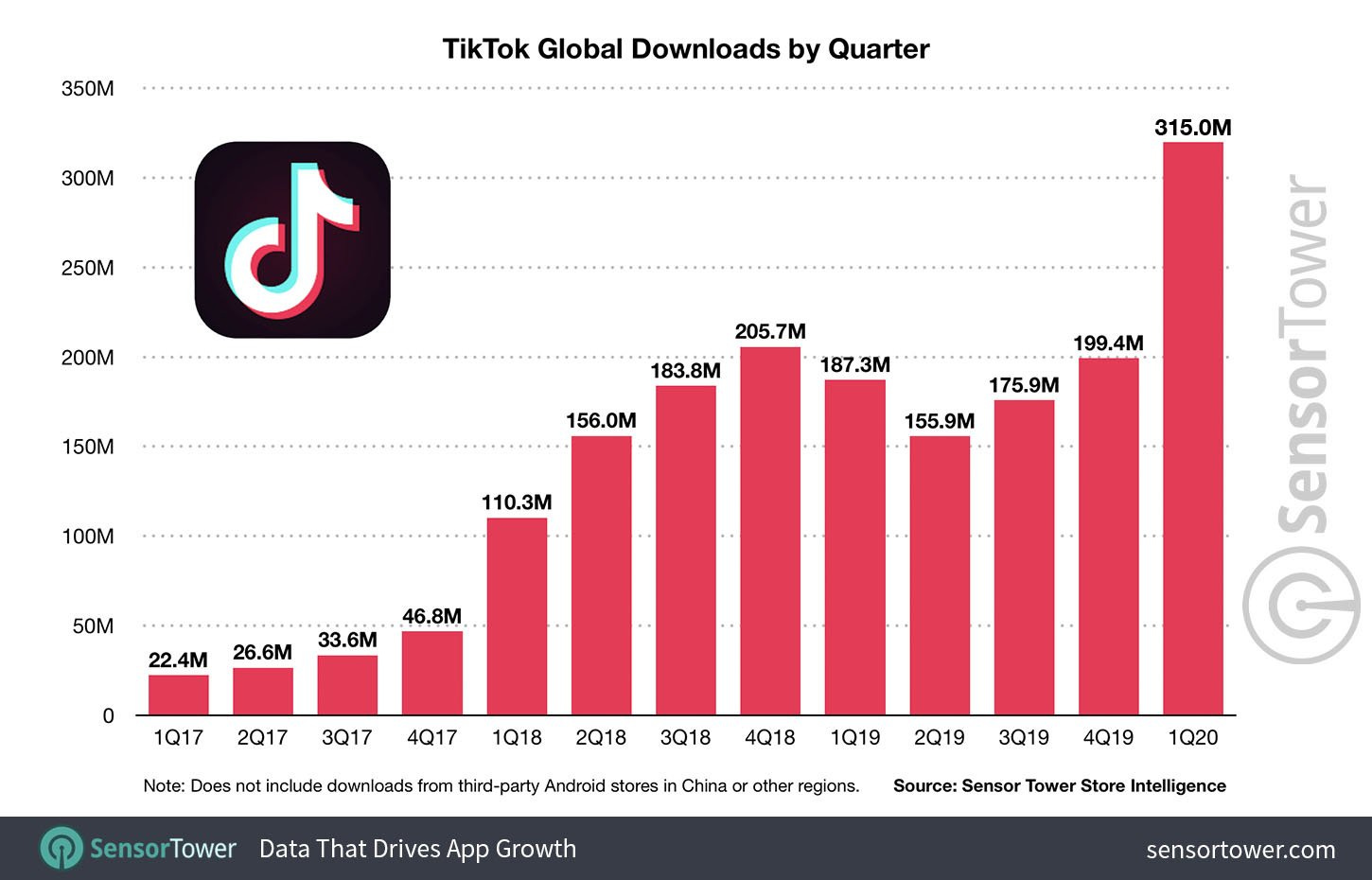 A combination of many forces above also allowed TikTok to leapfrog YouTube in social relevance. VidCon 2019, traditionally focused on YouTube influencers, was dominated by TikTok stars. "The older generation doesn't realize how important TikTok is yet… more people came here for TikTok people than YouTube. Big YouTubers get ahead of themselves. They think they're too good to be around their lower fans." I believe the biggest factor to this disconnect is YouTube's product decisions that position it for larger screens, and specifically its lack of mobile editing tools.
Music and Audio Memes as a Wedge to Create YouTube 2.0
Social networks generally evolve from a powerful initial content creation tool, or entirely new content format, that reduces the friction of creation and consumption in a way that accumulates social capital for the creators. If done right, it builds a flywheel that compounds on itself as the network grows. TikTok's flywheel is certainly spinning.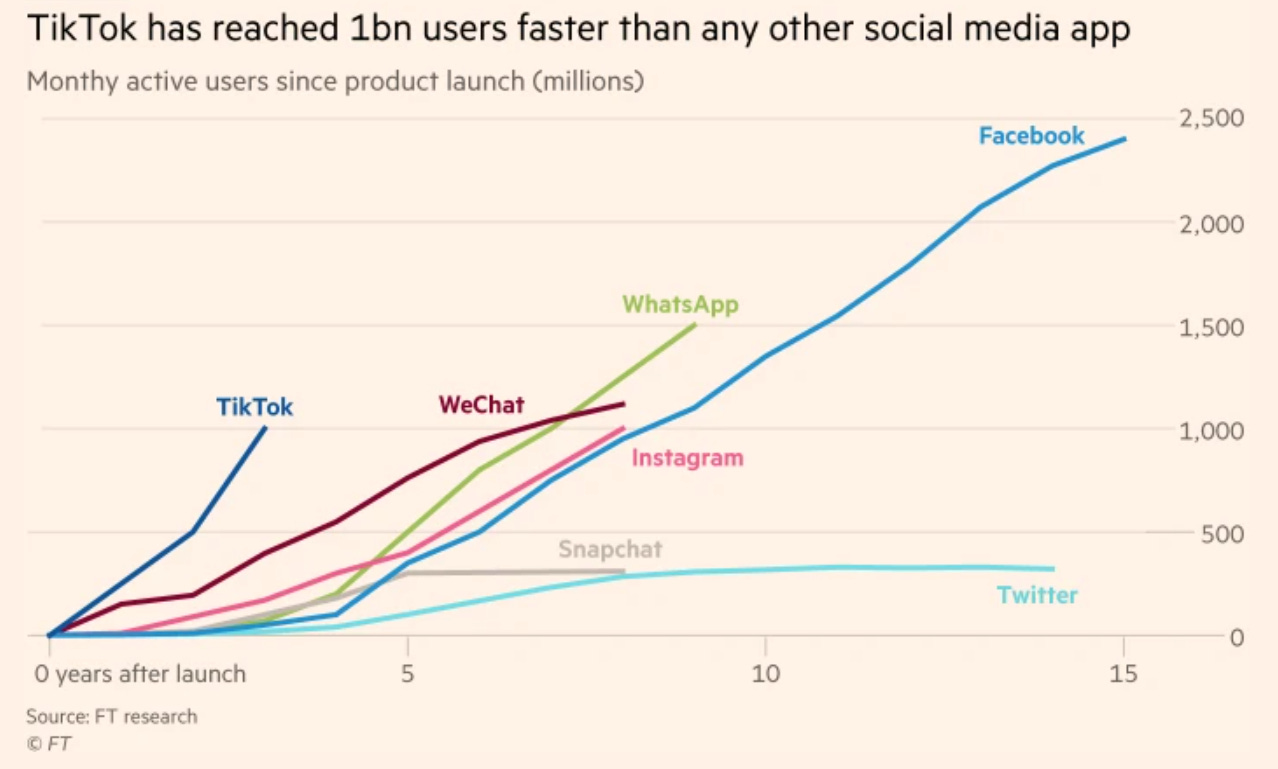 Video as a format has existed for a century, and is arguably the most intimate storytelling medium invented by humans. Despite the enormous success of YouTube and its perceived position of strength, the end-product (horizontal video) is built for desktop and TV - and most YouTube creators don't edit their videos on mobile. There was always a hole in the market for a mobile-first (vertical), bite-sized video product. This was made apparent by the success of Snapchat and Instagram Stories.
Memes, defined as iterations of shared cultural beliefs or behaviors, have evolved as the default way many young people communicate - and even consume news. Typically, the more iterations to a meme, the more momentum it gets. Full subreddit's have emerged that predict the velocity of new memes. Instagram disclosed memes are shared 7x more often than non-meme posts. Until recently, memes were mostly images with iterations of text; they were created with a keyboard and mouse.
TikTok rode two trends to dominate the past two years: memes and AirPods. Initially, Musical.ly's lip syncing use case still dominated the app post re-brand, and most new users, who saw it as a joke, rebelled. By mid/late 2018, the app felt very similar to Vine: most videos were ironic jokes. In a stark contrast to the Millennial perfection of Instagram, irony become the language of Gen Z, and TikTok was built for it.

Vine users often remade popular videos, and TikTok lip syncing tools made it simple to remake videos using the same sound. TikTok's UI lets users search for other videos with the same audio - something no other platform allows (Vine did briefly before shutting down). As TikTok was ramping up in the US, AirPods were proliferating. Apple sold ~16 million in 2017, and 35m, 60m, and 100m were shipped in each of the next three years. There was a captive audience of early AirPods adopters ready to consume memes that required audio at any time of the day. Audio memes were born. One of the first mass market audio memes on TikTok was the "Someone Like You" meme, with many others before it. A recent favorite is the Home Depot meme.
Sticking with Musically's roots in music, many of the top memes on TikTok were built on songs. "Old Town Road" by Lil Nas X was the most successful of them all, taking over TikTok for months and breaking the record for the most time at #1 on the Billboard Hot 100 for 17 weeks. Similar to memes, most of the most successful musicians rely on remixes, sampling other songs, and features from other artists.
The focus on memes as a distribution strategy isn't surprising. One of ByteDance's first products was the joke / meme app Neihan Duanzi. It's been taken down and re-launched numerous times, with the most recent iteration named after one of China's biggest memes in 2017.
TikTok quickly laddered from lip syncing, to memes, to many other types of content: Comedy, how to's, art, etc. Expanding the content broadens the user base; it also expands the interest graph it can build on users. This is crucial as it starts targeting users with other ByteDance products to go from challenging YouTube to taking on its parent company Google.
Leveraging TikTok to Launch New Products
Just like in China, ByteDance will leverage the AI capabilities, content, and user base of TikTok to launch other products around the world. Its pace of employee hiring reflects this ambitious strategy.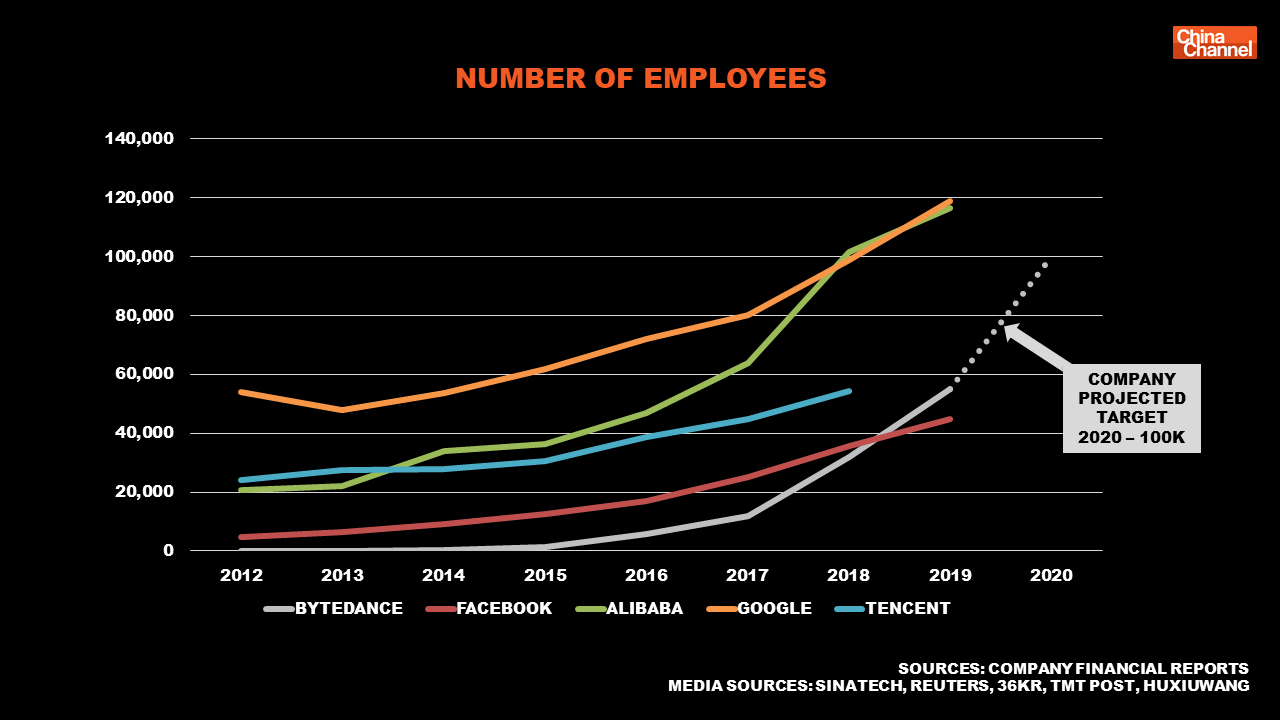 This fits Elad Gil's "Product to Distribution" philosophy: Build the best product on the market, grow the user base aggressively to create a direct relationship with the network of users, and then use that network to launch new products. Facebook is a classic example of this with both Instagram and Messenger. Google has done the same with Search, YouTube, Email, etc; and compounded that with Android.
In TikTok's case, layering on more content types over the past two years and expanding the scope of its interest graph is just the start. We should think of TikTok as not only a data collection and ad delivery vehicle, but also a top of funnel to push users towards other products.
Longer-Form Video
Starting in mid-2019, Douyin began allowing some creators to upload videos up to 15-minutes long. YouTube's biggest stars were initially seeded by Vine, and some are now coming from TikTok. It feels inevitable TikTok launches products that prevent this leakage.
ByteDance operates Xigua Video ("Watermelon Video" in English) in China. Its a Netflix-like product for watching full-length movies used for an average of 70 minutes per day by 55 million DAU's. Netflix's ability to buy content it knows users will watch is a huge advantage, and its likely ByteDance uses TikTok behavior to nudge users into similar long-form content. Xigua recently started licensing content from BBC, PBS, and kids publisher Moonbug. Most recently, ByteDance hired the ex-Head of Disney+ as its new COO / CEO of TikTok, who grew Disney's new subscription service to over 50 million users in less than a year. He also led many of Disney's acquisitions over the past decade, including Marvel, Lucasfilm, Pixar, 21st Century Fox, Club Penguin, and Maker Studios. ByteDance is positioned to do a lot in long-form video over the next few years.

Music Streaming
Like Spotify playlists, TikTok memes drive which songs hit the top of the charts. Some songs now release on TikTok before streaming services.
ByteDance recently launched its own music streaming app, Resso, in India, Indonesia, and Brazil. It marries the UI's of TikTok and Spotify with the spirit of YouTube. The app borrows TikTok's swiping UI and emphasizes commenting, creating, and sharing content within the app - its also possible users will be able to post directly to TikTok. Lyrics are prominent - which is extremely important as it helps TikTokers understand the songs / memes as they get stuck in their heads. It's not far-fetched to think TikTok knows exactly what music its users like, nor that they could tap into Resso and listen to a song they just heard seven times in the TikTok feed.

Analysts project China's karaoke / live streaming industry will hit $19b by 2023, which made up 72% ($2.6b) of Tencent Music's revenue in 2019. ByteDance's music product may incorporate live karaoke, growth loops within TikTok, and undercut competitors like Spotify, Apple, WeSing, and Kugou on price as it launches around the world. Resso also gives ByteDance better control of  point-of-stream data and monetization, and it could tie this in with TikTok performance.
Gaming
ByteDance has been very vocal about entering gaming. It has bought multiple game publishers over the past two years and its gaming division now has over 1k employees. Three of the top five mobile games in China during the 2020 Chinese Lunar New Year were from ByteDance. Its first launch in Japan spent nearly a week at the top of the App Store.
Building up a large social property to distribute games rhymes with Tencent's strategy. Consumers spent $86b globally on mobile games in 2019. And ByteDance's users evidently play games - 63 of the top 100 Chinese mobile gaming ad spenders in 2019 reportedly spent over half their marketing budgets on Toutiao. It has an opportunity to vertically integrate and eat the enterprise value of its largest gaming advertisers. You could argue ByteDance could go a step further than Tencent's in-app purchases model to incorporate in-game ads with its existing self-serve ad network, or even open up a third-party ad network to other game publishers.
Consumer Finance
Many Chinese tech companies see fintech as the holy grail of monetization, ByteDance appears no different. It's rolled out various forms of consumer and business loans, insurance products, and wealth management products to over 23 million users. It's still early, but ByteDance will likely leverage its distribution with billions of users around the world to experiment with things like payments and a mobile wallet.
Education
Education is a massive priority for ByteDance. It recently announced plans to hire over 10k new employees for education initiatives, or ⅓ of all 2019 new hires. It's unclear exactly what success here will look like, but the latest rumors include a hardware product for institutions, an AI-based tutor, a tutoring portal, and a consumer product for paid-courses. None of its historical pushes into education have caught on. Gogokid, which matched Chinese students with English teachers abroad, was an early foray into education but struggled to gain traction. Chen Lin, one of the earliest employees and ex-Head of Toutiao, was recently put in charge of "finding the next 100 million DAU product", which is speculated to be in either education or messaging.
Messaging
Tencent has a history of blocking competitive products from both WeChat and its Android app store, YingYongBao. This happened to ByteDance's Snapchat-like messaging app Duoshan after it hit 5 million downloads in one month. It's also experimenting with Flipchat, a Reddit-like feed-based group chat app that also facilitates things like payments, car-hailing, and food delivery.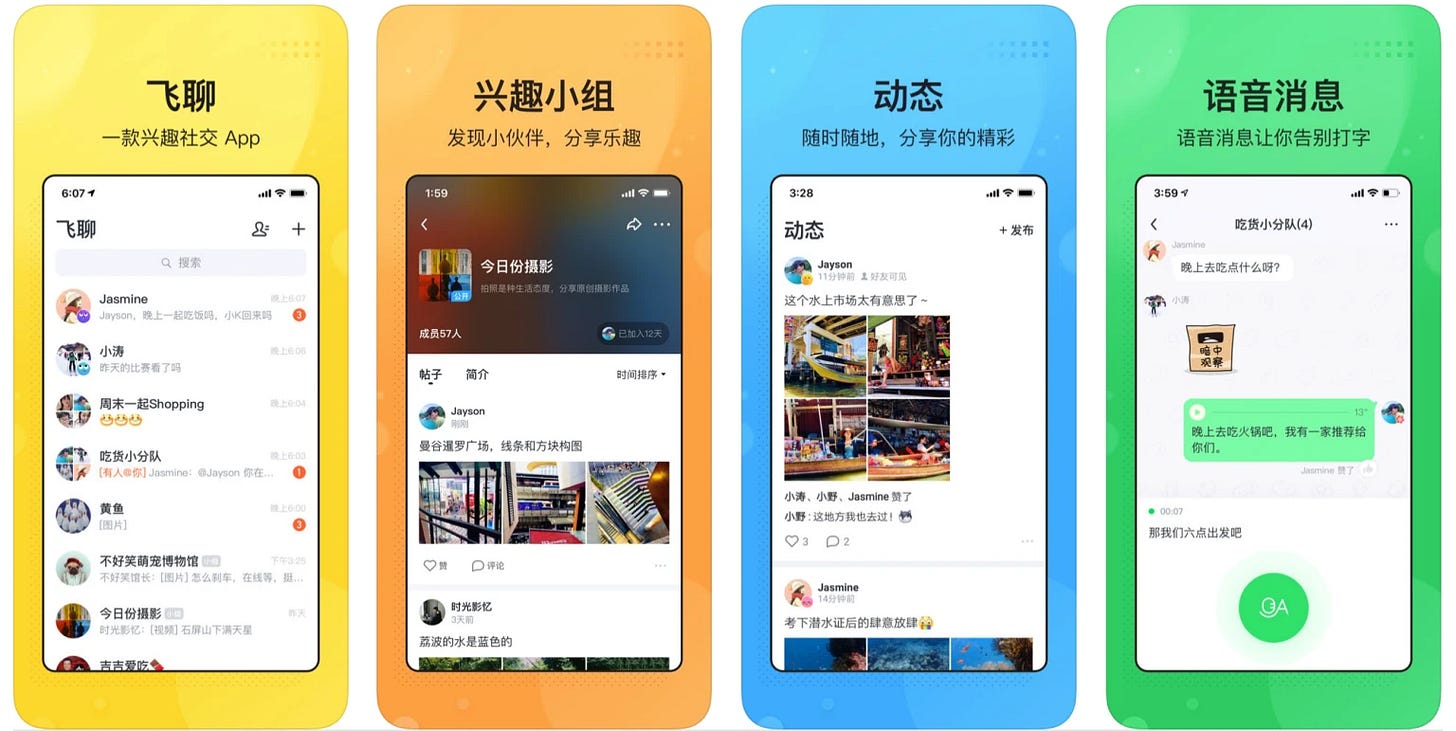 Figuring out a messaging product has always appeared to be a high priority. I think ByteDance could see the most success in messaging through Douyin and TikTok, as 51% of Douyin users "share videos frequently". TikTok has started nudging US users to message others in-app and Douyin has experimented with a Connection feature that matches strangers to play games together with selfie filters over a video call.
News Feeds
ByteDance will likely continue experimenting with feed-based news products that borrow from Toutiao to put pressure on Facebook and Twitter. This includes TopBuzz and News Republic in Western markets, BaBe in Indonesia, and a hybrid feed/TikTok-like product called Helo in India. It invested in Daily Hunt in India, and tried to buy Reddit in 2016. I doubt ByteDance sees much success here for awhile due to the competition, and would not be surprised if it ultimately gets into this space through a large acquisition.
Enterprise Software
In 2019, ByteDance launched an enterprise software product called Feishu (Lark in English). The team had over 1.7k employees at the beginning of 2020. It combines email, chat, video call, calendar and cloud document storage, borrowing from US-products like Slack, Microsoft Teams, and Google Suite.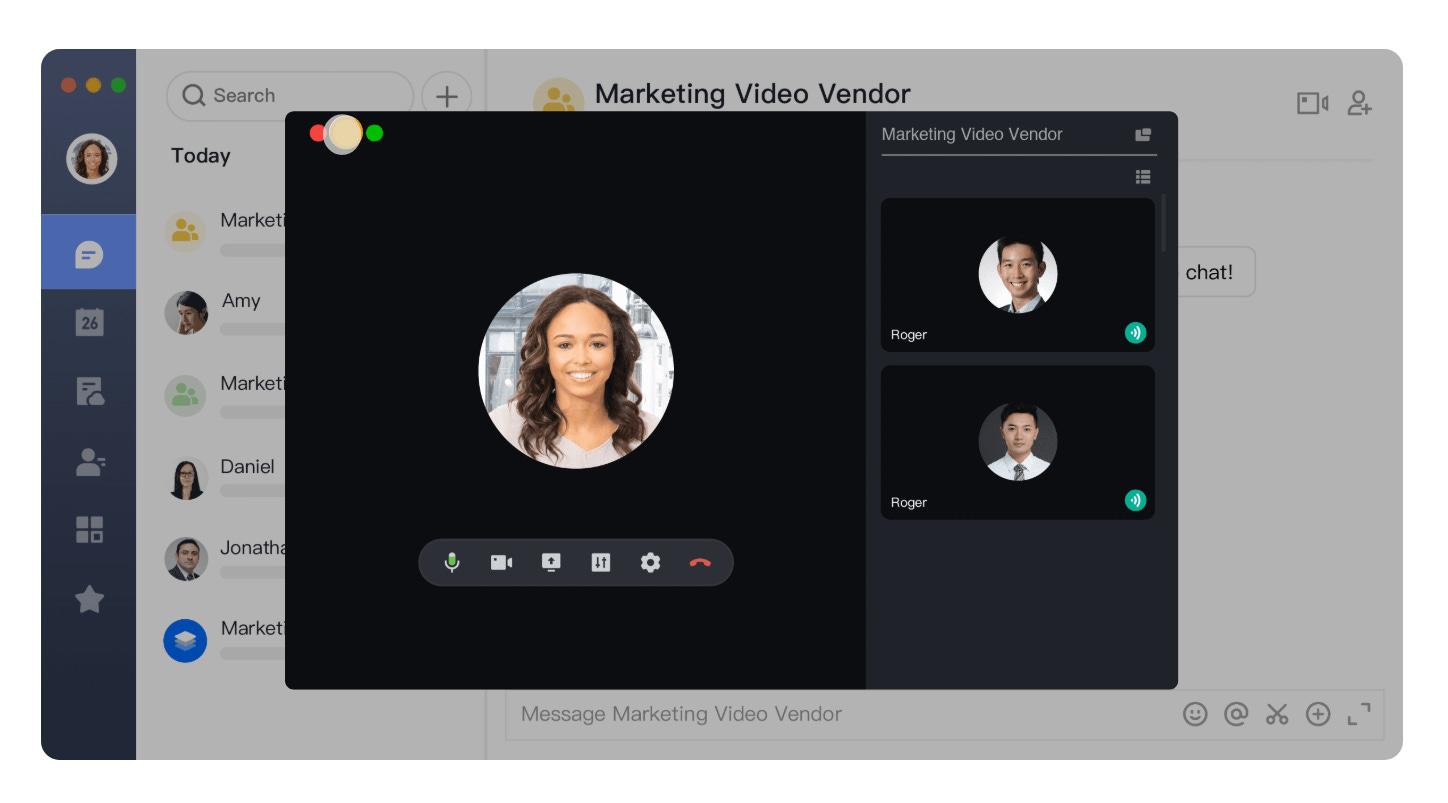 Most large enterprise software in China is owned by the Chinese tech giants, and many companies build tools internally once they reach a certain size due to a fear of giving up access to their data. Lark was similarly first built for internal use. Surprisingly, ByteDance has stated they're targeting the US, Europe, and Japan (not China) as Lark's initial markets. Its key differentiators of translating all communication into the reader's native language, easy coordination across time zones, and expense reimbursement hint its targeting large enterprise customers that operate globally.
Cloud Hosting
ByteDance started opening data centers in India and the US in 2019. This may be strictly for internal purposes, but its possible they plan to launch a cloud hosting service. ByteDance acquired Terark in 2019 which allows databases to run 200x faster by reading compressed data at 50% of the cost. If they launch an external service, the selling point could be faster processing and access to some of ByteDance's AI tech.
A cloud service combined with enterprise software (and eventually a phone or other hardware) would take a page out of Microsoft's approach of bundling multiple products and selling them top down through the C-Suite.
Other Bets
Some other products we may see from ByteDance outside of China include live streaming, search, more traditional e-commerce, e-books, and other various social products. Search would boost ad inventory and build a Search + YouTube intent loop similar to Google. A web browser launched off links out of TikTok profiles could be an interesting product to capture more mobile time spent, as well as a podcast or audio product seeded by TikTok creators.
Phone
Last, ByteDance launched a low-end Android handset in China in 2019. It comes pre-loaded with its suite of apps and possibly the first iteration of a ByteDance "AI-first" operating system. On top of hardware revenue, this provides an additional distribution channel for all its apps. Its mini programs in China work on both Toutiao and Douyin, and it's possible they're also built to run on "ByteDance OS".
What Will TikTok Do Next?
Circling back to TikTok, it likely adopts many of the features from its Chineses counterpart Douyin over the next two years. The app is built around sourcing and elevating the next generation of creators, yet you could argue the minimized importance of a follower graph allowed lots of social capital to leak off TikTok. Long-term, we'll see TikTok features that help creators make money while launching new products mentioned above that increase ByteDance's touch points with consumers and their time spent on mobile.
One we'll see soon is ecommerce integration in videos. Chinese creators on Douyin can create shoppable videos linked through Alibaba's Taobao store. Shopify could be a partner in the US (like it just launched with Facebook). ByteDance may also build this internally embedded directly into TikTok videos, further driving its viral sharing loops. It appears to be testing this in China while taking only a 1% cut. We could expect early ecommerce use cases similar to this ironic reaction video or product demos like this:
TikTok recently rolled out donation stickers which will start training users to transact over the app: purchases and tipping creators. Live streamed commerce is very popular on Douyin, and ByteDance recently started pushing streams within TikTok. There are cultural differences in China that favor live streaming, but TikTok's young user base is familiar with the format and the likeliest early adopters in North America and Europe.
TikTok wants brands to be first-class citizens in the feed. TikTok's Creator Marketplace connects companies and content creators. Influencer marketing is a fast growing $10+ billion industry that's largely coordinated over email and social media DMs and this will be a selling point as ByteDance works to onboard North America and Europe advertisers. Brands like Square are using it to promote products and artists and labels may even use it to promote music releases.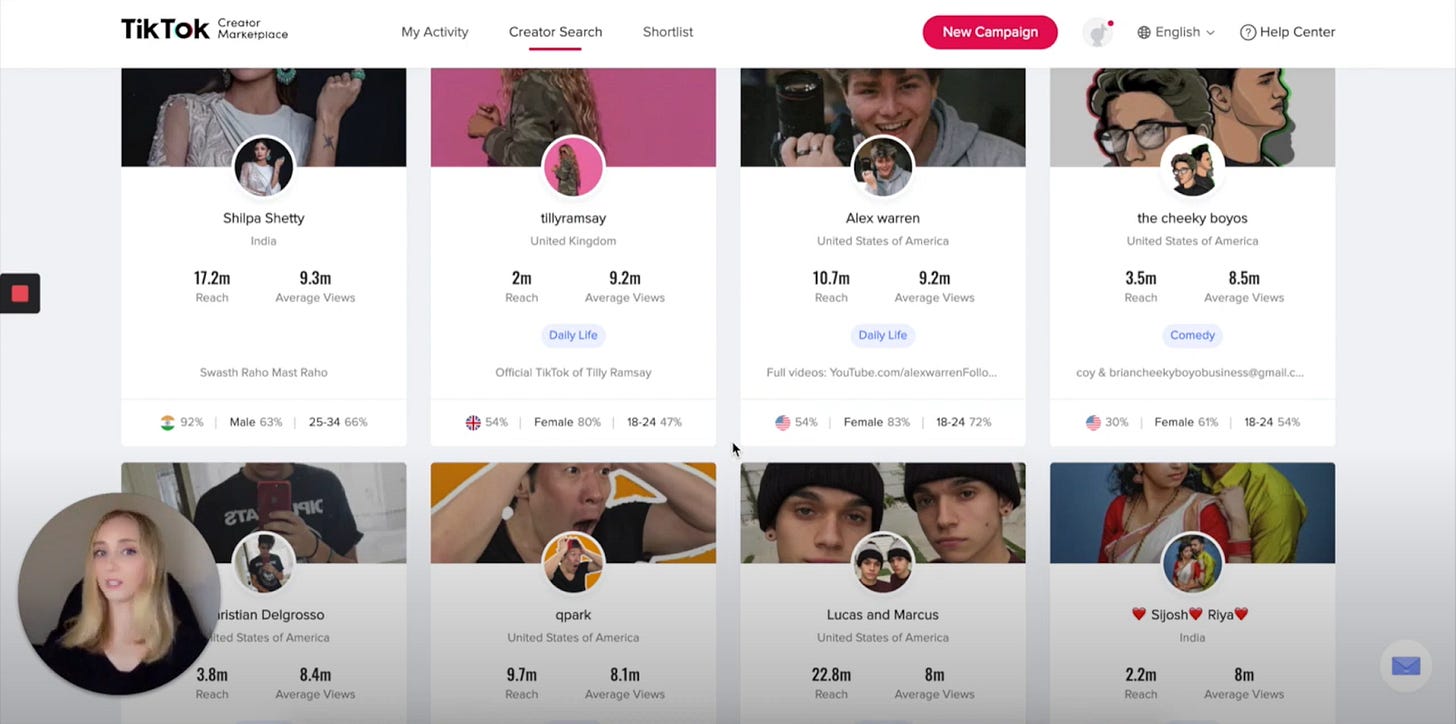 TikTok likely opens up its self-serve ad manager, which looks to perform on par with other programmatic channels. This would make it the only self-serve platform that hits users in both the US and China at scale.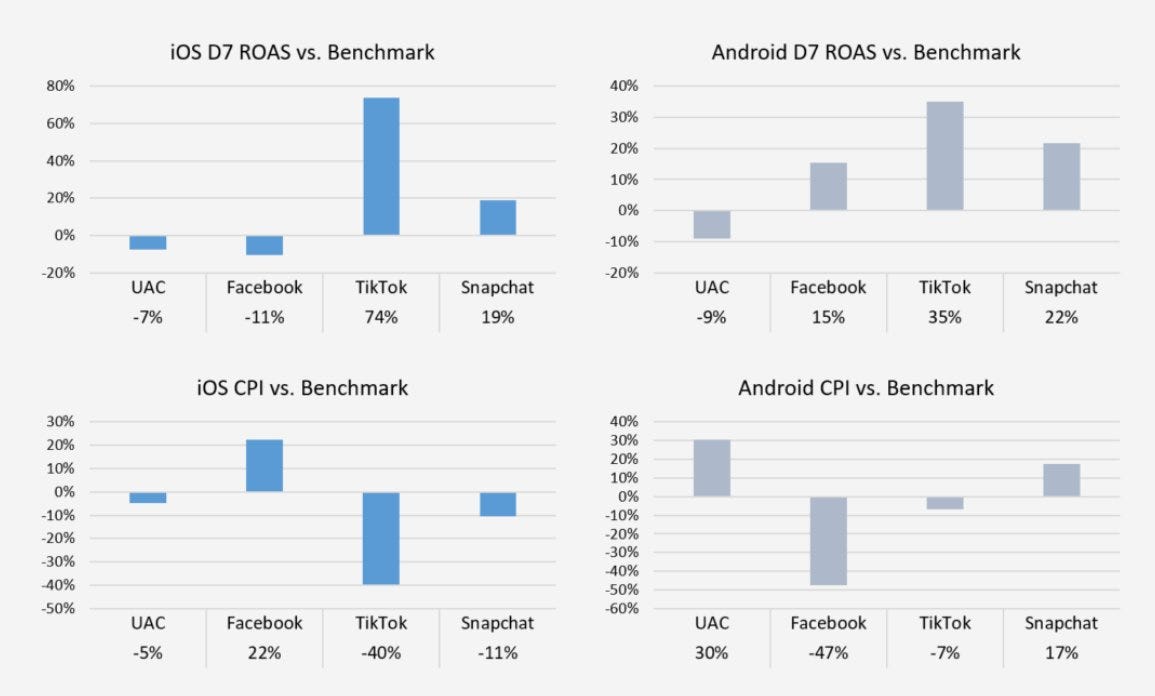 TikTok may start providing brands and creators AI-generated content recommendations based on what's performing well: what effects to use, changes to make to a video, or what content to produce all together. TikTok will also likely double down on AR camera effects (pushing an ad unit priced on video impressions), and may also open its camera and effects to developers.
Considering other products in the pipeline, we may eventually see a cross-product creator tool that spans ByteDance entire ecosystem: posting videos, music, ecommerce, podcasting, analytics, and even financing. ByteDance has already consolidated the back-ends in China, allowing creators to use Douyin as a distribution channel for multiple products.
Conclusion
In less than four years, TikTok became the most culturally significant product in the world. It rode the tailwinds of AirPods and memes to reach over 1 billion DAU's and is now the best way to create and consume video content on mobile. Everyone should be watching to see what they do next.
If you'd like to watch with me, subscribe for more posts like this. I'm also on Twitter at @TurnerNovak.