Discover more from The Split
Stay on top of the latest tech and startup stories.
Over 23,000 subscribers
Canva's New Visual Worksuite
Can the $40 billion startups newest products challenge Microsoft Office?
Hi everyone 👋 Turner back again with The Split. I'm the founder of Banana Capital where I focus on early stage investing, mostly in consumer and bottoms-up software companies.
Adobe acquired Figma last week, which was huge news in itself. But I also thought it overshadowed what was possibly one of the most significant new product announcements from a company ever: Canva's new Visual Worksuite.
Before we jump in, shoutout to Andrew Fielding, Theo Fields, and Jared Middleman for each crossing 10 subscriber referrals last week. Banana cap's are en route to all three. 🍌🧢
We're also doing Banana Talent Drop #3 on Sunday. Apply here or read more below.
Canva Launches its Visual Worksuite - Could it Challenge Microsoft Office?
Canva was launched in 2013 as a browser-based graphic design platform that was much easier to use than Adobe Photoshop. Where Figma replaced Adobe's suite for professional designers, Canva replaced it for everyone else, empowering anyone to be a designer.
While in college, Melanie Perkins and Cliff Obrecht founded Fusion Books in 2008. It was an easy-to-use cloud-based editor for high school students and (I believe) quickly became Australia's largest yearbook publisher. Melanie was also a private tutor for graphic design students and observed that existing tools were unnecessarily complex for the average person. Eventually, the concepts behind Fusion evolved into an online design tool for anyone, and Canva was born. Initially, investors were not excited. It took three years after the idea was born to raise money, hire the team, build the product, and launch.
Fast forward to September 2022, and the profitable Sydney-based Canva has more than 75 million Monthly Active Users (MAUs). It was last valued at $40 billion and reportedly hit $1 billion in annualized revenue at the end of 2021. And it just launched the Canva Visual Worksuite to take on Microsoft Office and touch every aspect of creative work.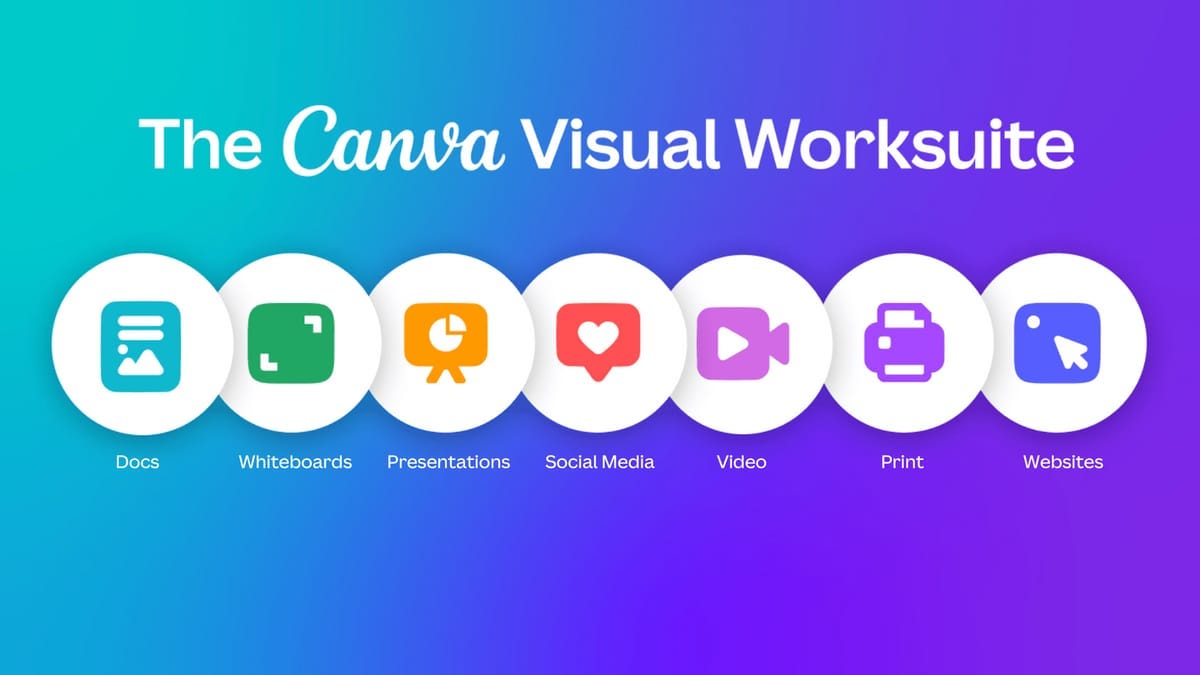 Facing off against incumbents is not easy, especially when one of them is among the largest companies in the world. Let's break down how Canva hacked its initial distribution despite existing competitors like Adobe, Microsoft, and Google Suite having significant scale advantages.
First, Microsoft Office has an extremely unfair advantage: its products are pre-installed on every computer it sells. And it sells a lot of computers, with approximately 75% market share of the ~290 million PCs sold per year. Canva got around this by focusing on SEO and intercepting Microsoft (and Adobe) at the point of intent.
How does this usually play out? Google "make free logo", "Instagram story ad template", "lesson plan template", or "business card template" and Canva has the top organic result. These are all things someone might search for inspiration after (or even before) opening an Adobe or Microsoft product.
Search for free logo template and, within two clicks, you're editing the logo in Canva's free, collaborative, browser-based editor. You can, of course, download the logo and edit it elsewhere. But Canva makes it so easy and quick to get going that there's no reason to. Contrast this to Microsoft: you must download and open a template in Powerpoint's desktop app.
When you're finished designing in Canva, you can simply tap share and send a link to your team or client. Microsoft and Adobe suites do have browser-based sharing features, but they have limited functionality. Their core products and workflows are designed as desktop apps. This doesn't allow for frictionless multiplayer collaboration, something products like Canva and Figma used to grow virally within their respective creative communities (and both now have their own desktop and mobile apps).
Upon sharing, Canva prompts a free trial, featuring three things incumbent competitor products don't do as well:
Stock images and templates (100+ million): When was the last time you used Clip Art?

Magic resize and background remover: Googling how to do this in Photoshop will likely land you in Canva's editor.

Shareable brand kits and content planners: If it wasn't clear, Canva is targeting the long-tail of creative professionals.
Built on top of SEO (Search Engine Optimization) and collaborative virality, Canva reached 75 million Monthly Active Users (MAUs) by December of 2021. This compares to 365 million paid Office 365 users in Q1 of 2022. There's likely overlap in these numbers, especially as the bulk of Microsoft's Office products are sold top-down bundled with other products like laptops, cloud hosting, and security services.
Canva built its distribution from the bottoms-up. Its SEO is almost entirely programmatic. New pages and templates are spun-up automatically, and instead of prioritizing an outbound an sales team, Canva has an "outbound SEO" team, that proactively sets up relevant backlinks to keep Canva at the top of search results. This wouldn't have been as effective if Canva wasn't a lightweight tool that sits in the browser. And over time, it allowed Canva to build adjacent products that its userbase started adopting organically.
Sacra created a graphic mapping Canva against other players in the space: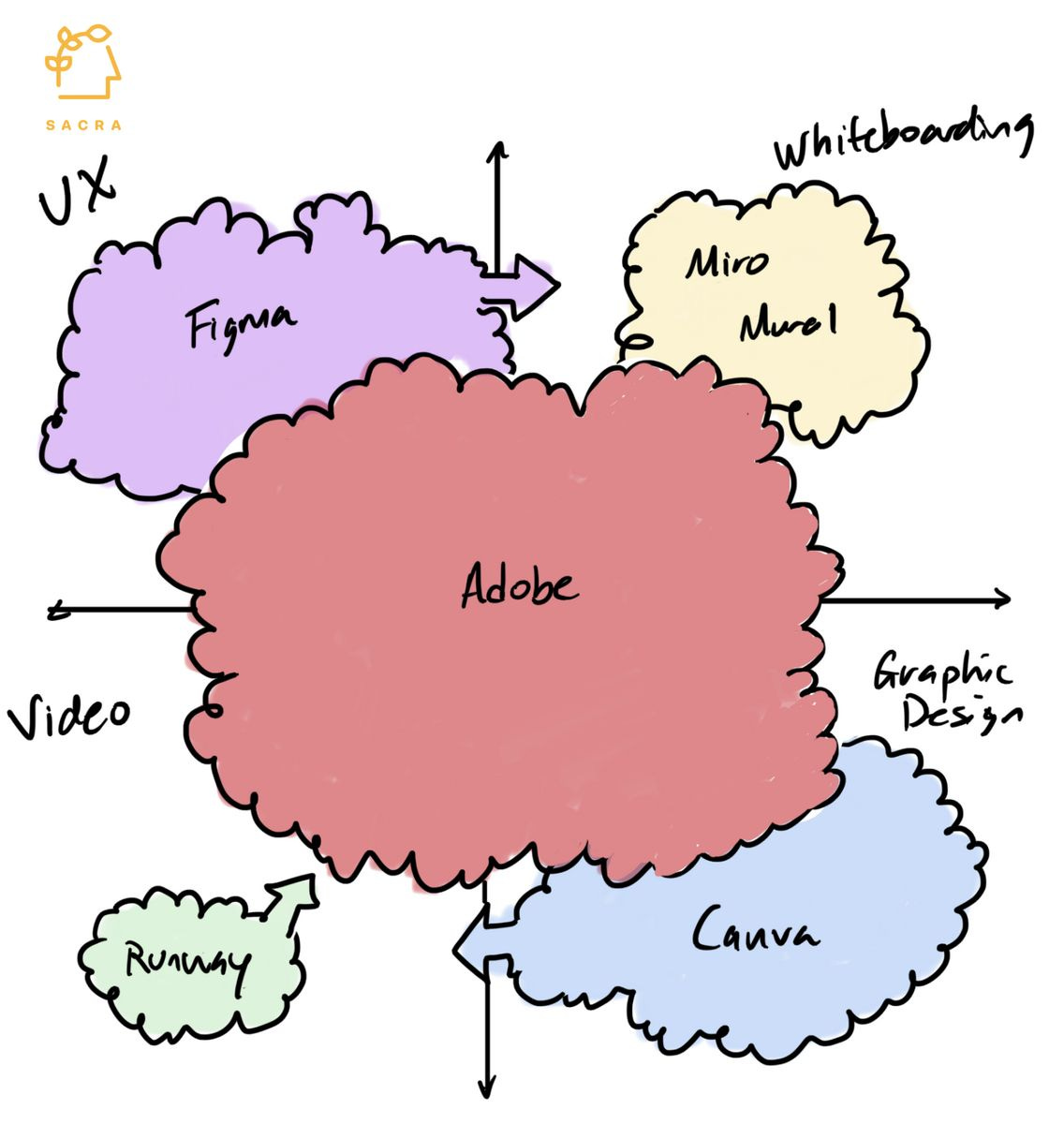 Playing off Sacra's graphic, Canva's Visual Worksuite expands it into the two adjacent categories (Video and Whiteboards) and others most of its customers are already using: Docs, Presentations, Websites, and Print. Noticeably, these categories are all high intent or informational searches that can be "how to'd" or "templated" in SEO.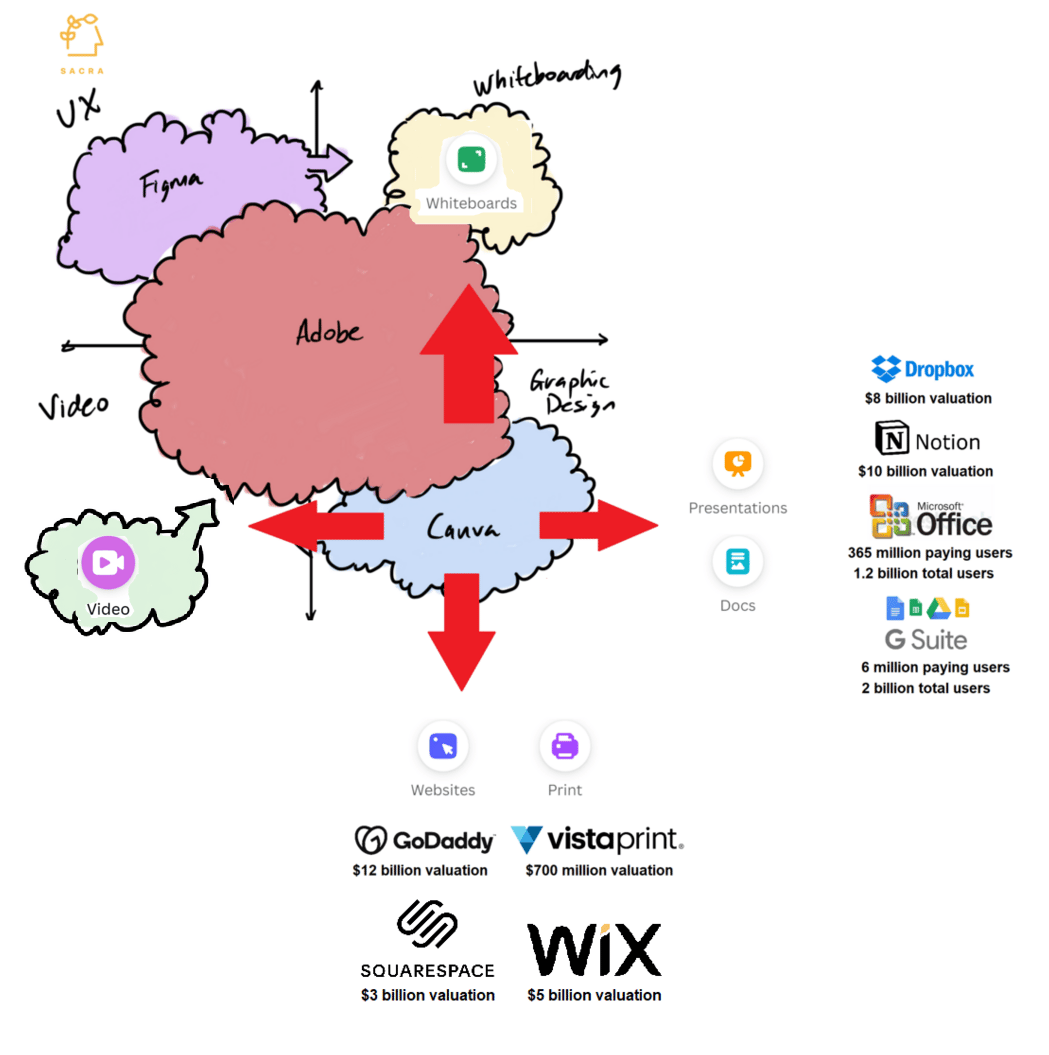 Like its graphic design product, Canva's new tools seem to be focused less on power users, and more on lowering the barriers for anyone to create. Templates and programmatic landing pages are already spun up for each, creating even more touchpoints for Canva to bring new customers into its ecosystem.
One thing that stands out is Canva's suite is all interconnected. You can embed a Whiteboard or Canva graphic in a Doc. And you can convert a Doc or Whiteboard to a Presentation. Canva also doesn't specifically segment the products out when launching: you search what you need (website, product launch announcement, to-do list) and the editor adjusts.
Going full galaxy brain and expanding my Paint creation (yea, we use Paint to make graphics about professional design tools around here), other categories Canva could potentially expand into include: Customer data/relationship management, Communications tools, and Commerce enablement. And Whiteboards feels like it could one day solve for more spreadsheet-like use cases.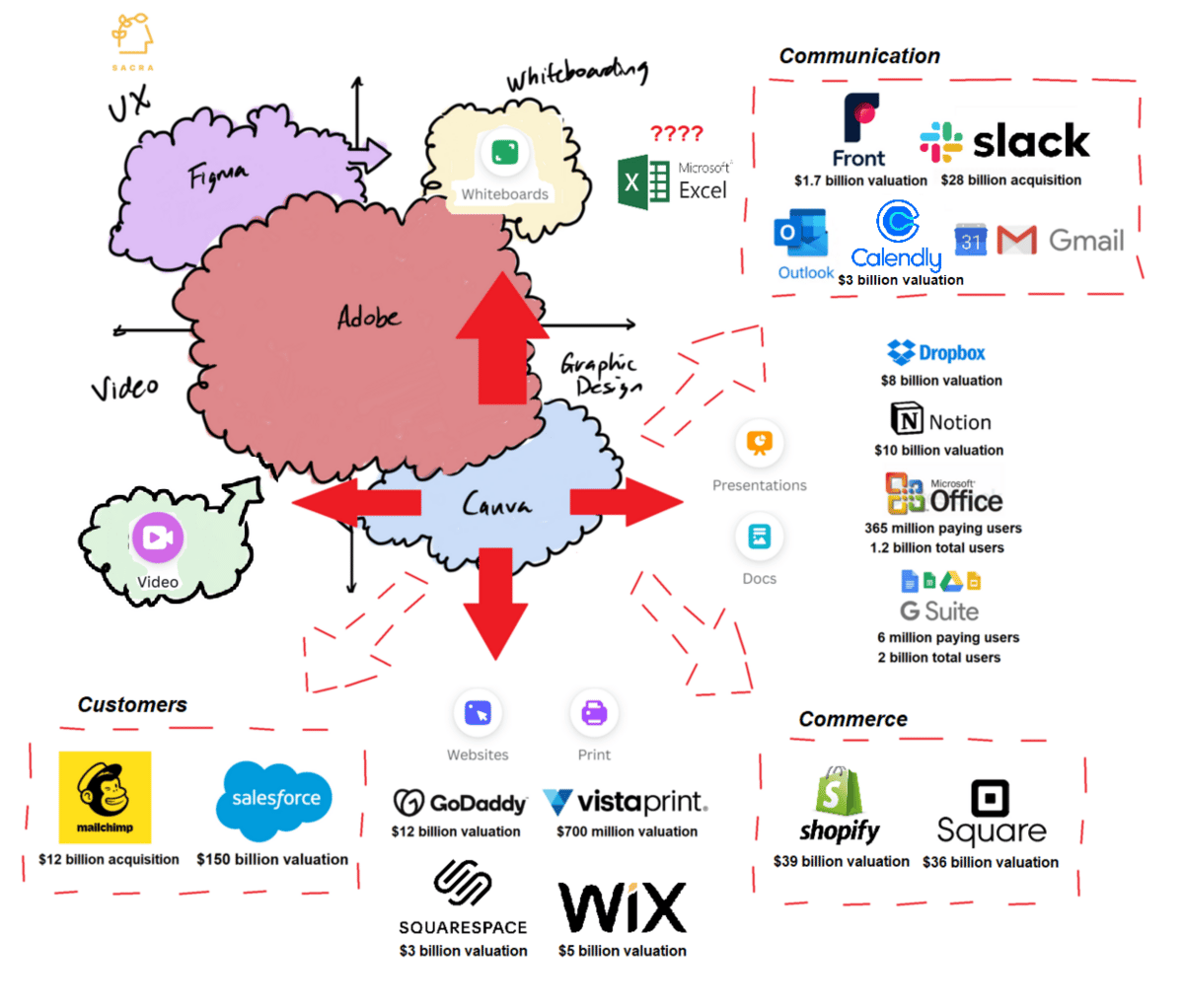 Could searching for a "company logo template" lead a multi-million dollar business to design its products, acquire its customers, and run its business entirely on Canva? I'm not sure. But as of now, Canva is the top organic result for "newsletter template". You can buy a domain or analyze web traffic for a website created in Canva. And invites made on the platform can accept and manage RSVPs.
This jump to customer-facing tools and communication products could be tough to pull off. But as someone who uses all of these, most of them are unnecessarily complicated. And its target customer is probably not the software engineers, hedge fund analysts, or executive at FedEx that subscribe to this newsletter. Canva's customer is the long-tail of creatives around the world.
Canva has an opportunity to build even more easy-to-use tools for its creative userbase. It will need to figure out how to compete on SEO against the decade head start of other CRMs and email tools. But as TikTok and YouTube searches replace Google for younger consumers, Canva may have another SEO opportunity to take advantage of. And something as simple as a "Sent by Canva" at the bottom of a newsletter, email, or store may be enough.
Liked what you read?
Subscribe to stay on top of Canva plus lots more.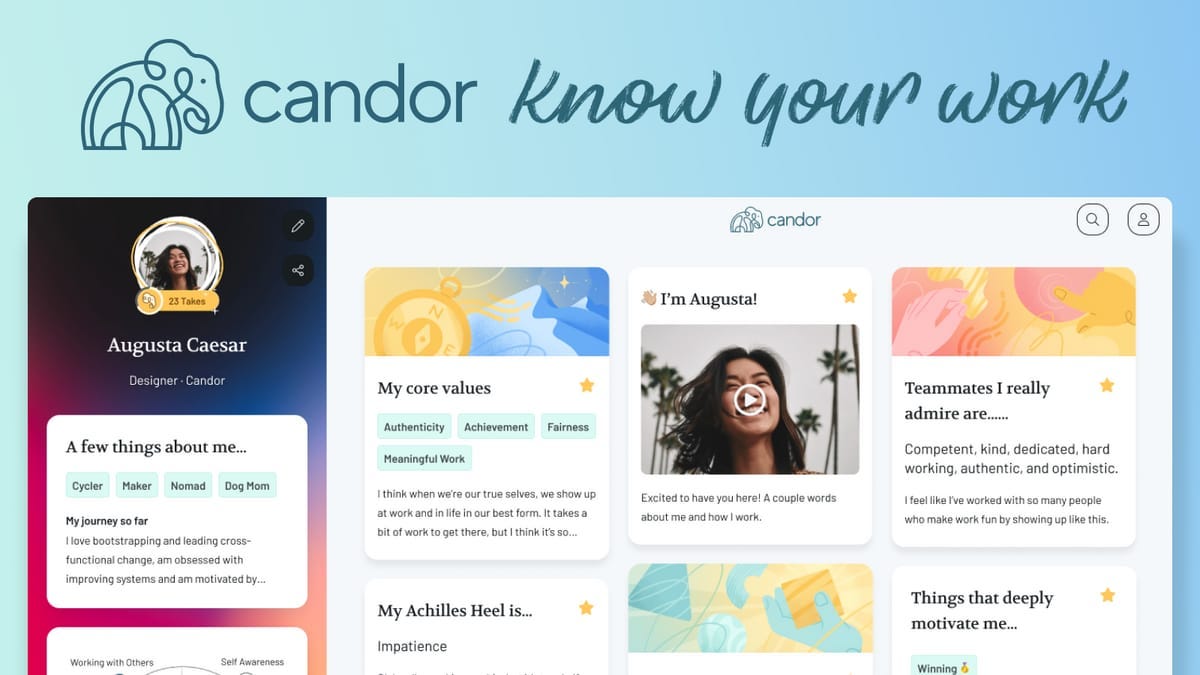 Speaking of creativity, Candor is the best way to get to know your remote teammates and share your own work style. The platform helps you create a beautiful personal readme - a living page that expresses how you do your best work and shows others how to get the best from you. It's a game-changer for relationship building, facilitation, onboarding, off-sites, and 1-on-1 meetings. Banana invested in their pre-seed round last year. And while they're still iterating on the product, we've been recommending it to founders, managers, and coaches to get the most out of their teams.
Signup here and claim your free profile.
Product Launches
Liveblocks adds new React hooks + immutable data: Banana portfolio company Liveblocks announced the latest addition to its suite of APIs powering multiplayer collaboration. If Canva was built today, it could use Liveblocks to power all its collaborative features instead of building them from scratch. Read more on Liveblocks blog.
Spotify launches audiobooks: This initial US launch adds a catalog of 300,000 titles. The experience still feels clunky to me as books must be purchased on web and email instead of in app, but there could be a day Spotify's music, podcast, and audiobook listening history feed into the same recommendation algorithm. More from Spotify.

Other Reads
Facebook's NPE team to focus entirely on short-video: The New Product Experimentation team, focused on launching new products and apps internally, has been directed by Chief Product Officer Chris Cox to focus entirely on short-form video. More from Casey Newton.
Tencent gets first new game approved in 15 months: "Health Defense" is a tower defense mobile game focused on health education. It may signal the Chinese government beginning to ease the restrictions it put on gaming publishers in 2021. More from the WSJ.
Energy costs are up 3x on average globally since 2020: h/t Andreas Steno
Ford requiring its 3k dealers to invest $1.2m in EV infrastructure by year-end: Ford also mentions it will require smaller dealers to specialize in one of EVs, ICE, or commercial vehicles. More from CNBC.
SoftBank considers a third Vision Fund: After losing nearly $50 billion on Funds 1 and 2 over the past year, SoftBank is weighing launching a 3rd. The decision seems to be driven by the fact Fund 2 has performed so poorly that the investment team, which is paid bonuses based on the fund's profits, is pushing to start from $0 with a new fund. More from the WSJ.
States with the most brain drain: Where graduates from each state move after college. A few other cool charts from the Washington Post.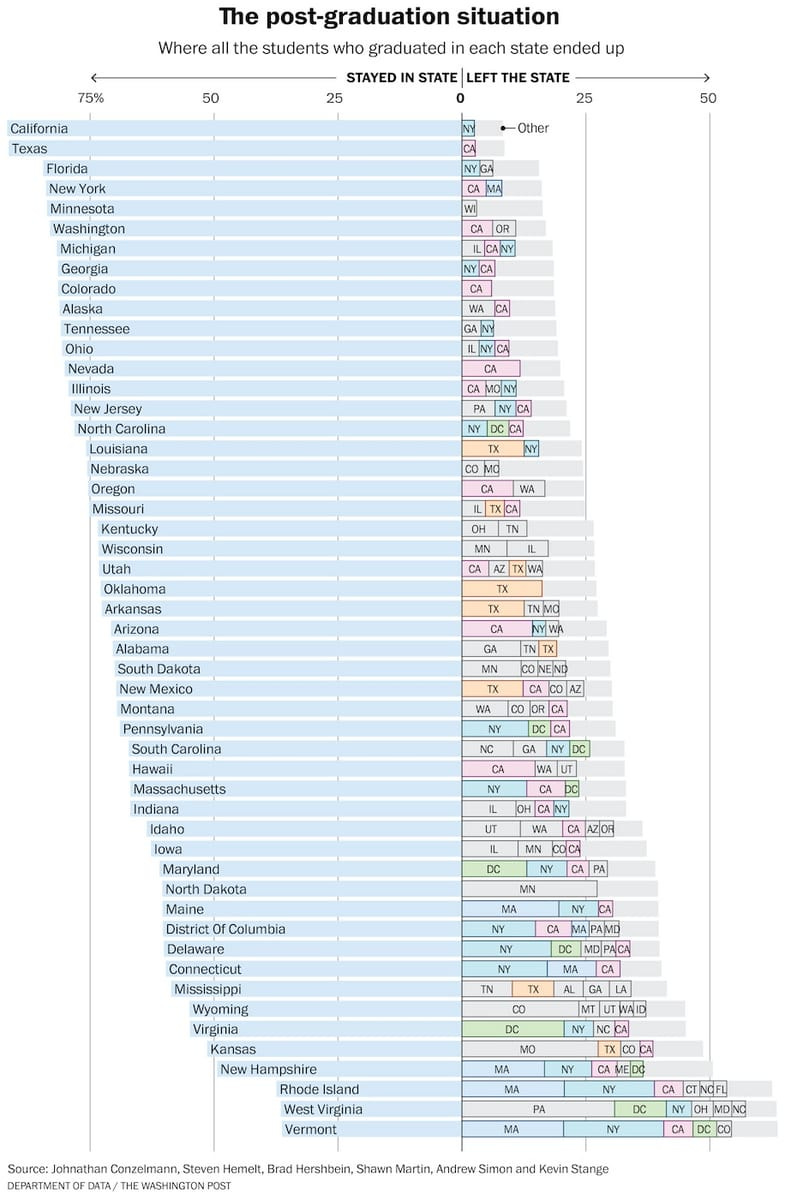 Survey Says
Last Tuesday, I asked "do you think Temu will be successful in the US" after my look at Pinduoduo's Temu US launch (full post here). Overall, you were bearish: 66% of respondents said "No".
From Marc Crossman at Rizvi Traverse: How does Temu stack up against its existing competitors in the US market in a couple of important areas: price, number of SKUs, diversity of SKUs, website/app interface, and delivery speed? I just don't see how Temu is upending or will upend, the existing competition in any of those areas or combination of those areas. I don't see anything different coming out of Temu that isn't already being done by any number of established competitors in the US market. In my opinion, Temu isn't going to be a TikTok or BeReal success story. However, the most important question is where can I buy a Banana Cap? I couldn't find one on Amazon, eBay, or Temu.
To Marc's point, I think there's still a lot up in the air. Its hard to tell what Temu's SKU count is, but it does seem to be more focused on endless feed-based discovery on mobile, which may not require as many SKUs. Its all static images, but there's no reason they can't add short-form video to the feed over time. Product quality seems to skew low, and Temu's 10-12 day delivery doesn't compete on delivery speed at all. They already have large Chinese merchant base they can leverage to move quick with a low cost structure, which is why I've been cautiously optimistic. We're digging in to Marc's Banana cap request as well - just put in an order with Temu's merchandising team and will be shipping Marc a cap today.
From Sohan Choudhury at Gatherly: I think Temu could fill a void left by Wish. U.S. consumers have shown demand for cheap products, and it seems like Temu is meeting that need with novel growth practices better suited for the post-ATT world that we now live in.
I love Sohan's point on influencer marketing, it should become much more important post-ATT. Temu seems to be competing with lower prices like Wish. Though its still not clear to me what their margins will look like, something Wish never quite figured out.
Career Services
Banana Talent Drop #3 will go live this upcoming Sunday, September 25th. If you're looking for a job at a startup, apply here (you can do so anonymously), then sit back for intro requests from startups delivered right to your inbox. Don't just take my word for it:
If you're hiring and want Drop #3 in your inbox, sign-up here (Banana portfolio companies reach out for free access). The collective already includes employees from all the companies below, plus many startups you've probably heard of. (just to note, I'll never disclose the name of a startup with less a thousand employees to protect anonymity)

One job to highlight this week: Banana portfolio company Drivly is hiring a Business Development Leader (Detroit, Miami, or remote). I'll write about them soon, but the tl;dr is Drivly is building developer tools for the automotive industry. This person would be in charge of spearheading customer relationships from startups to legacy OEMs and may have experience in auto, fintech, or payments. More here.
Browse more openings or add your own here.
Monkey Business